Okay. Home at last.
Today was nice. As I mentioned, I had originally planned to stay two nights in Bang Saphan, but the hotel didn't have a room free for the second night. I'm actually not sorry. I needed to get home, so I could remember what it looks like! It felt strange turning into the driveway, like I was arriving at a place I used to live. But after a half-hour of unpacking, everything was back to normal.
The Theatre Villa Resort was really nice, but I felt, not as great as the Agoda reviews would have you believe. Ha! As I typed this an e-mail has arrived from Agoda asking "Our travelers rate The Theatre Villa 9.4. Agree?" No, I don't. Nice, but not 9.4.
My room was in a new building, but I don't think they'd finished working on it. There was a nice balcony, but no chairs inside or outside. The main selling point was the friendliness and hospitality of the owners. They seem to take a genuine interest in all their guests – even the grumpy Eastern European ones. And the food was great and plentiful. At breakfast I had to shout "Stop. No more." as the dishes kept arriving.
I asked the owner about the hotel's odd name. He said at certain times of the year, the fishing boats with the green lights that I mentioned a long time ago, get so close to the shore, and they all shout between boats, that the sea seems like a theater stage. Odd.

Anyhoo, I was back on the road before ten. I knew I had to do grocery shopping as I'd pretty-much emptied the fridge before I left. And I had to stop at Surat Thani Airport, to shout – yet again – at the car rental people who have still not returned my deposit on the Honda Shitty I returned last October! Plus, on Google Maps I could see some country roads that lead via various beaches and fishing villages before reaching Chumphon.
The latter was a nothing kind-of place, as far as I could see, but the sea drive was nice. Here's some pics…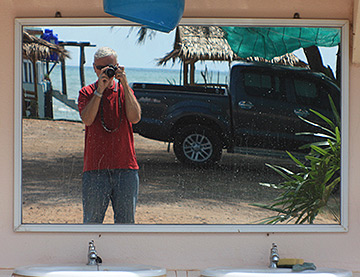 And so ends the epic 5000km drive around Thailand, helping to organize the Thailand part of the Road To Mandalay Endurance Rally. It was quite an experience, but…
Would I do it again? I'm not sure. The next one is in 2018 and I have an invitation from the big boss to help. If it visits new (to me) parts of Thailand, I might. But I have to think there are more relaxing ways to see a country. Of course, if there are large pots of cash being offered, I'd have to consider it more carefully.
In the meantime, it's back to more local touring. Still many many places on the must-visit list. But before that, I have to sort, resize and publish a large volume of photographs. So, don't go away. They'll be online real soon. Oh, and laundry is drying as we speak. Which of course explains why it looks like imminent rain. Same the world over.