Somehow I managed to leave Mae Sot shortly after 7am today. It was cool, not cold, and as the sun rose, the mountain scenery was again spectacular. For an hour or so it was more mountain passes, but this time on a modern well-maintained road, which varied between two lanes and six, leading me to the small town of Tak. From there it was south, south and more south, on a featureless expressway, pretty-much all the way to my final destination of Bang Saphan.
The 880km trip took slightly over ten hours, plus another 30 minutes or so to find my well-hidden hotel. I'm not complaining. Hidden means quiet and peaceful, and it is. It's now 9pm-ish and I'm recovering from the boredom by sitting on the beach at the Theatre Villa Resort, eating garlic shrimps and enjoying a Beer Chang or three. Such is life.
I think Ms. Chuckles, my GPS lady, must have been bored too. It can't be much fun to stay silent for a long time, after saying "Stay on this route for 420kms." But somewhere near Bangkok, as so often seems to happen, she decided to liven up the proceedings by steering me towards a toll road. That definitely wasn't in the plan. I slowed as much as possible to look at the screen, and there didn't seem to be much option but continue straight ahead, even though – somewhat mysteriously – she was screaming "Keep left and take the next exit." What freaking exit?
So, having moved left as far as possible, I entered the toll road at the left-most booth, hoping there was still some way to extricate myself from this chuckleless mess. Nope. It looked like I had no choice but to take the Highway to Somewhere. For sure it wasn't somewhere I wanted to go.
And then, just as I was exiting the toll booth my vision was blocked by a very animated policeman, waving his immaculately white-gloved hands in my face. Now what? "Cannot, cannot" he kept shouting in Thai. Cannot what, I couldn't figure. He motioned me to a place to park and I jumped out. He had it all figured, with a diagram on the back of his clipboard, showing me I'd crossed a yellow line, and what the extortionate fine would be.
In the space of only a few hours I'd seen pickup trucks with loads as tall as a two storey house, whole families without helmets wandering all over the roads on motorbikes, vehicles going the wrong way on expressways, and this clown wants to charge me an arm and a leg for crossing a miserable yellow line, just so I can go down a toll road I never wanted to use in the first place.
We had to go through the usual time-consuming routine of how difficult it is to pay a fine, and how he would keep my license until I had, while waiting patiently for the magic words "You pay me?" Of I course I'll pay you, you muppet. Here. Now get out of my face. He thought it was all hilarious, but I was way less than amused with Ms. Chuckles. I think she once again learned some new words. Bert was very embarrassed, not that you could tell.
Anyways, all is forgiven now. Beer will do that.
So, I think I have about four hours left of this epic journey. The small resort I'm staying at is about an hour north of Chumphon, which is about three hours from home.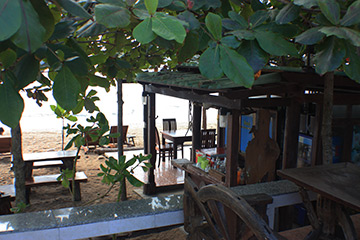 It was nice that the hotel owner was waiting for me as I arrived, and immediately asked me "Where did you come from today?" When I told him "Mae Sot" he thought for a moment, and then said "Whaaa, very very far" and as he did so he literally grabbed hold of me, like anyone who has driven that far cannot possibly have the strength left to stand on his own two feet.
I had hoped to stay two nights, but only booked one. Hotels never seem to be full these days. Except it's Lunar New Year, so of course it's full. No matter. The weather's not great, and I think Bert is tiring of the smell of my dirty laundry. If the smell is affecting Ms. Chuckles too, hopefully she'll get me home without making any more mistakes!