…Intro to Random Twitterings.
I haven't posted anything in a while. Sorry about that. Aside from making the northern road trip, the planning of which took far more time than the execution, I have a number of projects on the go, and twitterings-time is rather limited.
But, I have to say – "thanks for sticking with me." Despite not posting anything in quite a while, the number of page views last month was a record, at 154,000. That's a lot of page views for one month. Many thanks to all readers. Okay, moving right a long…
Where did I go? Well, from the title, you can guess I went to Thailand's northern provinces again – but mostly different ones than the 2020 trip. My objective was to visit Nan, Phayao, Phrae and Uttaradit. Not provinces that fall off the tongue when you think of Thailand. All a bit off the beaten track.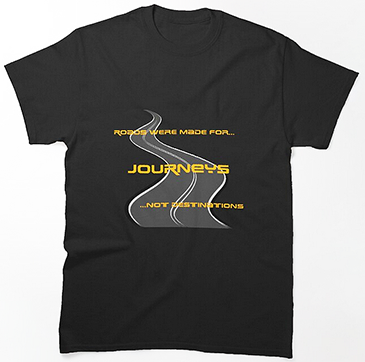 And of course I had to travel through many provinces to reach there. I tried counting them when going north, but there was a lot. The old brain had other thing to focus on, and I lost count. Looking now at Google Maps I'm guessing I visited about twenty.
Regular readers may remember that when I twitter about road trips I usually write a day-by-day blow-by-blow report. This time I'm going to try something different. I'll pick out places I enjoyed and report on them quite randomly. That way, I hope readers won't be tempted to cry "not another temple!" I even had that feeling myself on this trip. They are spectacular, but ten a day can give you a feeling of wat-overload. I may spread out the stories over a few months, which will also give me a chance to work on other things – and which I will also report on when I get a chance.
In this article I'll focus on the beginning and the end of the trip.
I have to say, in mid October I had to wonder if I would ever leave. The weather forecast kept changing, and I kept pushing my departure date further and further into the future. There was a limit to this, because in most years, from mid-December onwards it's not a great idea to visit the north. Rice and other fields are burned to make way for new crops. Visibility at times can be as low as a few meters. No point driving for three days to look at smog. And, the winter months can be downright cold and damp. Some people like cold and damp. I'm not one of them.
Eventually the weather stabilized and aside from the first and last days I hardly saw a cloud, let alone any rain. It was cool at times, especially early morning, but nothing that needed anything more than a thick sweater – and I seem to remember one morning I actually wore a hat. I don't wear hats!
Days 1, 13 & 14 are easy to cover. One word: driving.
And not nice driving. Roads that are straight and congested. Going to/from the Bangkok area, Thailand becomes very narrow. Only about 20kms across at one point, which means there's only one road that can be used, and so of course, everyone uses it! The mountains that are visible to the west are all in Burma.
I planned one sightseeing trip for day 1 – but only if the weather was good. It was about five hours from home. For the first four hours it was cloudy and I'd pretty-much decided I'd keep heading north, but it suddenly cleared. So, I headed east to the coast to visit Wat Thang Sai (also known as Phra Mahathat Chedi Phakdi Prakat) in Prachuap Khiri Khan Province. I'd been here before, many years ago, and so not with a drone.
I found a field close to the sea, ate my picnic lunch, and then sent Maxie up for a good look around…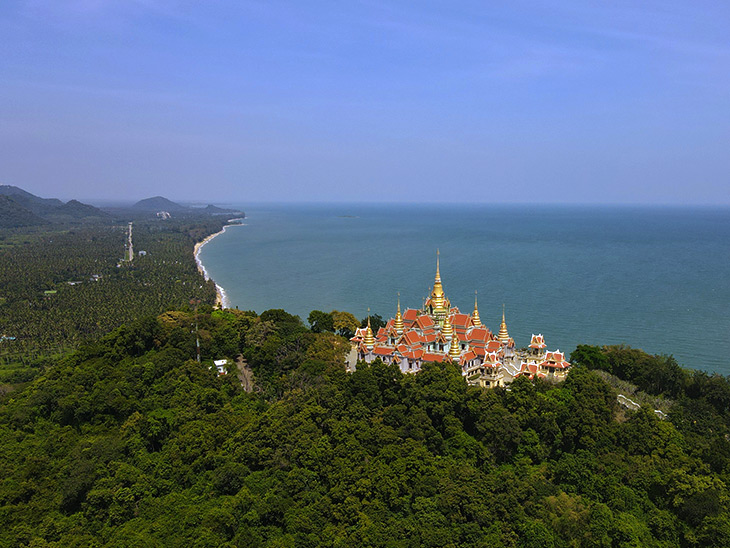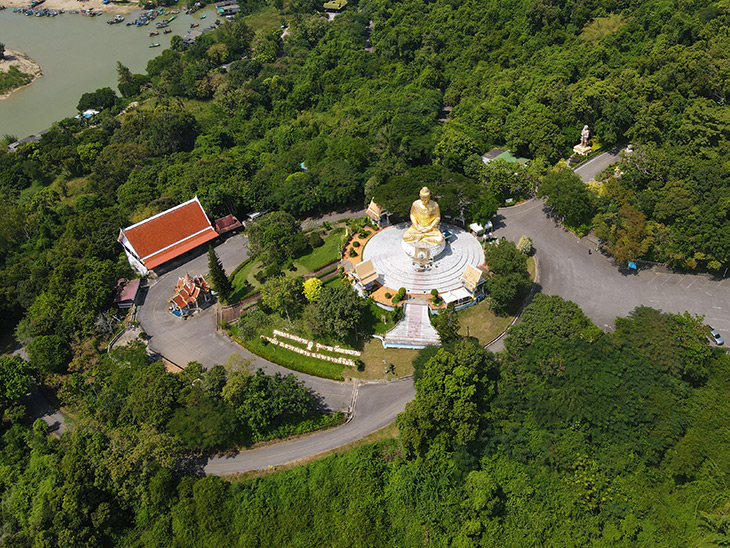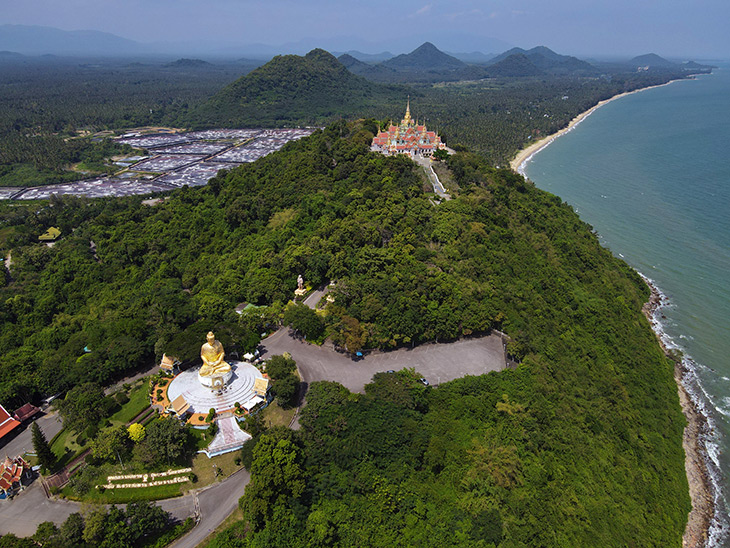 Nice!
From there it was a few more hours to the Happy Home hotel in Ratchaburi. Quite pleasant…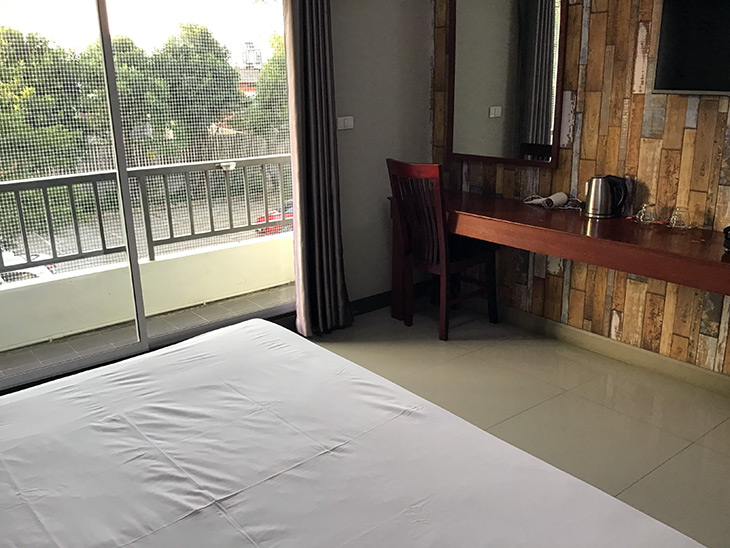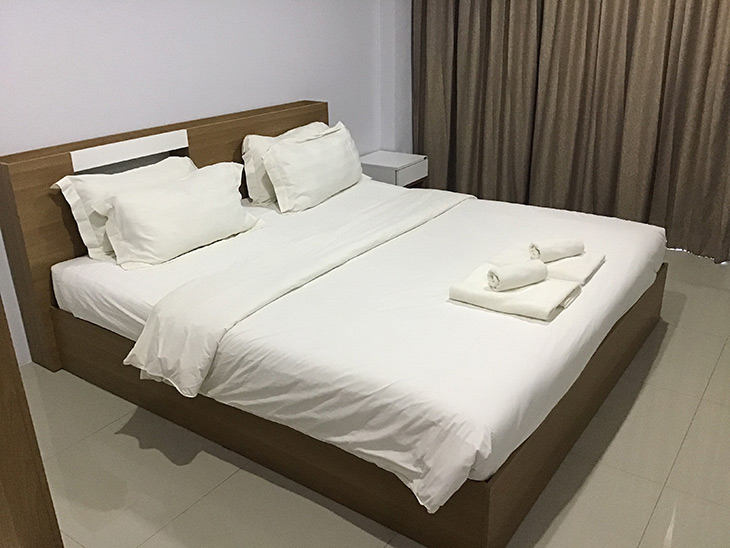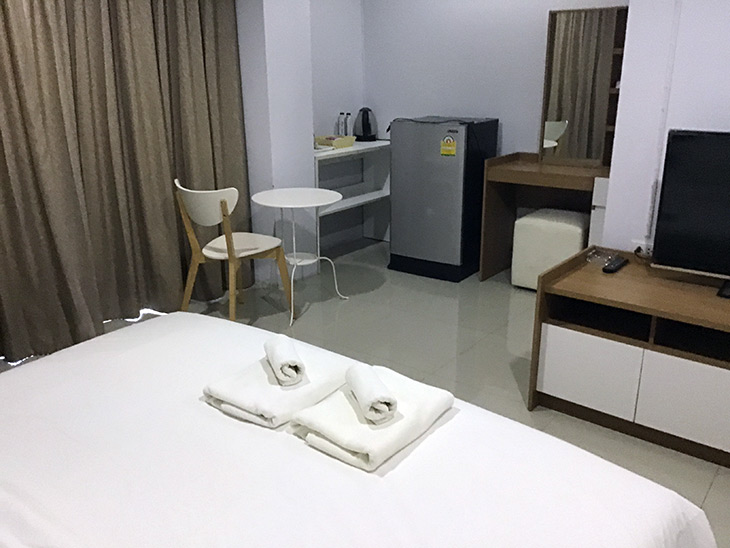 Although, the WiFi seemed to depend on the wind direction, and the bathroom featured another ceiling-level water heater. I have to assume hotels don't want you to adjust the temperature. I could just reach it, which means 99% of Thais couldn't.
There was one bizarre feature of the last part of my drive. The road widened to six lanes, and the outer lane has been designated as 120kph, with a minimum speed limit of 100kph, instead of the usual 90 max. How nice to be able to do 120. Legally. But, the road went through several small towns, with people pulling onto the highway at 5kph having completed their shopping. These areas are giant disasters waiting to happen – if they haven't already. No doubt the government will then decide that 120 isn't safe after all.
So, skipping forward to day 13 and my long trek home, I left Tak early morning, after a couple of unpleasant experiences in the Viang Tak Hotel. I was half-way through my buffet breakfast when a nice lady appeared and politely asked if I'd paid. I explained I'd paid for breakfast when I checked-in and told her the amount, which was for a one night stay with breakfast. She disappeared for a while and returned with a copy of a receipt, ostensibly showing what I had actually paid – which didn't include breakfast. I figured it wasn't worth arguing about – and I had no proof – so I reluctantly paid again.
I wasn't feeling overly happy when I went to check out. They of course we went though the usual ritual of sending someone to check my room, to make sure I hadn't stolen the bath tub, and then in an accusing voice she informed me "You had a bottle of water!" Yes, I admitted. I could see the joy on her face as she proudly announced "That will be 25 baht."
Having paid for two breakfasts, I kind of lost it. I loudly informed her I'd stayed in hotels all around the world and had never, never, never paid for drinking water. She was unmoved, and I coughed up. I was never offered a receipt for either of my two breakfast payments nor the water, so I have to wonder where that money went. Well, not much wondering is needed!
Shame. I like the place. This is my room and my view of the Tak River…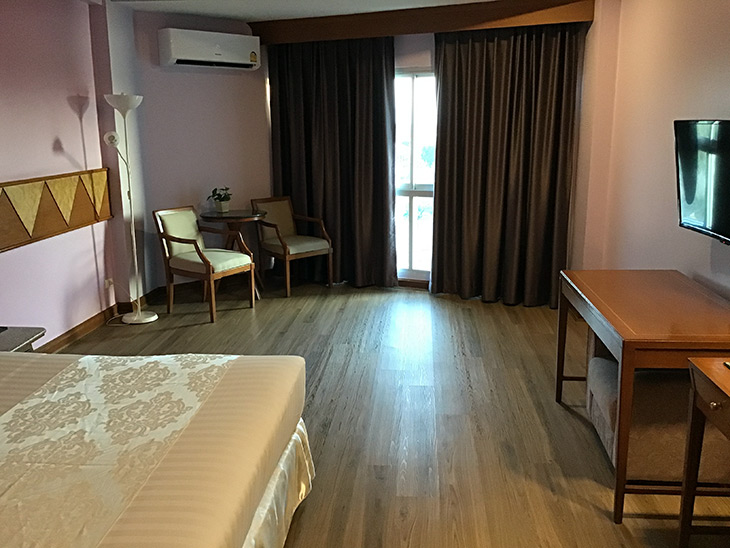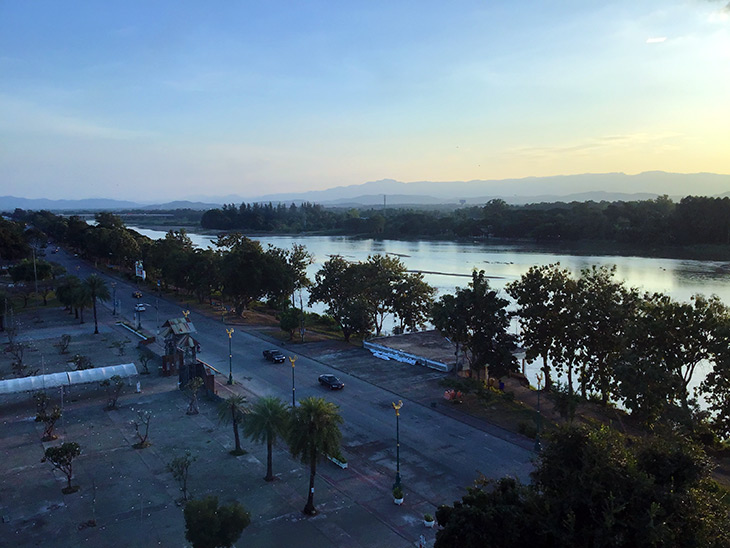 I doubt I'll stay there again.
Day 13 took me through Bangkok and down to Hua Hin, on the coast back in Prachuap Province. I expected horrendous traffic around Bangkok, but there was none, so that was a pleasant surprise. I'd splashed out a little extra for my last night and stayed in the Ibis Hotel, which was offering something like a 70% discount. I figured it would be nice to see the sea. I didn't! This is the view from my room…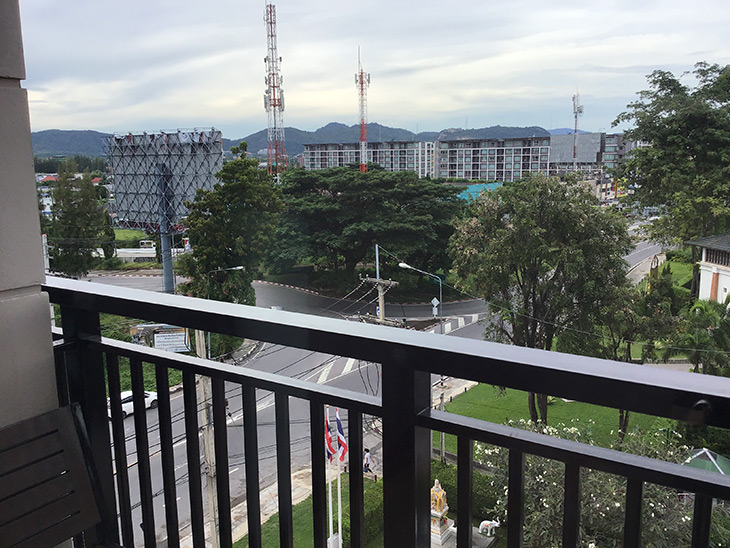 Oh, stop laughing. I have to say, the hotel was a disappointment. The room was kind of tiny…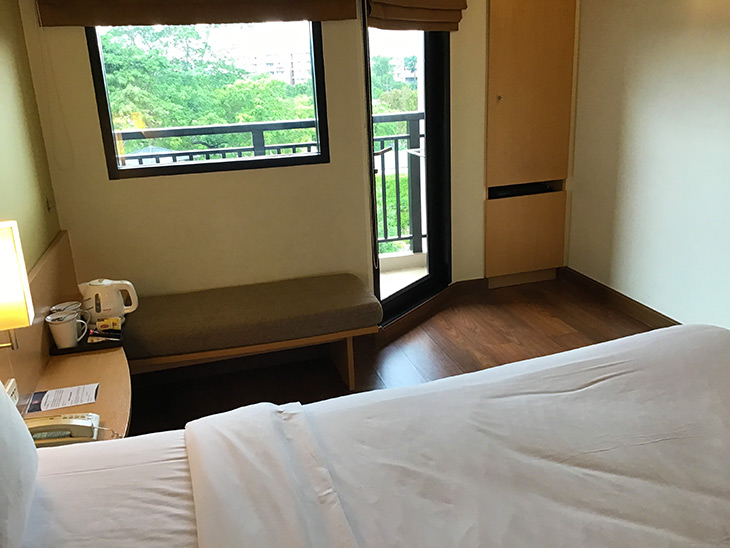 At one point I realized I didn't even have a fridge, but it's hiding in that tiny cupboard bottom right.
But the place was nice enough, breakfast was adequate, and I was on the road heading for home shortly after 8am.

The journey had one defining feature: torrential rain. At times visibility was about fifty meters. I won't say any more. I'd rather forget that day 14 happened. I was glad to get home, but sad that the trip had ended. Such is life. There will be more.