… Songkhla To Home. Old Town, Not What It Seems!
Early breakfast at the hotel. Jumped in Bert. Drove non-stop for three and a half hours. Reached home. Needed a pee. The End.
Well, yes, that's the short version, but I wanted to comment on the whole trip…
Overall, very good. The weather, for once, was pretty-much as advertised. There was increasing cloudiness on the way home, but that didn't matter. And ironically the heavens opened just as I arrived, but that didn't matter either. I took all the photos I needed, and I can now start planning trips to other areas of Thailand. South again? Maybe, but southwest. Satun, Yala, Trang, who knows.
And I wanted to comment on Songkhla Old Town. Once again I stayed in the Lake Inn. As always, I found it a bit grubby and in need of renovation, but it doesn't really bother me as I spend most of my time sitting on the balcony staring at the views, and the activity on the lake…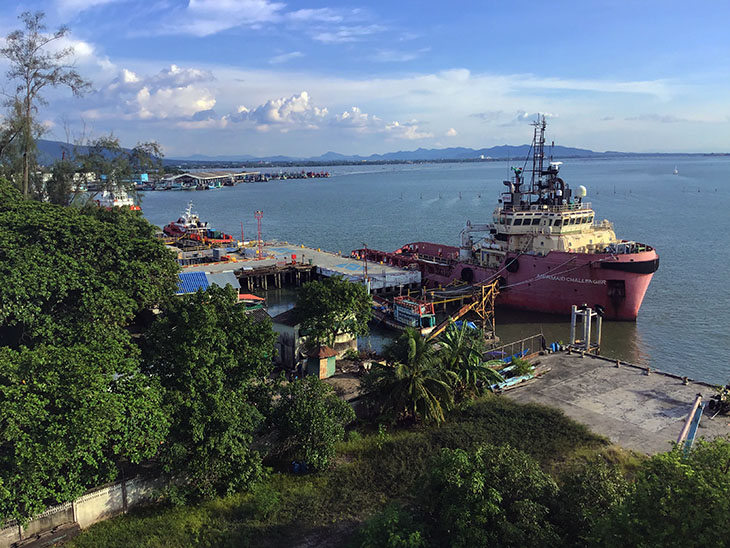 I'd actually planned to stay someplace else, but by the time I got around to booking, it was full. That's okay. From the Lake Inn it's an easy walk into the old town. And that's what I want to talk about – the old town…
My opinion of the place has gone from "must visit" through "quite nice" to "if you're in the area." It's great to look at – in daylight. There's an earlier article here and probably other places. If the sun's shining it's quaint, colorful and different. The restaurants, many of which border the lake and have great views, look inviting. They all invoke that feeling of "must go back there tonight." Which brings me to the first problem…
The streets are narrow and unlit. At least 30% of the drain covers are missing. Without a flashlight you really take your life in your hands. The risk of falling down a drain, getting washed out to sea and never being seen again must be high. I'm exaggerating. A little. The only choice is to walk in the road, constantly looking for traffic that is using the same space, and carefully calculating where you can jump into a gap between parked cars if necessary. It's not fun. After a nice dinner and a few beers it's even less fun.
Which brings me to the almost total absence of "nice dinners." On previous visits I'd usually opted for the restaurant that had the shortest walk. A combination of minimizing the danger and laziness. The food was very average but edible. Now it's permanently closed. No surprise there. So on my first night I decided to walk 500 meters to the place that looked the most inviting and had probably the most interesting menu. Until, that is, I looked at the real menu rather than the one shown on Google Maps, and found it to be quite limited. I chose a simple pork chop with fries and of course a beer.
Despite the fact the place wasn't busy, and it seemed to have adequate waiting-persons who spent the whole evening running around and shouting at each other, the food was again quite average, and … believe it or not … I was in there for ten minutes shy of two hours. If I hadn't brought my iPad I might have fallen asleep.
Next morning, for breakfast, I headed even further along the lakeside to a place I knew had a patio with great views…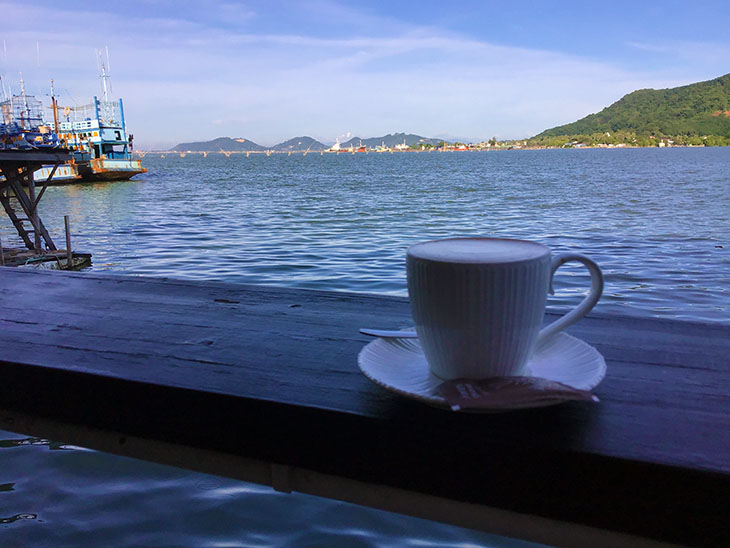 That's my cappuccino. It was good. But their idea of breakfast was to slap a piece of bread on a plate – un-toasted, un-buttered, un-margarined and on top they placed three pieces of hard dried bacon and a slice of ham in a similar condition. Alongside was a sausage, which by comparison was edible. And someone had the bright idea to add baked beans. Usually not a bad idea, but they saved some time by opening the can and pouring some straight onto the plate. Stone cold.
Did I mention the view was nice?
That evening I'd pretty-much decided to drive to somewhere completely different, but was having another nose around on Google Maps and realized I hadn't visited the middle of the peninsular. That's strange really. It's not wide. Sea one side, lake the other, but in the middle – here there be dragons.
Except there aren't. I spotted a temple and museum I'd completely missed, and close-by a "steak" restaurant. I put that in quotes because usually the last thing you'll find on a menu in a Thai steak restaurant is – well, steak. Beef steak that is. Pork, chicken, fish, yes. But beef? No way, but even if you did, you'd need a bank loan to pay for it.
So I thought, I'll wander over to the temple, check out the restaurant on the way, and go there on the way back if it looked good. It did. So I did. And I was in the temple complex for all of two minutes, taking one photograph (which I now can't find) when I was attacked by a pack of wild dogs which seemed to think my right leg would make a nice supper. Without the help of a passerby it might have done. I'll refrain form commenting further on Thailand's wild dog problem, except to say it doesn't help tourism.
There were only three dogs! –ed
Yeah, well, it felt like a hundred. And anyways, three's a pack.
So, I ended up in something called "Puangrat Steak Home." The steak part sounded good, less so the rat part! But I'm naming this place (and not shaming the others) because it was good. The menu was quite limited, which I think is not a bad thing. Better they cook a few things properly than screw-up a whole bunch of dishes. The best option seemed like yet another pork chop with fries. And I might have had a bottle of beer! It was delivered in about five minutes, was extremely tasty, as were the three waitresses who were very attentive. (Well, they had nothing else to do.) And I was in the place for about forty minutes, which might have been less if it had been a small bottle of beer. The decor was nice…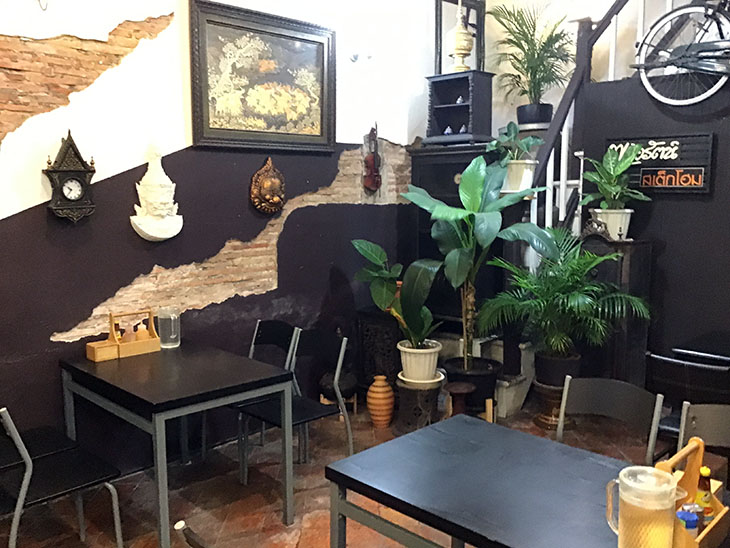 Now, several articles I've read suggest that the government is trying to get the old town listed as a World Heritage Site in order to qualify for funding. Good plan. But I'm hoping the investigating team doesn't wander around at night, and doesn't decide to eat anything. At least, they should be thinking, this place really really needs our money!