There's just one place I want to mention before I wrap up the story of this trip with my usual comments on hotels…
Prasat Mueang Sing Historical Park.
Regular readers will know I'm not a great fan of what I call hysterical parks. But I'd read good things about this one, and had earmarked my final afternoon in Kanchanaburi to take a look. It's about 35kms west of the city, and is the westernmost of the Khmer-style temples.
Getting in required an inspection of my passport and vaccination certificate, along with a bright red sticky dot that was applied to my shirt. I couldn't help wondering what would have happened had I been wearing a red shirt.
Anyhoo, I was impressed. It's well laid out. There's plenty of information in both Thai and English, and there's an interesting museum.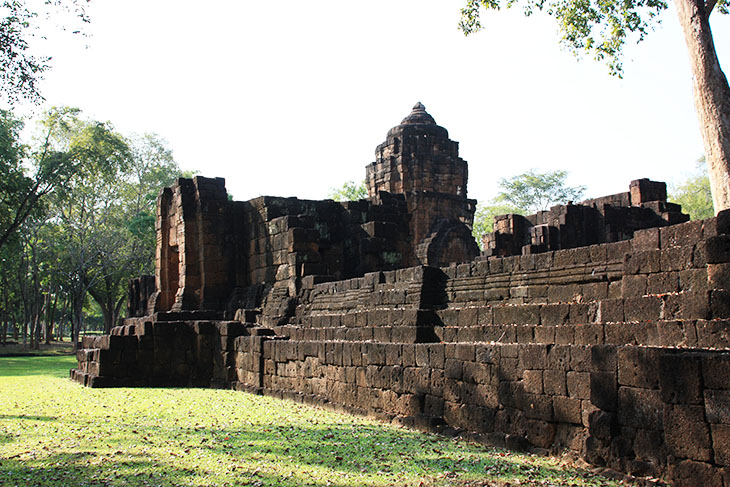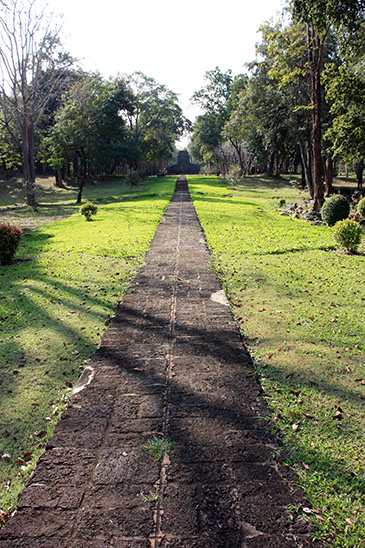 But I didn't see much of it.
While visiting the first building remains, I had what you might call a footwear malfunction. It was a hot afternoon, I was wearing flip-flops, and one of them caught on a five hundred year-old rock and was damaged to the point of being unwearable.
So I had to go back to Kanchanaburi in search of a replacement, by which point the day was pretty-much shot.
Hence, the hysterical park is back on the To See List.


The Journey Home.
I'd planned to go as far as the top-end of Chumphon province and stay overnight. You may recall my last visit to the province was less than successful as the air was filled with a thick haze and visibility was limited. But, the further south I went the worse the weather became, and as I neared Chumphon the air was filled with a thick haze and visibility was limited! Yes, again.
I'd booked and paid for a hotel room, but it was one of those el-cheapo concrete box affairs, so I decided to give it a miss. I didn't see any point spending money on extra food for a day in order to see nothing, so I just kept going and was home before Beer O'clock. 720kms in about ten and a half hours, which included a stop to visit a friend near Pranburi.
Conclusion.
A great trip. Superb weather. Nice hotel in Kanchanaburi. Lots of interesting things to see. Some things were lopped off my Bucket List, but there's still plenty remaining. I shall return. Oh, and I shall definitely spend more time in Ratchaburi province. I barely scratched the surface of the things to see there.
Le Lert Hotel, Ratchaburi.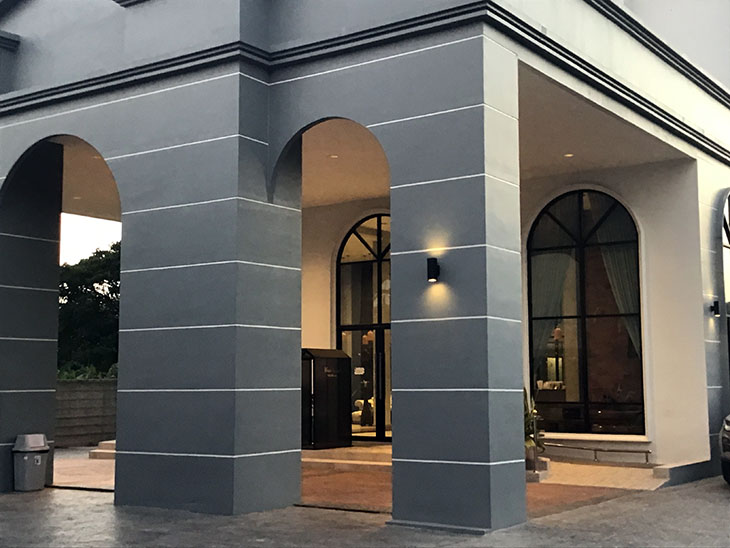 Bizarre name. Bizarre place. It looks very new, so everything is clean and sparkly, but somehow it lacks warmth and friendliness.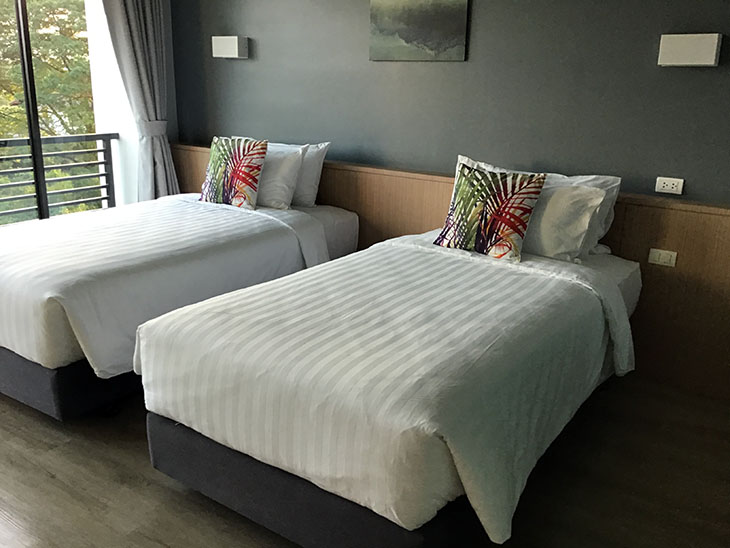 The eating experience was strange. The restaurant is called The Grill. I was happy that it was open. I didn't feel like more driving. But, all they could do in The Grill was grill. I ordered a grilled pork chop. "Can I get fries?" I asked. No, no fries. "Salad, veggies, anything." No. Nothing. So, I had beer, pork chop and beer. Delicious but strange.
The breakfast experience was similar. I headed for the hotel's coffee shop but was accosted by the security guard who insisted I couldn't go in. At the time that made no sense, but I'm thinking now it might have been reserved. "You want coffee?" he asked. Duhh. And pointed me to a coffee and snacks kind of place next to the road. They had delicious coffee and three week-old cake!
Overall there's nothing really wrong with the place, but there's a lot of choice in the city, so I wouldn't go back.
Sky Resort, Kanchanaburi.
By contrast, I really enjoyed this place. It's not new. It's a little rough around the edges. But then so am I.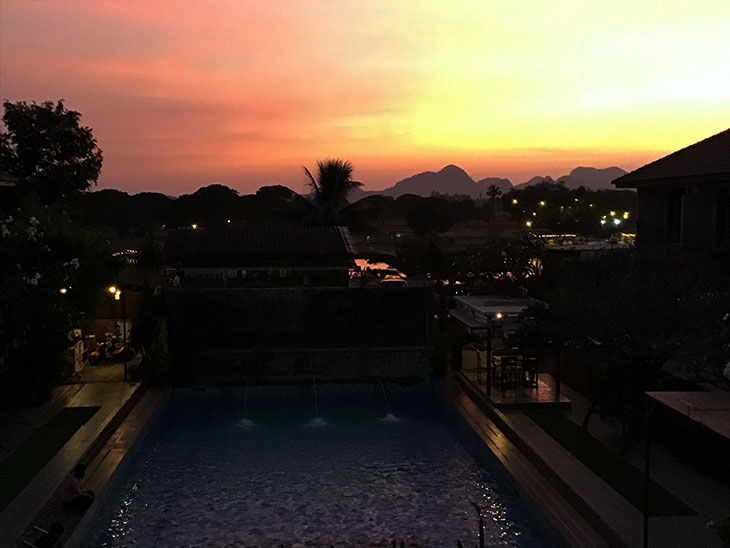 Location is important, and the place is right on the River Khwae Yai with mountain views beyond, and directly facing the setting sun. My room had this view plus that of the pool. And with a reasonably-sized balcony I was able to sit in the cool evening air until cool became cold somewhere after 10pm.
I think it was the style of the hotel that had me thinking I was in Florida.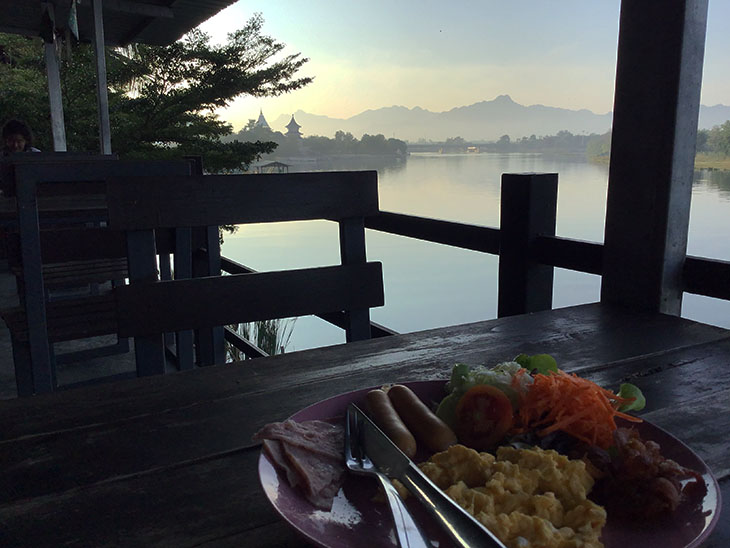 It was cheap, and when I decided to stay an extra night, the nice lady who managed the place gave me an even cheaper rate. I could have happily stayed a month, and it's certainly where I'll head on return visits.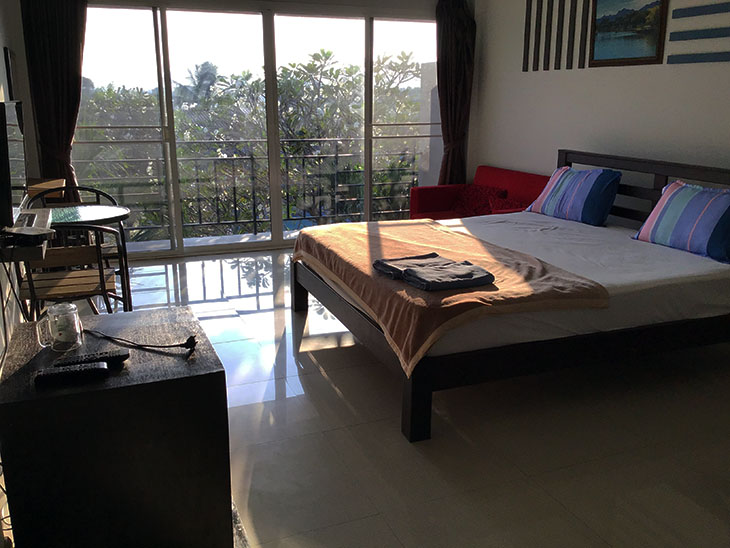 That's it. Where next?