…Trekking To Burma.
A trip to Kanchanaburi province isn't really complete without heading up to the Burmese border at the Three Pagodas Pass.
I hadn't managed to get there on previous trips to the area, so I'd set aside day four assuming the weather was good. It was. The weather was good all days. But it was more of a trek than I'd expected.
Not a problem for me as I love driving. 230kms each way doesn't sound too bad, and heading out of Kanchanaburi I initially thought it would be easy. Highway 323, which seems to be the only major highway in the province, was a fast four lane affair for close to an hour. Then it became two lane. Then it became a bit twisty. Then it was downright wiggly as it headed up into the mountains. Then it was foggy. Yes, a bit of a challenge, and a bit slower then expected.
The main reason to go is not the pass. It's to visit the Mon Village in Sangklaburi District, at the top end of the giant Vajiralongkorn Dam. The Mon people are an ethnic hill tribe who inhabit mostly Burma, but several areas of Thailand too.
So this Mon Village is not to be confused with Mon Village, a restaurant in my earlier home town of Hudson in Canada!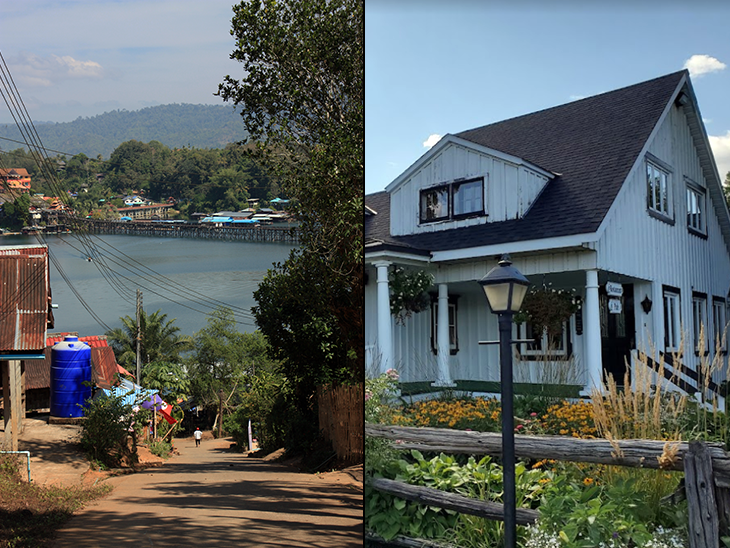 And the main reason for going to the village is to see the "one kilometer wooden bridge"…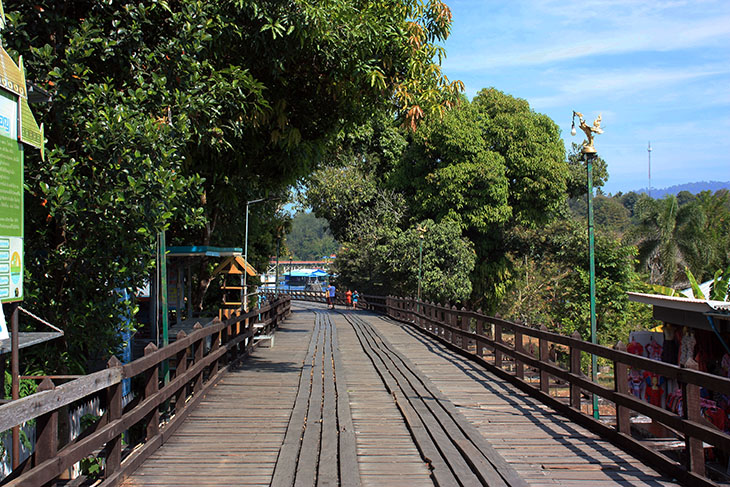 But, this isn't the wooden bridge featured in most travel websites…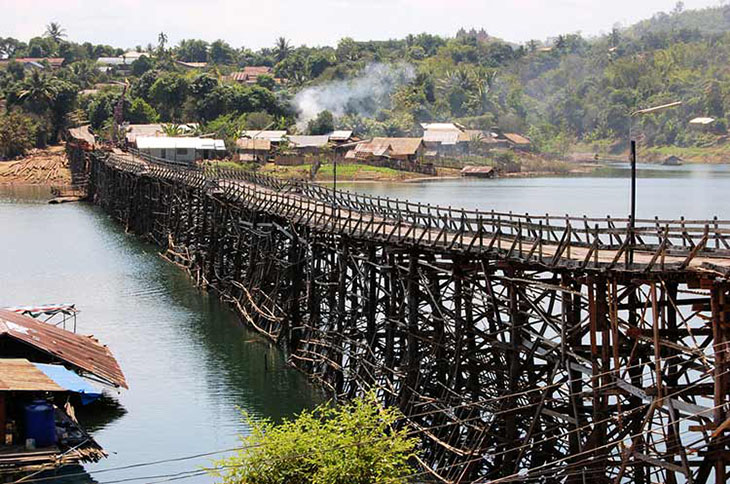 That one was blown down in 2013, and the rebuilt one is much more sturdy and is not all wood. And, although it's usually described as 1km long, some websites say 850m, others say 400m, some say it's the longest freestanding wooden bridge in the world, others say second longest. No matter. It's long. I walked it, both ways.
Here's some pics from the bridge…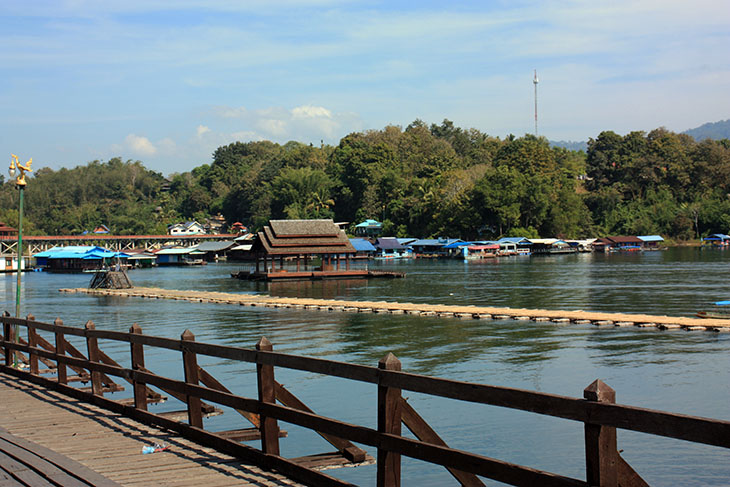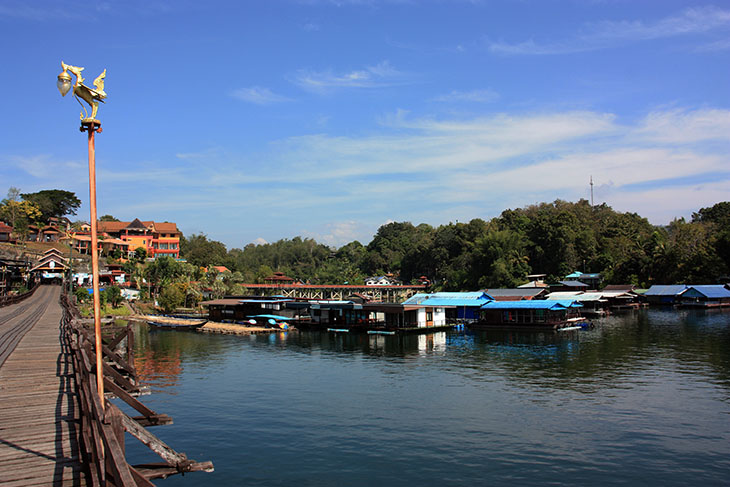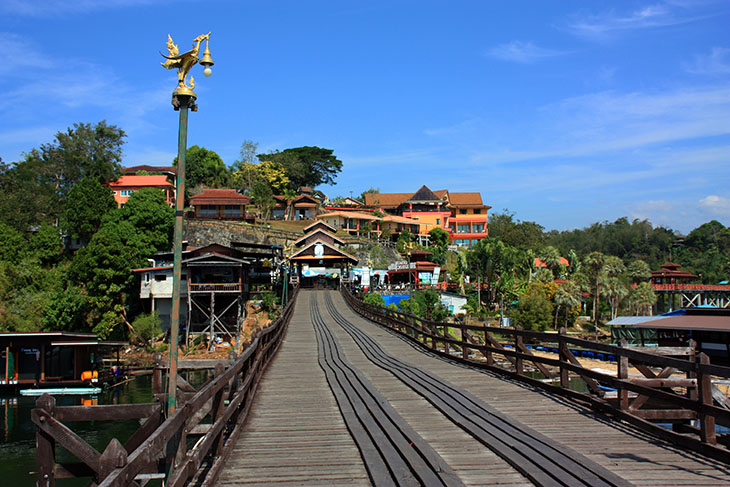 Of course, I wanted aerial shots. Easier said than done. The roads are narrow, lined both sides with buildings. One road I tried actually took me to the edge of the lake, but was still lined with buildings and too crowded to fly. It took me a 27 point turn extricate myself from that mistake. But it taught me that I needed to get away from the village to find an open area where I could fly back to the bridge. That worked…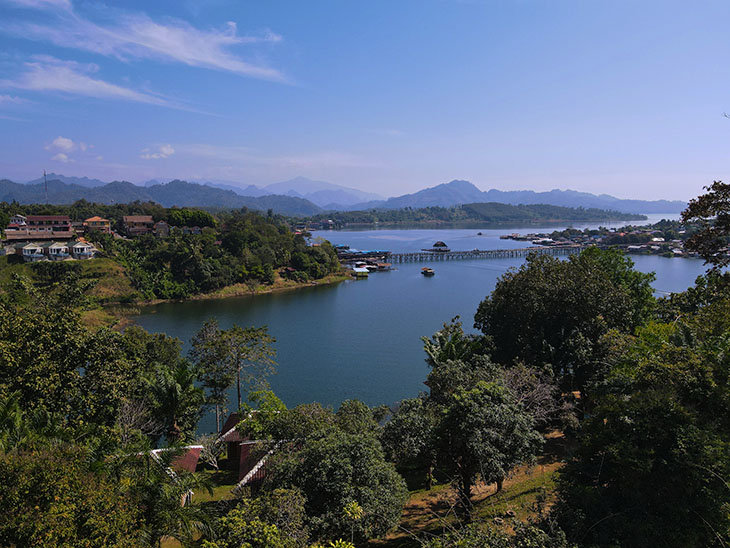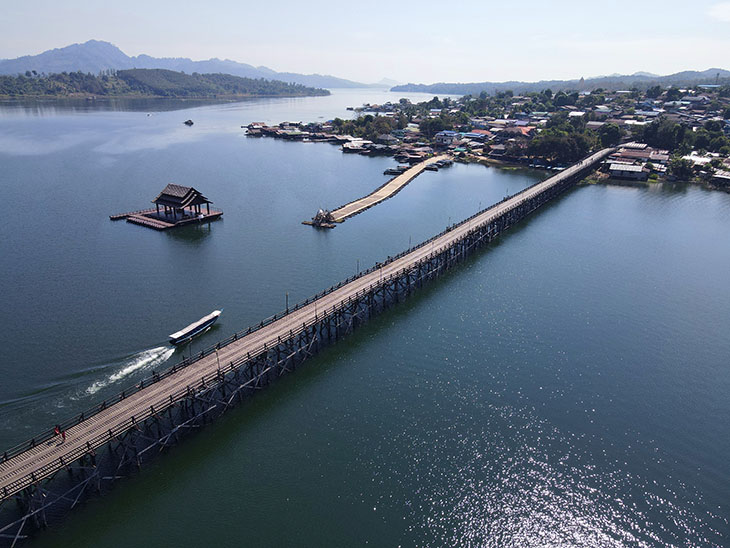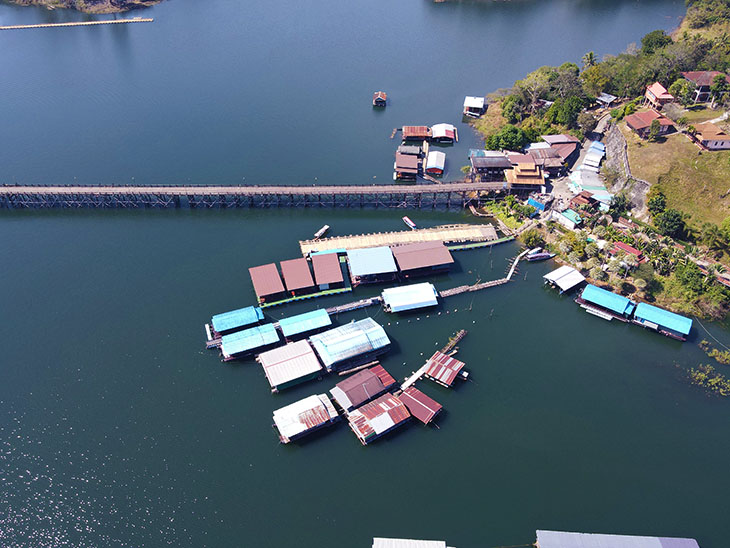 Some people talk about this place as though it's a bucket list item. For me, it wasn't. Just an old wooden village with a not-so-old not-so-wooden bridge and an attractive lake. Pleasant, but nothing more. I also visited a couple of temples that did not meet the description of best bits.
So, from there, I headed off to find the Three Pagodas. Not so easy. About 5kms before the border town there was a checkpoint. Passport. Vaccination Certificate, Questions. More questions. Even more questions. I really wasn't sure they were going to let me proceed. But they did.
I'm not sure why I bothered, other than to be able to say – been there, done that, no t-shirt. As you can see below, the pagodas are a bit underwhelming. Here's a couple more pics…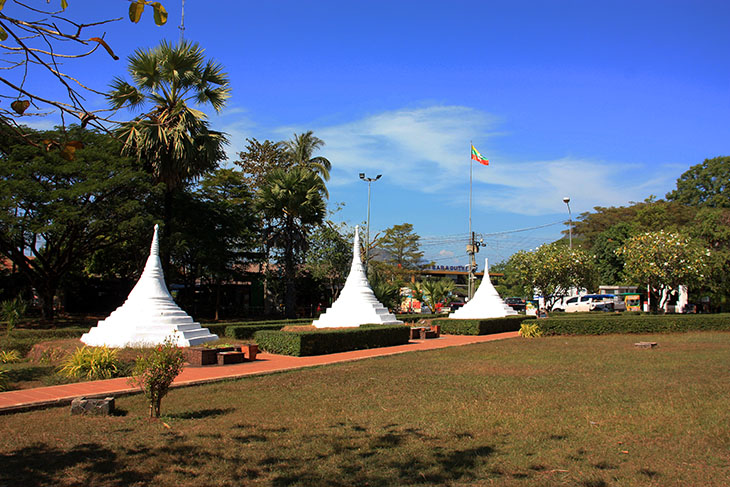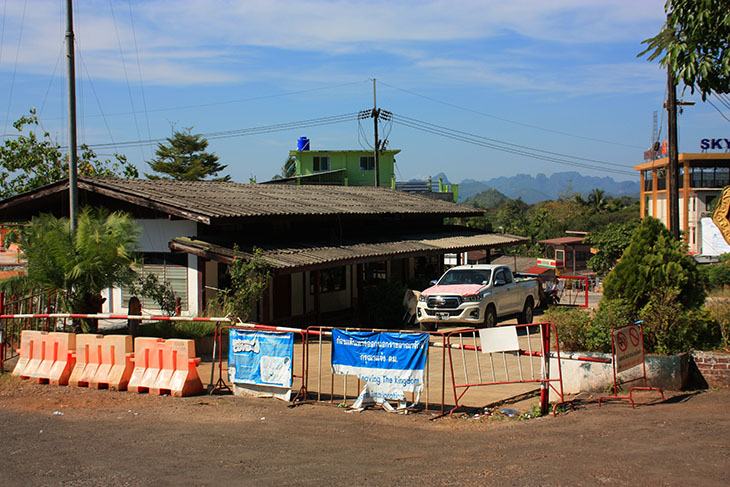 I nosed around the actual border crossing point, walking – I think – into Burma…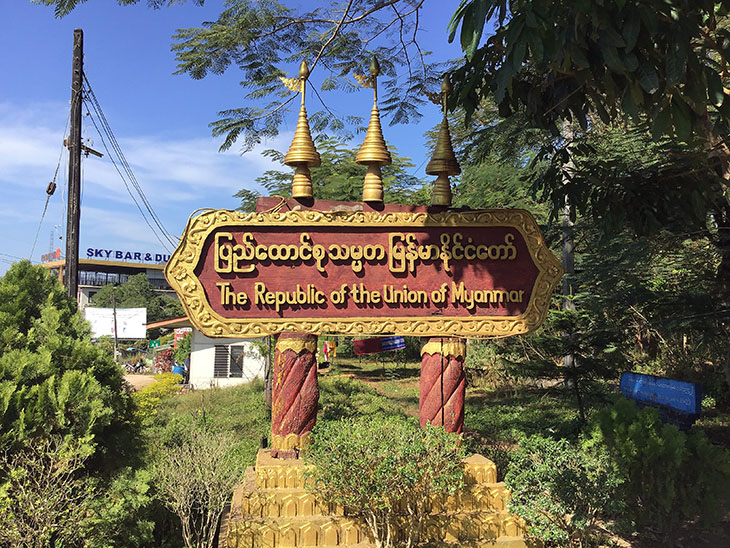 Oops. No one shot at me.
Of course, the border is closed, but both sides seemed to be unmanned, and the only thing stopping me wandering right into Burma were flimsy barriers and a bar with a padlock. I guess, having passed the earlier check, no one too much cared what I did. Oh, and getting back through the same checkpoint was just as rigorous!
And this was the start of the long trek back. For some reason it seemed to take twice as long to get back as to get there, and it was damned close to Beer O'clock by the time I plopped myself on my hotel balcony with my takeaway KFC.
Actually, I made one stop on the way back at something called the Pom Pee Viewpoint. It's at the bottom end of the reservoir with nice views…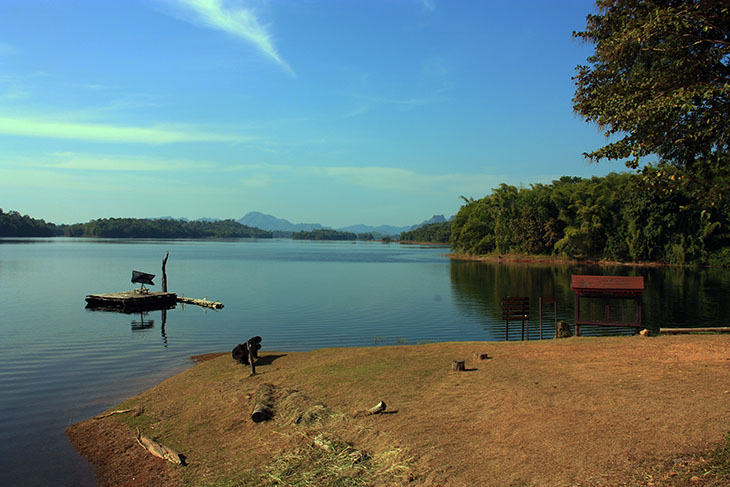 So there you have it. A long day. I'm glad I went. It was worth the effort, but only just.