…Another Trip South.
As I mentioned at the end of the last article from my previous trip to Malaysia, I would be making this journey on a ninety day schedule, until I qualify for a one year employment visa.
I enjoy it, and for now, there are new places to visit along the way, but I won't want to make the same journey more than two or three more times.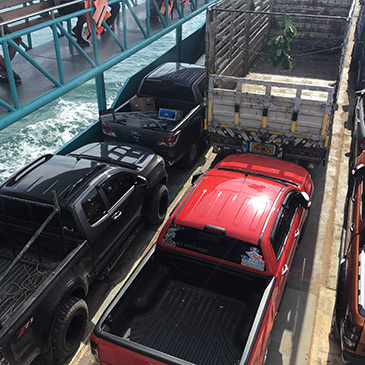 Well, I don't have to. I can go to a Thai Embassy or Consulate anywhere on the planet. It's just that Kota Bharu is the most convenient given that it's close to the border. I can cut a couple of days off the journey if I want to, but that means no sightseeing, and where's the fun in that?
So, I'm back from my second trip. Here's the overview…
I made some variations to the route. First, I wanted to visit the island of Ko Yo in Songkhla Province. Rather than heading straight down highways 41 and 4 to Hat Yai, I kept going east to the coast, and then south. Highway 408 is mostly a two lane road, but there's little traffic. It's a coast road, but is just a few too many meters inland to afford any sea views. Side trips are easy though.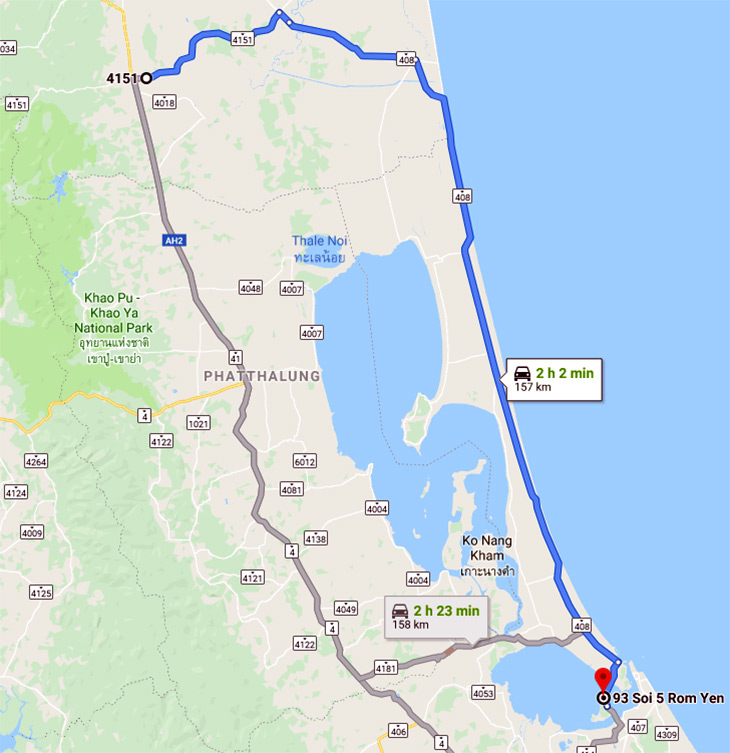 On day 2, I didn't take the obvious route on highway 42 to reach the Malaysian border, as I wanted to detour through Yala Province. A first for me.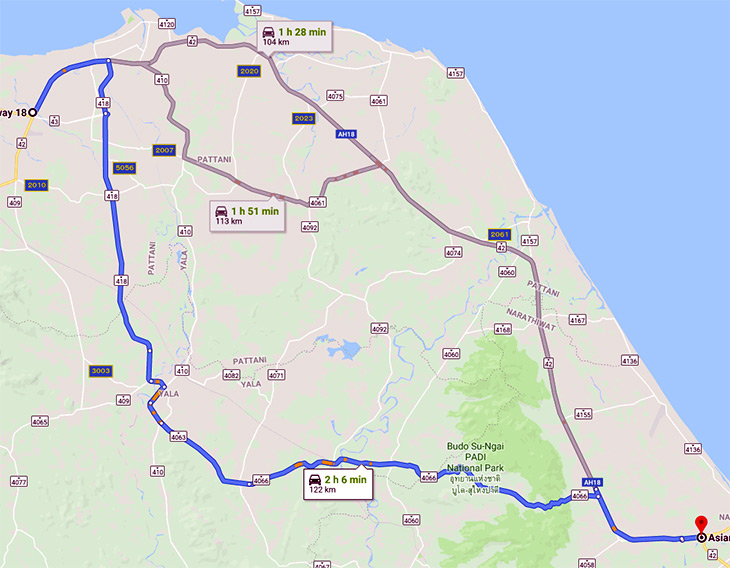 This worked well, until after leaving Yala town, Ms. Chuckles must have decided she was tired of me cursing and swearing at her, and went silent. By the time I realized this, I was lost. Well, and truly. With a lack of spoken directions I'd just kept taking what looked like the obvious route, and she'd been merrily recalculating the correct way after each of my mistakes.
I then had no choice but to look at the screen at every junction to figure how to get out of the mess I'd gotten us into. Let's say we saw some very minor roads of Yala Province. And once back on the 42, she deemed it appropriate to start talking again. One of these days…!
My mission for day 3 was to be at the Thai Consulate in Kota Bharu bright and early. Well, early. I figured I'd seen everything I wanted to see in KB on my last trip, and decided that after the Consulate I'd head southeast to visit Kuala Terengganu, where I would see things, stay overnight, and then head back to the Consulate.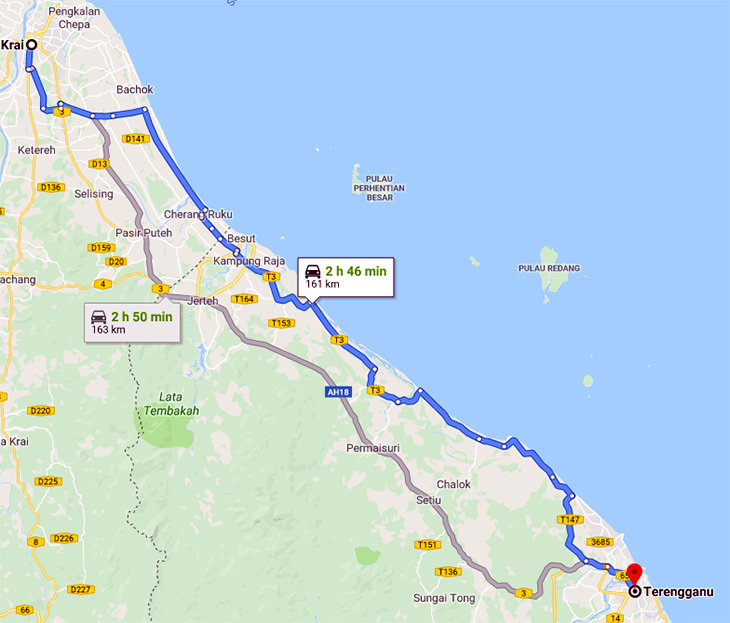 It wasn't a bad plan, except that I hadn't predicted the traffic density on the twisty road linking the two state capitals. It meant a third gear 50kph crawl for close to three hours – each way. Not to be repeated.
I won't bore you with maps of the return journey. It was what I would call the "traditional route" up to Songkhla for one night, then through Trang to Krabi for a second night, before some shopping and the ferry home.
So, let's get started with day 1…