…Two Silver and One Mixture.
So; one morning I went tootling around the temples close to the city center of Chiang Mai. Not actually within the old city walls, but pretty close.
The first two I visited, Wat Meun San and Wat Sri Suphan are so close together, I confess, I thought they were part of the same temple complex. They're not, but they are so similar – covered in embossed silverwear – that I figured the two buildings, over the centuries, had been separated by roads and a few buildings. In fact Wat Meun San is generally known as "The Second Silver Temple."
Wat Sri Suphan:
It was originally built in the reign of King Mueang Kaeo in about 1500CE. However, the old structure has now been replaced by the silver ordination hall due the dilapidated state of the original. The architecture is Lanna style of masonry with the aluminum and silver decoration with delicate carving. This three-dimensional art portrays stories of Buddhism, dharma puzzles, and the history of the temple…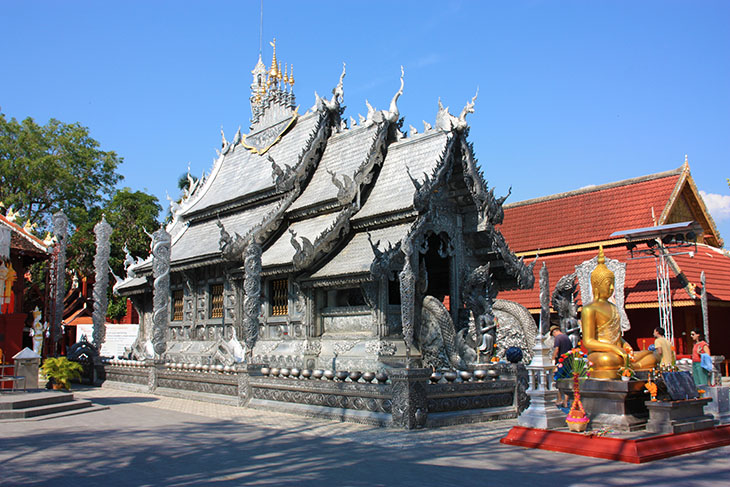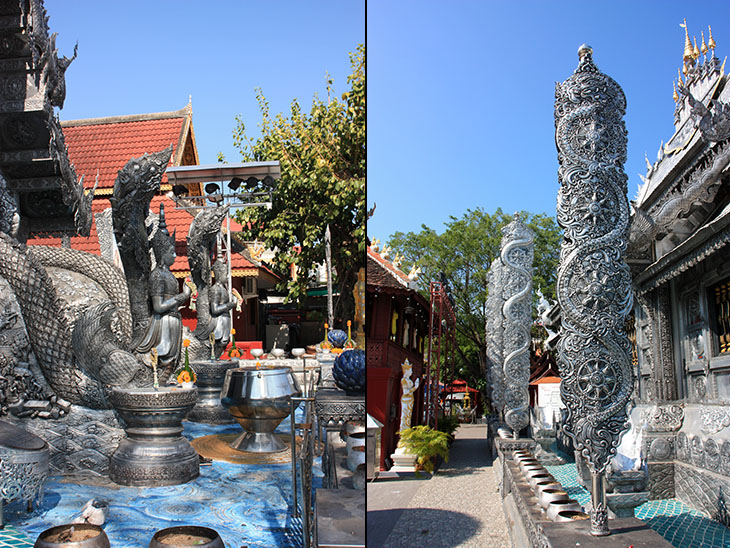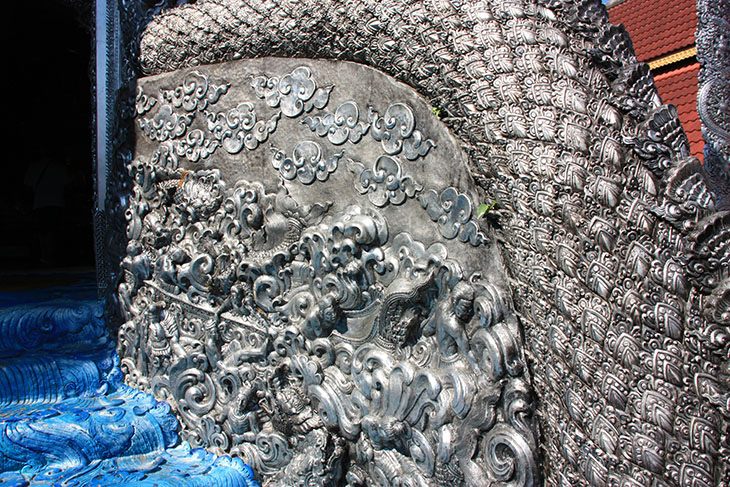 The interior also has its fair share of silver, along with the usual gold statues and red walls…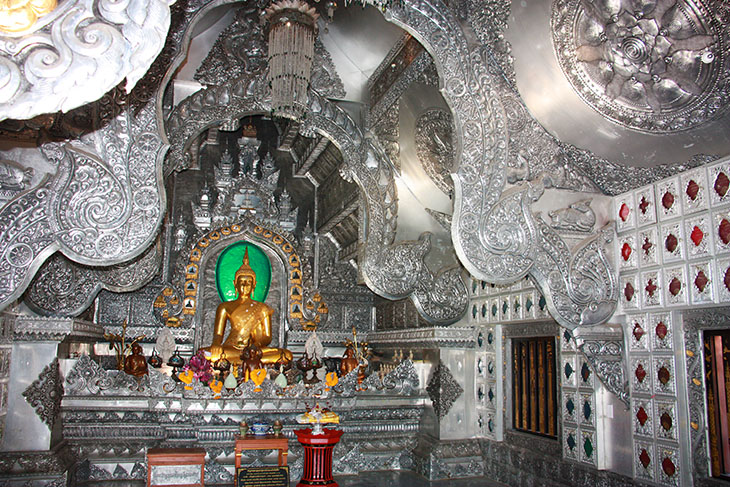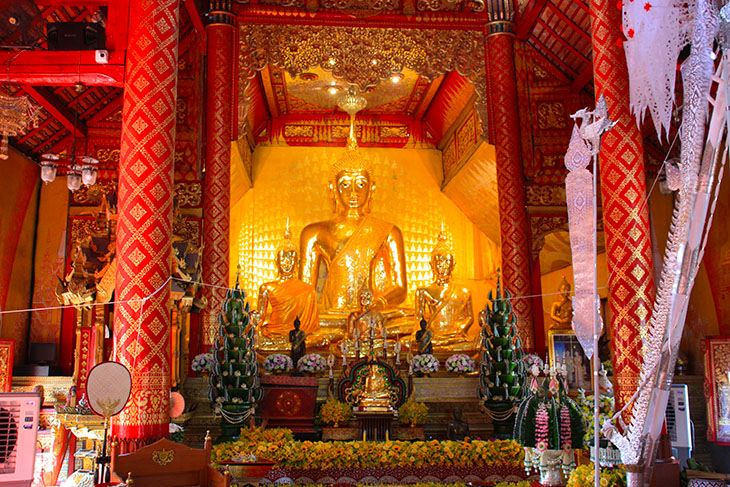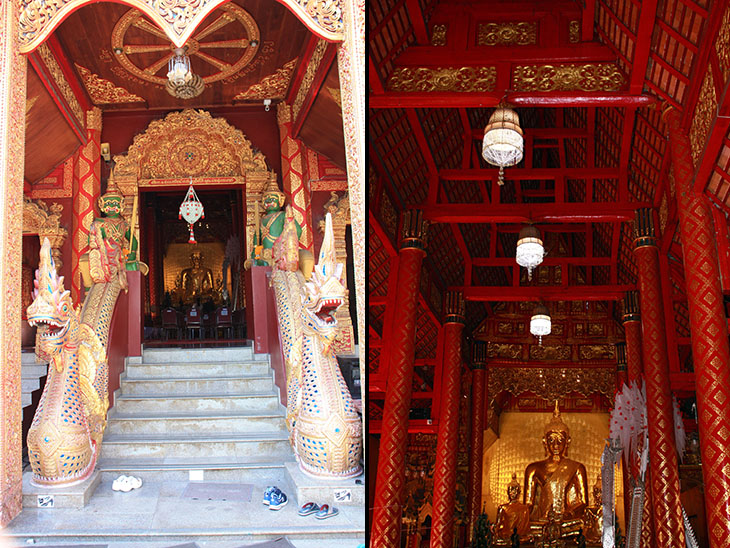 Wat Meun San:
There are several articles online detailing the history of this place, but they don't seem to agree with each other. Most likely the original wat was built somewhere around 1440CE and the silverwork was added somwhere around 1800CE. The articles also disagree on the type of metal. I could be silver, it could be nickel, and it might have aluminum added. Or not! But one thing's for sure, it's pretty spectacular.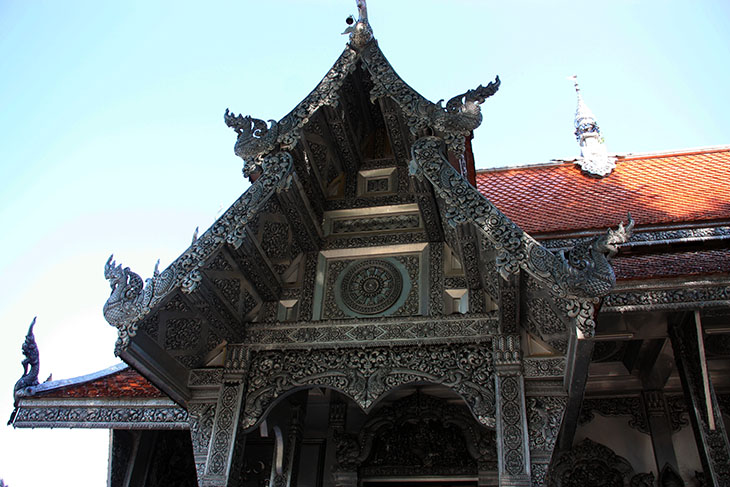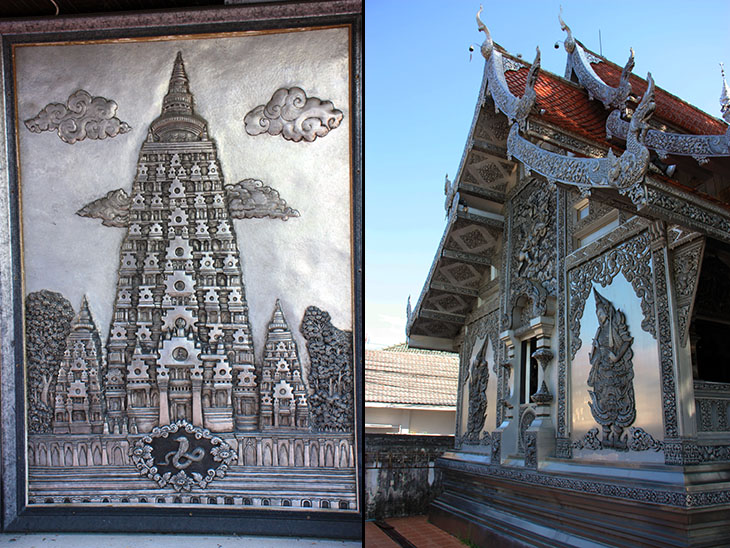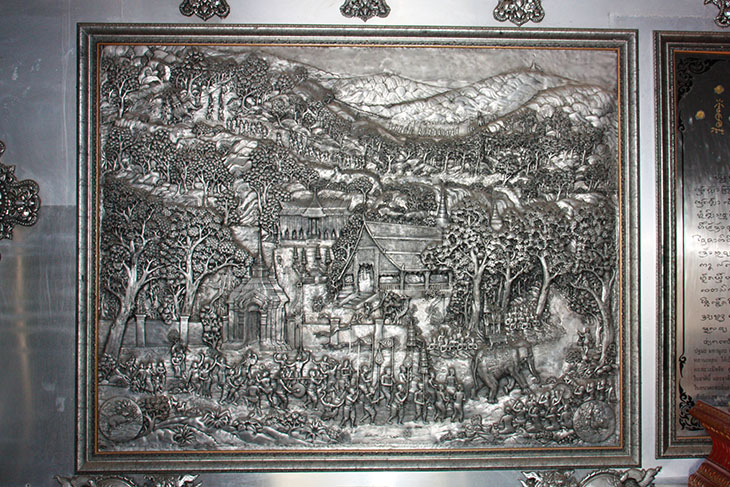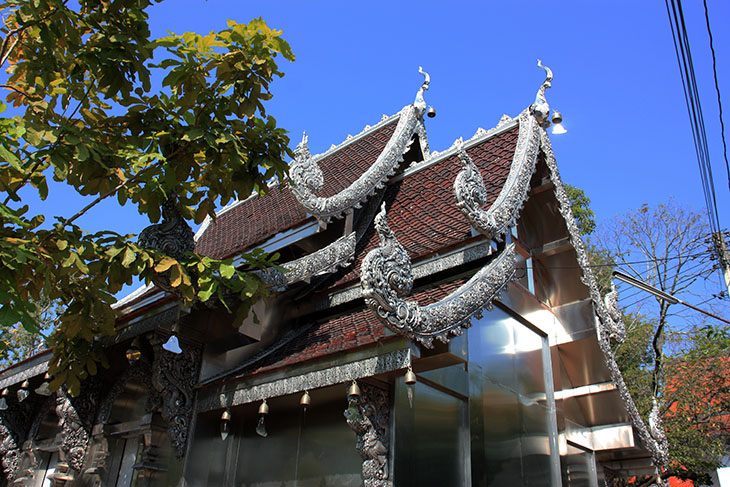 Another article says that this "second" silver temple is rarely visited. Wrong! They were both teeming with tourists, and parking was difficult. That's what happens when attractions are so close to a city center. The hordes can easily jump in a songtaew or minivan.
Now, admit it, you can't really see the difference between the two temples can you? Well, Wat Muen San is the one with the pagoda…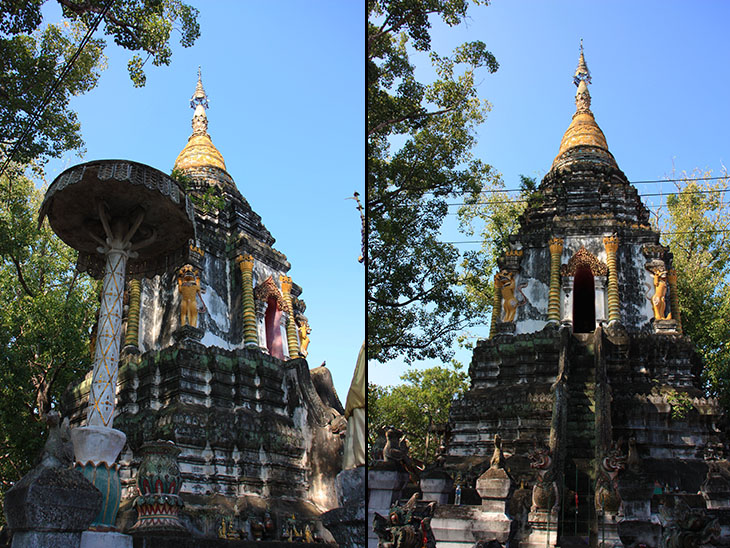 Wat Ketkaram:
Oh look. More silver…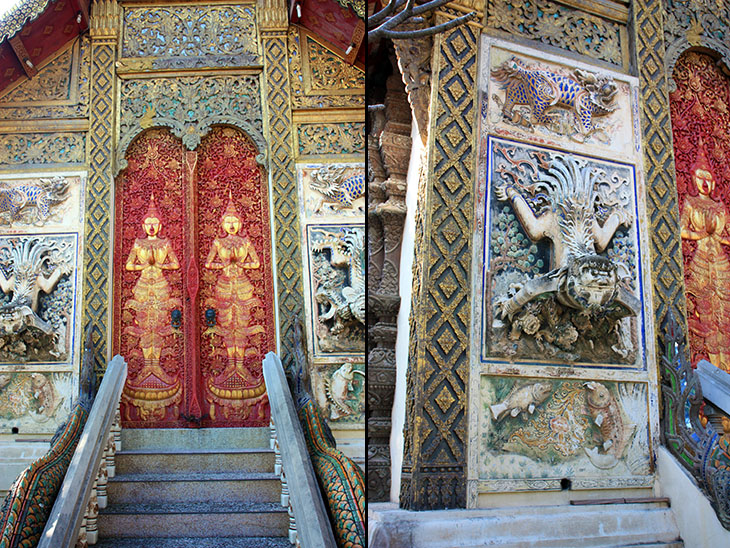 …but with other designs and colorings.
There are two main features of this temple. One is the five-tiered roof of the viharn, or assembly hall…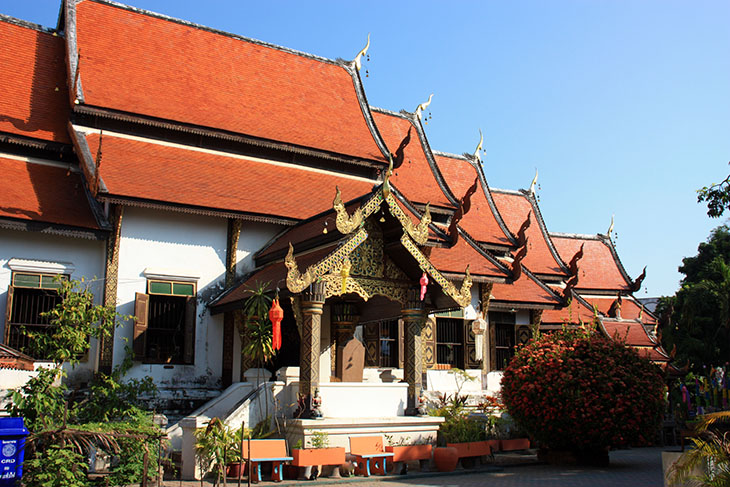 …and the other the Burmese-style chedi or pagoda which contains a much-revered Buddha relic…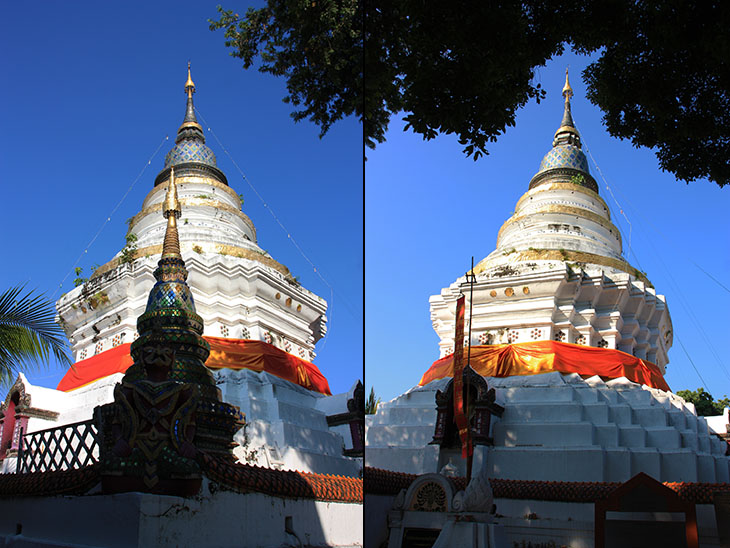 The interior is again an attractive dark red with gold…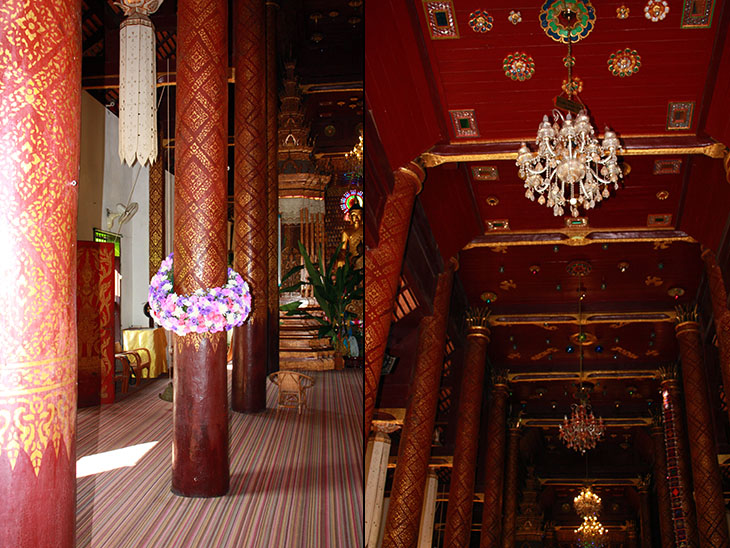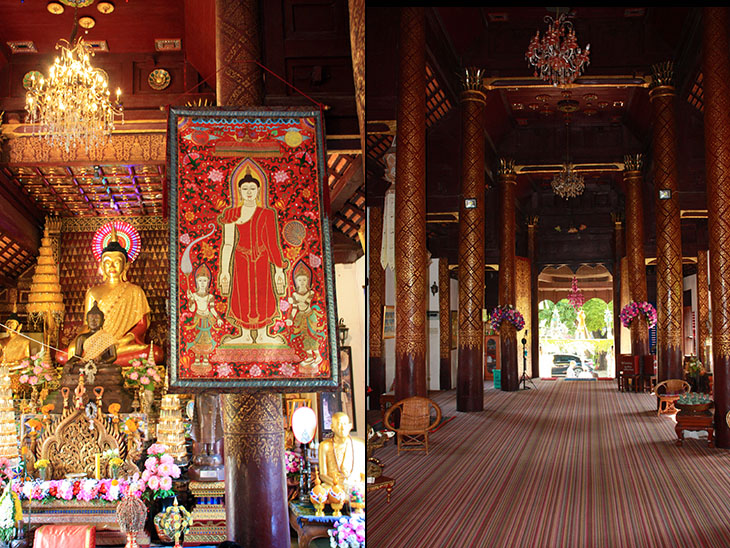 All of which left me wondering, wat's for lunch?