…Seven Levels Or Nineteen?
After leaving Wat That Noi, the entrance road to The Khao Luang National Park is just a hop, skip and a jump towards home.
He means about twenty-five kilometers…
It's a narrow, winding uphill road that leads to the Karom Waterfall, sometimes spelled Karome…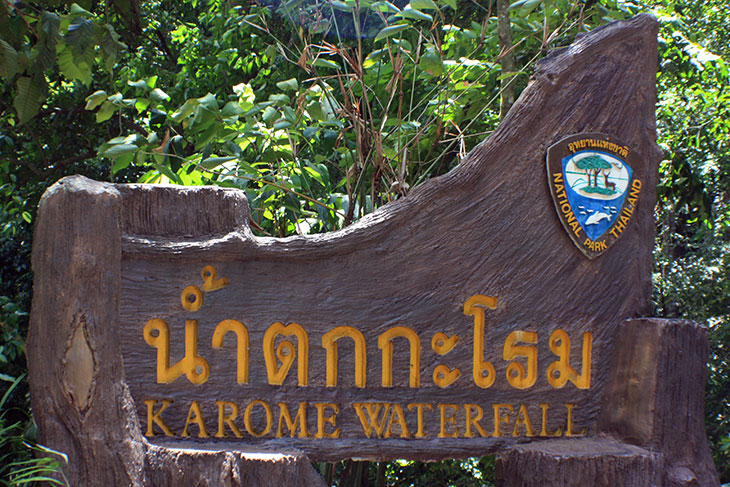 But just before the parking area there's a barrier, where us nasty farangs have to pay 200 Baht, while persons of Thainess pay only twenty.
Bert was 30 Baht. I assume he's considered to be Thai.
I think I'd find this two-tier pricing system less offensive if Thai people didn't have to pay at all. It's their country. It's their national park. So, it seems fine if they're allowed in free of charge. But that's just me.
One thing's for sure though, this place is worth every satang of the 230 Baht it cost me to get in.
Although, before heading into the park, I was a bit confused as to what I was going to see. Several websites, which seem to echo each other to the word, talk about nineteen levels of waterfalls, numbered one to seven. Even allowing for Thailand's quirkiness that didn't make much sense, and I think I've figured there really are nineteen levels, but only seven are accessible.
And here's where the National Parks Department has done a great job. This is rugged landscape with dense primary jungle. To see the seven levels of waterfalls it's necessary to climb steeply uphill for about two kilometers. I had envisaged rocky trails, seeing a couple of levels, and then turning round in exhaustion, after getting eaten alive by goodness knows what.
One sign warned me to be sure I was wearing "leech socks." What the heck are those? The socks, I mean. I know what leeches are, and I'm always equipped with a cigarette lighter to persuade them to fall off and go suck someone else's blood. Leech socks I'll have to investigate.
But a concrete pathway has been laid the whole way, with plenty of cross grooves to aid traction and drain water, and steps to one side at the steeper parts. Okay, it's still hard work, but it's not just one long climb…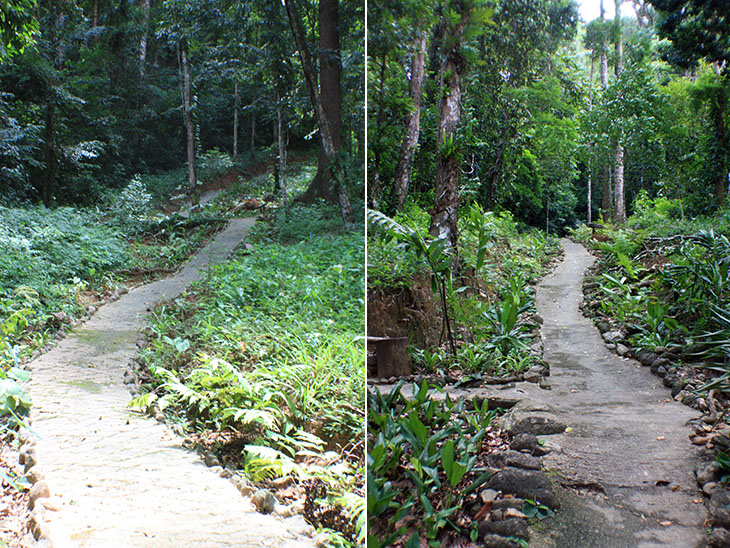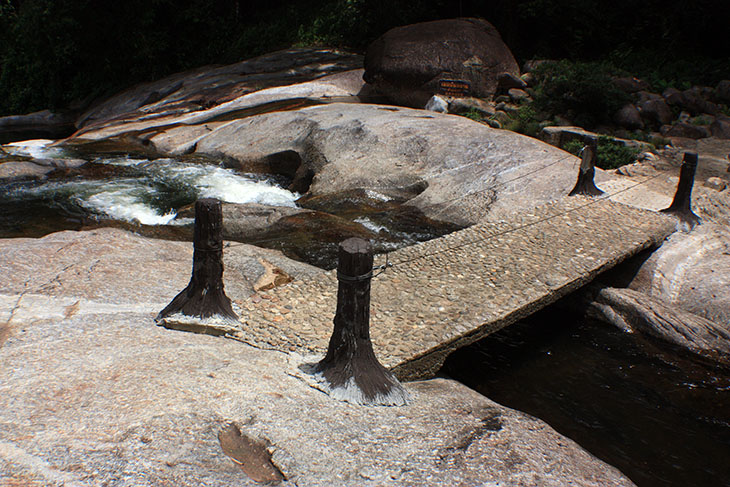 Not only do you stop periodically to view the waterfalls, but there's informative signs to explain the various types of undergrowth, plants and trees – a good excuse to pause and catch your breath…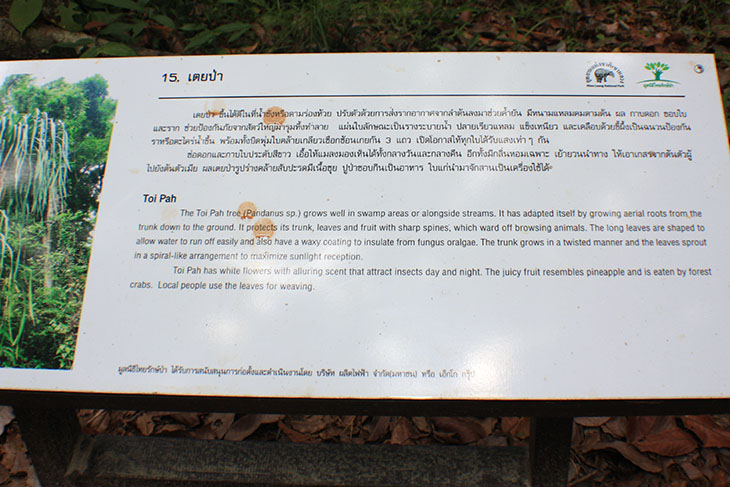 …plus several rest halts, which would be ideal for a weekend family picnic. They are equipped with life vests, and there are several clean-looking potty huts. I hope on a weekend all these facilities are well used, but needless to say, I was there alone. And I didn't use any of them.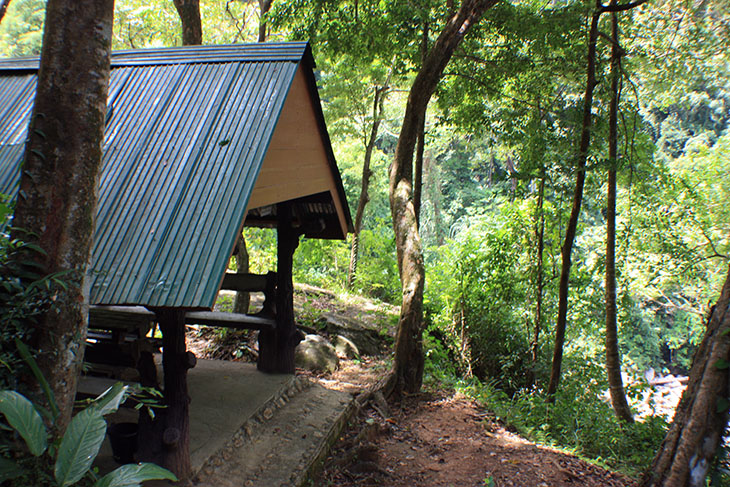 But where's the falls?
Okay, okay, here are some photos…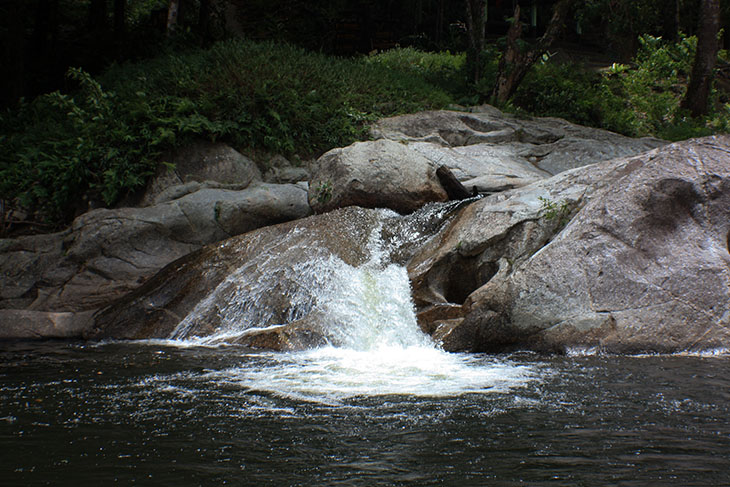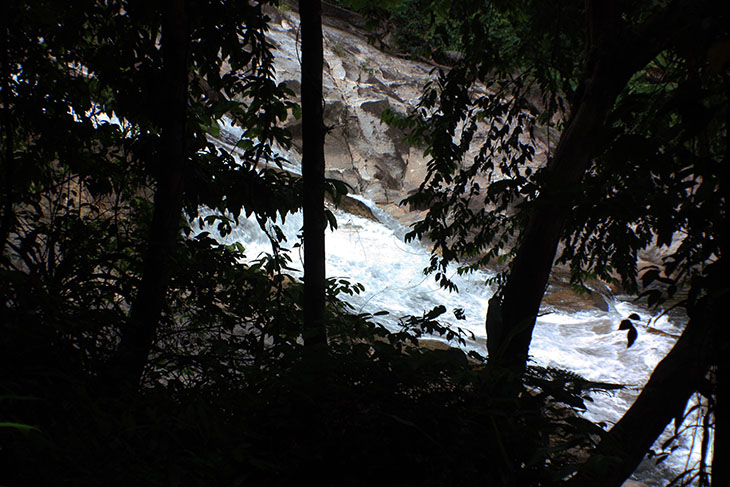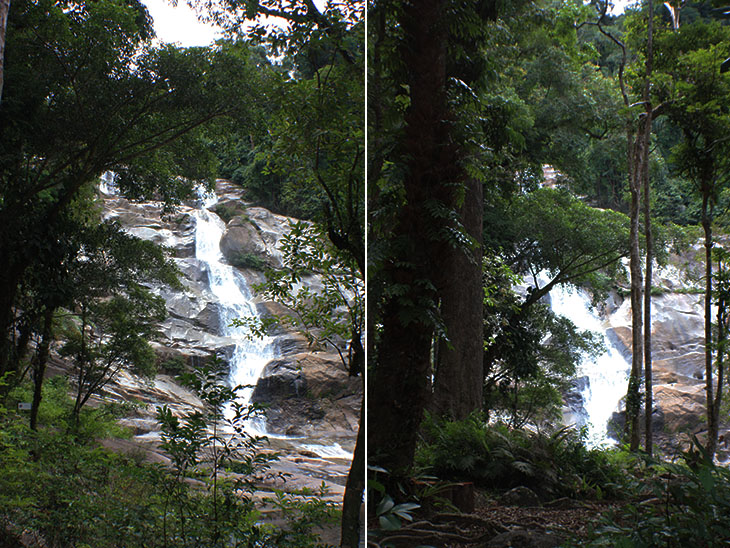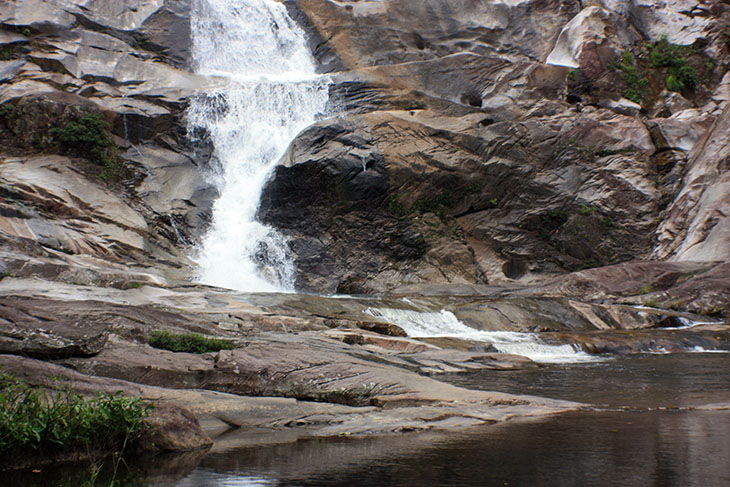 Well, it's not Niagara, but it is picturesque. A little more sun would have been nice. As would a little more water. If someone could arrange for a week of thunderstorms followed by a week of sunny weather, I'll go back and take some more photos.
Given that this area has been forested for several million years, I think I spent more time looking at trees than at water.
This one, for instance, known as the green egg tree…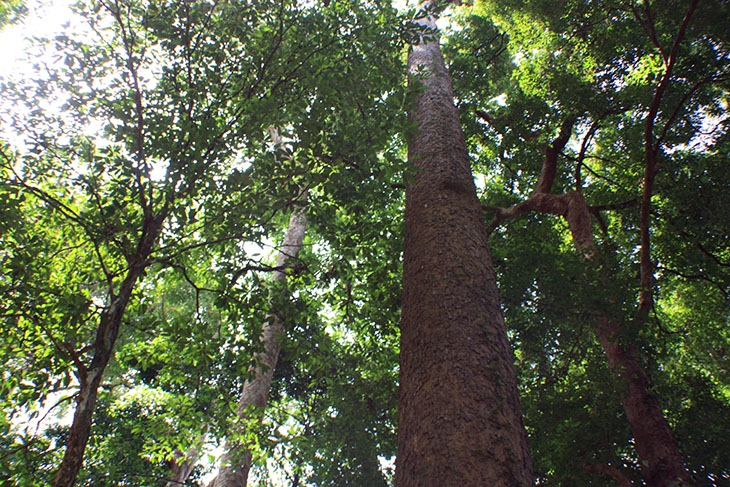 It's so tall, it catches all the elements; sun, rain and wind. So it's developed a kind of waxy layer to protect the leaves, which are way above the level you can see in the photograph. Also, its seeds have wings, to help them fly out over a wide area.
Some trees, like this ancient banyan, are considered sacred and "protected by angels." If for some reason it's necessary to cut the tree, it's adorned with fabrics and flowers by way of apology…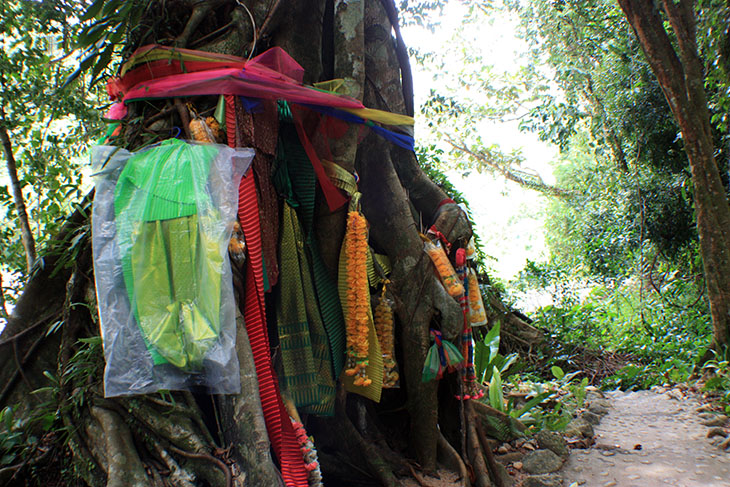 This one, the Kud Prao…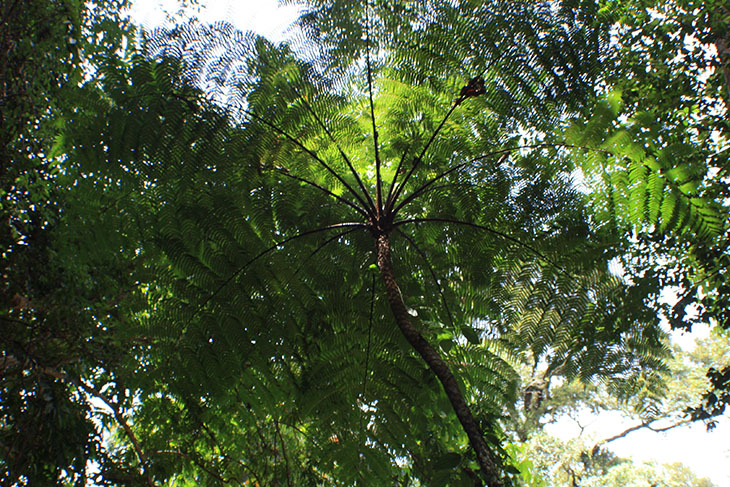 …has been around for some 180 million years.
How do they know these things?
Beats me. Fossils, I guess.
It's developed its fronds like an umbrella, to capture as much sunlight and moisture as possible.
Then there was the "Easygoing Fern"…

…so I stopped to have a little chat about the weather, but I guess he was shy as well as easygoing as I didn't get any answers.
So as you can see, it's quite an educational experience. But maybe you'd like some more water photos…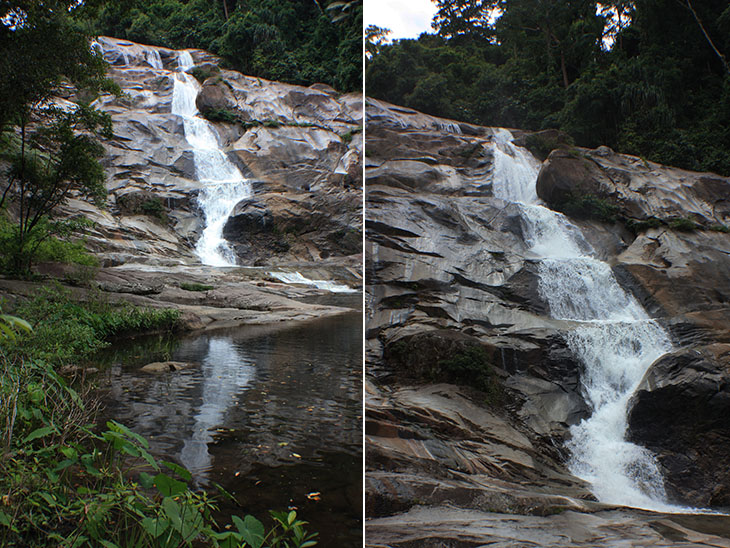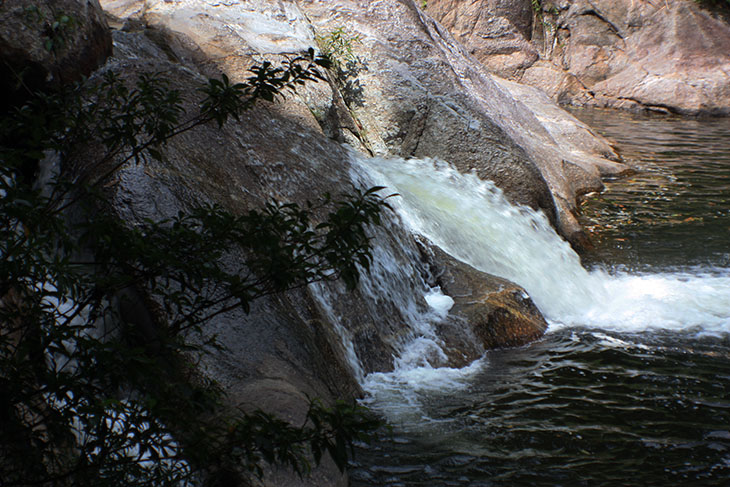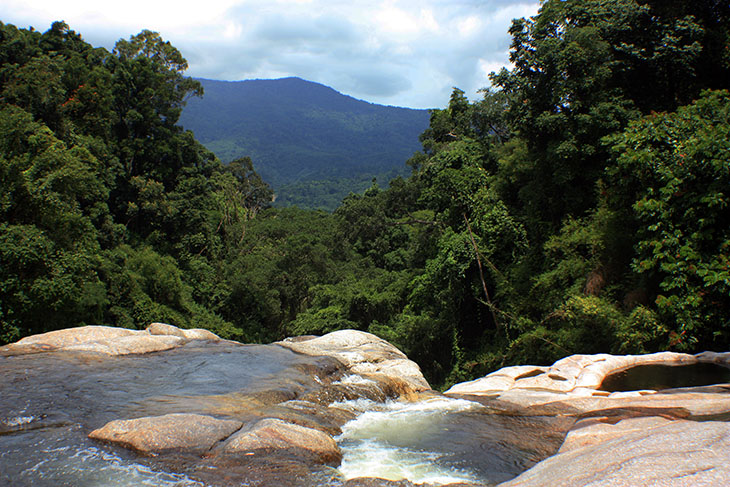 After seeing this, I'm ready to check out more waterfalls. There's dozens of them. Hundreds maybe. Some only a few kilometers from home. I'd be surprised if they're as tourist-ready as Karom Waterfall, but I like to be surprised.