…A quick visit to Khiri Wong.
I hadn't planned on going out yesterday, but when my phone rang mid-morning and a voice said "If you meet me in Nakhon we can go to the waterfall" I agreed. I mean, touring around Thailand is what I do, so why wouldn't I go?
Now that I've moved north, Nakhon Si Thammarat is a three hour round trip, which, added to the time needed to not find the waterfall, made for a long afternoon.
Khiri Wong is about thirty kilometers due west of Nakhon. It's a fairly simple drive through attractive countryside with mountain views – once you've left the city traffic. But, not knowing exactly where we were headed, I decided Ms. Chuckles should join us. She did help.
Perhaps because it is so close to the city, Khiri Wong actually has tourists. Most places I visit I find that I'm alone. It's so busy that we even encountered tour buses trying to negotiate the narrow concrete road leading to the start of the riverside trail. Luckily the occupants were the get-off-bus, take-selfies-for-one-minute, get-back-on-bus variety.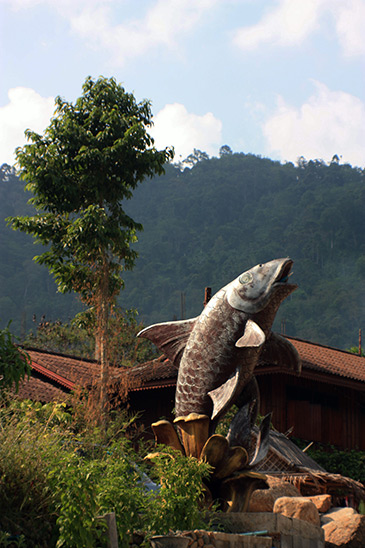 I couldn't do any internet research before going, because I didn't have any idea of our final destination. But I've learned now that Khiri Wong is a kind of base camp for assaults on Khao Luang – southern Thailand's highest peak at 1780 meters. It's about seven kilometers north as the crow, or more probably the eagle flies; or a three day trek through the jungle with only camping available for accommodation.
Now, I could claim I'm too old for camping, but to be honest, I think I was born without the camping gene. I only tried it once – in the Scottish highlands – during what they laughingly call "summer." That term just means it rains less. Anyhoo, it didn't strike me as anything I needed to do again.
It was a good trip though, and maybe I discovered some Scottish genes, as I do recall one night playing the bagpipes – and since no one stuck their fingers in their ears, it must have sounded vaguely okay. Or maybe they couldn't hear anything through the haze of scotch whisky. I confess too, I enjoy porridge oats for breakfast, even in Thailand's hot climate, although in deference to my dual nationality, I do mix them with maple syrup.
So, after our short drive, we found ourselves alongside the Tha Di river. It's pretty, but there's no sign of a waterfall. I had the impression that if there is one, it would require quite a hike. The river bed is rocky, and it's easy to imagine there would be rapids in the rainy season – which this most certainly is not. The heat haze somewhat spoiled the mountainous backdrop…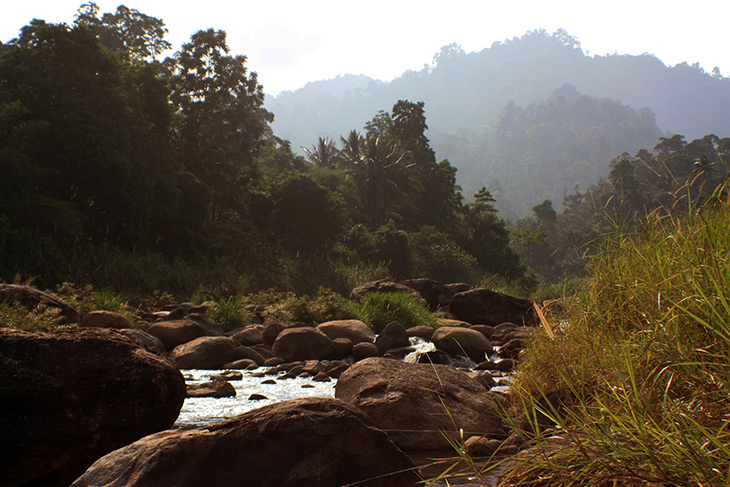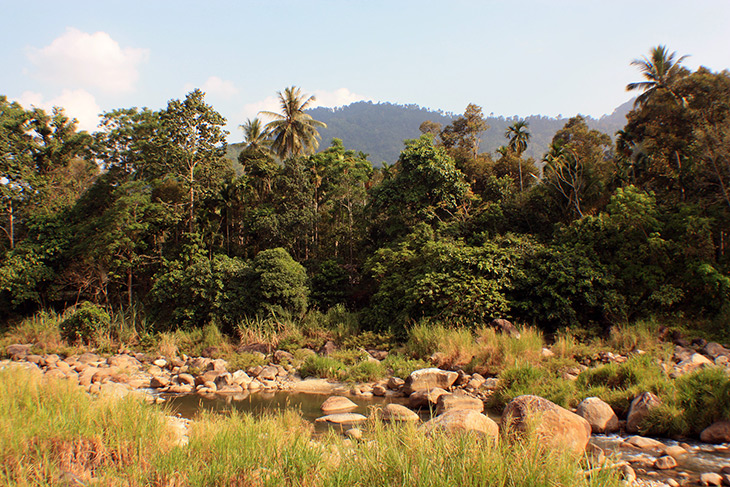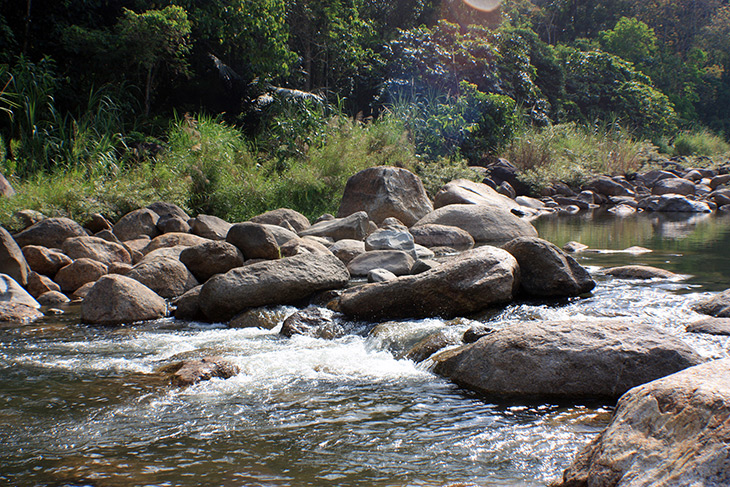 But it's an area to return to. There are apparently several accessable waterfalls, plus various cultural and handicrafts centers. There's also the very photogenic Wat Wang Sai on the edge of the town…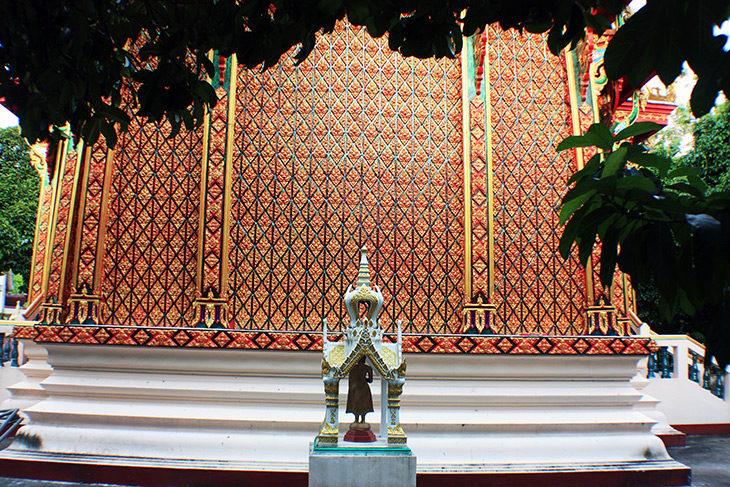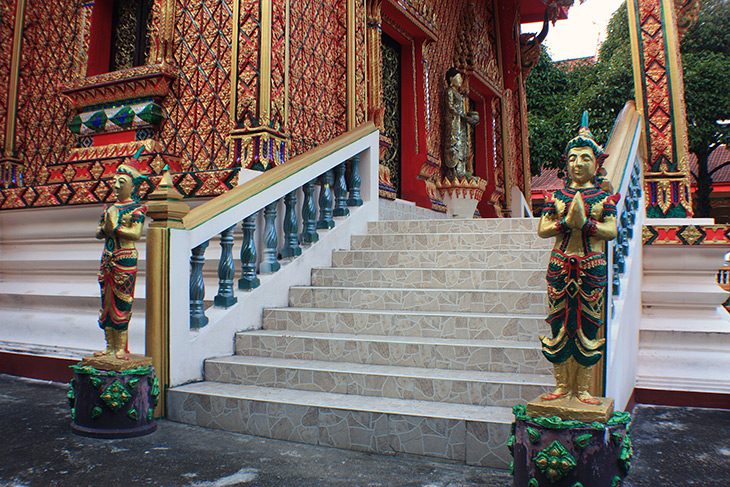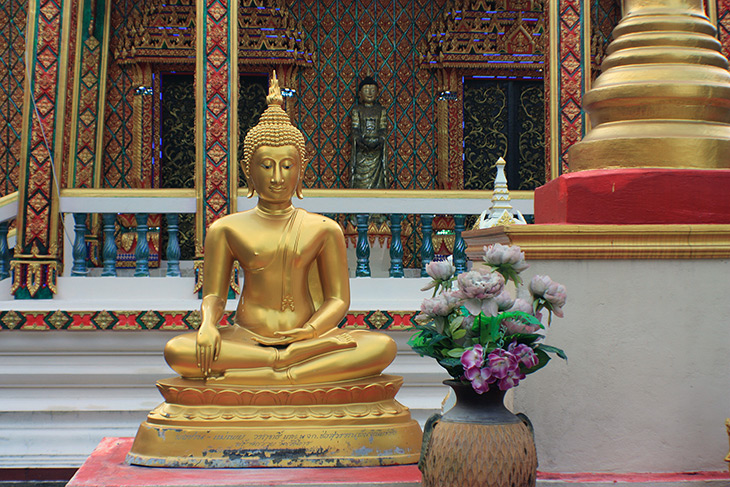 So, it's a region of Thailand that's definitely worth a second look. A day tootling around would be a worthwhile experience. Stay tuned for that.