I think I mentioned a while ago I'd been trying to organize my photos. I decided to put them in my Dropbox account so I could access them from anywhere. I haven't quite finished the task, but I have organized 16,511 so far! And with having that many I realized I had to create some logical names for the directories, so I could easily find them.
Actually, I needed first to pick an app, because they all seem to have a different way of deciding how to show you the directories. I like Unbound. With the directories named in the format "date_place" I can quite easily retrieve the album I'm looking for. That is, if I can recall approximately the right date, which isn't always the case. But anyways, that's the one I settled on…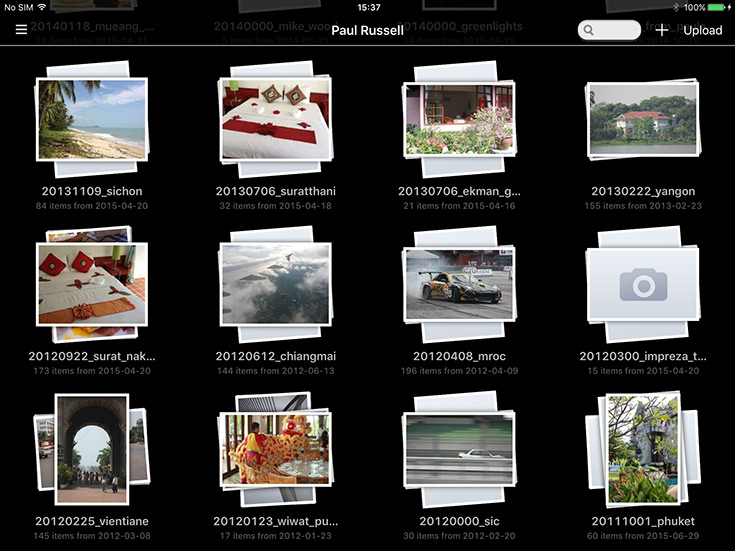 Then, tapping a directory/album name, I can see the thumbnails…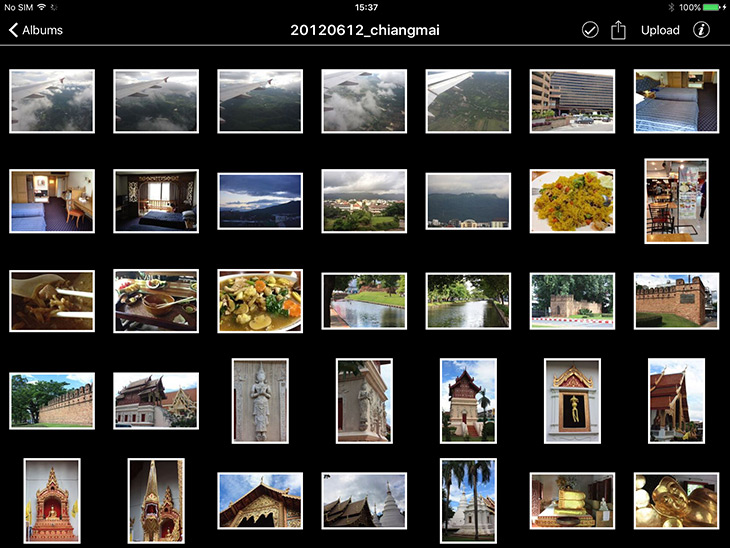 It's not unlike the gallery plugin I use in Twitterings. And that's quite enough twitterings about apps.
So, late one evening, iPad in hand, glass of scotch in other hand, I was browing through some really old photos, from the time I first arrived in Southeast Asia. That was close to thirty years ago, in Malaysia, some 850kms south of where I am now in Thailand.
Peninsular Malaysia is really just an extension of southern Thailand. The central mountain range that's only about 30kms from here, continues right down to Johor State, and only flattens out when it reaches Singapore. But having been colonized by the British (and others) it has "Hill Stations." As far as I can tell, there's no similar places in Thailand. Just like in India, the Brits loved to get as high as possible during the really hot season – which in Malaysia is February through December, plus January! The highest part of the central range is at about 1500 meters, so the temperature is several degrees cooler, especially at night.
It didn't take us long to discover a place called "Fraser's Hill" – now, more more often called "Bukit Fraser" in Malay. It's about a two hour drive from Kuala Lumpur, on vomit-inducing roads. At least, after leaving the main North-South Expressway. It starts out with gentle curves, but ends up as a single track road with constant hairpins. In fact the last eight kilometers is so narrow, traffic is only allowed to go in one direction – up on odd numbered hours, and down on even. Or is it…?
Anyhoo, we'd go for the day, and after several stops for my passengers to recover from my "exuberant" driving, we'd eat lunch in the famous Smokehouse Hotel. It looks like it's just been transported from Shakespeare country. The mulligatawny soup was a favorite.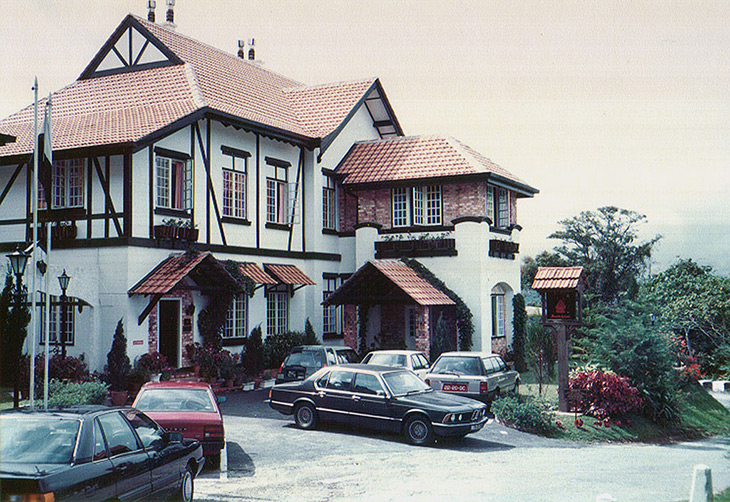 But as we nosed around – there's a long loop that runs around the mountain – we wondered if it would be possible to rent one of the many bungalows – for a weekend, or a few days.
Having made some enquiries, we found this place…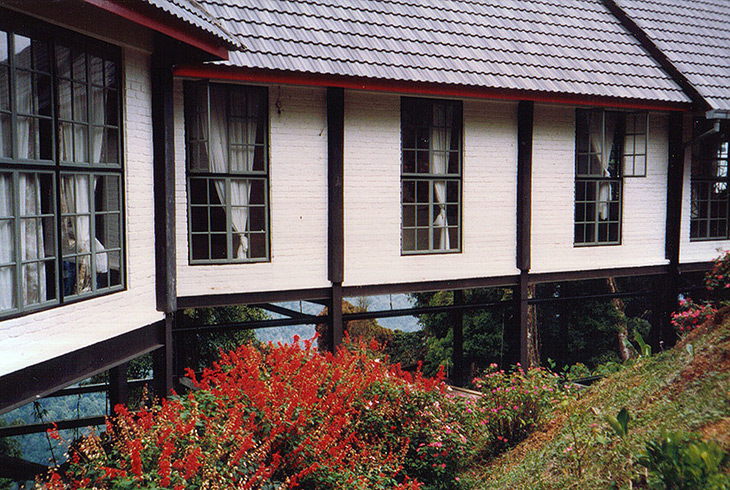 It had five bedrooms, but since it was insanely cheap, we used book the whole house, sometimes travelling with friends. It became a regular weekend hideout, especially at Christmas/New Year.
From the road, it looked like any regular building. Brick construction. Built around a long sweeping bend in the road. But in reality, it was perched on steel girders, which went way down the mountainside into concrete bases. With ceiling to floor windows on the side away from the road, it seemed like flying. The other hills, and very often the clouds, were below us.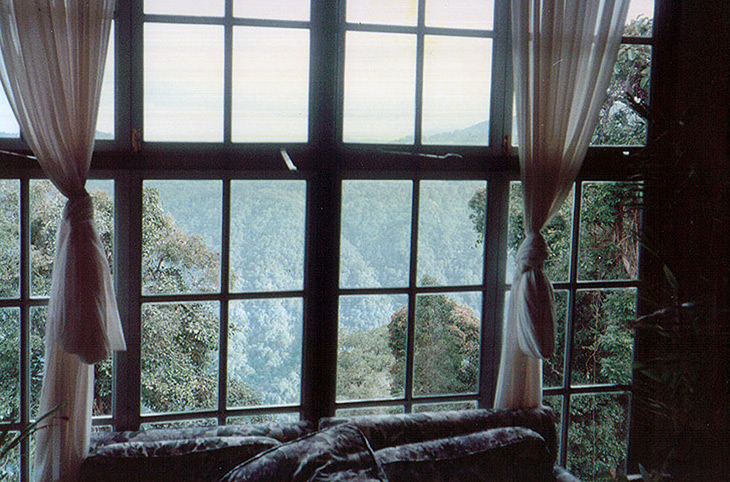 Once we were inside, we never moved. The view changed constantly, and anyways for the grand sum of about £50 a night, not only did we had the whole house to ourselves, but all meals were included, prepared by the three staff members; who didn't live there, but seemed to arrive before we woke, and only left after were sound asleep.
They also lit and tended a huge log fire, which – trust me – was a necessity.
But, one night – when thankfully we were not there; in fact, I believe no one was there – there was a torrential rainstorm, and this happened…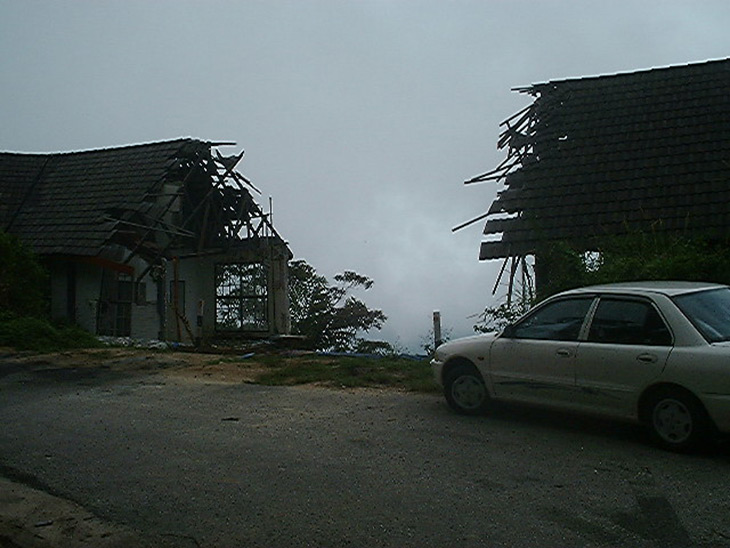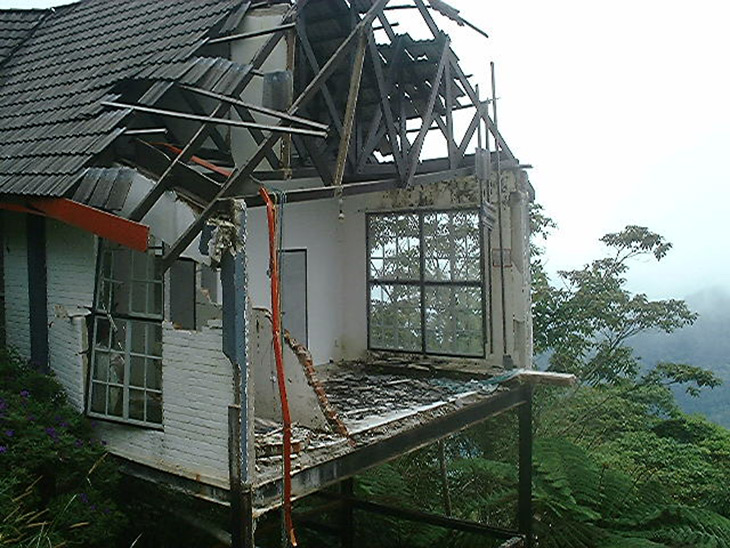 I don't know if they ever managed to, or would even bother to, retrieve the center part of the house. It had gone so far down the mountainside it wasn't even visible.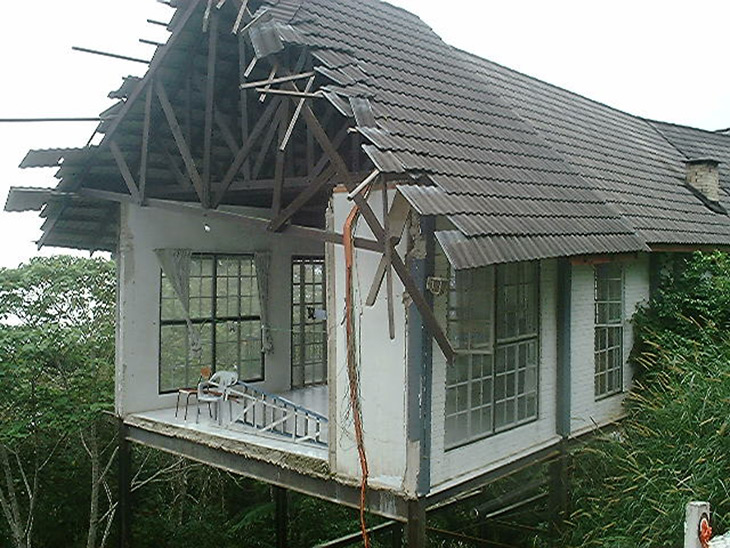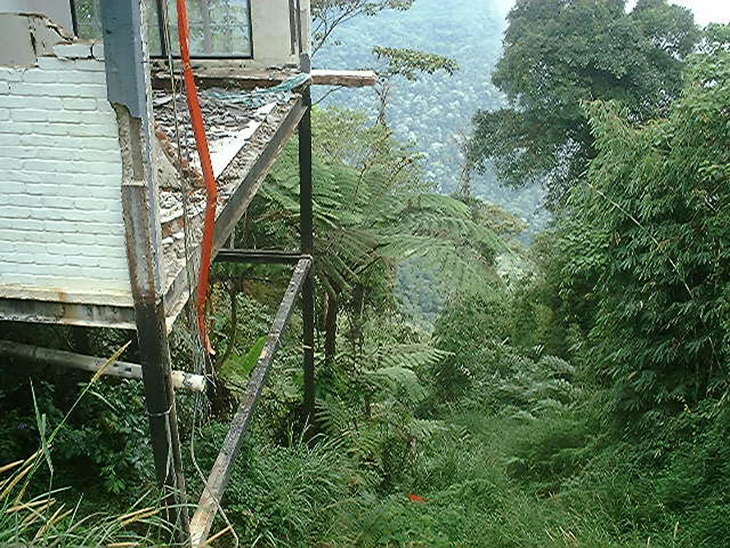 These pictures were taken in 2000, and I haven't been back. But since I can find no mention of the place on the internet, I'm guessing the rest of it was demolished.
Shame.