Well; I've been waiting for weeks to make a trip across to "the other side." The west side, that it. And it's quite a story. (Cue music: I just met a girl named Mariiiiiiiyaaa.)
This morning dawned un-gloomy, and that was at least an improvement. I ventured out for a walk on the beach, and while there, the skies cleared. Hmm, I thought, could this finally mean – A Nice Day?
Once I was back home I quickly checked the forecast and yes, it was supposed be a nice day both here and there. That's it, I thought. I'm off. And within fifteen minutes of having that thought, I was. Off, that is.
The start of the trip was same-old same-old. Up the 401, west on the 44 for about ninety minutes, until I was somewhere near Phang Nga Province. To this point the weather had been sunny with great scenery, but it started to look a bit cloudy as I took to some of the lesser-travelled roads.
I was heading for Phang Nga town. It's generally described as a place everyone goes to so they can get some place else. Fine, I thought. No tourists. It's nestled in limestone hills and I figured it might be picturesque. I'd planned to park Bert and walk around the town for a while – being generally nosy as usual. Ms. Chuckles came with us, but I decided to keep her in silent mode, unless she was really really needed. She wasn't.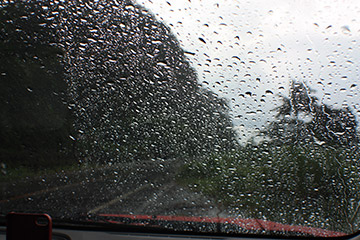 But, The skies became darker and darker, and on the outskirts of Phang Nga the rain started.
I found a river with a nice view and "enjoyed" a picnic in the rain.
How very British, I thought. I could be in Stratford upon Avon on a summer Sunday.
And then I continued into town at which point the heavens opened. Walk around town? Who are you kidding? I couldn't even see the town. Here are my photos…

…so now you are as wise as I am; which is, not very. Even this guy didn't look too amused at getting drowned…

I thought about waiting for the rain to stop, but most of the streets were so flooded, walking wasn't going to be possible for several hours.
Well; the other place on my must-visit list was only about 25kms away, and so I wondered if there was any point in going. But only about 5kms outside Phang Nga the rain stopped, the skies shows patches of blue, and I thought, well, I'm here now, I'd better check it out.
Although only a short journey, the road was seriously twisty and hilly. Bert and I were happy. Here's some photos…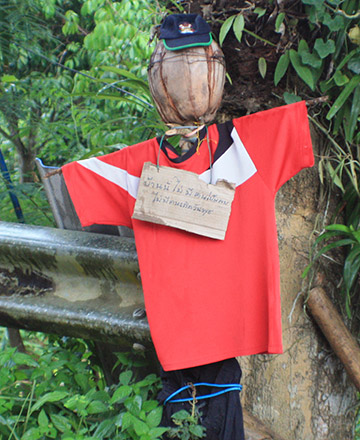 Along the way, I noticed every house had a scarecrow-type thing outside.
All with scruffy red t-shirts and a cap or helmet of some kind.
I thought about this for quite some time, and the only explanation I could come up with was that with this being hungry ghost month – when, supposedly, the gates of hell are opened up and the hungry ghosts are free to roam the earth – these scarecrows were meant to stop the ghosts from entering the homes.
If you have a better idea, please let me know.


Anyways, after a while I arrived at the entrance of Wat Rat Upatam also called Wat Bang Riang. Wikipedia describes it as …
…a hill top temple. Within the bell-shaped chedi are various Buddha relics. Also a big statue of Kwam Im, the Chinese Goddess of Compassion, and a large Buddha statue on a pedestal surrounded by elephants belong to the temple. The hill allows a view till the Phang Nga Bay at clear weather.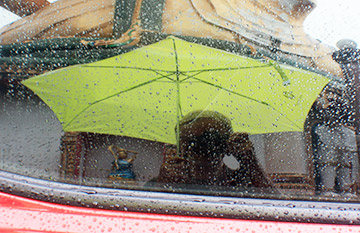 "Clear weather"? Is that what they said? So, as I drove through the archway it started to rain.
Well, I thought, I have a mini-umbrella, I'm going to take photographs, so I guess I'm going to get wet. I noticed a spare t-shirt on the back seat.
Not sure how it got there, but I figured I might need it.
First, I looked at the main wat which is sort-of in the hills, rather than on the hills. A bit different with the wat-on-a-boat-in-a-moat. See…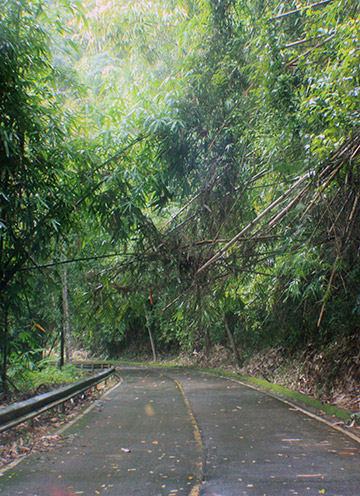 Then I found the road which went up to the Buddha and Kuan Yin statue. And I mean up! Twisty, wet, moss-covered, slippery, steep … fun. I came to a parking area which seemed to be nowhere near anything I wanted to see, so I continued on an even narrower road. I don't think I was supposed to do that, since this meant the only place to park Bert was right in front of the statues. But as usual, I was the only person there, so there was no one to complain.
Despite the weather, it was worth it. But as for the spectacular views, I think they'd been rolled up and stored away so they didn't get wet. Oh well, maybe I'll do it all again another day. I think from these photos you'll agree it could be worth it…
And of course, about five minutes after leaving the wat the sun reappeared and I had a pleasant drive home with nice scenery along the way. And, I managed to pick a different route back for at least half the journey. For me, about 500kms of nice driving constitutes a Good Day.

But for sure, the forecast was only about 50% correct, which is why I think it was only a twocast.