If you've arrived in the middle of my Songkhla story, you can jump back to the start with this link.
Well, before I start on day two of the trip, I'd better tell you where I stayed.
Sabai Sabai was its only name. No "Resort" nor "Hotel". It's pretty-much the same name as the hotel I stayed at in Kanchanaburi late last year. In a way it's not surprising the name is often used. Sabai translates roughly as contented. And when repeated, to amplify the sentiment, it could be translated as – not a care in the world.
I was tempted to rush into reception and shout "Sabais". But I didn't because there wasn't one. This was a motel with a window at the entrance through which I passed my Agoda voucher and in return received a key. Luckily my room was the last in the row, as this meant it had a sea view plus a small adjacent garden.
The garden came in very handy for late night beers and a spot of reading, plus early morning for a breakfast picnic. The motel did have a restaurant – of sorts – but when I saw just a couple of chairs and one table under a tree, I figured I wasn't going to get anything more than rice with some green and gray things thrown in – for either meal.
In "my garden" both times I was the only one there. Very peaceful and relaxing. Well, except when a long-tail boat went past. I hadn't realized until the second day that the motel was built alongside a river, and there was regular boat traffic. For some reason (no point in asking) long-tail boats never have mufflers, so the noise is deafening. I guess somehow Thais can be sabai-sabai even when having their ear drums blown out. I must admit I'm kind of used to them now, and it wouldn't be Thailand without noisy boat traffic.
The room was quite basic, but clean. No complaints, but nothing to get excited about. I didn't take any interior photos, so here's a couple courtesy of Agoda…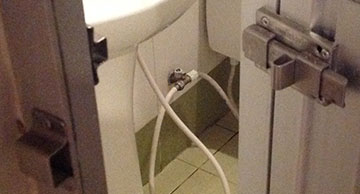 Well, except this one. I was quite confused by there being a lock on the outside of the bathroom door. I wonder why? Is it the ultimate threat? – "If you don't stop snoring I'll lock you in the bathroom." Bizarre.
Overall I enjoyed the place. It was nice to park right outside my room, and the sea/riverside garden was an unexpected addition.
So I'll leave you with some outside photos, while I get started on the story of day two…