Well, I've been staying mostly quiet because I've been enjoying some time at home, waiting for the weather to improve.
February 7th I'll be heading west to join the Road To Mandalay Endurance Rally, and will be playing some kind of supporting role throughout its fifteen day tour of Thailand. I expect to cover close to 6000kms in those days, so I figured this month I'd stay at, or at least close to, home. So far so good.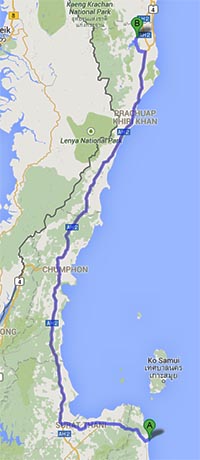 But, it seems the rally has encountered a problem with the use of a planned road at a race circuit a long ways north of here, with the result that a new piece – to be used as a timed-to-the-second Special Test – has to be found in a hurry. The rally starts in Singapore February 1st., and everything needs to be finalized and printed well in advance of that. So, time is of the essence. But, that's rallying. Always last minute dramas.
Very early tomorrow I'll be donning my Route Coordinator hat again and heading about 600kms up to an area inland from the Hua Hin/Cha Am resort region. It looks nice. Hilly with reservoirs and lakes, and no doubt lots of green stuff. Hopefully the sun will shine and I'll return with some good photos, plus tourist information which might be useful to someone. The forecast is good, but you never know. I seem to have upset the weather gods of late.
A friend in Bangkok has located a golf and country club that's quite close to the original rally route, and which apparently has many kilometers of largely unused gravel roads. He'll be joining me Thursday and we'll meet with the resort's owner, with a plan of gently persuading him to allow us the use of his "nice" roads. Apparently he's also something of a car nut, so hopefully he'll be enthusiastic about the idea of seventy vintage and classic cars travelling through his golf club. I know I would.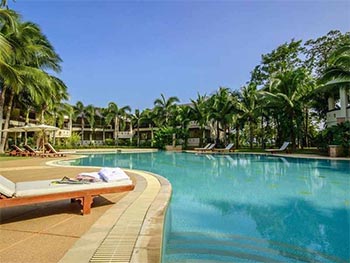 I've just spent the last hour or so trying to figure where to stay. I'll probably need to be up there for three days including travel. The roads need to be properly surveyed and tulip diagrams written.
I could stay at the golf club. It has what looks like nice facilities, but strangely does not get good reviews. It also doesn't say it has WiFi, which means it probably doesn't, and that always comes top of my must-have list.
I could go into Hua Hin, but it's not my most favorite resort. A bit too Pattaya-ish. Too many people and too much traffic.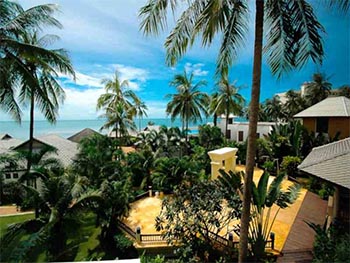 A place called Pranburi is just to the south, and is probably easier to reach than Hua Hin. I stayed at the sea-facing Golden Pine Beach Resort last year and really enjoyed it, so it's now booked, and that's one more thing crossed off the to-do list. I did look at other places that might have given me easier access to the main north-south road, but they were either sans WiFi, restaurant, or both. I guess that's why I picked the Golden Pine the last time I went around the hotel selection loop. Senile moment.
As part of my last minute preparations this morning I rushed out to get a haircut – always an adventure in Sichon. The local barber seems to think farang look better without hair. As always it was more of a hair shearing than a hair cut. It takes so long to grow back that the silly man would make more money if he didn't make me pseudo-bald everytime, but maybe he doesn't like farang with or without hair.
Actually it was a bit of a giggle. The old guy in the next chair, who was probably way younger than me, seemed to be the village clown, and was keeping everyone amused, even me. I had no idea what he was talking about, but laughter is infectious.
Right. Enough twittering. Maps, blank tulip forms, route info all printed. Ms. Chuckles (my GPS lady) has been programmed. Bert (Ford Ranger) has had fluids checked, windows cleaned, but little else. Bag to be packed, food to be eaten, beer to be drunk, and ZZzzzz to be done.
Expect a full report of my exploits on Saturday. ZZzzzzz…