…A Flying Visit.
Just over a week ago I had to make a one-day trip to Krabi. That's not unusual. Each time I go, I decide to make a side trip to Bang Riang. I guess it's about a 70km detour from my normal route. And each time I try to do this, I run into foul weather before reaching the place.
Okay, it's up in the hills and probably attracts more than its fair share of clouds. But every time?
Anyways, on this trip, I just managed to complete a visit to the area before the clouds and rain rolled in. Why?
Well, it's home to some spectacular temples and statues. It's in the middle of nowhere. There are no tourists. Not because of Covid, there are just no tourists. Yes, I've been before, pre-Covid, and there were no tourists. Honest. My other reason was to get aerial photos of the place. Looking from the ground really doesn't do it justice.
The complex covers a large area. Roughly three kilometers, with the "must see" buildings almost in a straight line. I really don't know how wide it is because it's all hilly jungle.
As you turn in from the not-very main road, the first building is the principle wat. It's known both as Wat Bang Riang and Wat Rat Uppatham. And it's really a wat on a boat in a moat…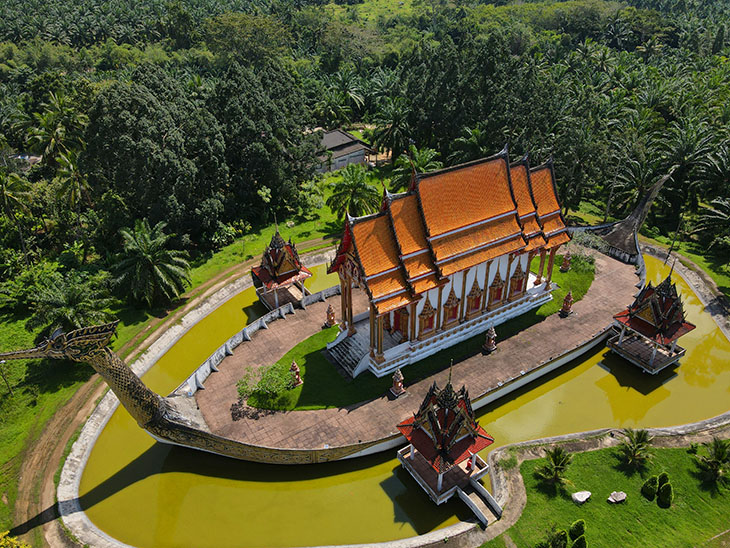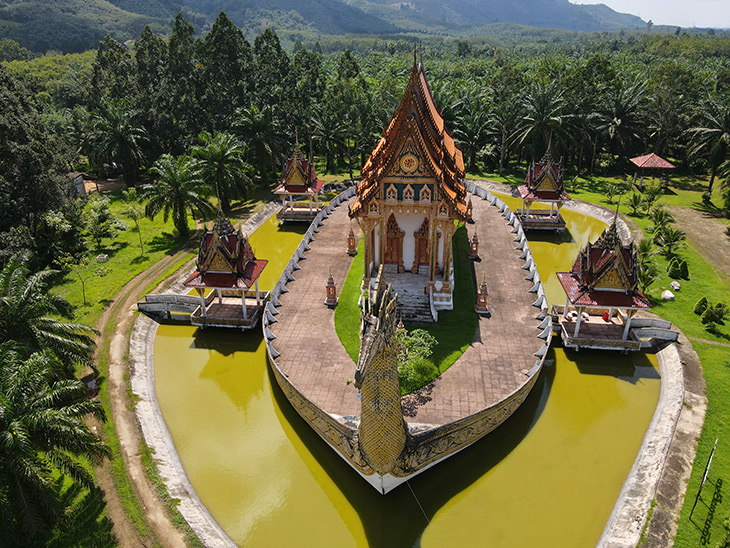 Now you know why I wanted aerial photos. From there a narrow-ish road leads uphill to Pra Mahathat Chedi, but before reaching it, there's a small parking lot with a view of a small unnamed shrine, with the chedi in the background…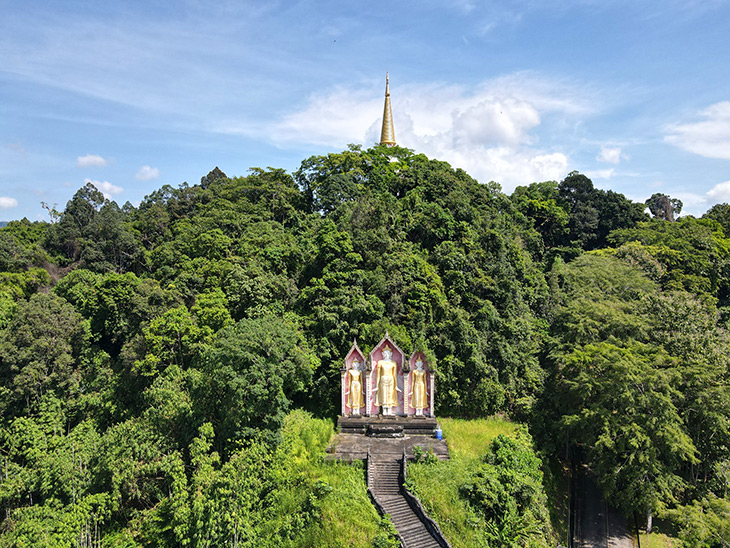 …and from that same spot, from a higher perspective – if you look carefully – you can see a total of five shrines…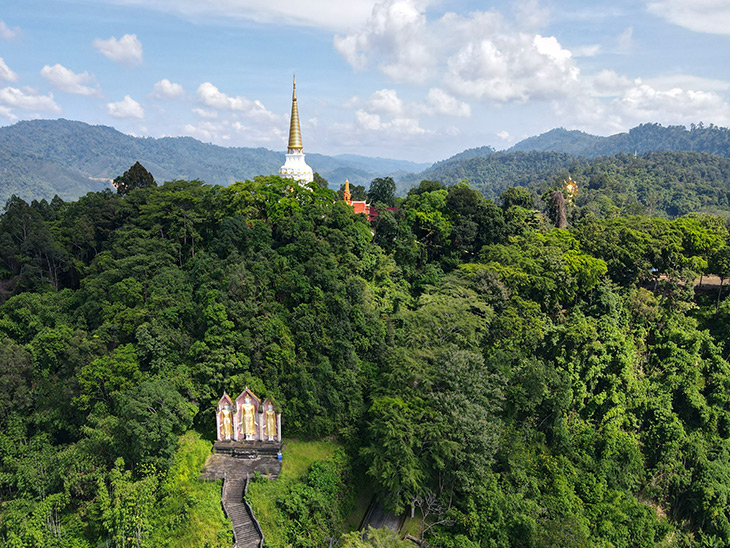 So, of course, they have to be investigated. A little further up the hill there's a larger parking area, where you can look back to the chedi…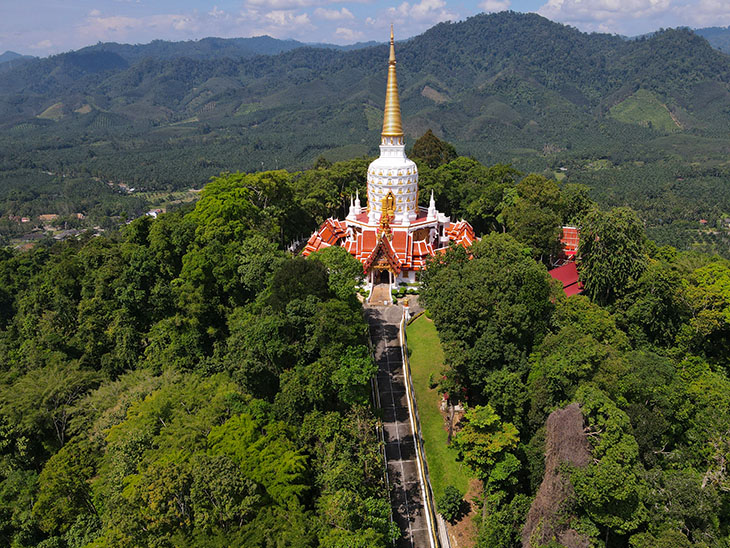 Then things get interesting. It's not immediately obvious that the road continues beyond the parking lot. That's because it falls at some crazy angle down into a series of hairpin bends. It's a bit like getting to the top of a roller coaster ride and hurtling down into the scary bits! Here though, you don't hurtle. It's first gear and gentle on the brakes. The road is covered in dead leaves and moss, making it look like it hasn't been used in years. Did I mention there were no tourists?
And when you get to the bottom and begin the climb to the next two shrines, you realize you have to go back up that road! But that's not an immediate problem. Thirty minutes maybe, but not immediate.
The road actually takes you to the last of the buildings and another parking area at Phra Siam Tewathirat Square. Looking ahead you see…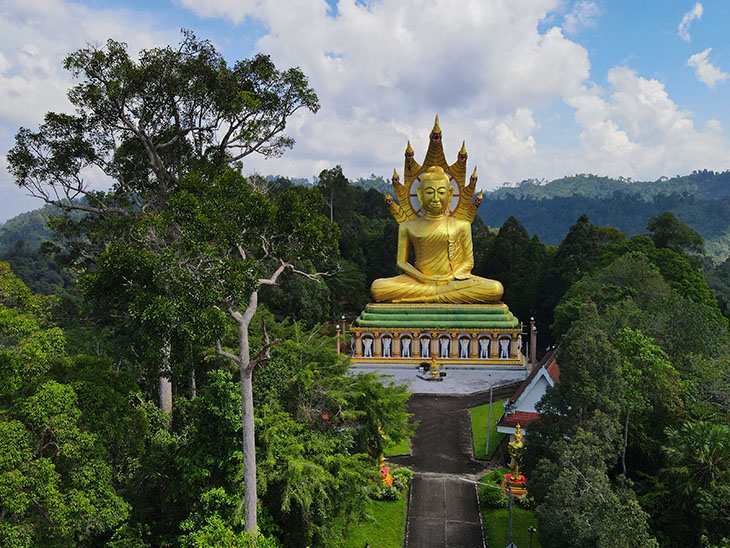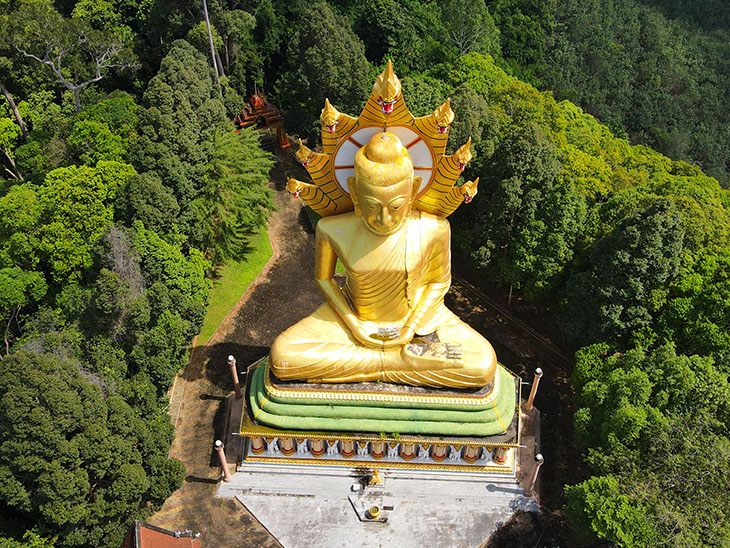 …but looking back you can see a parallel road that leads to Lan Phra Mae Kuan Yin. But unfortunately the Goddess of Mercy is covered in scaffolding, with a not too appealing outer cover of brown tarpaulin. She's totally obscured from view.
Which meant all that remained was to slither up the mossy hairpins with a good dose of wheelspin.

It's an amazing place. If you're ever in the area I think you'd enjoy being the only tourist.
---