[—This is the fourth day of my long road trip. If you want to start with day one, please
CLICK/TAP HERE.
—]
If you've been following the saga of my five day road trip, you'll know that the ubiquitous limestone mounds in this part of Thailand, I somewhat rudely refer to as titties. And where am I now?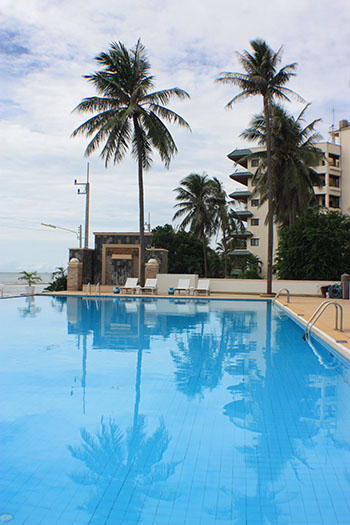 Last night I arrived in the small town of Pranburi, just south of the mess known as Hua Hin. I'm in a place called the Golden Pine Beach Resort complete with "Superior Seaview Room." The room is nice, a little older than I'd expected, but spacious with a large balcony and, yes, sea view. The hotel has character. Last night, as I mentioned, I met the manager Khun Gomez, who assured me he's Thai, not Portuguese, and he too has character. I seriously thought about staying more than two nights, but several things dissuaded me.
I had imagined relaxing on my balcony, only venturing out during a small part of the day to do some local sightseeing. I had imagined walks on the beach or along the seafront road. But…
The seafront road has largely disappeared into the sea. Driving on it is a challenge since much of it is just sand. Okay, I could have walked on it, but it's all in state of repair. Which is why sitting on my balcony wasn't so pleasant. There is a constant noise of diggers, backhoes, and all manner of machinery trying to build a new sea wall and road. I decided that sitting on my own balcony in Sichon, which is considerably closer to the sea, with better and more peaceful views, was preferable.

So I headed out at about 10:30am to do some sightseeing.
Somehow, I found today a little disappointing. This was to be my vacation day. I'd noted several "must see" places, but nothing seemed to be quite as advertised. I first headed south to Kao Sam Roi Yot National Park, or the mountain with 300 titties, sorry, peaks. Yes, okay, it's unusual, and interesting, but far from spectacular. The weather didn't help. Still quite overcast but with an occasional sunny spell, and an occasional shower.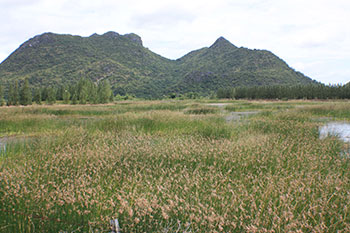 I had decided to check out the marshlands which are supposed to be a bird watcher's paradise. I saw one. Bird that is. And well, marshland is just a bunch of water with a few green bits sticking up. So I went to the park office at the bottom of the mountain, with the intention of climbing up to a cave which is so enormous that it has a temple inside. The pictures I'd seen made it look like a place I really had to go. Actually, I think it is, but not today.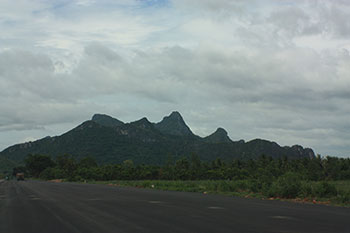 I arrived at midday. It was hot and humid. I couldn't tell if it was going to be a blisteringly hot afternoon, or one with torrential rain, or more likely both. The signs said "Only suitable for those who are very or extremely fit." There are days when I could claim to be fit. If I'm at home I try to work out for an hour a day, but after spending four days in the car, I'd describe myself as moderately knackered. You see, to reach the cave, you need to walk up slippery stone steps for 1km. Yes, steeply uphill for one whole kilometer. I only looked at the first hundred or so steps and decided that was not for me, at least not today. Definitely something for the hiking boots and backpack brigade, and I had neither.
If someone would like to join me I'll give it a shot. I probably need someone behind me shouting "hurry up you lazy old fart." Yes, that would work!
Any other caves I thought about visiting had warnings like "Be careful of the sheer drops at the side of the path" or "Bring your own flashlight." The one that amused me the most said "You can enjoy watching the bats above you, and if you're lucky you'll see mountain scorpions." Lucky? Would that be good luck or bad? Scorpions scare the crap out of me, and if you'd ever encountered one you'd know why. Cobras I can deal with, but scorpions… No Way José.
So I made a slow drive back to the hotel, visiting any beach I could find. It's quite an exclusive area with some five star resorts and very nice beaches. I have to think those with taste scoot straight past Cha Am and Hua Hin and end up in Pranburi.
Actually I went past my hotel (deliberately, not Chuckles' fault) to visit the village of Pranburi. It's small, very fishy and is built on the banks of the Pranburi River.
I'm guessing that if you went far enough up river you'd find the Pranburi source!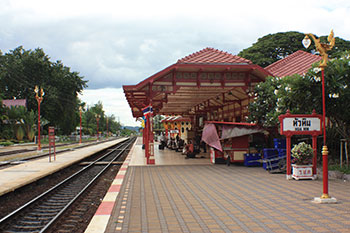 So after lunch I decided to find out if Hua Hin was as bad as I'd expected. I wasn't disappointed! I don't know what people see in the place. It's overcrowded, it's almost impossible to find a beach unless your hotel happens to be on one, it's filled with pale under-dressed farangs who I assume are visitors rather than residents, and has nothing worth talking about other than the old train station, which is kind of cute.

Enough, I thought. Time to get back to the hotel before Beer O'clock. And if you are thinking "This guy is obsessed with beer and wine" you'd be right. Two of the three basic food groups. The other one is, well, food. I did find a wat on the way back which had a nice view of Hua Hin, and I did manage the 127 steps without even breaking sweat, but I'm still sure today was not the day for 1kms worth!
As luck would have it, on the way back to the hotel Chuckles abandoned me. No, she didn't leap out of the car, although with the way I verbally abuse her I wouldn't blame her, but the iPad battery died. And what I hadn't realized, since last night in the dark I was following her superb directions (I'm typing this on my iPad so she might be listening) was that there are no signs to Pranburi from anywhere. Signwise it's like the place doesn't exist, so I had a hell of a time finding the town and my hotel. It really is an insignificant dot on the map, which is why I like it.
So, tomorrow it's a six hour thrash home. I have one or two places to visit if the weather is half decent. We'll see.