…The Great Northern Road Trip 2020 : Hotels (3)
The story starts HERE.
Baan Chokdee Pai Resort…
Nice place. I had a whole chalet instead of half. Pleasant interior with a comfortable bed. WiFi okay.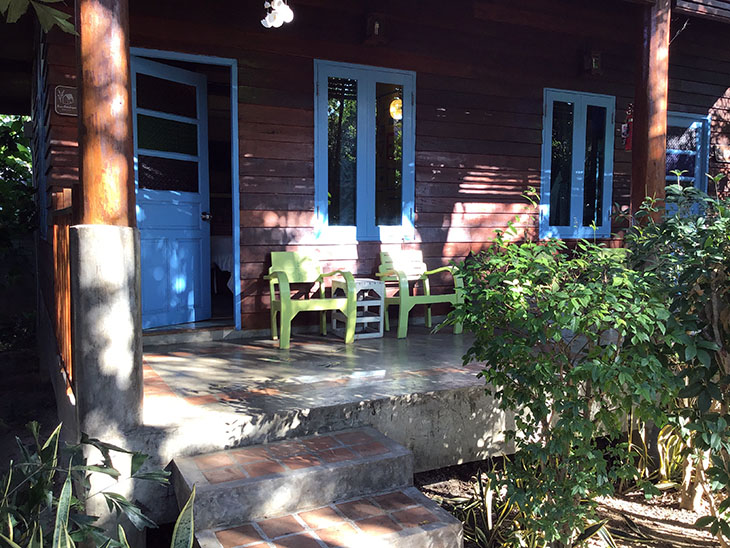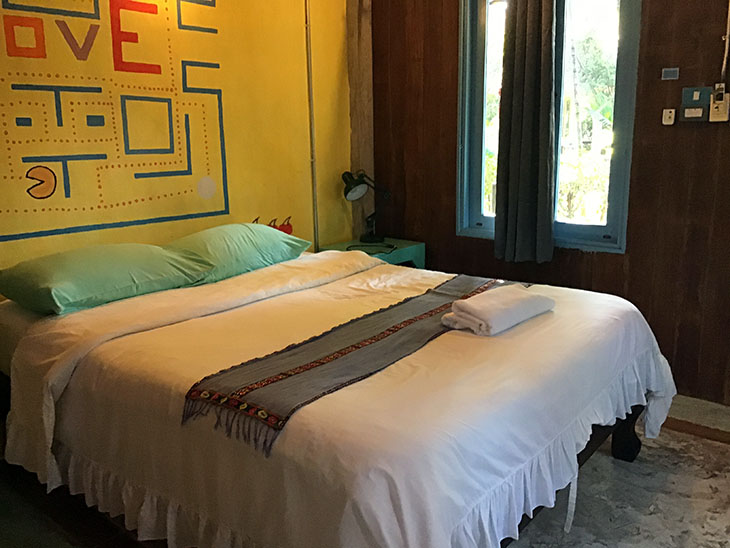 Freezing cold pool, but nice to look at…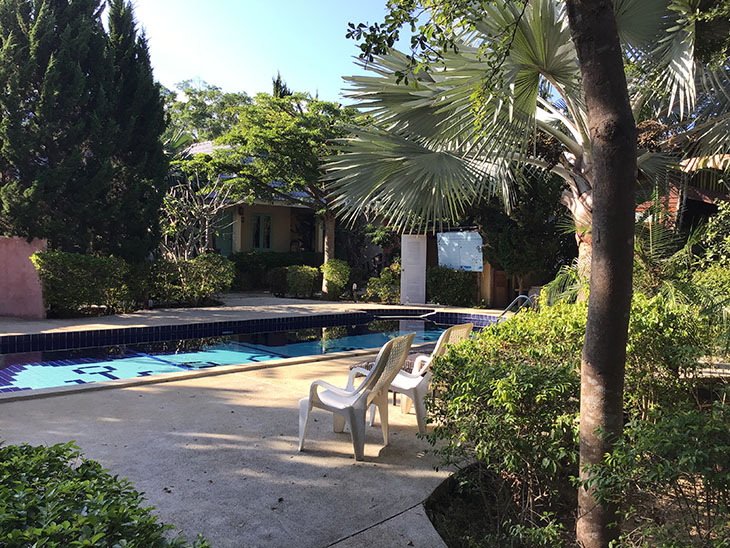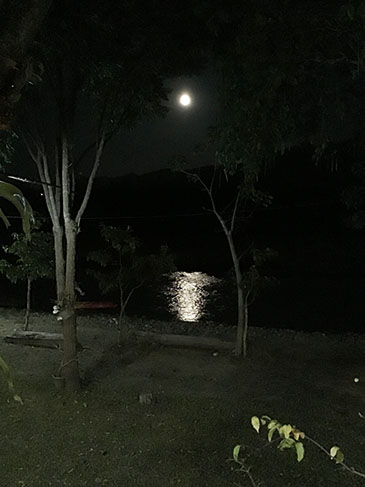 Here though I really struggled to find an open restaurant.
Pai is normally teeming with tourists, and streets are – or were – lined with restaurants and coffee places, but now, thanks to Covid, it's a ghost town.
I'm not sure where I ended up, but I was the only customer, sitting by the river with a nice view of the full moon, and freezing my a** (or a**e if you're British) off!
By the time I reached my hotel, I was so cold, I jumped straight into bed fully clothed.
But, I'd recommend the hotel. Quite cheap and centrally located.


Huen Chan Thip, Chiang Rai…
This place has such a bizarre name, I kept forgetting where I was staying. I tried cutting and pasting the Thai characters into Google Translate, thinking it must mean something sensible in English, but it translates as Huen Chan Thip!
Despite the odd name, it's nice. There's so much to see in and around Chiang Rai that I stayed three nights.
The room was quite large, with a pleasant seating area. And it also had a freezing cold swimming pool, which was quite popular with the other guests. Brrr.
WiFi was okay, but there were different routers for different parts of the hotel, all with different passwords. Seemed a bit unnecessary.
The free breakfast was okay, but was made better by a kind young hotel lady who spotted me every morning, and insisted on making me a real espresso. Sometimes two. I think she liked me.
The location is good and there are restaurants within walking distance. One had the best steak I've eaten in a decade. I would have been really happy if I'd found it on evening #1 rather than #3.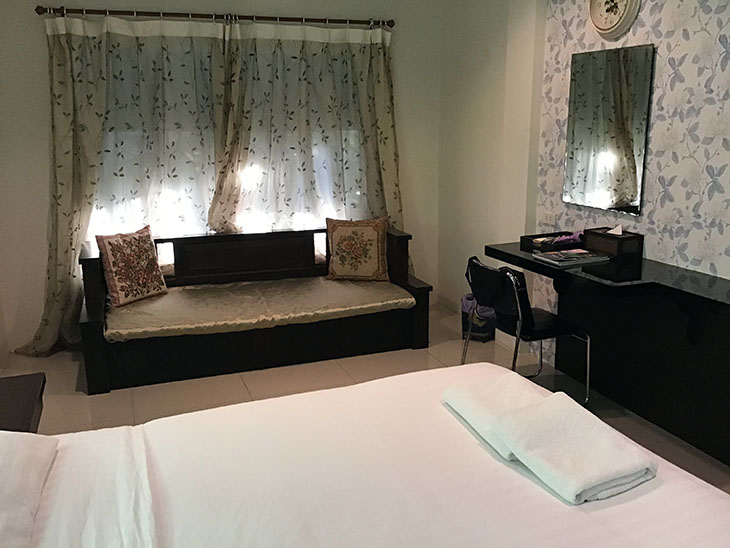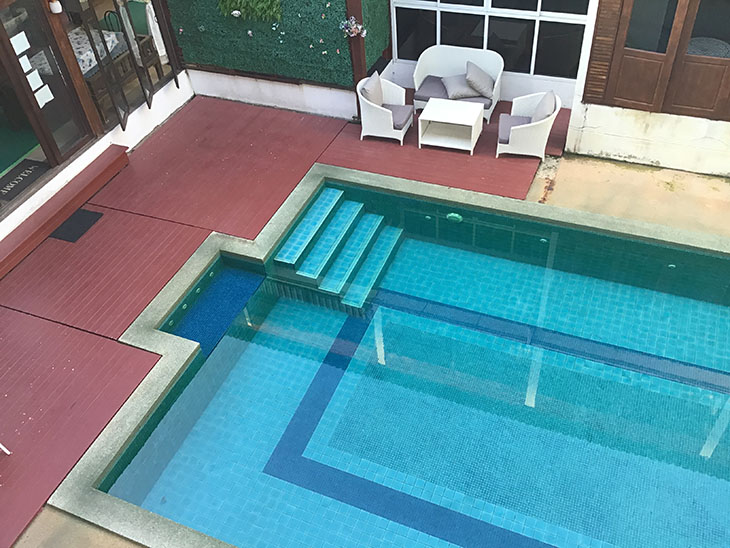 Viang Tak Riverside Hotel…
Needless to say, this is in Tak, the town I'd stayed in on my northward journey. I wish I'd stayed in this hotel on both visits to Tak. It's a proper multi-storey building with great views of the Mae Ping. This is from my room…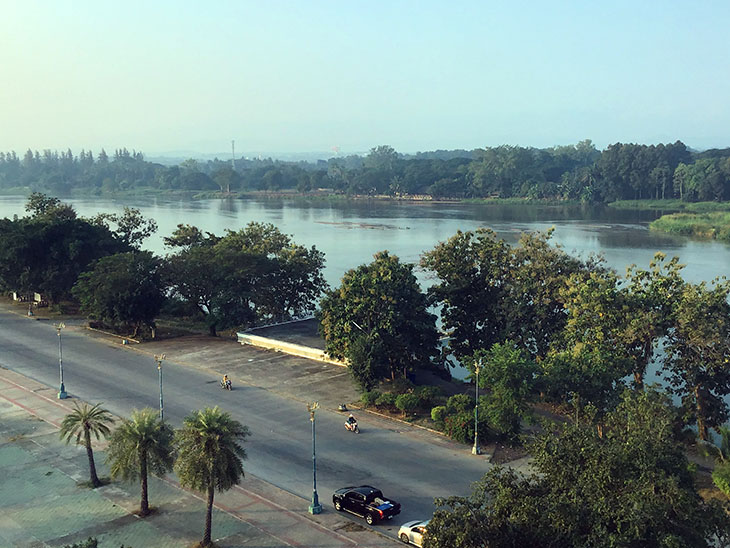 It felt nice to have a large room with sitting area and a sensibly-sized bathroom. And to be in a building with a choice of restaurants and all the usual services. Okay, it cost a little more than the average concrete box, but only about 10-15% more. I think in future I shall aim to stay in places like this wherever possible, and wherever affordable.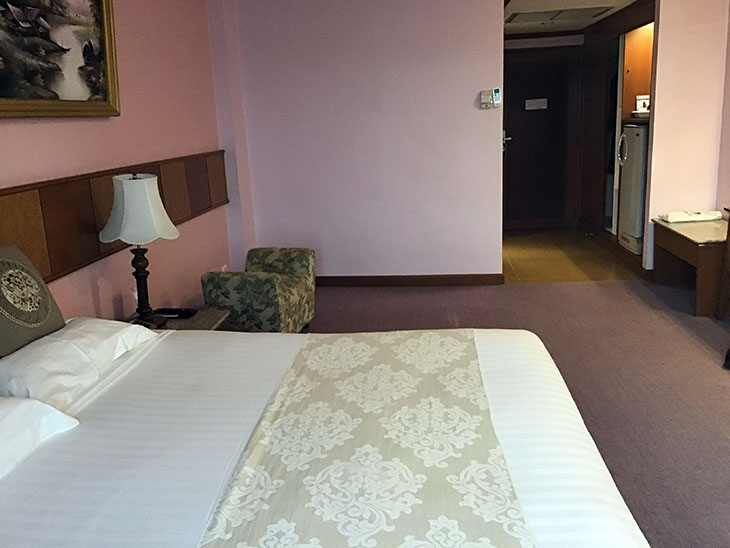 However it was not without faults. About half of the lights didn't work. I didn't care. There were enough. There was a sign asking me to use the new aircon. It didn't work. The old aircon did, so I didn't care. The bedside control panel for all the lights didn't do anything. No big deal.
The room service menu looked good, so I decided I was going to stay in, enjoy a meal and few beers with a view. The phone didn't work. Oh well, I decided to find a restaurant. There was a nice looking one poolside, with two nice looking waitresses. It was closed. When I enquired as to what the bleep they were doing there, they proudly told me they were taking orders for room service. So, I ordered, went back to my room, and enjoyed a good meal with a view. I think that's called irony.
Went I went down next morning for my free breakfast, I couldn't believe the size of the buffet. There was even a proper coffee maker. Now, generally I don't eat until I have at least one coffee inside me, so I made cappuccino and sat down. A nice hotel lady approached me and asked how I was enjoying my stay. I was honest – very much. Then she made the mistake of asking if there were any problems, so I started to list those I've mentioned above, whilst stressing that they were no big deal. Nonetheless she looked distressed. Would I mind waiting, she asked. I was there for breakfast so I assured her I wasn't going anywhere. She returned with pencil and paper and asked me to list the problems for her. It was a quite a list. Did it end up in the trash, or were the problems fixed? I'll never know.
But when in Tak, this is the place to stay.
Cha-Am My House…
Yeah, you guessed it, it's in Cha-Am. I didn't much enjoy this place, I think partly because I didn't much like Cha-Am. The room was small, as was the bathroom, but they were adequate. There's a pool, there was a small balcony, and the WiFi works. The free breakfast was pretty good, but it meant walking down the street to a restaurant that I assume was somehow connected to the hotel. I'm not sure I'd appreciate having to do that if it was raining.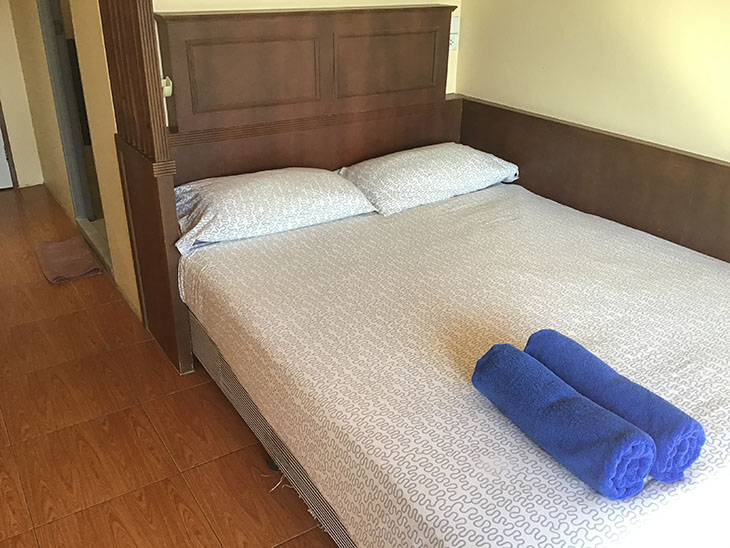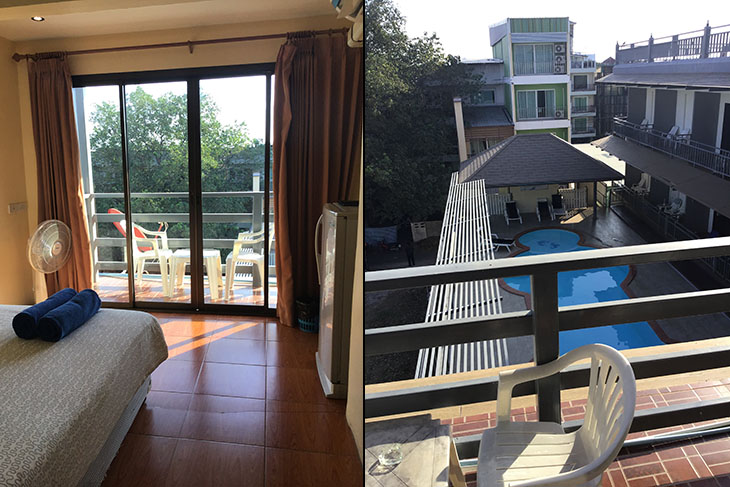 Parking in that part of Cha-Am was an absolutely nightmare, but I got lucky as someone opposite the hotel drove away on only my second tour around the block. I decided – that's it – I'm not moving until the morning.
Overall it was okay, but I can't help feeling there are better places for a similar price. I don't plan on going back to find out.
Okay, it's time for you to breathe a sigh of relief. We've finally reached the end of the story of The Great Northern Road Trip 2020.