…More Twitterings From The North.
In the middle of my recent northern road trip, I spent five nights in the same place. Not something I normally do, but I realized Chiang Mai would be a good base for full- and half-day trips. I found a nice one bedroom apartment out near the airport called The Prio Signature…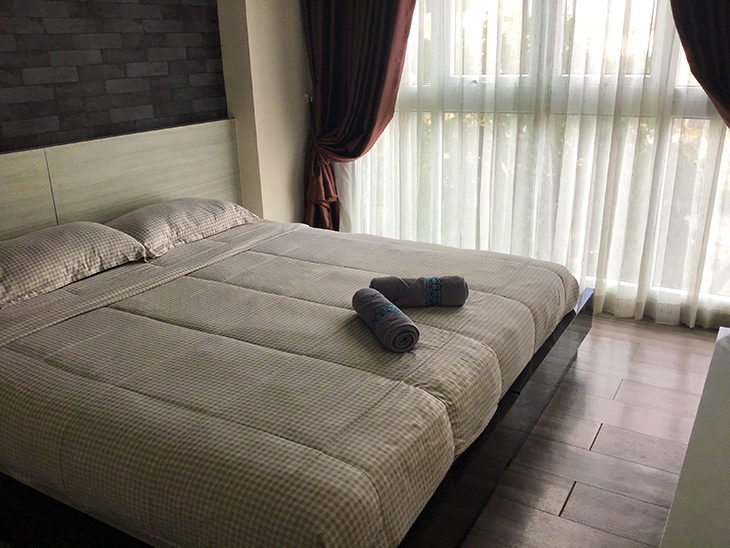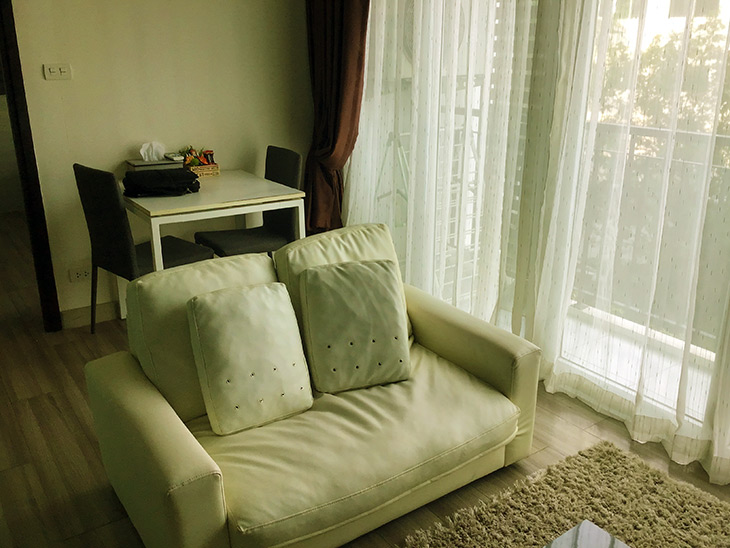 It cost pretty-much the same as a hotel room, and allowed me to relax in an evening with a "home" cooked meal, and to zip back for lunch if I felt like it. One day I didn't felt like it. I made the trip west over to Pai in Mae Hong Son Province.
It's only about 130kms but takes three hours due to the 750-or-so sharp bends. The scenery the whole way is superb, as was the weather, but there are minimal stopping places so photography is all but impossible.
This was not my first visit. Third, I think. The first time I was forced to stay overnight, although that wasn't my plan. I was heading to Mae Sot, another 1000+ curves away. I arrived in Pai at 8:05pm with an almost empty tank, only to discover the sole gas station closed at 8pm! My second visit was during my last northern road trip two years ago, when I was disappointed not to be able to get aerial shots due to very strong winds.
So, a day trip to Pai made sense.
First stop was the so-called Pai Grand Canyon. To see it from the ground can involve a lot of trekking, so I settled for aerial shots…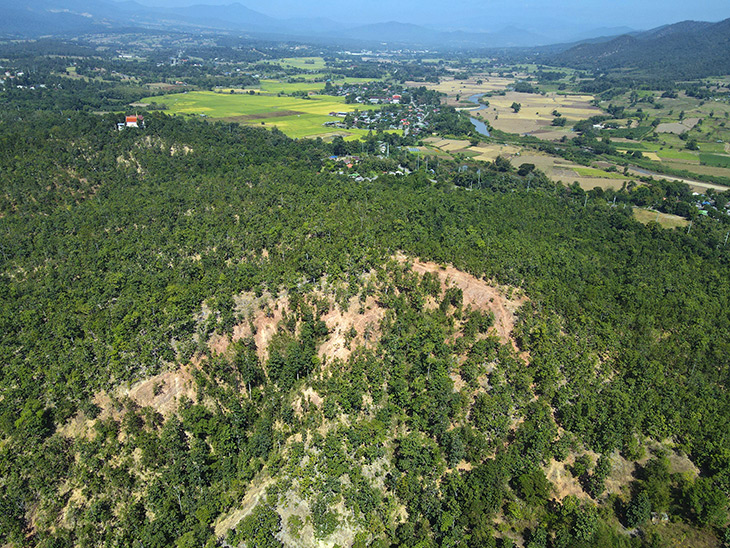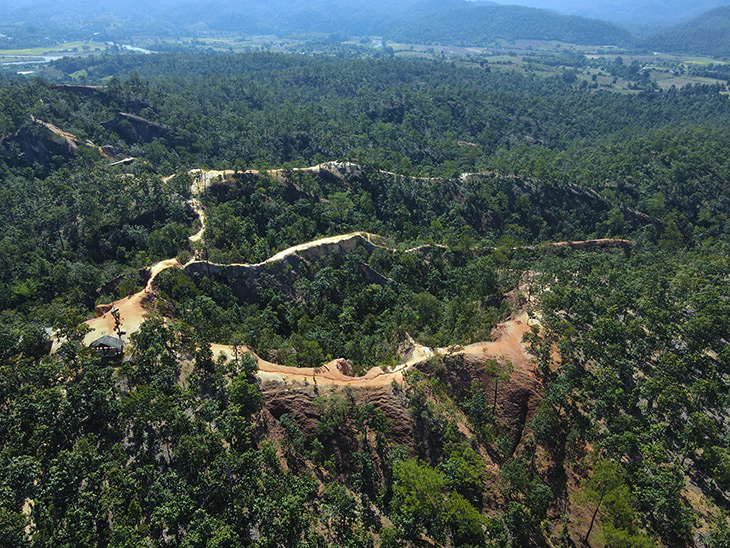 I didn't find it too exciting. Looks like large termite mounds. Supposedly it's best at sunset. I'll pass.
So, I went to the Pai Bamboo Bridge. Last time, I did get some aerial shots, but was disappointed to find the rice had been harvested, and the ground was just brown stubble. This time I was luckier. Most hadn't been cut…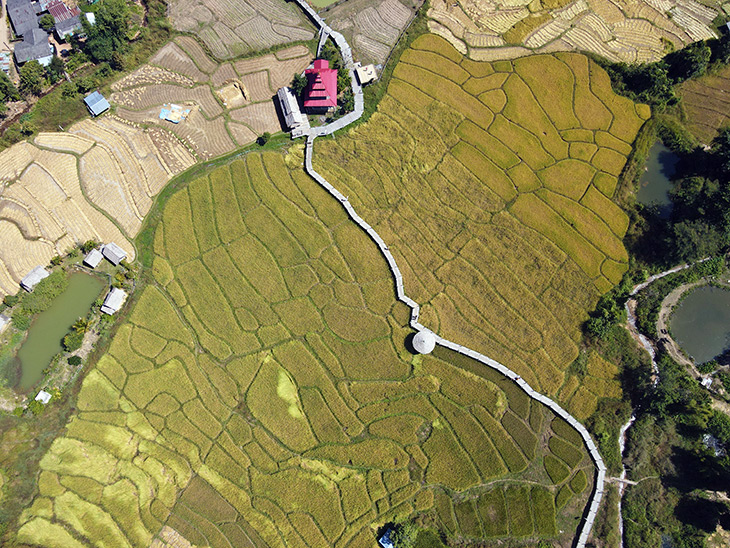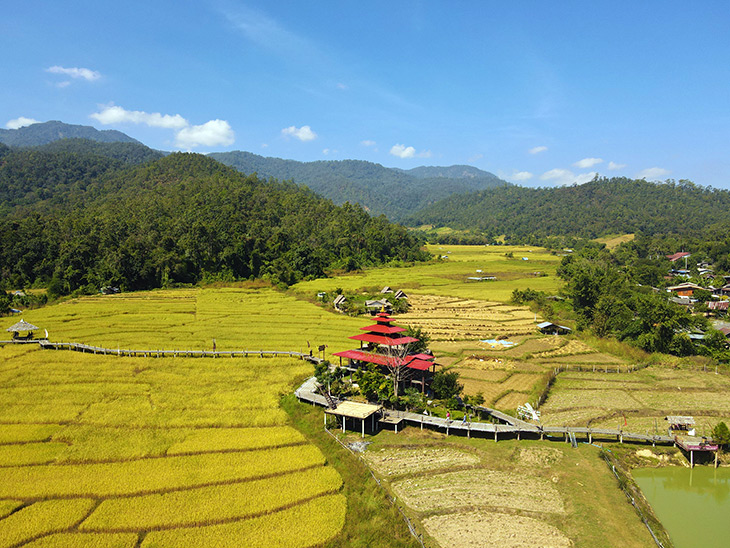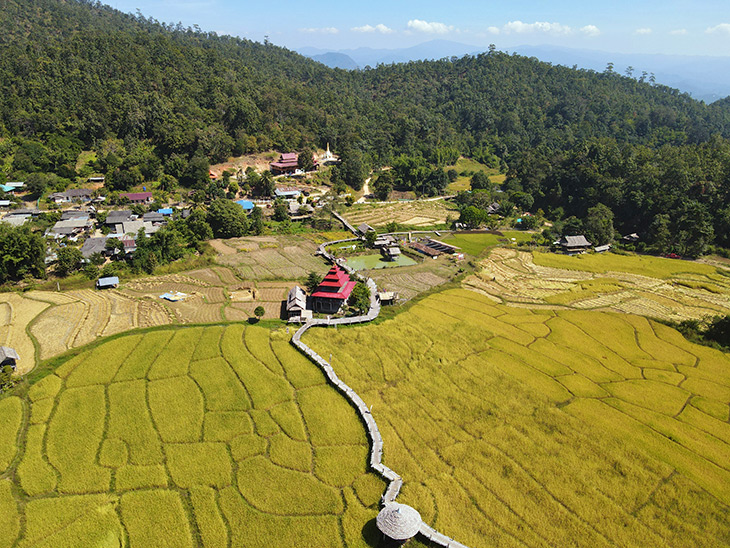 The temple-like building (I think it's a restaurant) in the middle of the fields was under construction on my last visit. Now it looks quite attractive. That was a fun visit. I like that place.
Next it was off to the Big Buddha. So big it's visible from almost anywhere in Pai. And of course, why would you trek up several hundred steps when you have a drone?…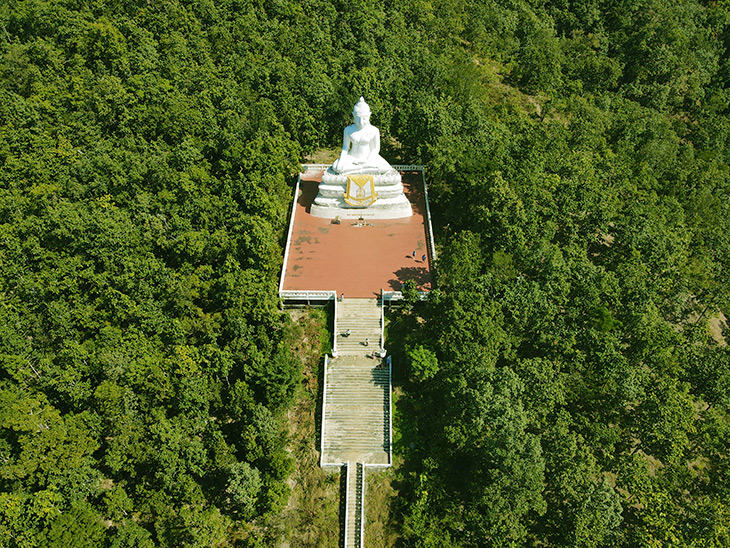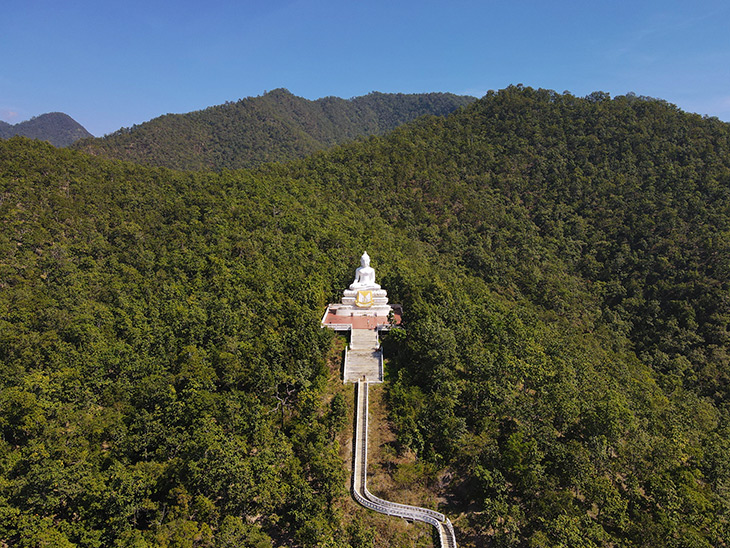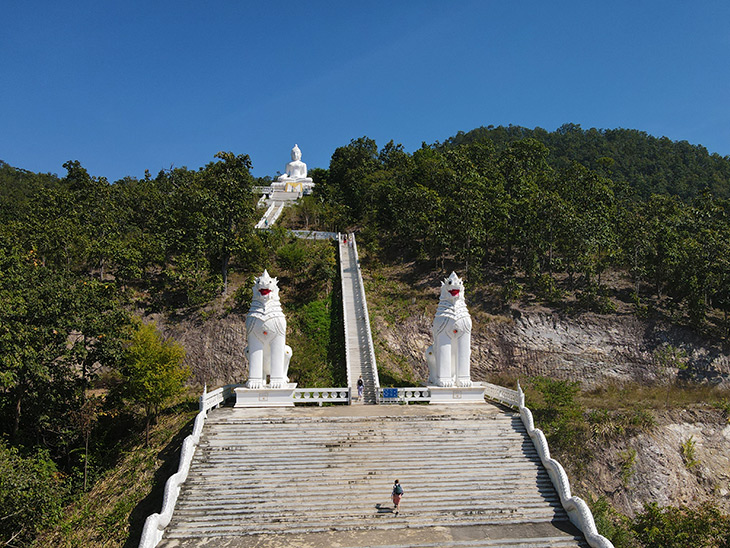 Next, I'd like to show you some great aerial shots of Santichon Village – a kind of Chinese place for tourists. But I can't. I couldn't get any. It looks thoroughly uninteresting from the air…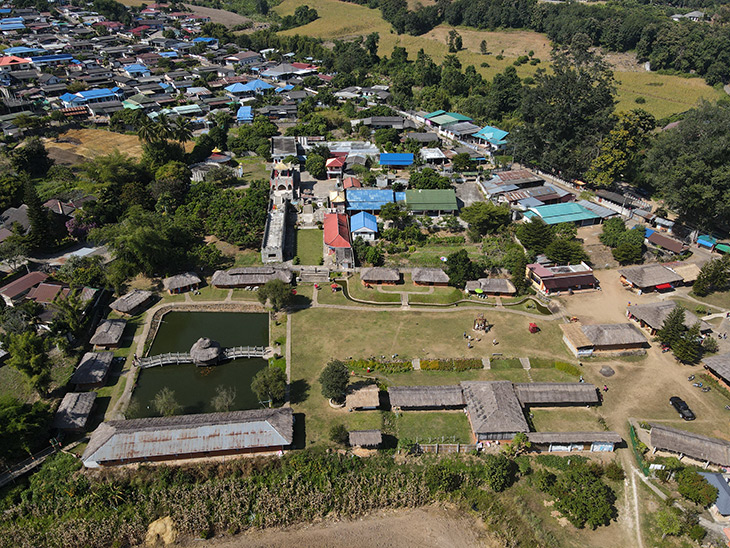 So, it was off back into the town. I don't normally take aerial photos of towns, but it occurred to me the view above Pai could be rather nice, with the surrounding fields and mountains. I wasn't wrong. Here's some shots from a nice open area I found on the edge of town, which is where they store their not-in-use garbage trucks. Smell not included…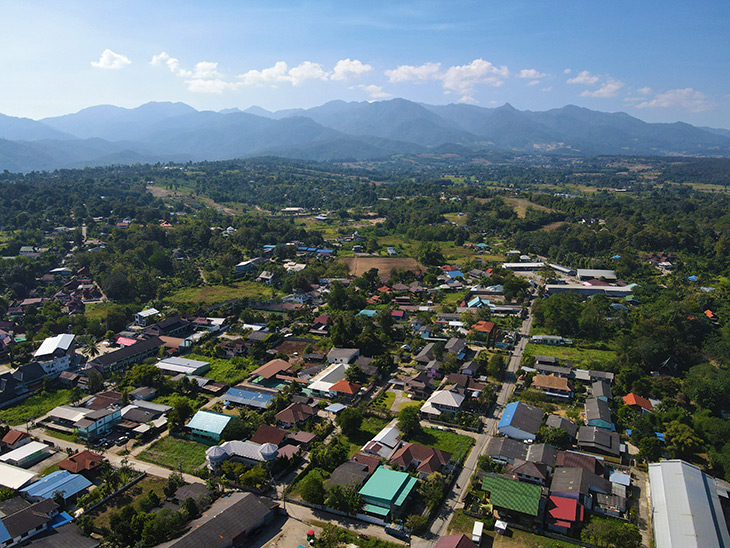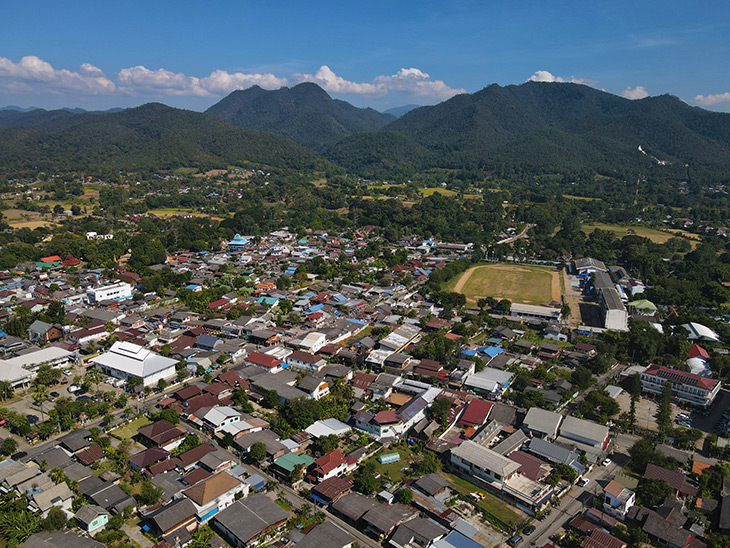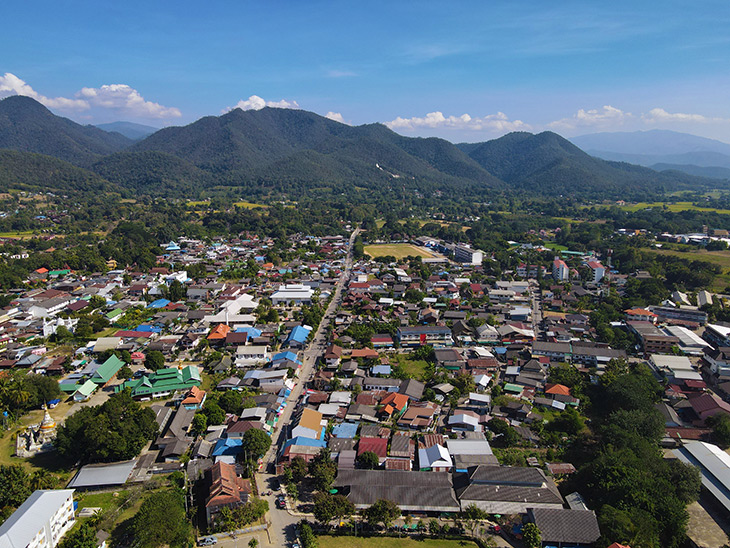 Can you spot the Big Buddha?
And that just left the 750 curves back to Chiang Mai. Enjoyed that. I even made a stop at The Witch's House for coffee.