Some people would claim I've been out to lunch for years. But today I couldn't resist doing it for real.
A short drive north found me in Khanom, one of my favorite resorts. You might have noticed that already. 🙂
I drove alongside the main beach, which runs for several kilometers. There's not many buildings, so there's a good sea view pretty-much the whole way. And at the southern end, where the terrain suddenly gets hillier, and the main beach changes into small bays, I found the Khanom Hill Resort.
You'd think it would be on a hill, but it's not. It's at the bottom, almost right on the beach. Perhaps "hillside resort" would have been a more descriptive name. But I'm being picky.
Their sign says the restaurant is open all day. I could see it from the road, down a stairway, overlooking the beach, so it seemed like a good place for lunch. I wasn't wrong. This is a must-return-to type of place.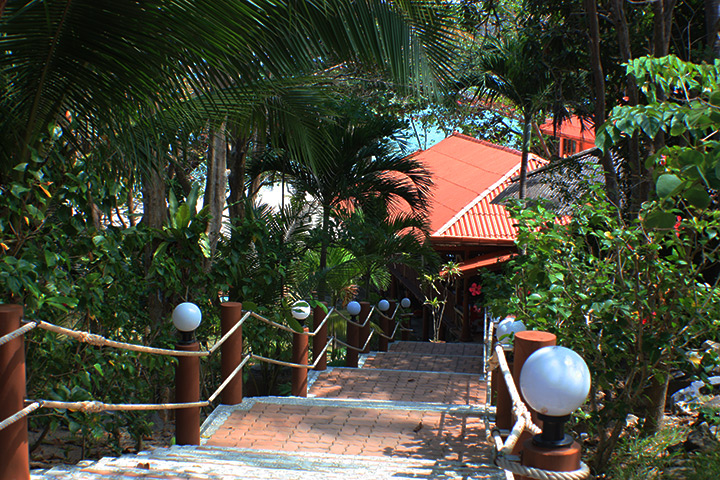 The menu offers a wide choice of Thai and Western dishes, but I didn't feel like having anything too elaborate at lunchtime, so settled for a spicy duck salad. Is that Western or Thai? Thai-ish, I think.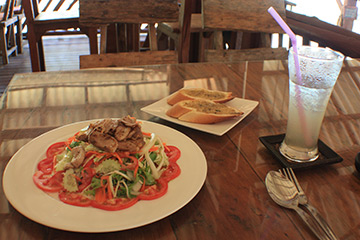 Unusually, there were … quelle horreur … other customers. I normally seem to find I'm alone. I guess they hadn't been warned I was coming! 🙂
In fact it was quite busy, which gave it a nice atmosphere, and hopefully means the tourism industry is picking up again.
Anyhoo, not much more to say really, so I won't. Good food. Nice restaurant. Reasonable prices. And a spectacular location…