…Everything But Kites.
I'm probably being unfair. Nothing new about that.
Anyhoo, it was a three day festival and I chose to go on the first day – a Friday. I imagined there would be fewer people and attractions than the rest of the weekend, but to be honest, I expected more than there was. According to the schedule, there were supposed to be things happening from 10am to 7pm, but whoever was organizing things on the ground at the festival site didn't get the memo. Let's backtrack…
It was thanks to Facebook that I found out about the event. I'd been aware of it in previous years, but after the fact. I'd always thought "If only I'd known…" so this year I had no excuses. I knew, therefore I went.
Surat Thani – the city – is only about an hour from home. But this was Surat Thani the province, the north end of which, where the festival was taking place, is about 180kms or a little over two hours. No big deal. I'll happily do that before breakfast – but not before coffee – but I didn't need to. Even with the 10am start time in mind, I figured not much would happen before midday, so I set off around 9am with a couple of other places to visit on the way. I'll come to those in the next few days.
Tha Chana Beach is a somewhat remote, windswept kind of a place. I suppose just the kind of place you'd need for flying kites…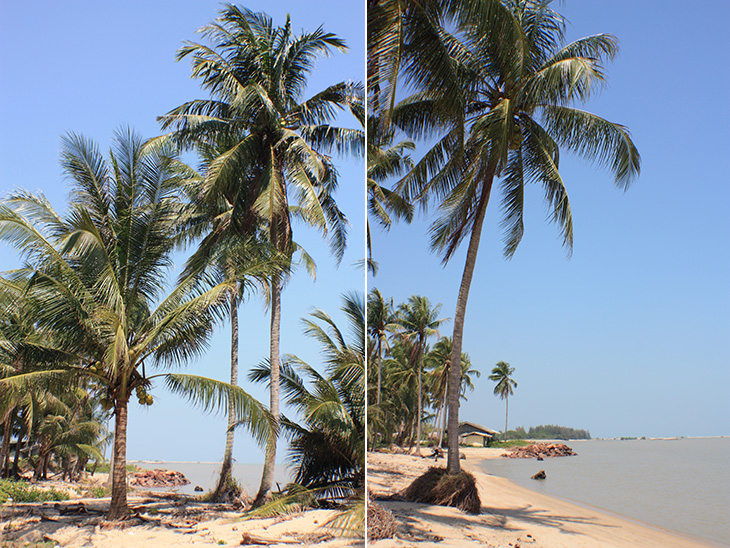 But when I tried to reach the beach I found roads were closed and I couldn't get near it. Everyone had to park in a large field and be taken on a 10 baht songthaew ride to the edge of the festival site. And it was here that the whole purpose of the festival became clear. It was an excuse, as if Thai people needed one, for eating. The kites were a good half kilometer along the beach and could only be reached by passing through the market selling anything you could think of, but mostly food. This is what I found in the first stall…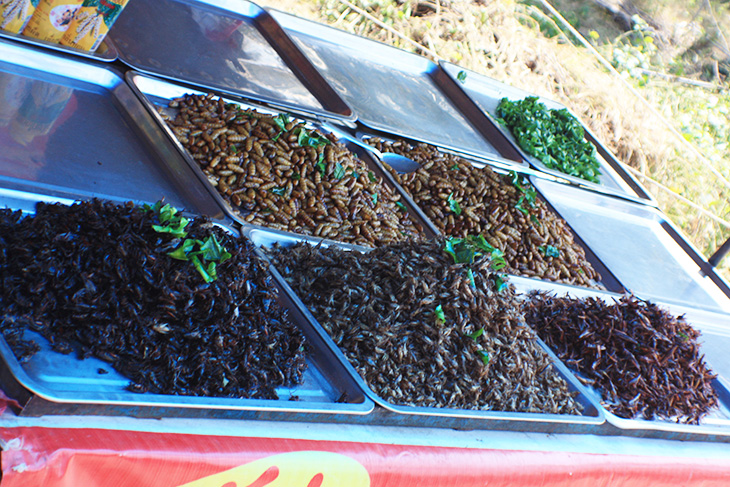 An assortment of fried bugs. I'm no expert, and I suspect you wouldn't really want to know, so let's stick with "fried bugs" shall we?
Here's a selection of other stalls…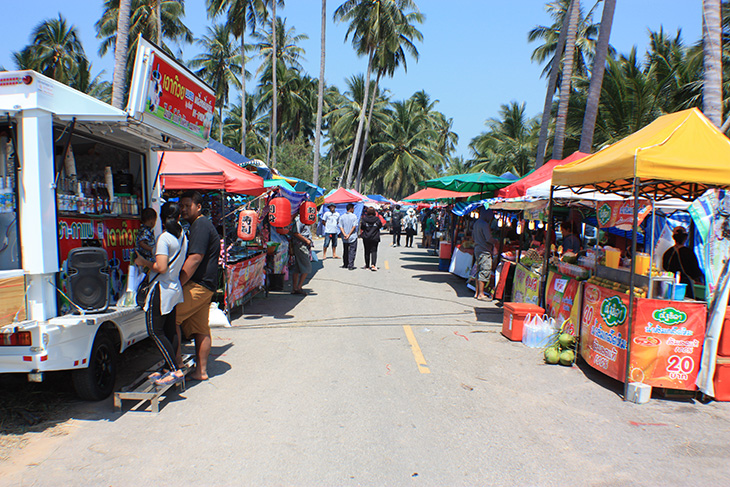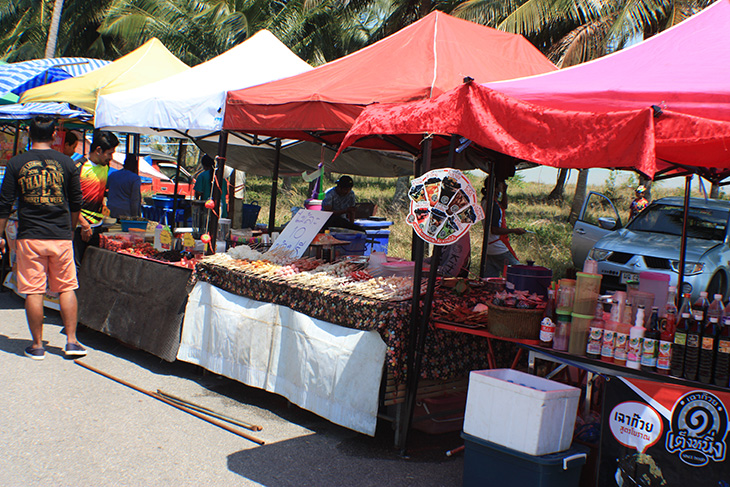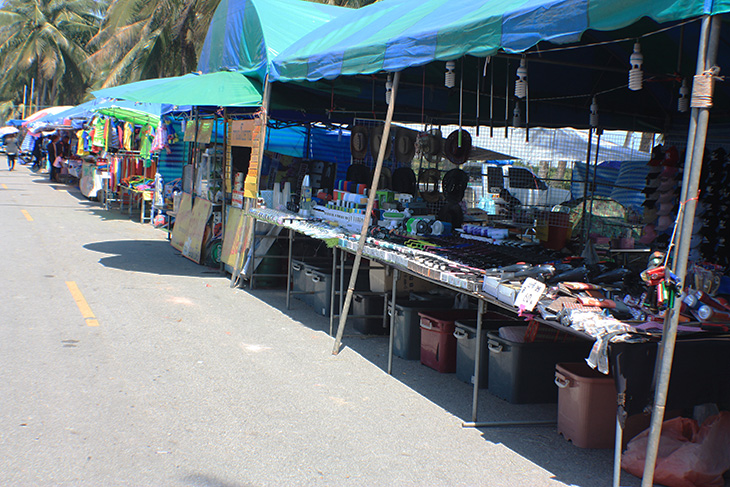 …and finally some kites.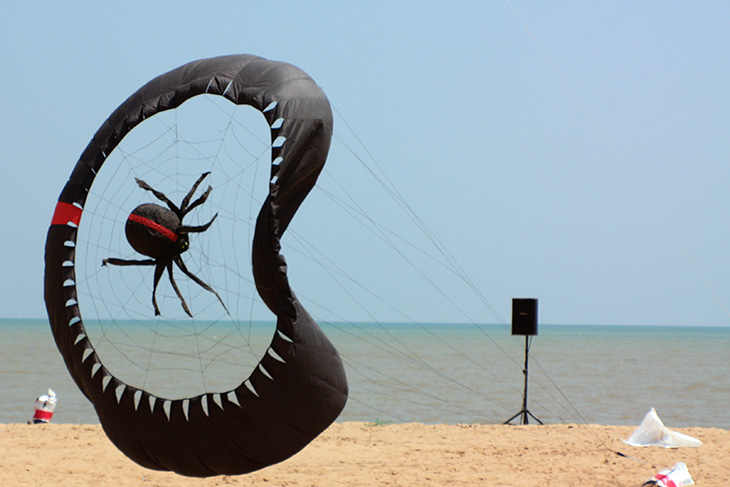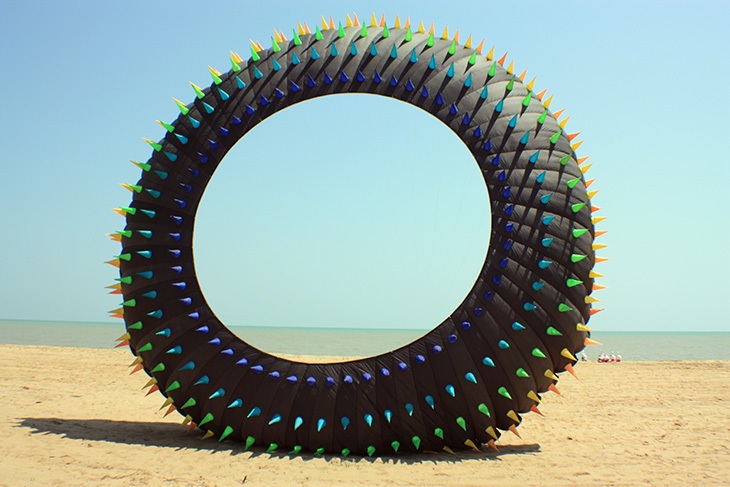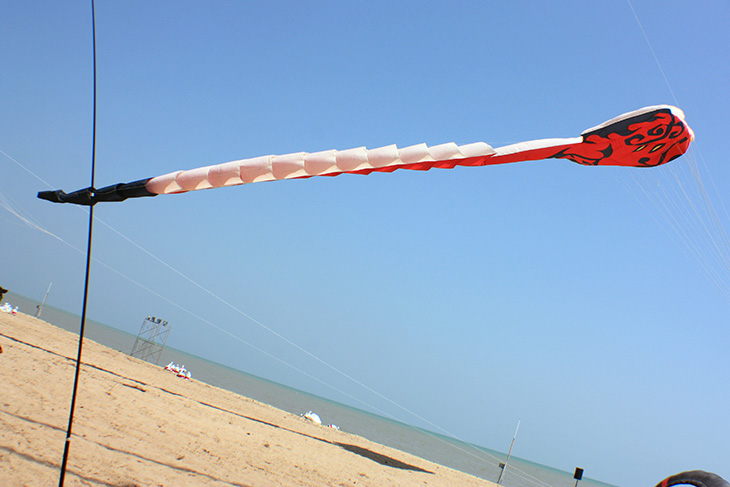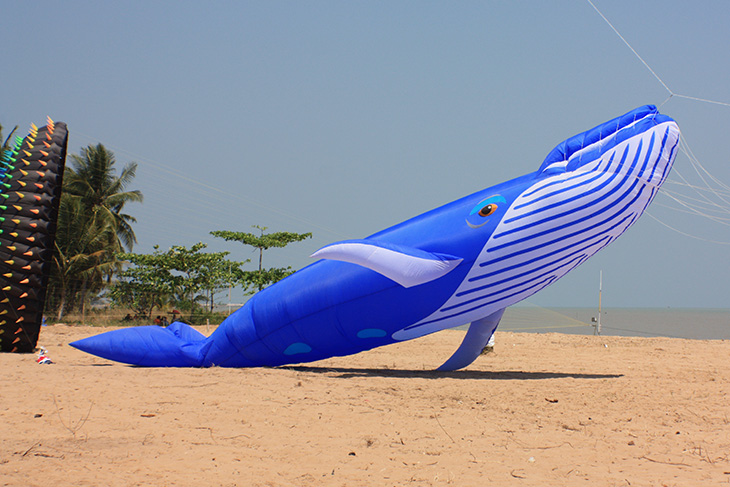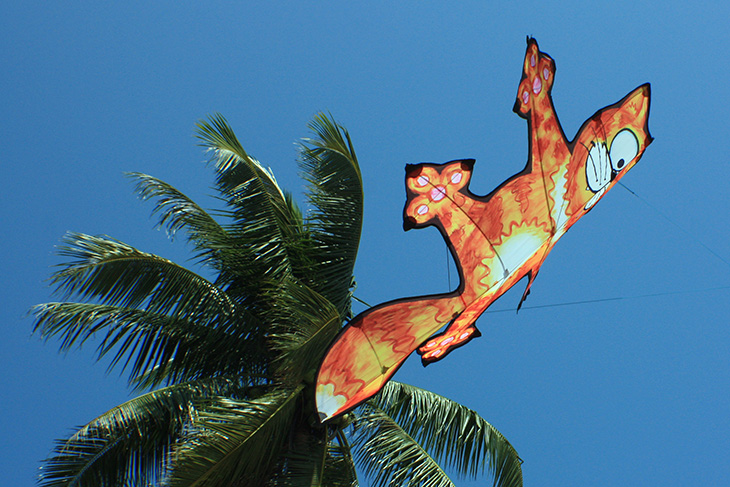 As you can see, they are mostly tethered and not flying. Ah ha, I thought, there must be tents and canopies where the kites are being prepared for flying. I'm not sure what you do with kites. You can't change the oil or tune the carburetor, but I'd imagined there'd be a few key things that could be tweaked. I was hoping to learn something. But – no canopies, no tents, no more kites.
At which point I was pounced-on by the somewhat over-enthusiastic public address fella who wanted to tell the whole world (i.e. the twenty other spectators) who I was, where I was from, why I was there, and was I going to buy a t-shirt? Well, yes, I was.
It seemed like it could be the most entertaining part of the visit. I wasn't wrong. I was "assisted" by at least a dozen people, who clearly had nothing better to do. And that gave them an opportunity for the inevitable photo session. And if you think "inevitable" is an exaggeration, well, keep in mind that last week I had to be photographed buying a bottle of Coke in Tesco Lotus. "Can you hold it like this? Can you point at it? Can you do a like?" The last one you can apparently blame on Facebook, as you can see here… with all of us "doing a like"…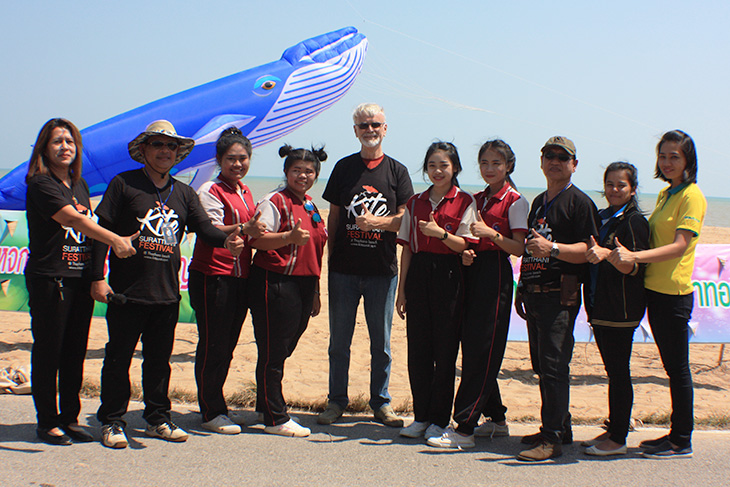 Can you guess which one is me? Having made some new "friends" (that would be Facebook's definition, not mine) I politely enquired when something might happen. Blank stares. So I tried asking when the kites would fly. That's when I learned the Thai word for kite is the same as Malay. A definite wau moment. But from the obvious signs of embarrassment, I quickly realized that probably, most likely, almost definitely, nothing was going to happen. But they would have lost face if they'd told me that so eventually they settled on "three o'clock." It being midday, it was an easy decision not to stick around.
So, I trekked back through the stalls of bugs and other paraphernalia, and briefly onto the beach…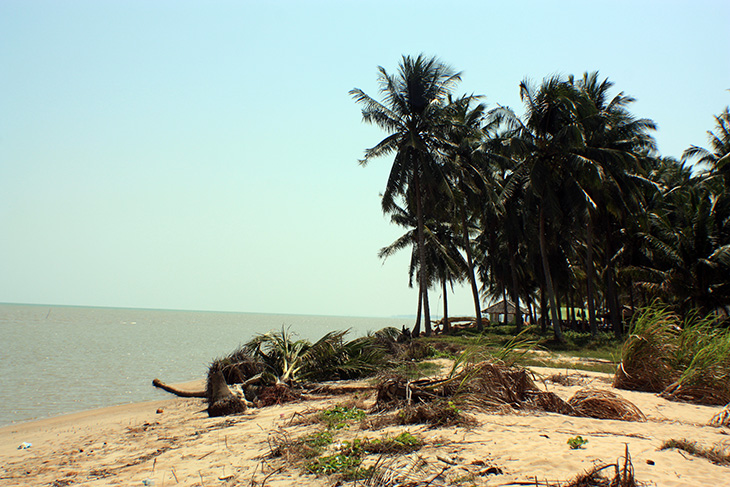 …after which I searched in vain for another songtaew. This resulted in a longer than needed trek back to the parking area.
Ah well, the beach was attractive, I had some fun with some nice people, and as I said at the outset – I'm probably being unfair.