…Expecting the Unexpected.
So; last week I discovered I had to make a totally unexpected trip to Chonburi Province to take care of some business. That's sort-of southeast of Bangkok.
I figured I had two choices. Get up there as fast as possible. Get the business out of the way. And get back as fast as possible. Or…
Take more time and throw in some sightseeing along the way. Of course, I chose the latter.
Chonburi is beyond the limit of what I consider to be a one-day trip. I figure eight hours of non-stop driving is probably a sensible limit. And even though not many people would call me "sensible" I do try to keep to that limit, give or take an hour. Even if all the right stars were in alignment (i.e. the Bangkok traffic was not too bad) Chonburi would be at least twelve hours, possibly fourteen.
All of which meant that this was going to be a four-day trip, with or without sightseeing. So let's get started…
Day 1 – Home to Prachuap Khiri Khan.
Wat Bo Thong Lang. 11.212653, 99.579353
A sleepy temple. A sleepy town. A sleepy sandy bay. After five hours of hectic driving, I appreciated the change. Picnic lunch was devoured before I set about having a good nose around.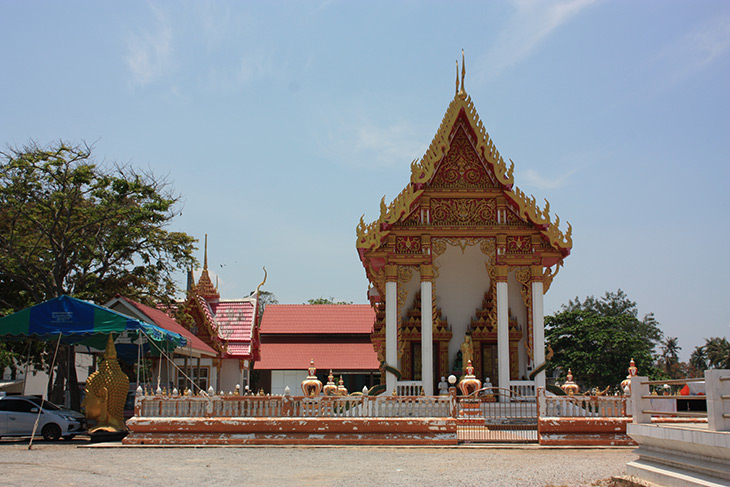 Being next to the sea, the views were nicer than the temple…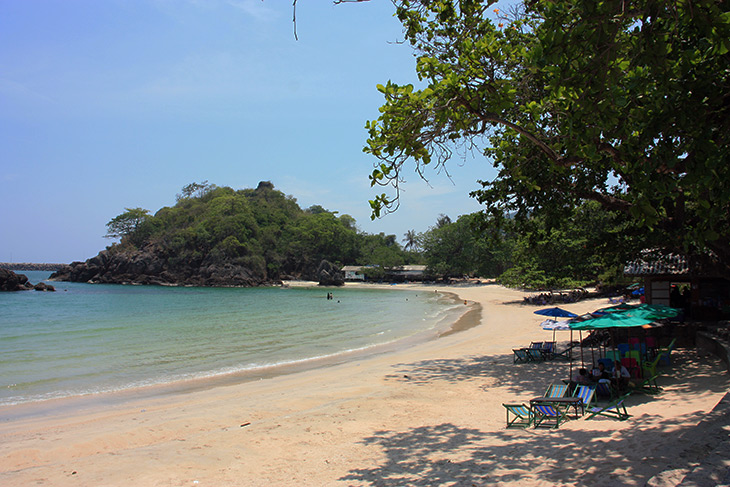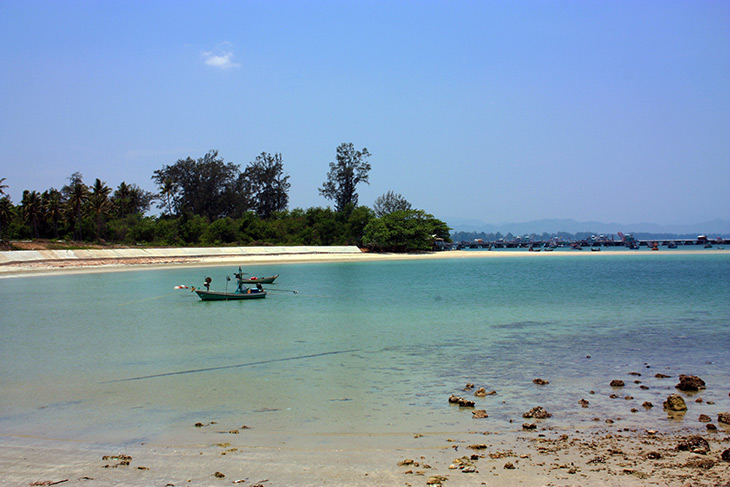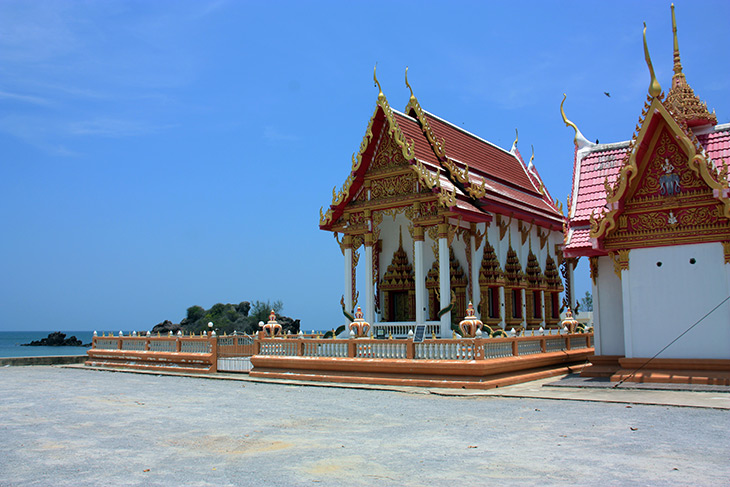 …but they were even nicer from Maxie's viewpoint…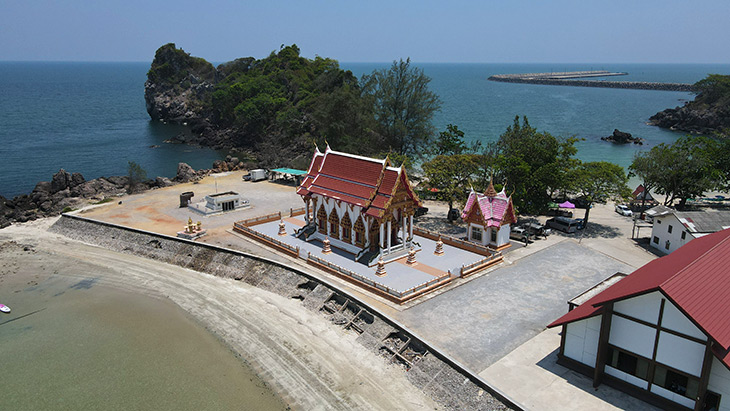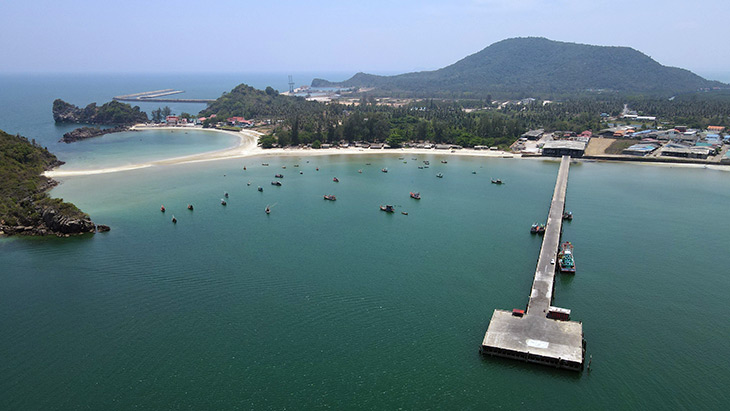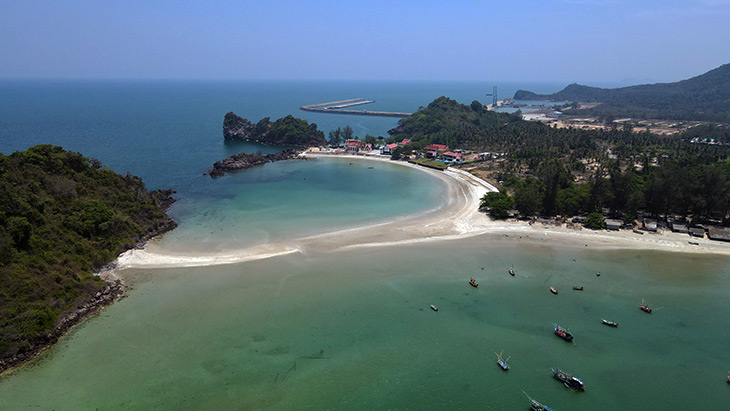 A strange thing happened when I landed. The drone controller claimed it hadn't stored any photos. So, I removed the microSD card, cleaned the contacts and replaced it. And then did the whole ten minute tour again. But when I copied all the photos off the card at home, the first lot were there. Oh well, it's good to have spares!
The second place on my list I decided to skip. I was running a little late, but more importantly it was next to an Air Force runway. I had authorization to fly there, but it was so close I figured it might spook some Air Traffic Controller and I'd get locked up for a week while I tried to explain.
Wat Ao Noi, and Ao Noi. 11.8606612, 99.821832
Ao, sometimes spelled Aow, means bay, so I was visiting another beach and another temple next to a beach. Both of which were walking distance from my Night One hotel.
The temple was a bit unusual in that it had two nagas, or snakes running around it, with their multitudinous heads. One started here…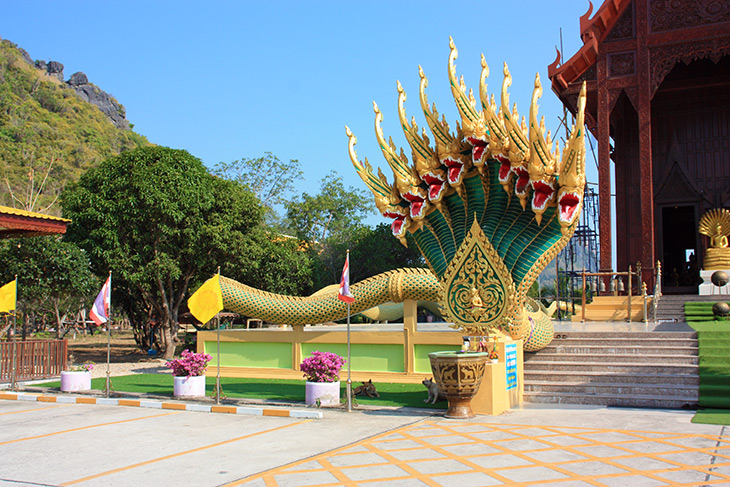 …and the other one here…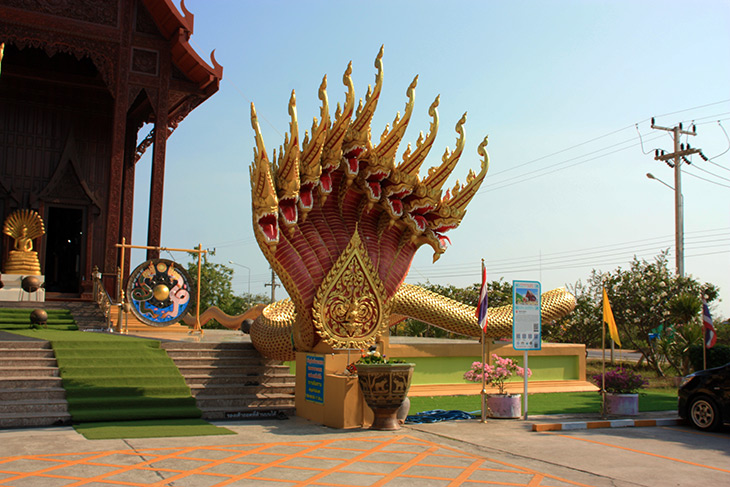 …ending up at the back of the temple, here…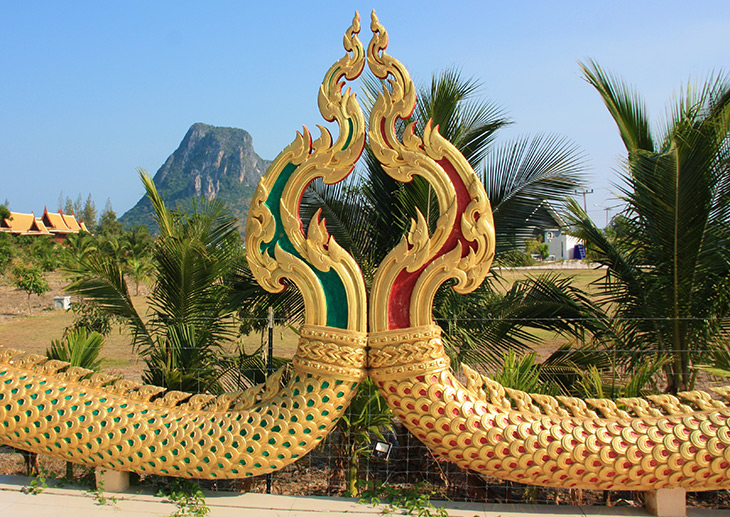 It's all very new, and features lots of wood, which I assumed was teak, but I see now it's quite a light color, so it's maybe mahogany or meranti…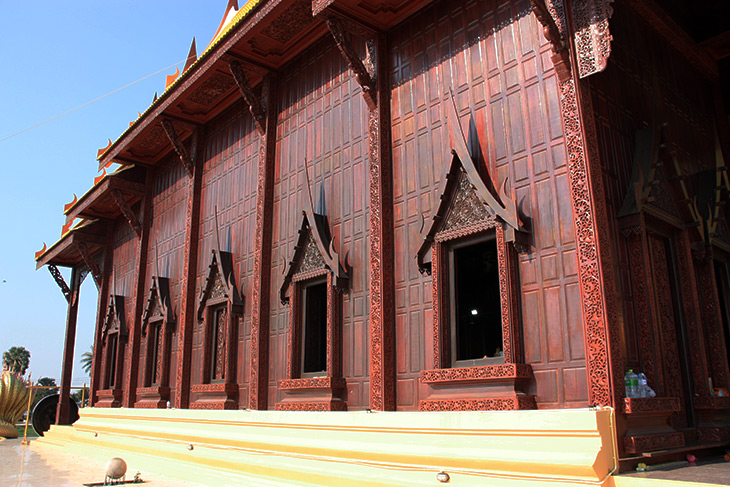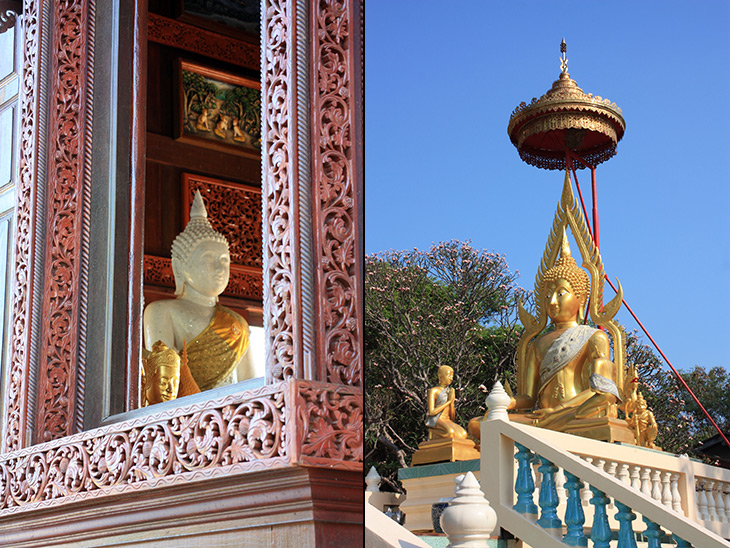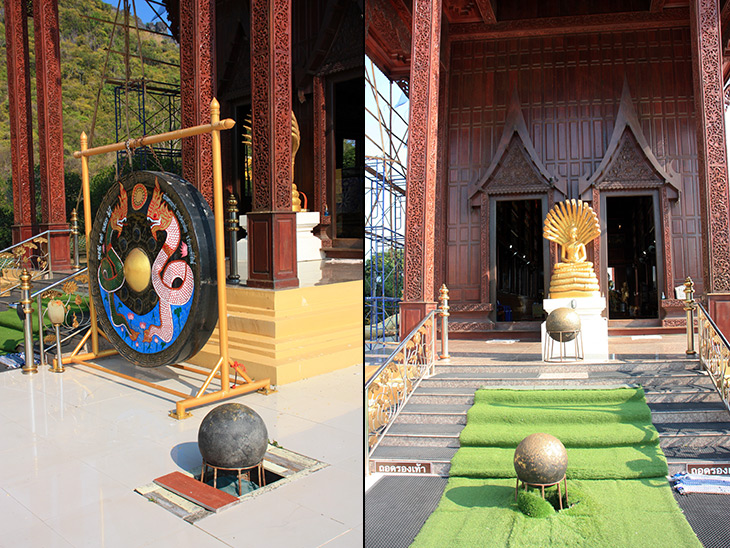 Ah, yes, now that I bother to look at my own photos, I can see that it's not yet finished. The scaffolding is a bit of a giveaway, but also those cannonball-sized rocks – or Luk Nimit – will eventually be buried, after offering lots of prayers of course and possibly being covered in gold-leaf, and the boundary stones or Bai Sema placed on top.
Let's see what Maxie's discovered…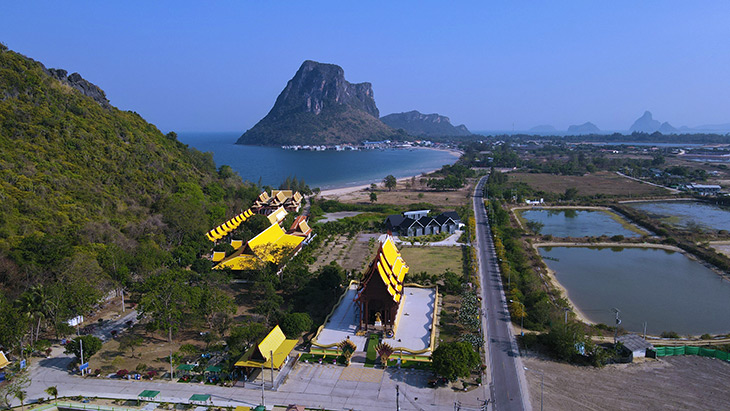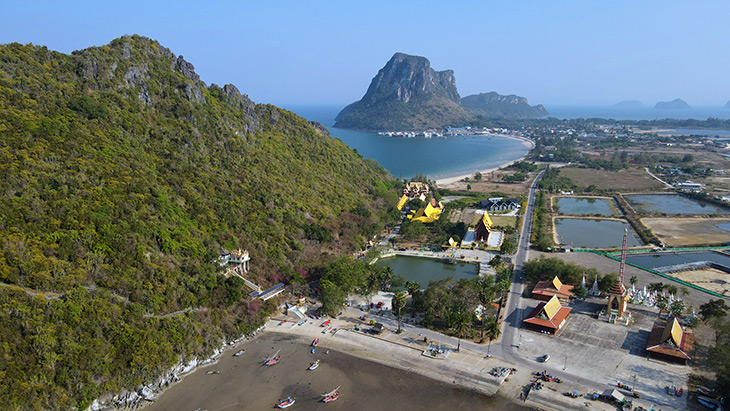 He also had a good look at the beach area…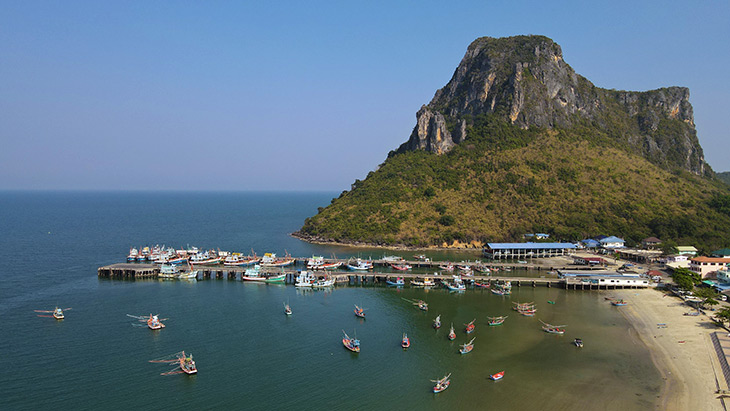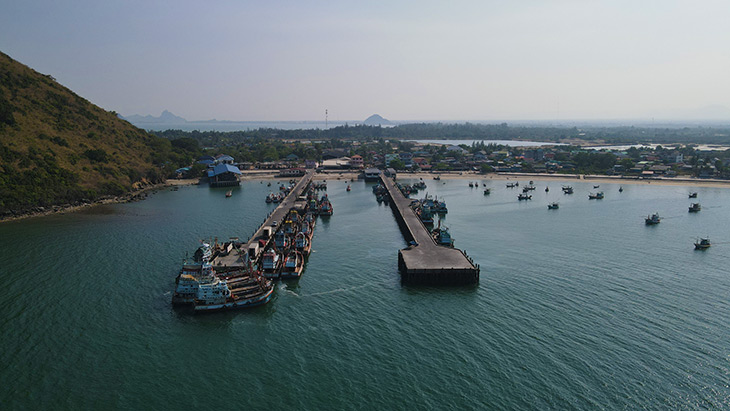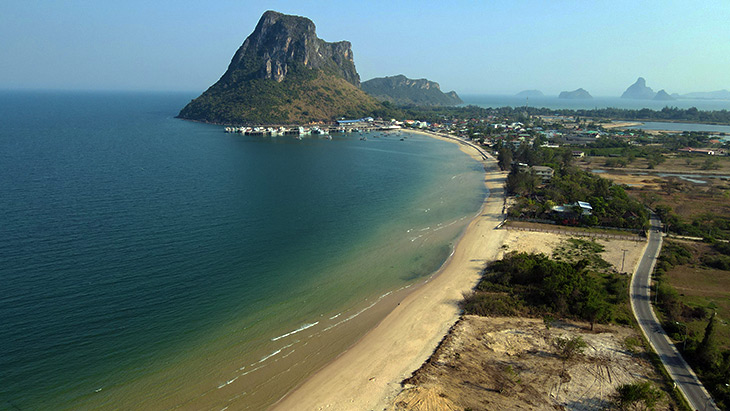 Ao Noi Bay Resort. 11.862410, 99.819798
Well, at least I picked one nice hotel. It kind-of spoiled me for the rest of the trip. New; pleasant, clean rooms…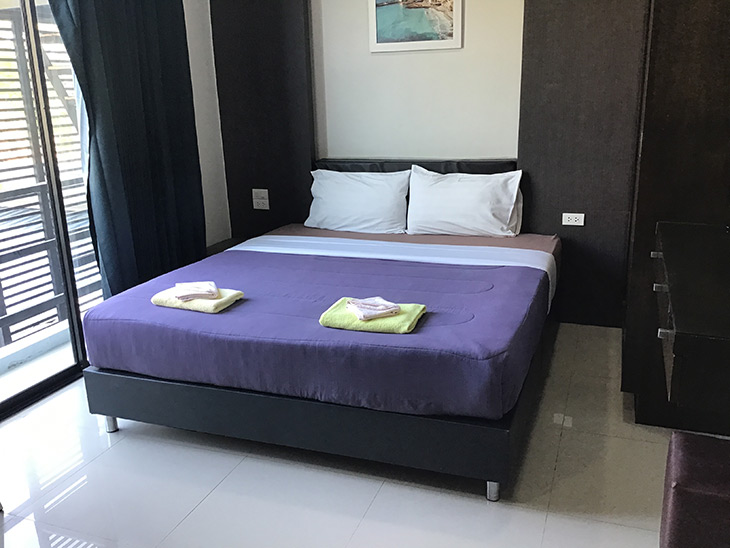 Sea view…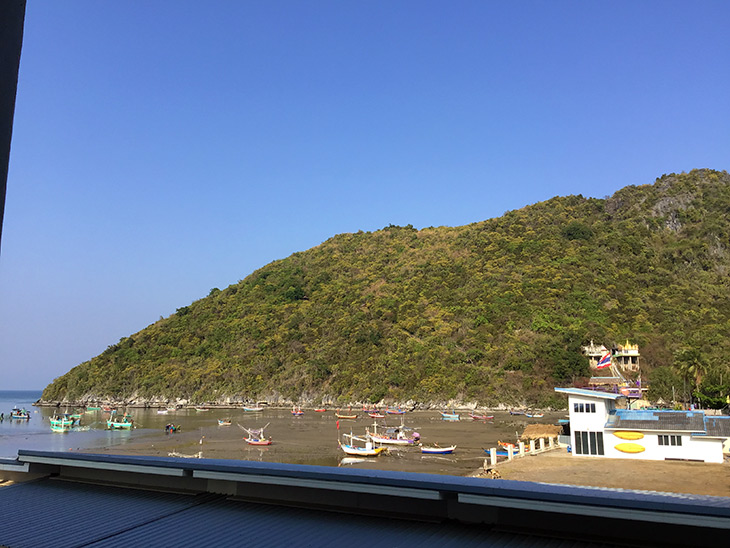 Beach access…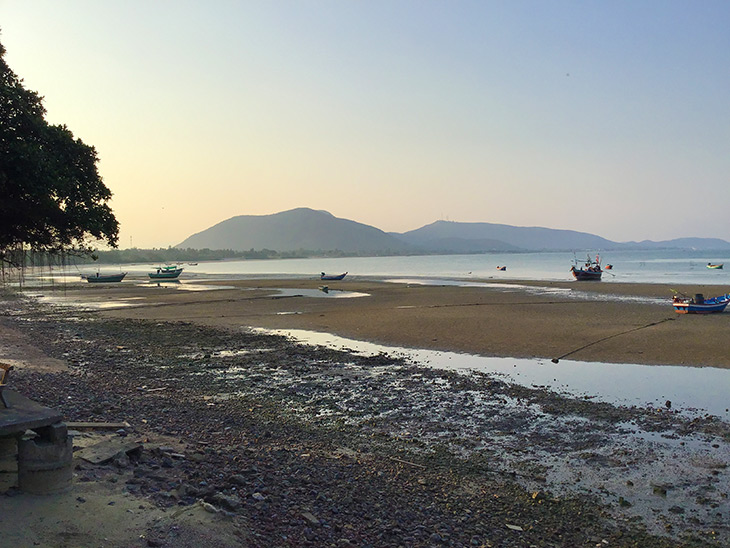 No restaurant, but only a short drive into the town.
And coming next, after the Day One Story is…