…Nicer Than It Sounds.
So; yesterday was the first opportunity to get out of the house without getting drowned. The torrential rain has now moved a little ways north and is still causing havoc, with road and rail bridges washed out; but here, there are dry spells.
I decided to do a short recce to assess local damage. There wasn't any.
I can't explain this, but the water level in the rivers has gone down by at least two meters, and there was no visible sign of any flooding. I expected to see mud-covered roads, people frantically trying to dry floors and furniture, general scenes of wailing and gnashing of teeth at the cost of it all. Nothing. Life has gone back to normal in two days.
Hard to believe this is the same road, last week & today…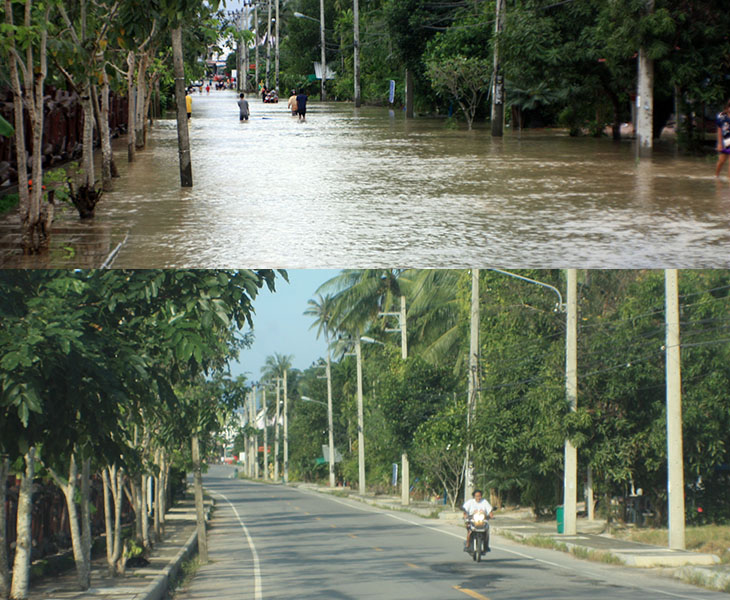 A few stores along the main street have built small walls at their entrances to keep out the water – now needing a kind of mini-hurdle jump to get in. There were a few patches of sand that perhaps were not there two weeks ago. But those were the only signs that a biblical flood had descended on the area.
---
---
While I was out yesterday I popped into the small Tesco Lotus to stock up on beer. Yes, yes, I know I did that a few days ago, but I only bought a six-pack to keep me going.
Fess-up. It was two six-packs.
Okay, okay, two six-packs, but that was ten days ago, wasn't it? Maybe not.
Anyhoo, I'm guessing Tesco had run very short of the essential liquid, as there was just one case of Chang on the shelf. I bought it. I opened it last night. And then poured it down the kitchen sink. They must have had it hidden on a back shelf for at least five years. Yechh.
Why didn't you return it? you wonder but are too polite to ask. First; it wouldn't have solved the problem of needing drinkable beer, as they only had that one case. And perhaps more importantly, one does not complain in Thailand. One mutters "mai bpen rai." One sucks it up. One grins and one bears it. One would have had cr*p service in there for the rest of one's natural days.
So, in the knowledge that life was back to normal, today I headed over to Surat Thani in search of fresh golden liquid and other stuff. On the way I made a detour to find the much sign-posted Khun Thale Swamp. Why would anyone want to visit a swamp? I wondered. The word seems to have negative connotations. Like it's an unattractive, muddy, soggy area. But, it turns out, it's just an unfortunate choice of name.
It's a large shallow lake and river network, about seven kilometers south of the city. I think "wetlands" would be a much nicer description…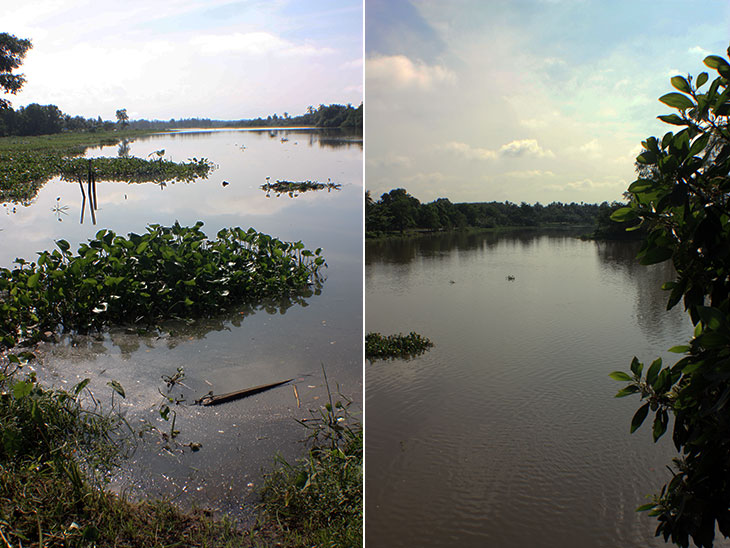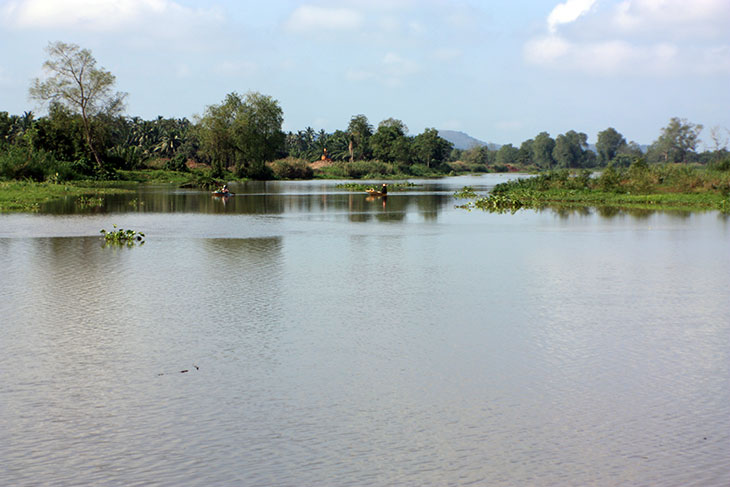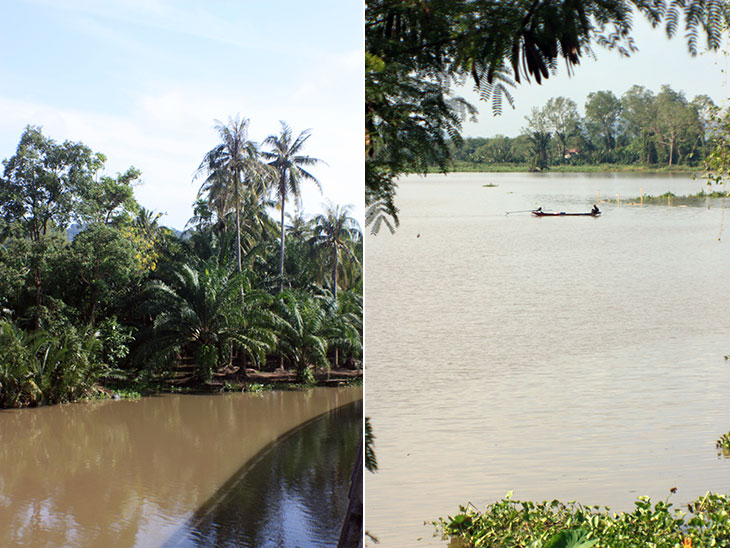 At one point, where the main road from the city meets the lake, there's some kind of recreational area under construction. It's a restful location. I hope it's well used on evenings and weekends, but needless to say, this morning it was deserted…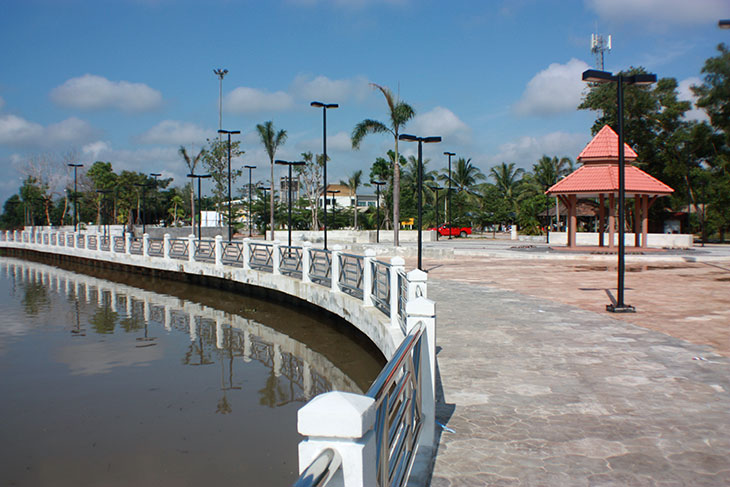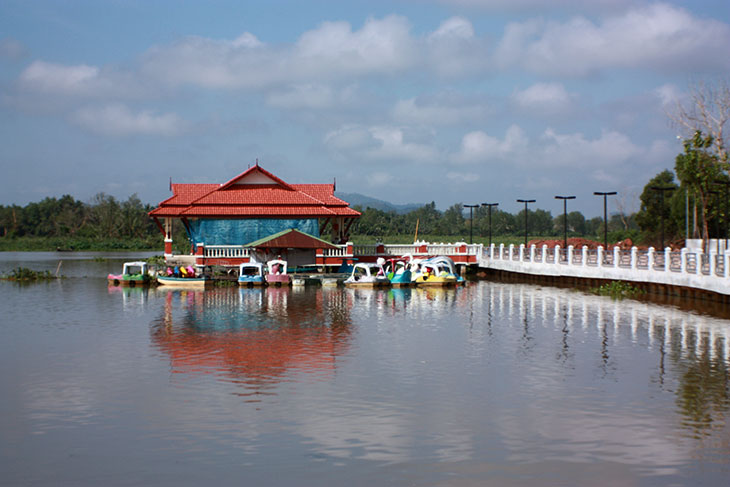 At one end, there's some kind of pavilion housing a shrine…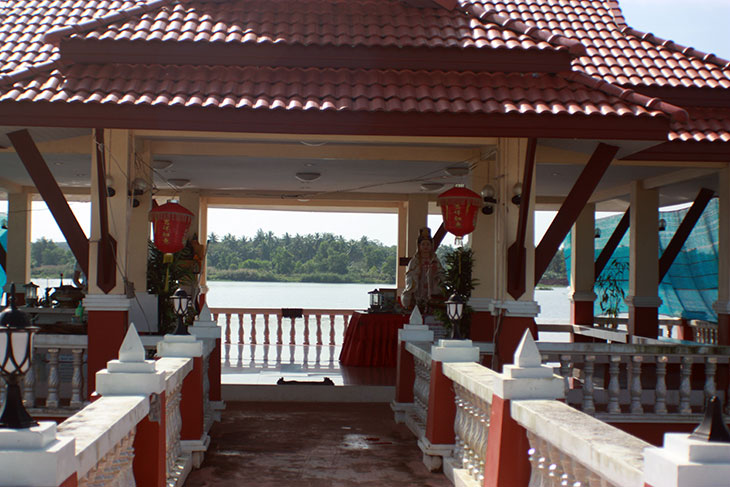 … but I didn't investigate further as – bizarrely – it was being guarded by a man with a rifle. I felt it prudent not to wind him up by taking his photograph. But guarding what? Do people go around stealing swamps?
Anyhoo, it was a nice find. I've mentioned before, there's not a heck of a lot to see and do in Surat Thani, so if you're there, put the swamp on your to-see list.

The other surprise was that between there and the ring road there are some seriously-nice homes in gated communities, complete with a brand new International School. There must be more to Surat Thani than meets the eye. All of which makes it even stranger that there was no one by the lake. Maybe they think it's nothing but a swamp – just as I have for the past three years.