…Disappointing On Many Levels.
This is part two of the Khao Lak Loop story. If you'd like to start at the beginning, please click/tap here.
As I mentioned yesterday, I started my trip down the Khao Lak coastline in a place called Bang Muang. Not only does it have a ferry and a small fishing port, the area is also home to the Ban Nam Khem Tsunami Memorial.
Now, I can't imagine there's anyone on the planet who doesn't know about the series of destructive waves that killed at least a quarter of a million people around the coastline of the Indian Ocean, following the nine-point-something earthquake in Sumatera. Having witnessed it in Malaysia, I feel a little more connected to the events of that day than some.
The waves that hit the Andaman coastline, of which Khao Lak is a part, were way worse than Malaysia. The sea swept kilometers inland, killing, injuring and destroying everything in its path.
So, I was interested to see how the event had been remembered, and the Ban Nam Khem Memorial was the first of three places I visited…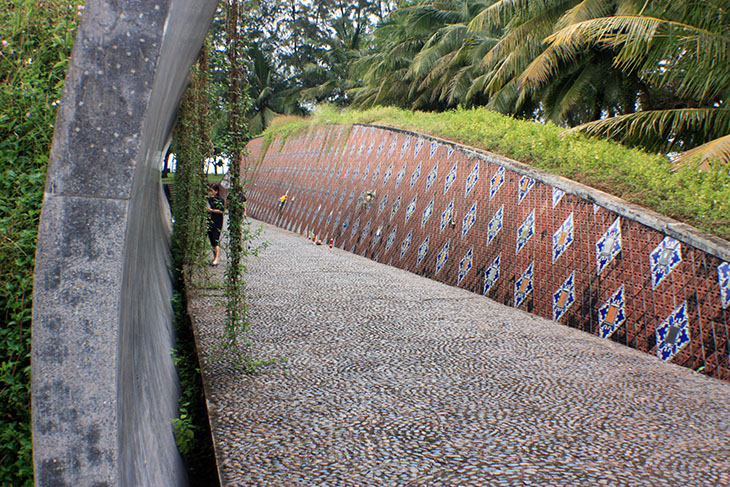 As you can see, the memorial is a wall of plaques with victims names. I'm guessing the design is supposed to depict the inside of a wave.
Seeing people's names…
…is very moving. They seem to be about a 50/50 mix of Khun Thai and Farangs.
But, sad to say, the place very grubby. It needs a good wash. There's vegetation growing down the wall and in the drains. It needs someone to place a few flowers from time-to-time. It needs more information.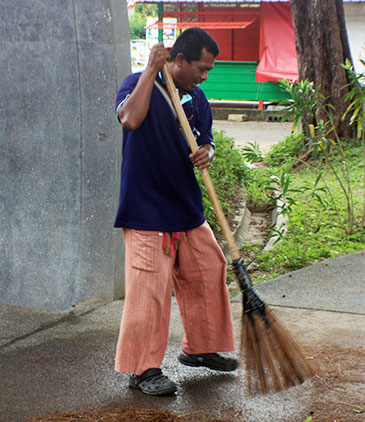 The only thing I could learn was from this fella on the right, who was merrily sweeping away pine needles.
He is a tsunami survivor.
But sadly, as he told me, he lost his six year-old son, who he had taken to school that morning, and that the waves had destroyed the school and everyone in it.
All he could say, as he recalled that day, was "sib song bpee, sib song bpee."
Twelve years, twelve years. A tear-jerking moment.
Close by, and a little ways inland, is the "Tsunami Victim Cemetery"…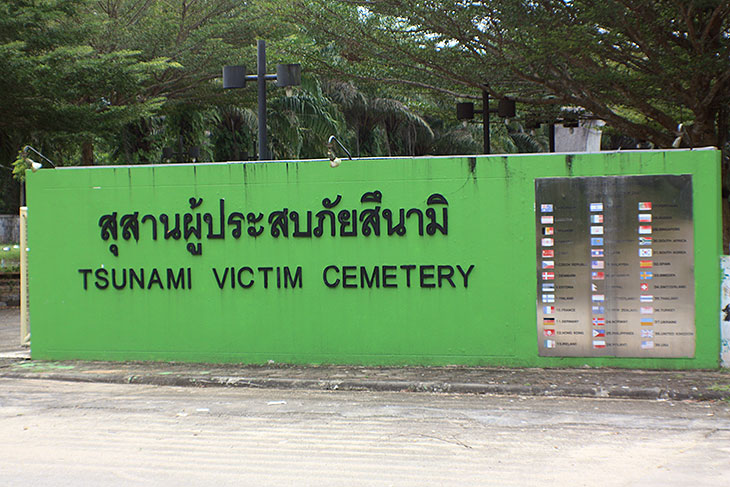 I'm sorry to say this, but the place is a disgrace. It might have been nice when it was built, but look at this…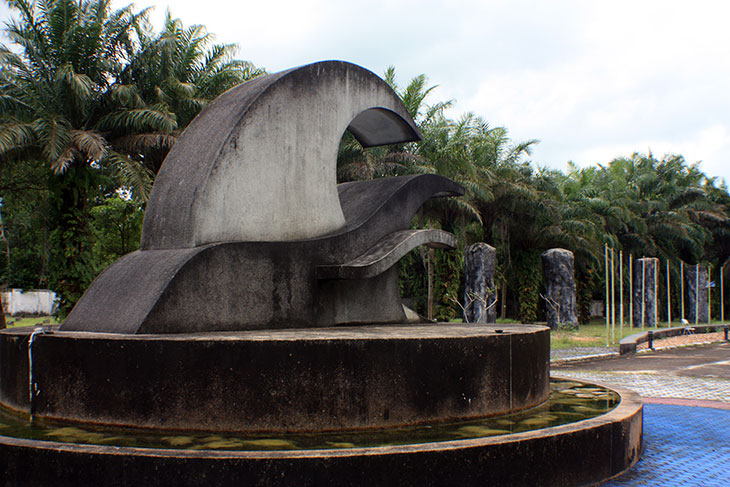 What the heck is that? Waves, I suppose. How about a splash of blue and white paint? How about cleaning-up the whole place? How about doing something with the stagnant water?
The graves themselves are fairly well kept, in that someone does cut the grass…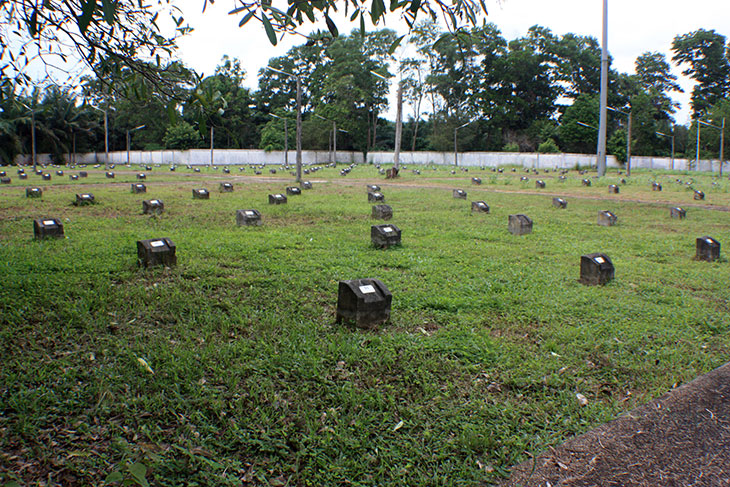 I could have taken more photos, but frankly I didn't want to be reminded of the state of the place.
Oh, and there are washrooms, but they haven't seen running water since they day they were built. That was a real shocker because the vast majority of washrooms in Thailand is spotlessly clean.
The whole place is just an abandoned mess.
And then, a lot further down the coast (going south, turn left at the Mars Bar and Cafe!) is the so-called "International Tsunami Museum." Now, its claim to fame, and the one thing worth seeing, is this…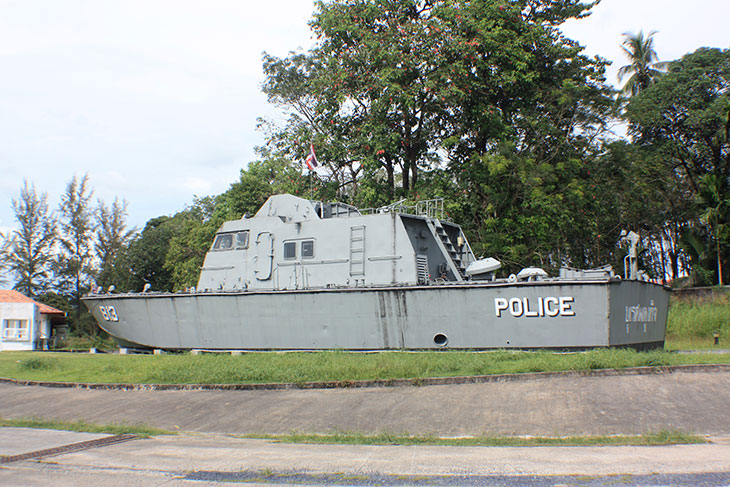 It was off-shore, guarding a member of the royal family who was jet-skiing when the tsunami hit. And now its two kilometers inland. The "information" at the "museum" explains how the visiting royals barely escaped with their lives, but there's no mention of the poor sods who didn't.
In the wood and canvas "museum" there's lots of grizzly and faded photographs, which we all recall seeing in the media, and there's a load of tacky souvenirs for sale. Just how it qualifies as "International" is not mentioned.
Nearby, and nestled amongst some mostly-empty shophouses is this thing…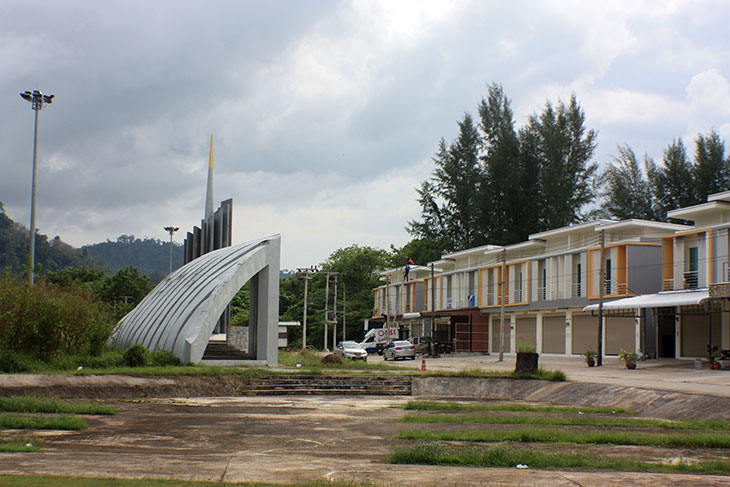 Perhaps another artist's impression of what it was like inside a wave. But its another construction sorely in need of some maintenance. And some information. There's nothing. Just the wave, the pointy tower and some sunken concrete that was supposed to be what? A goldfish pond?
I can't speak for other tourists, but I found the three-pronged attempt at making some meaningful memorial to the victims had failed miserably. The lasting impression is that today, no one cares. It seems the attitude is… We built something. It looked nice at the time. Now, why bother?
And I don't think Thailand can take all the blame. This is an international problem. If countries can't pull together to create something meaningful, and most-importantly, well-maintained, then it would better to tear the whole lot down, and forget about the tsunami.
My choice would be to focus on the cemetery. Those are real bodies. The place should be properly maintained. There's a huge amount of surrounding empty land. Something tasteful could be built.
The whole experience rather spoiled my day.

What I am hoping is that someone from the Tourism Authority of Thailand will see this and do something. Will they see it? Well, someone from there called me a few days ago and said nice things, so I'm assuming they do read Twitterings. We'll see.
And I promise my next two stories from the Khao Lak Loop will be more cheerful. A lot more cheerful. I did find some nice things. Stay tuned.