… Water, Karsts, Fish, And More.
In yesterday's article I mentioned how I came to be on the west coast of the Thai isthmus in Krabi province. This is the next part of my day trip, so please take a look there first.
After leaving the wat on the hill, I headed off towards what I assumed was the town, but really isn't much more than a small fishing village at the end of the cape. In fact the cape is dotted with villages, and I don't think there really is anything you could call a town.
On the way though – and we're only talking about a few hundred meters from the wat to the sea – I stopped at the oddly named Bulan Anda Baba Resort. This is, I think, the main building…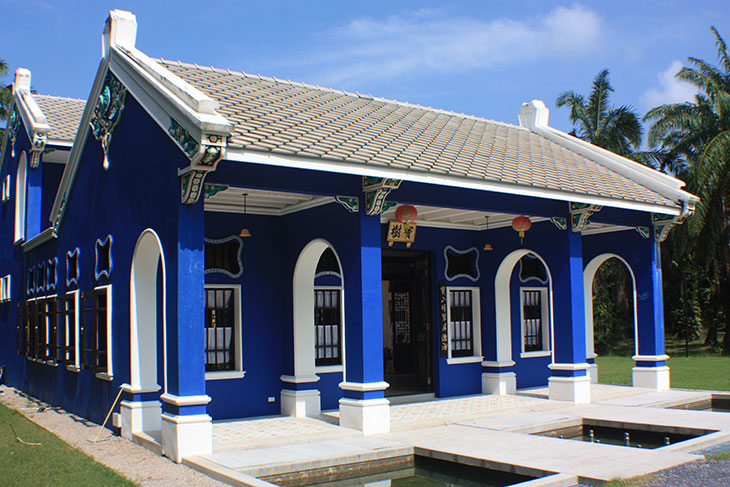 As you can see, it's very much in a Chinese style. Then there's the name. "Bulan Anda" in Malay can mean "Your Moon" – and the resort's advertising features photographs with a full moon backdrop. So why is there a Chinese-style resort with a Malay name in Thailand?
I'd like to tell you that I found someone to ask, and uncovered the answer – but the place seemed to be completely deserted! Maybe at the last full moon the gates of hell opened and they were all whisked off. Maybe not. Anyhoo, all I can do is surmise…
The word "Baba" is used in Malaysia to denote a man who is descended from the original Chinese settlers of the fifteenth to seventeenth centuries, as opposed to the later Chinese arrivals who were brought in to work the tin mines. These Peranakan Chinese or Straits-born Chinese settled mostly in the Melaka area of Peninsular Malaysia. So that could explain the resort's Malay name and Chinese-style building. Maybe the Malaysian-Chinese owner married a Thai lady under a full moon and settled in Ban Laem Sak. Or maybe I've been watching too many detective movies!
Anyways, the sea is just a short walk away and the views are very pleasant. If the owners ever return, I think it would be a nice place to stay…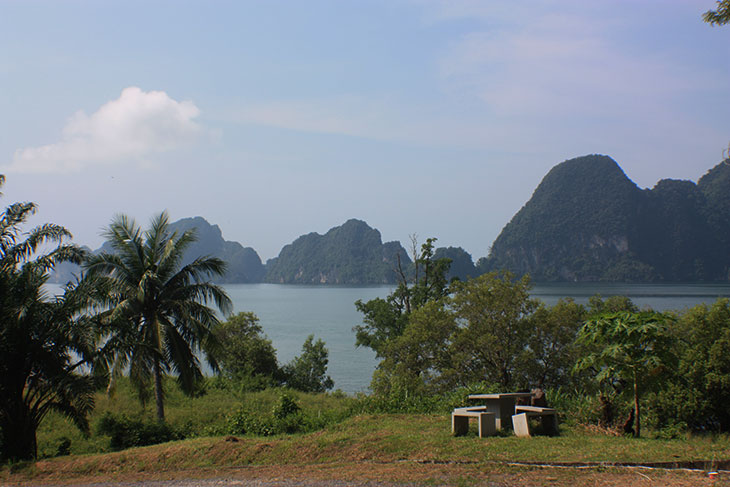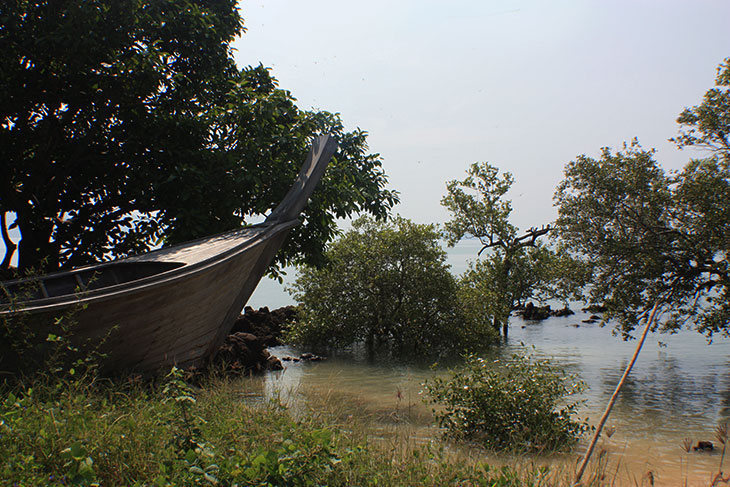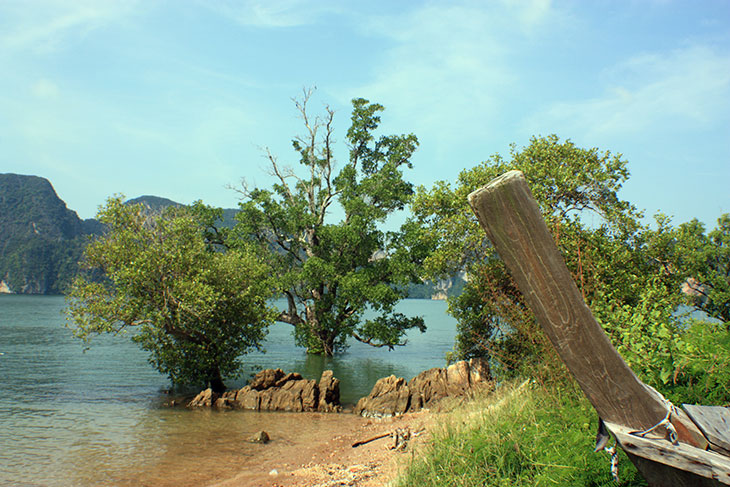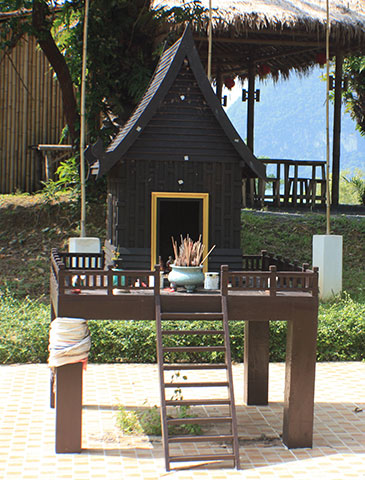 But I must say, the rooms are kind of small 🙂
In case you're not familiar with Thai culture, I should explain. These small constructions are known as "spirit houses."
The idea is that the monk comes from the local wat and persuades your ancestors' spirits to come and live there.
That way you can visit them every day, bring them food and drink, and say a few prayers for their wellbeing.
My own thoughts on this I shall keep to myself.
But here's what the hotel's rooms really look like…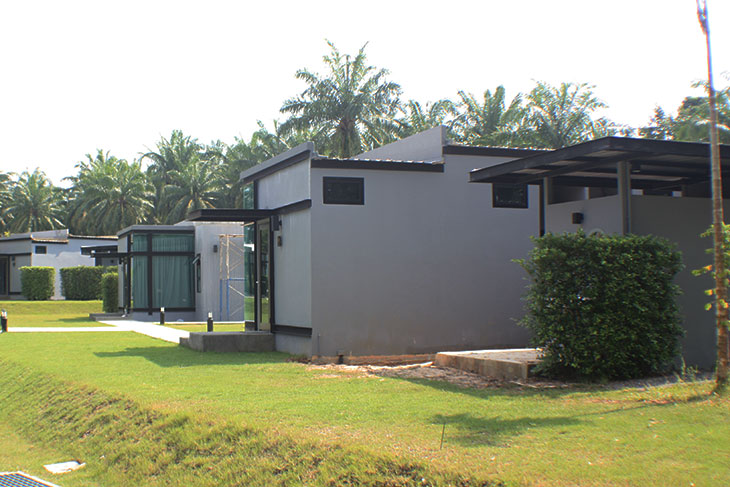 From there it was just a few hundred more meters to the first fishing village. I deserted Bert and went for a wander.
Homes on stilts over the water, men in the water doing things to boats, and super-friendly people…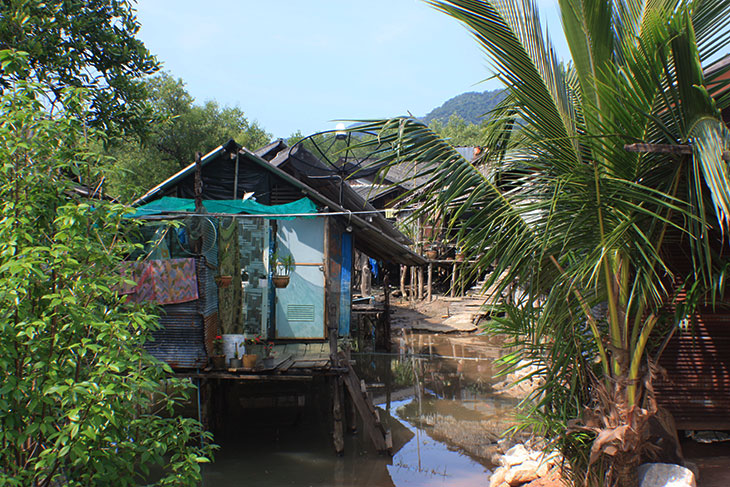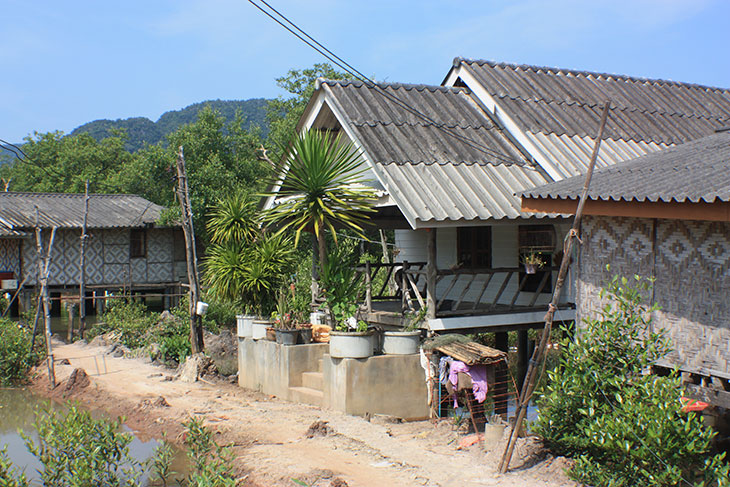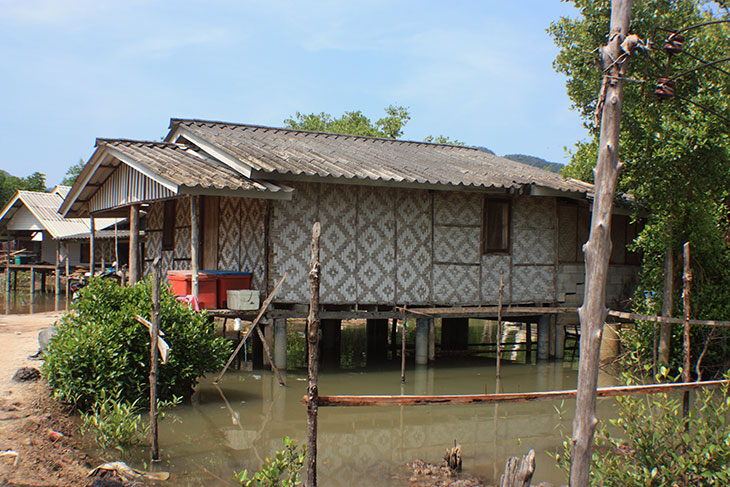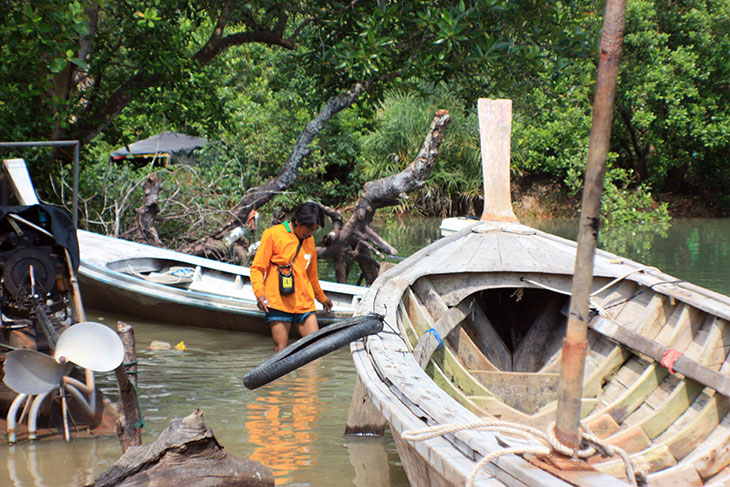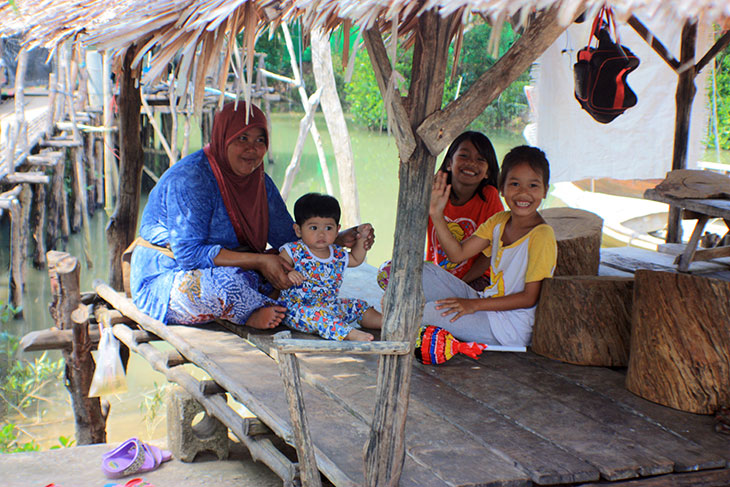 One inquisitive guy wandered over for a chat and told me the best place to take photos was up the road, left a bit and down at the jetty. So that's where I went next…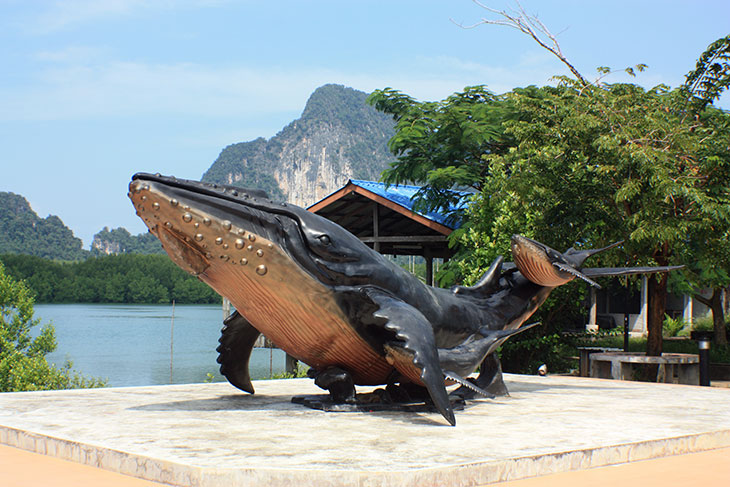 The statue apparently is a Bryde's Whale, last seen in the area in 2003. Here's some views from the pier…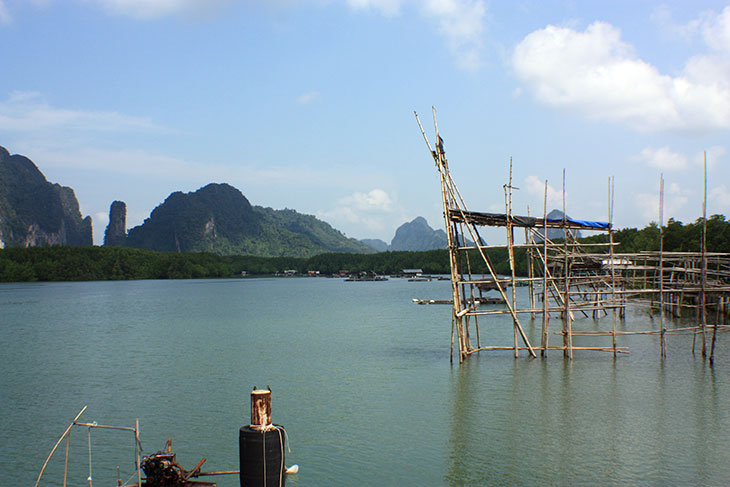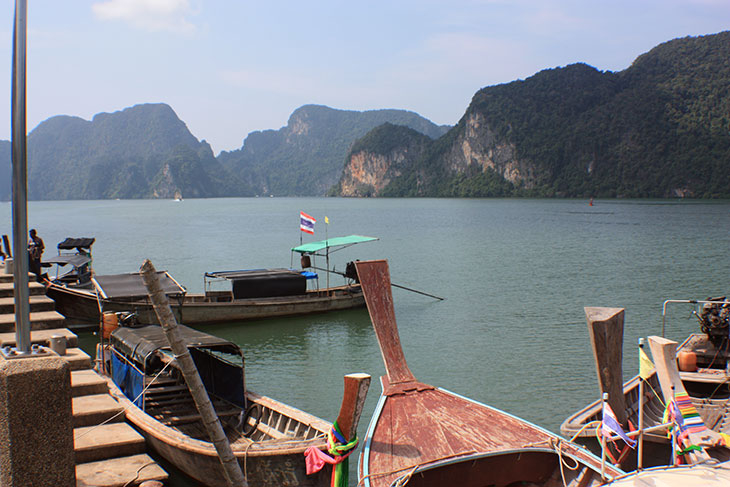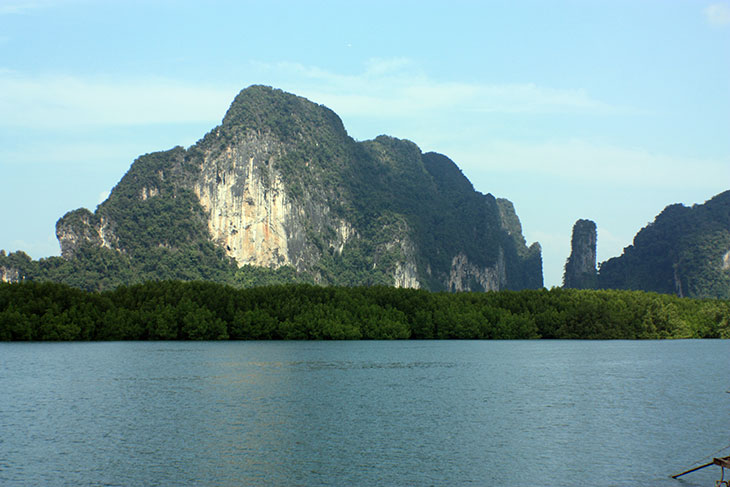 It was a busy little place, so I'm assuming the longtail boats were operating as ferries to the islands and more remote locations. One guy insisted he had to take his motorbike.
But they'll never get that on there. Will they?…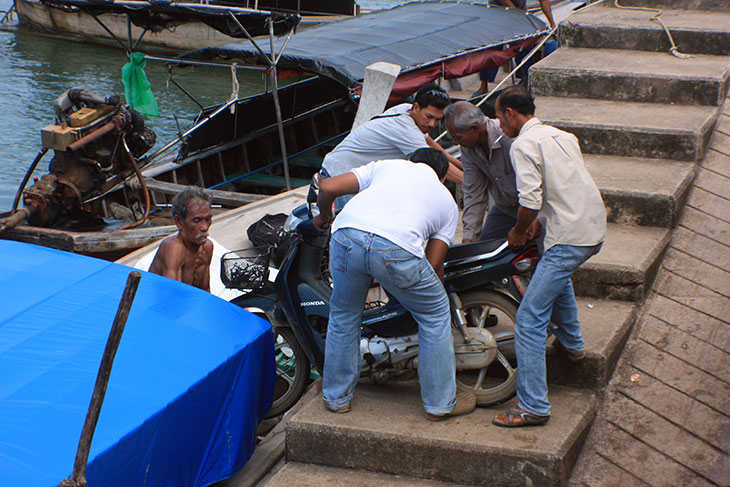 Oh. Looks like they will…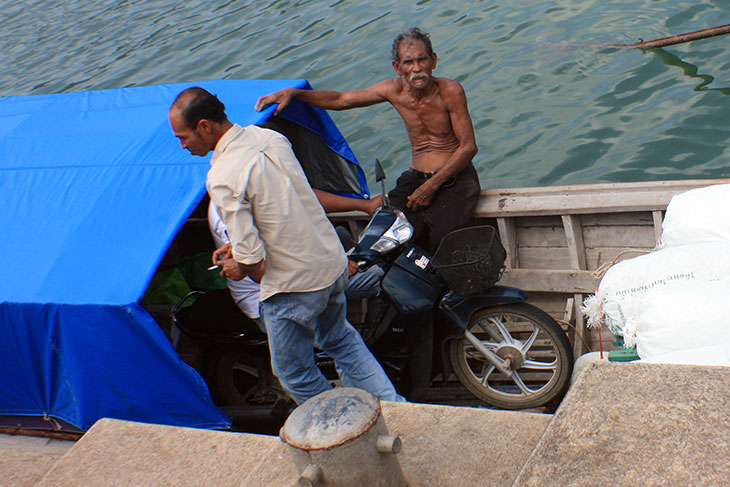 Wait! Can't leave yet…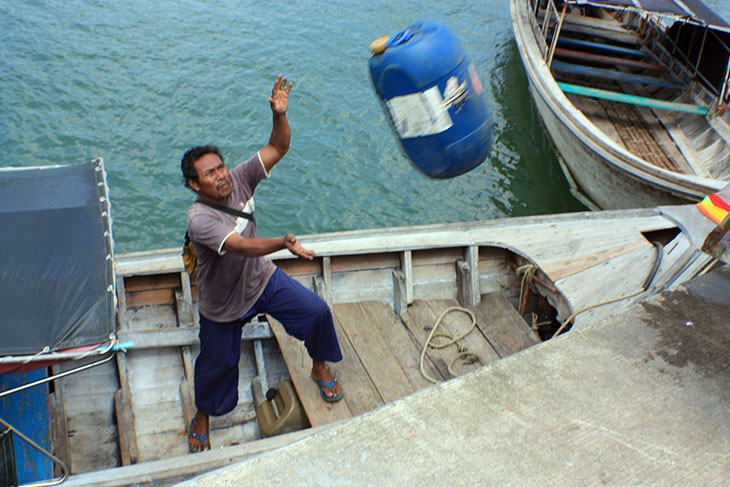 So then I went a little further around the coast where it was more of the same, plus some "proper" brick buildings and another jetty…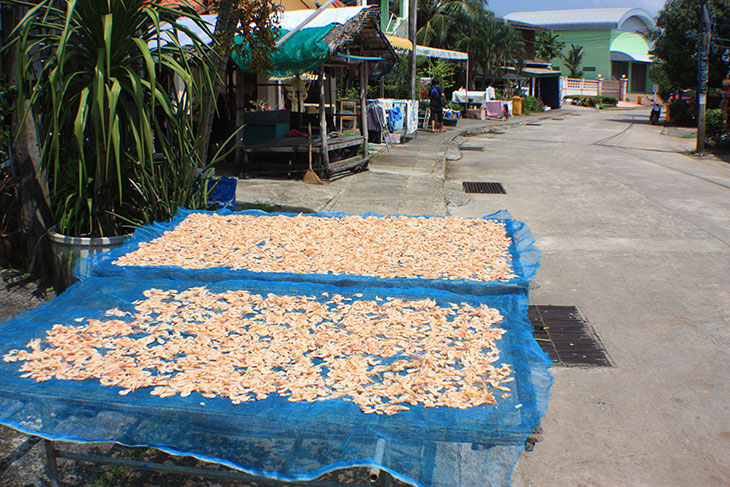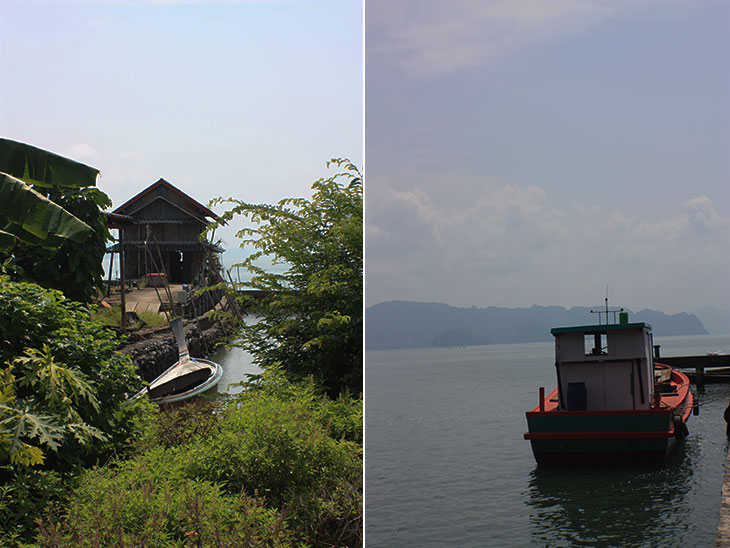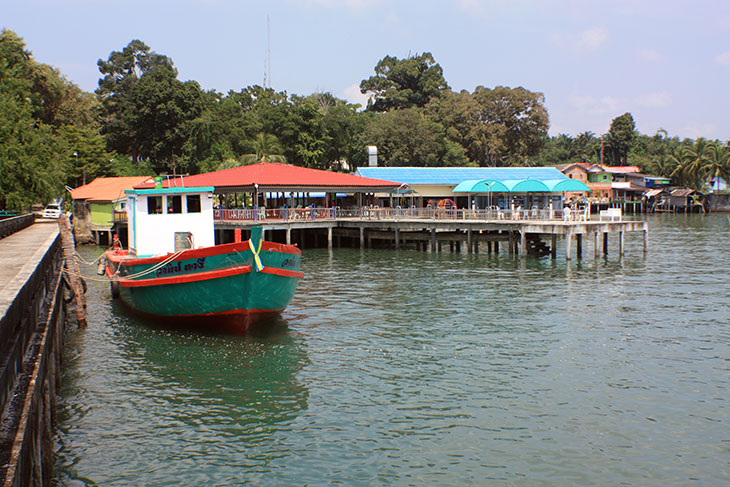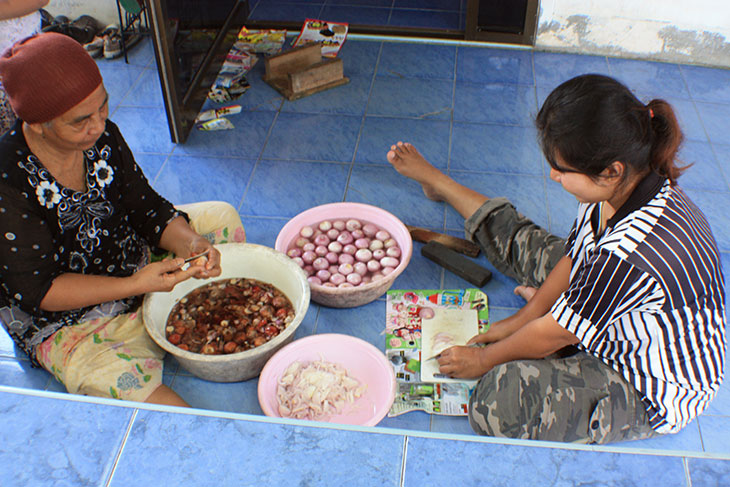 Everyone was amazingly friendly. But then, I deliberately walked slowly, made eye contact and smiled at everyone. As a result, even the grumpiest-looking people shouted greetings.
This guy though…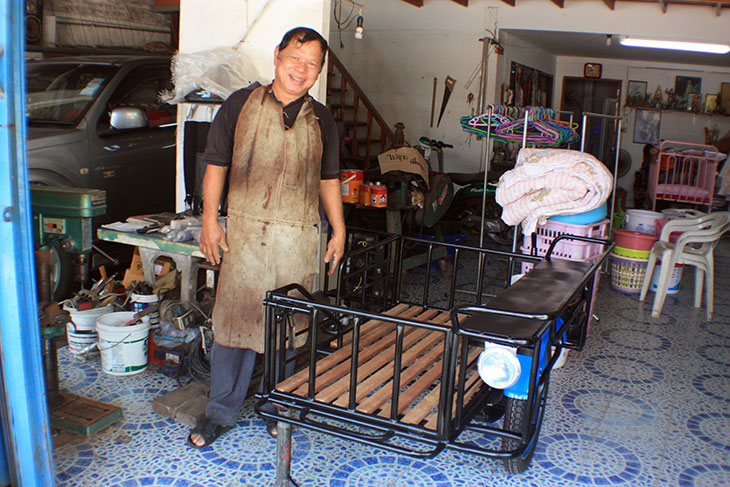 …insisted I had to admire his hand-made sidecars, which can be used for all manor of things…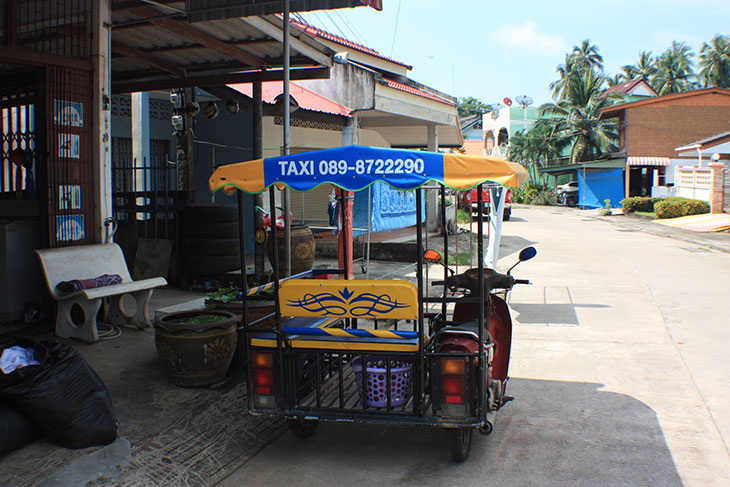 I'm afraid the Chinese temple, colorful as it is, doesn't quite cut the mustard when compared with its Thai equivalent on the hill…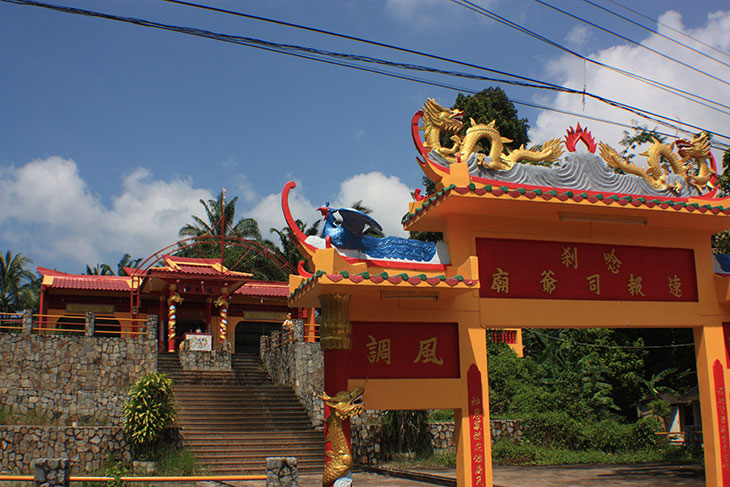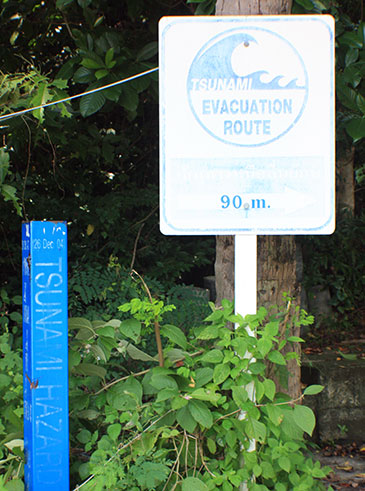 Sadly, there were constant reminders of the devastating tsunami of 2004, which hit the coastline of this part of Thailand, plus Burma and Malaysia.
The ninety meter evacuation route up to the wat on the hill really didn't look too convincing. I mean, that's not ninety meters above sea level, just ninety meters along the road.
But then, as you can see from the state of the signs, no one is expecting a recurrence any time soon.
Next? Well, I just continued around the coastline, trying all the tiny roads to see where they led. I confess I bailed out of one road by executing a five-, seven-, or maybe nine-point turn. Having negotiated several muddy but flat sections, I decided I might not make it to the top of this small rise, plus, I had no idea what lay ahead…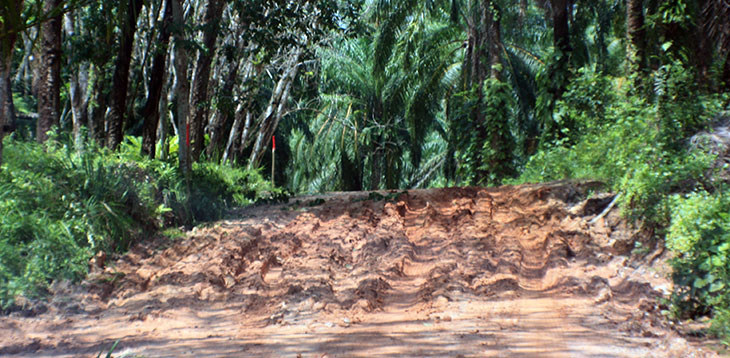 There were enough other roads with spectacular scenery to keep me happy…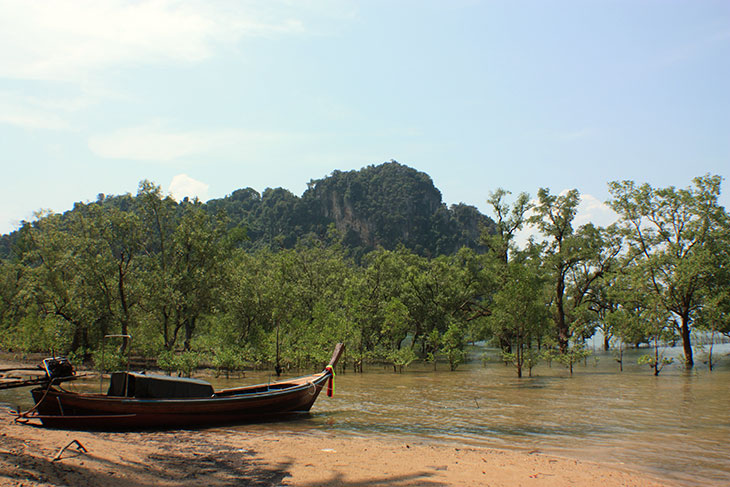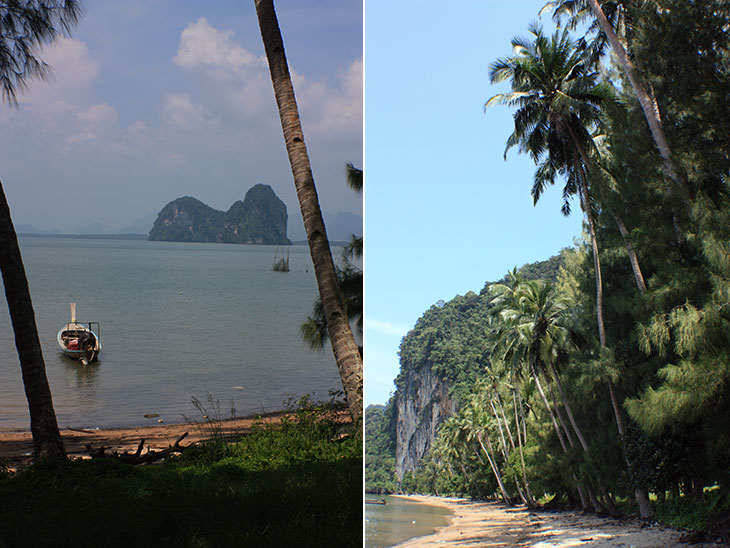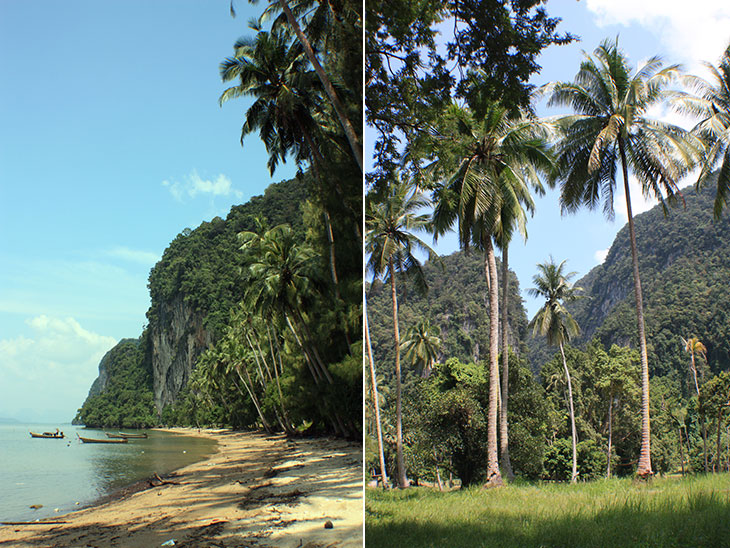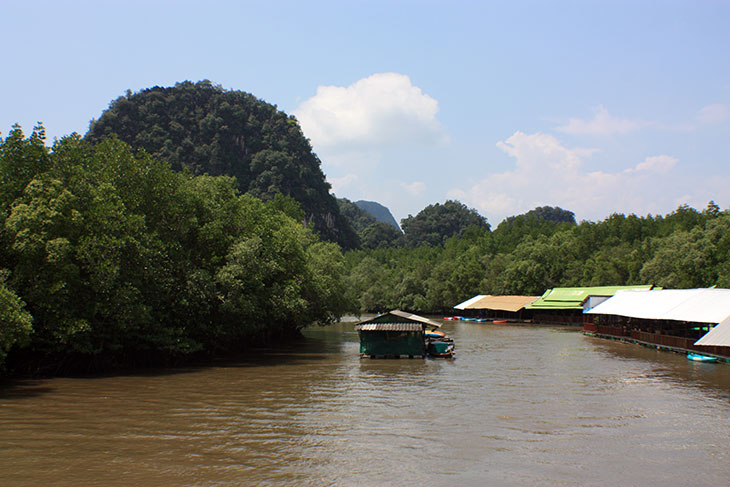 Rhubarb?…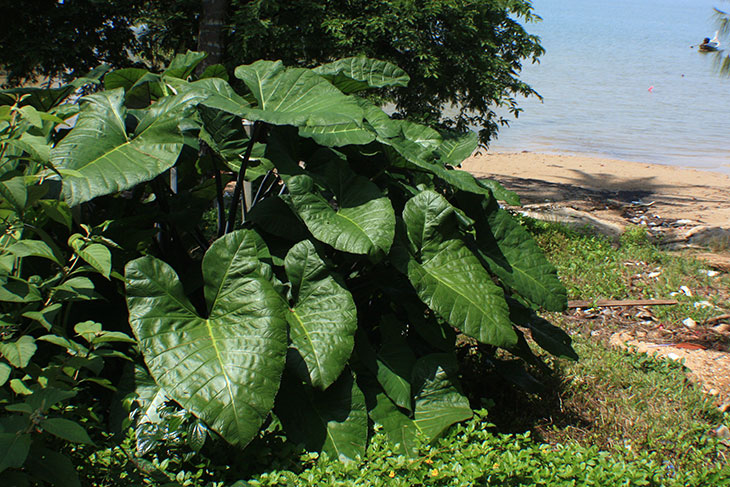 Which reminded me it was well past lunchtime and I was in the middle of nowhere. I always have snacks on hand, so after a short picnic by the beach, I headed in the direction of home. But I made a small detour on the way. That story's coming later.