…In Nakhon Si Thammarat.
A few articles ago I wrote "I now know the big procession is between 7am and 10am on September 30th., and starts at the park right next to the TAT office. If I can drag myself out of bed at 5am I'll be there."
Well, I dragged myself out of bed at 5-ish … let's not debate how "-ish" … but it was much earlier than any sane person should drag himself out of bed, and so I did get to the park where the procession was to begin.
Despite the early hour, there were a lot of people there…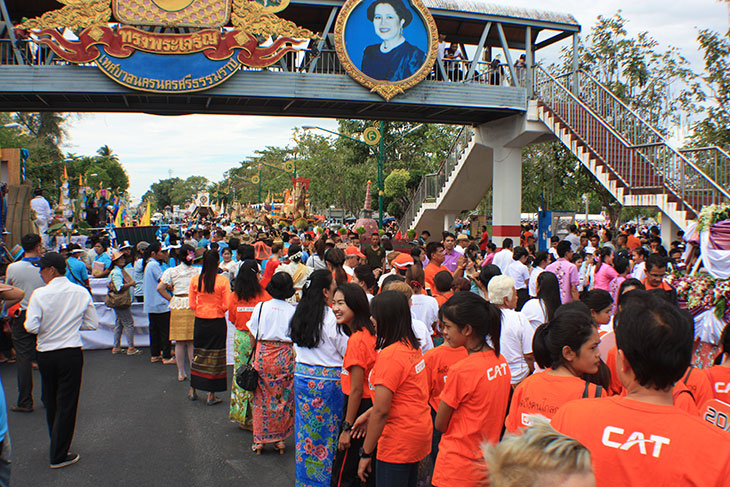 However; it took them so long to get themselves organized I figured I probably could have had another hour in bed!
So, what was all the fuss about?
Well, the Tourism Authority booklet describes it as "a grand event of the province." And I think it really was. Most businesses were closed. Everyone had turned out in their finest – mostly traditional – clothing. Everyone had to be photographed. And what struck me most of all was that everyone seemed to be really really happy to be there. It was an addictive atmosphere.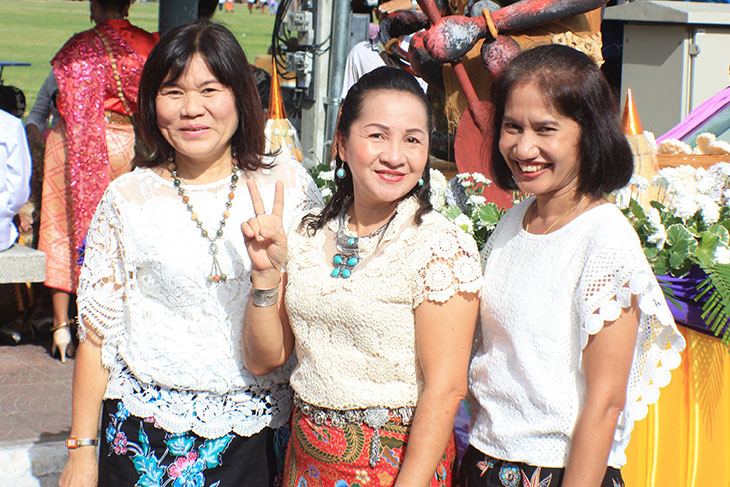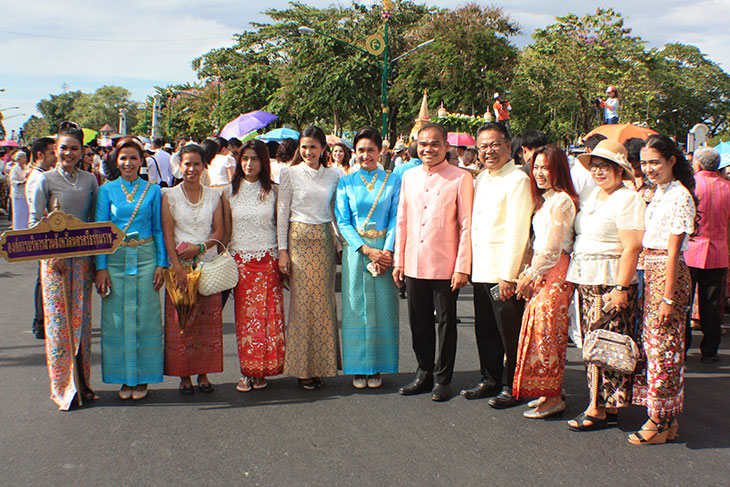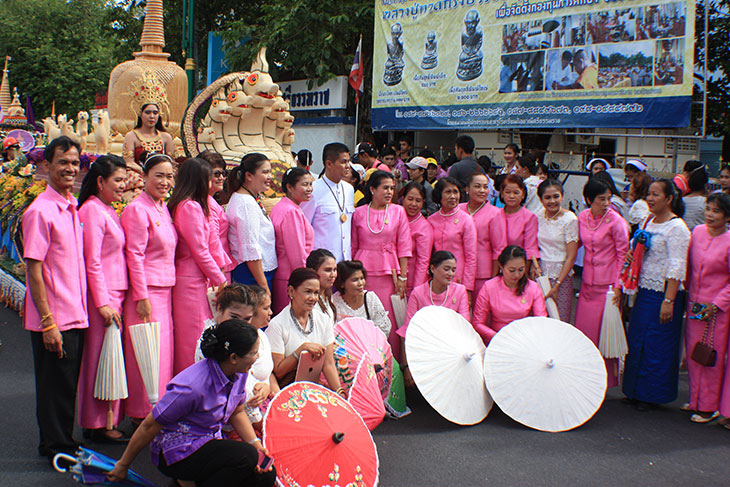 The festival is held to pay respect to dead ancestors.
Those who led, shall we say, a less than perfect life, supposedly were turned into demons. Equally supposedly the demons are allowed to meet with relatives during fifteen days of the lunar month, but must return to hell before sunrise on the 15th day.
By taking food to the temples to "make merit" the living relatives try to appease the spirits, so that the dead will be allowed into paradise instead.
So, the first thing I saw was the various depictions of dead creatures, who seemed to have been stretched and blackened in hell. They were certainly not Disney-friendly.
Here's a selection…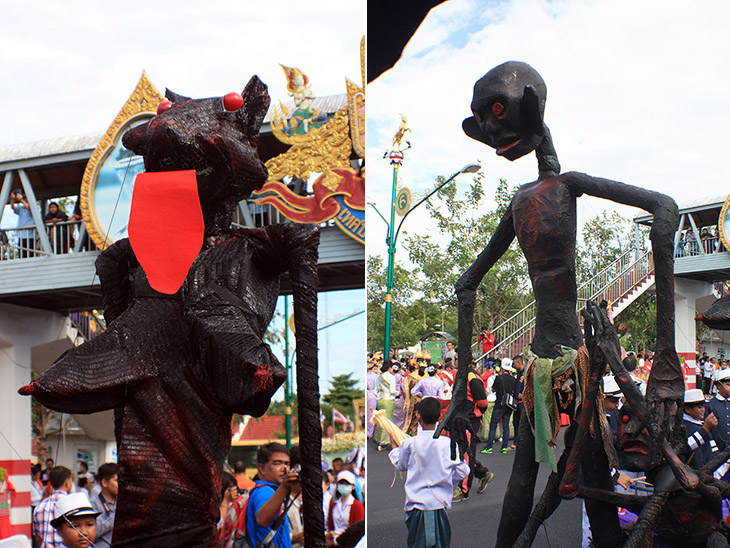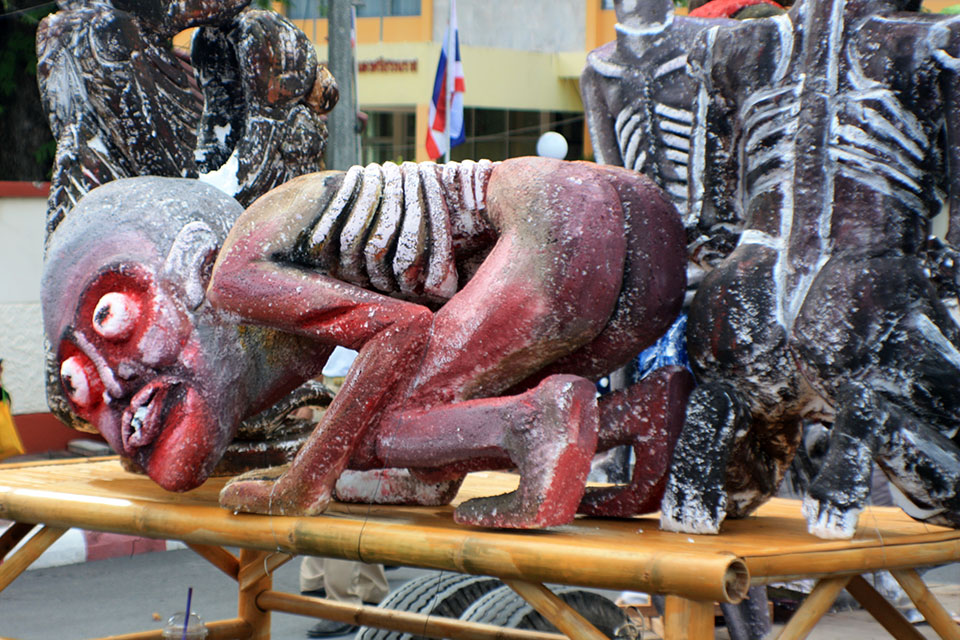 But along with the strange sights, there were attractive floats – all of which seemed to have been fastened, securly one hopes, to pickup trucks. Most had no forward vision at all and were guided by people walking alongside, shouting directions or using radios. There were a few scrapes, but nothing serious.
Then there were thousands of walkers. Some in the many bands. Some in processions holding trays with chedi/stupa-shaped cakes, and others just along for the exercise. The decorated cakes were in some kind of competition, but I can't imagine who could possibly judge that number. Maybe Marie Antoinette was released from hell for the special occasion.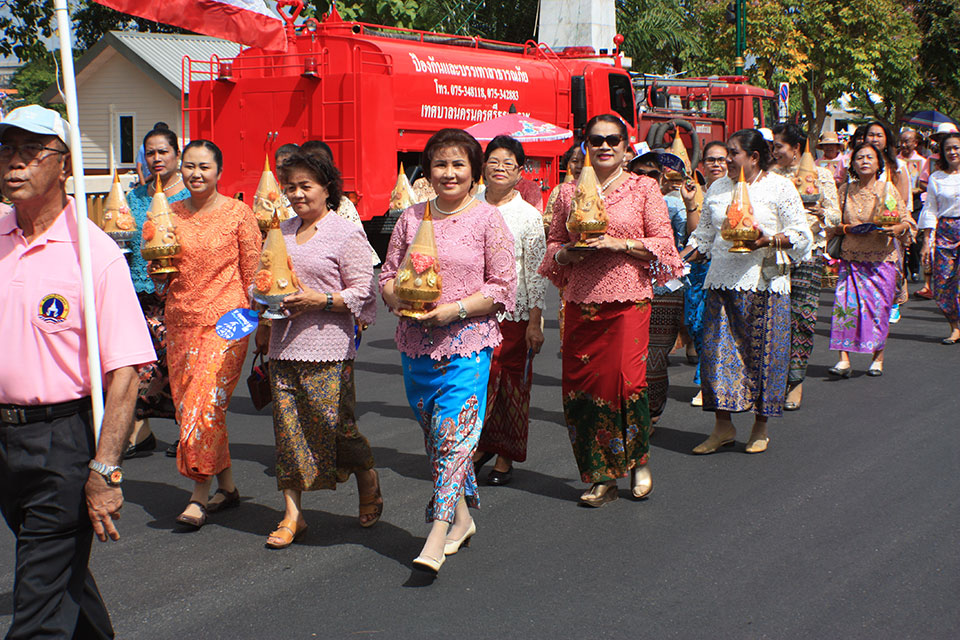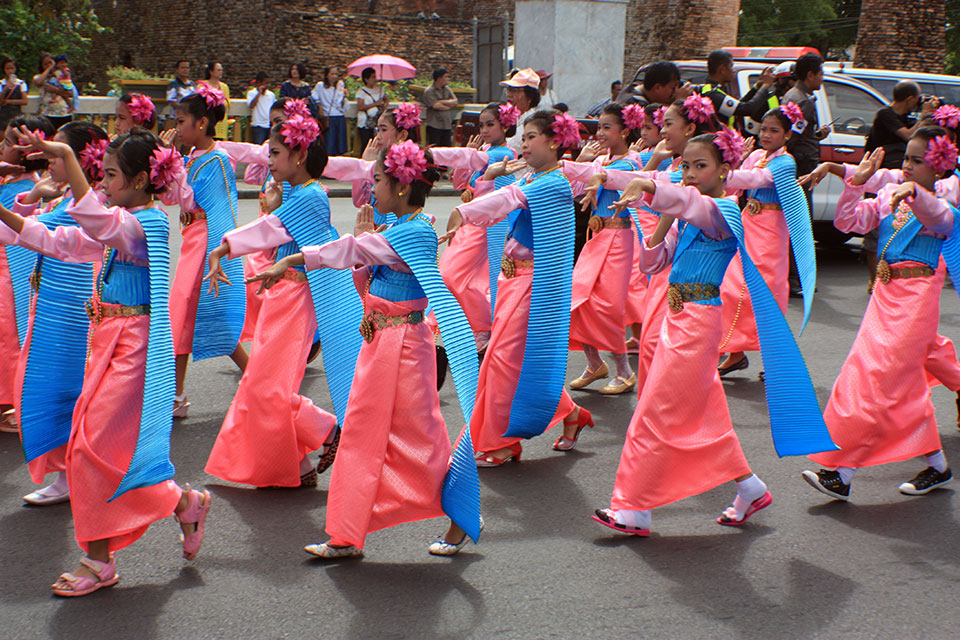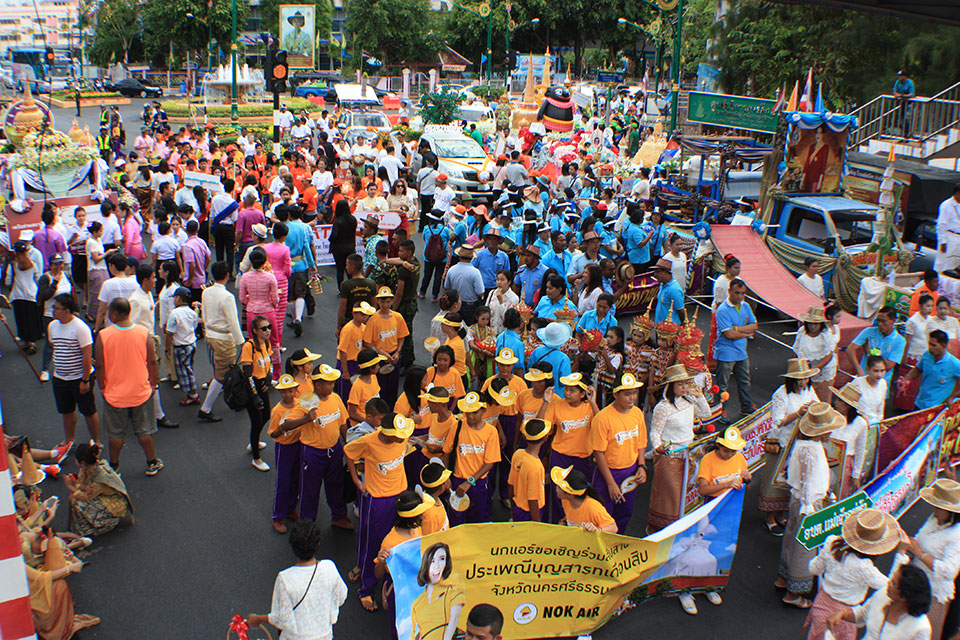 Somwhere around 10am, after lengthy speeches, the procession got underway, ending at Wat Phra Mahathat Woramahawihan. Proceeding at snail's pace, that could have taken the rest of the day. I didn't stay to find out.
But it was definitely worth the visit despite the early hour. It must have been good because I took 160 photos and 20 video clips! Don't panic. I've whittled them down to 159 and 19 respectively. 🙂
So, here's another selection from the procession…
And a random set of shots that didn't seem to fit anywhere else…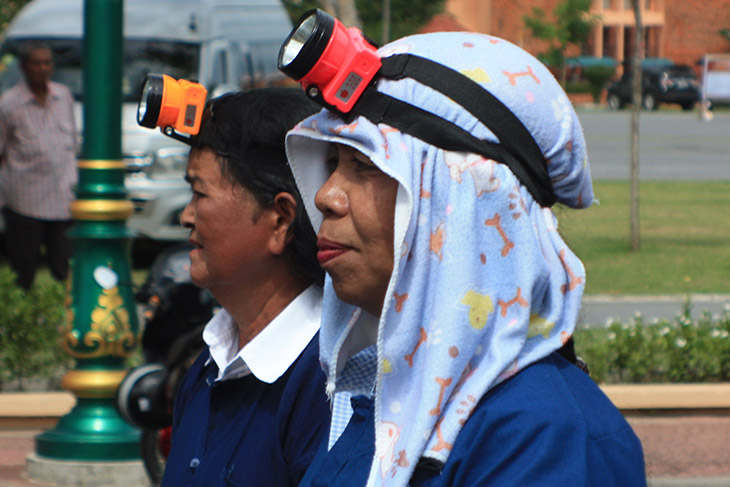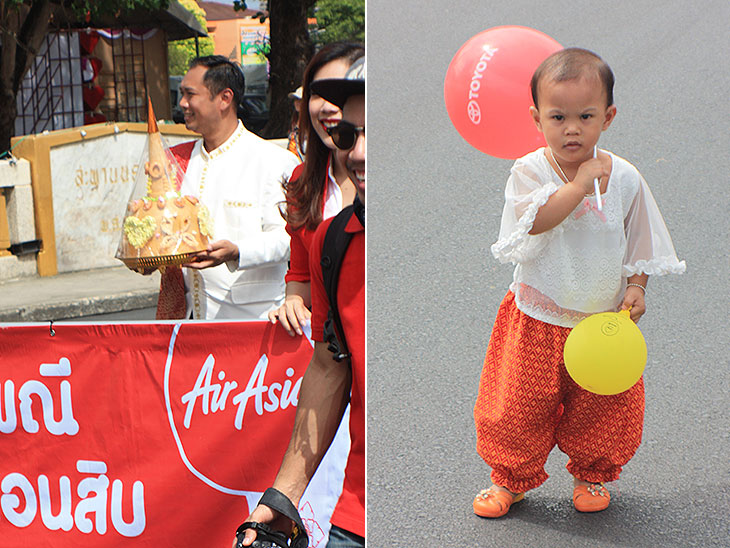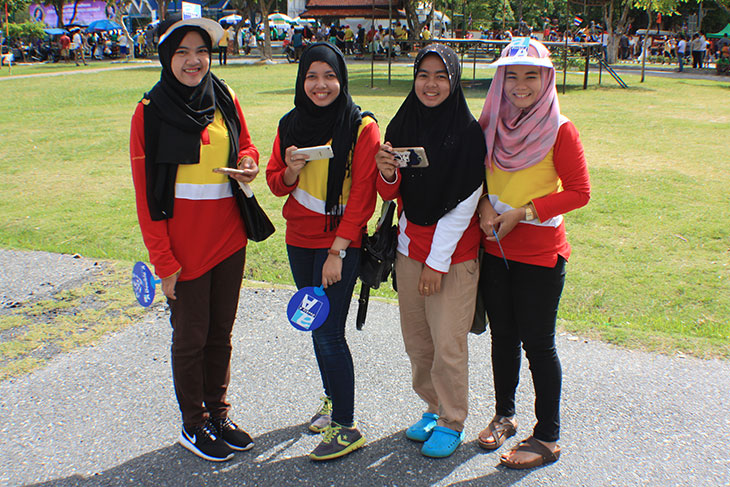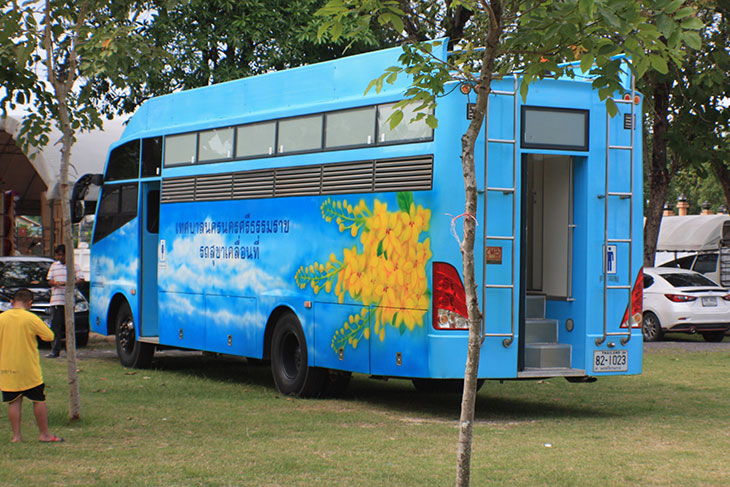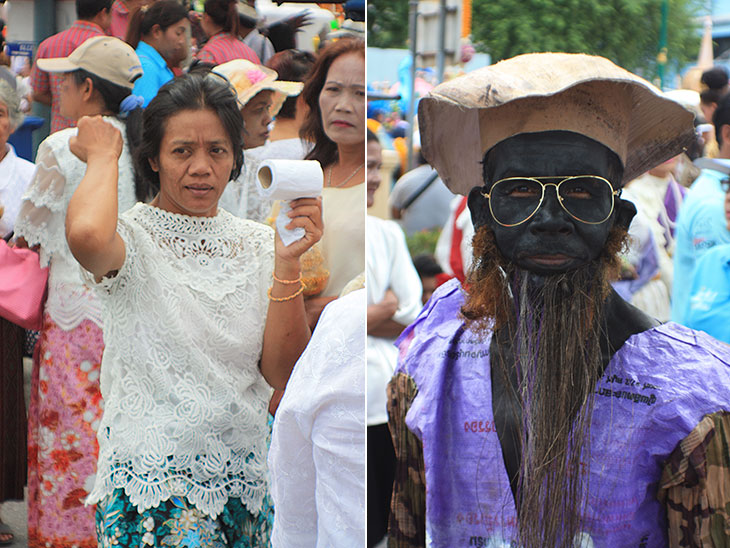 And now that I look back at the photos, I realize there were no barriers, nor even tape, to separate the spectators from the procession. As you can see, I could, and did, wander anywhere I wanted. I probably could have joined in. Maybe next year. If I ever figure how to make those conical cakes.

"So where's the video?" you are asking. Coming soon in the all new Twitterings YouTube Channel. Stay tuned.
---
Oct. 8th., 2016 Update:
Okay folks, here's the video from the Nakhon Festival.
Enjoy.
---