… Phi Mai Historical Park…
I thought I would have a slow and late start to the day. My neighbors had other ideas.
They started reorganizing the room furniture at 4:30am, while loudly discussing the various strategies to win at underwater tiddlywinks. Well, it was all in Thai, so what would I know.
The hotel restaurant didn't open until 7, so I guess I did have a slow, but not late start. I was in there before 7, managed to get a good breakfast, and was on the road somewhere around 7.20am. That confused the system. I'd cleared the first 200kms of the 350km drive to Phi Mai before I'd even woken up!
But my theory of missing Bangkok's traffic worked. The road was busy, but not jammed. It's a rather industrial area, so it was probably best to sleep through it. Eventually, away from the Bangkok area, the road became twisty as it wound up through Khao Yai National Park, and then past the large reservoir near Korat. The morning was quite overcast, so the lake wasn't as attractive as usual, and is still rather empty despite recent rains…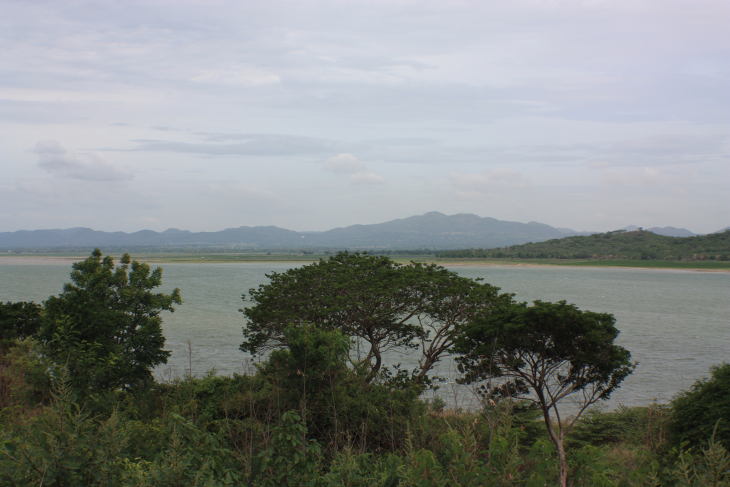 And so, I found myself arriving in Phi Mai, not mid-afternoon, but at midday. I could have been earlier, but between Korat and Phi Mai the traffic was really heavy. Which is why it was rather silly that I was stopped at a Police road block and told I was doing 119kph. 79kph I could have believed. Anyhoo, that was all "sorted" amicably, in the usual fashion, within sixty seconds!
Next, I found my hotel. I wish I hadn't. It's a zero-star abode that I won't even name. Online I'd found somewhere nice, but when I tried to book, it was full. There's not many hotels here, so I guess that's not surprising. For one night, it's fine, and it's very cheap. But if you should choose to visit Phi Mai, book early. And why would you?
The Khmer temple in the Historical Park is worth seeing…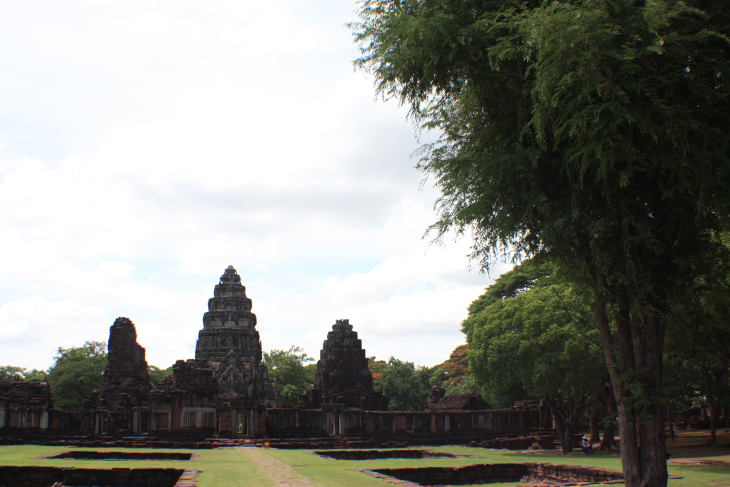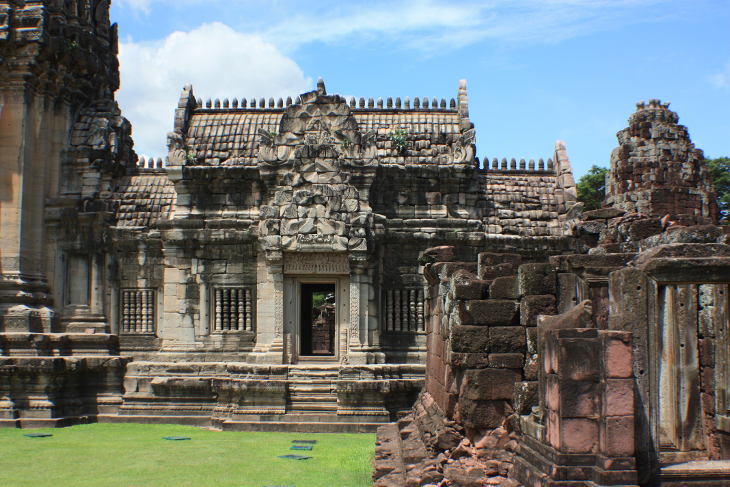 The National Museum is not bad. But frankly, there's not much else. A half day is enough. And a half day is how long I'll be here. Lucky planning. And I was lucky that the cloud cleared.
This hotel's restaurant is only open for breakfast, so I need to find somewhere to eat tonight. That should be a challenge. Oh, and you won't be reading this on Day 2 of my trip, because I can connect to the hotel's WiFi, but not actually use it. I guess that satisfies their advertised "WiFi in all rooms." Well, I could use my iPad as a WiFi hotspot and connect the notebook to that, but hey, it's almost Beer O'Clock, and I'm sure you have better things to do. I know I do.
Tomorrow it's on to my final destination of Buriram. Should be not much more than two hours. It's another sightseeing day, starting with a "really hard to find" 1000 year old Khmer temple. Wish me luck…