…Final Planning.
Why "Day 0"? Well, I haven't left yet. Tomorrow I will. Hopefully before 7am.
Then I'll be heading north for several hours. Actually, due to Khanom's location stuck out into the Gulf of Thailand, I have to go SW, then NW, then SW some more, before I can finally make the long trek up to somewhere near Bangkok.
My final destination is the Buriram race circuit. Or, to give it it's correct name "The Chang International Circuit" – unless you happen to be in the Middle East (or France, for some reason) where it has to be known as "The Buriram United International Circuit."
You have probably guessed the track's main sponsor is Chang Beer, and you can't mention beer in the Middle East. Or France apparently. I don't get that. At Chez Twitterings, you can mention Chang Beer anytime. It's my favorite.
For me, it's been – long time, no motorsport. So when an old friend mentioned he was the organizer of the Asian Formula Renault Series, and there would be a round in Thailand, I pleaded for a pass. Well, I didn't need to plead. I just asked nicely. He even said "yes".
Then, when I dug a little deeper, I discovered I knew the event organizer plus several of his workers, and probably several of the competitors, so it should be a reunion of sorts.
But, Buriram is not exactly just up the road. It's some 1100kms away. I could do it in a day, but a long tiring day; and there's really no reason to do that. I'm in no hurry. It doesn't seem like it, but I haven't made a long trip in more than a year, so, now seems like a good time.
The area northeast of Bangkok is known generally as Isaan. It has many ancient Khmer and Hindu temples. Think Angkor Wat without the tourists. So, I decided if I was going that far, it would be a rojak kind of trip. Racing, temples, scenery, pottery, silk making, and who knows what else. Food, of course. And Chang beer!
I've actually done a lot of planning, partly because there's so much to see. I needed to prioritize. But at the same time, I'm flexible. Hotel reservations can be changed. I don't know how much time I'll spend at the circuit. If it's a lot, well, the thousand year old temples will still be there the next time I'm in the area. But the rough plan looks something like this…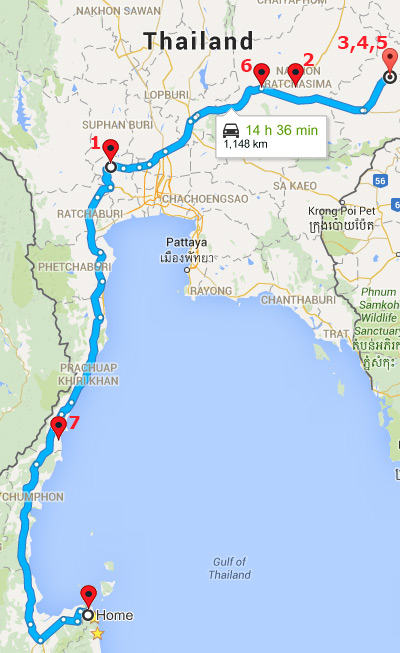 Tuesday (tomorrow) will be mostly driving. I thought about stopping in Cha-Am, but it's an overcrowded and overpriced Miami Beach/Blackpool kind of place. And it would have thrown me into Bangkok's traffic on Wednesday morning.
So, I decided to get part way round Bangkok tomorrow, in the hope of having a traffic-free drive the next day. I've found a small resort near someplace called Nakhon Pathom. It looks like it's in the middle of nowhere, despite being only about 60kms NW of Bangkok. Anywhere is okay for one night, but actually the place looks quite pleasant.
Wednesday I have a 340km drive to the small town of Phi Mai. It's where I will spend night #2. There's a few things to see on the way, but I don't want to take up too much time, because I'm hoping to spend half the day in the Phi Mai Historical Park. That's one of the Khmer temples.
Thursday, Friday, and Saturday nights I'll be in Buriram, a further 130kms NE. Then, as I say, it will be a mixture of racing, temples, and that eating & drinking stuff. That's where I need to be flexible. Play it by ear. I'll be staying in something called The Lemon Resort. I hope it's named after the fruit rather than the quality.
The circuit itself should be something to see. It's the only FIA Grade 1 and FIM Grade A circuit in Thailand, and not much more than a year old. Plus; there will be plenty of racing action with the Asian Formula Renault, GT Asia, Renault Clio Cup China, TCR Asia and TCR Thailand Series.
Once all the roundy-roundies are finished on Sunday, I intend to scoot over to Nakhon Ratchasima – better known as Khorat. That will be about 125kms in the direction of home. Some sightseeing will be done late Sunday or early Monday, but not too much, as Monday is a 600km day down to the small town of Tab Sakae, which looks like a nice coastal resort.
Very nearby is a large wat on a hill, which I think will have good sea views. That should take up part of Tuesday morning, before I finish with the last 400kms to home.
On parts of the trip there will be some reminiscing. Rounds of the Thai Rally Championship used to be held in the Khorat area some ten or more years ago, so some of the temples will be a revisit. This time with a decent camera.
Most likely, during the trip, my updates will be short. To write about one day's touring, choosing and resizing photographs, plus the tedious job of inserting Search Engine Optimization tags, can take another day. So, I'll play catchup when I'm home.
I hope you'll enjoy the trip as much as I know I will.