…Where The Sun Don't Shine.
So, a couple of weeks ago I decided to head down to Phatthalung and Songkhla Provinces for three days. Principal reason was to get lots of aerial photos. Why? It's what I do these days.
Forecast predicted mostly clear skies and hot weather. Sounded good.
Day 1 was supposed to be exclusively Phattalung with a late afternoon dash down to Songhkla where I hoped to catch the sunset across Lake Songkhla from my balcony at the appropriately named Lake Inn. The spectacle would of course be accompanied by a suitable beverage or two.
After an hour or so of travelling south, nearing Nakhon Si Thammarat City, I noticed it was getting cloudy. It always does that. I can't go to NST without it being cloudy. And/or wet. It'll soon clear, I thought.
It didn't. Crossing the border into Phatthalung Province, it was still cloudy. Same when I reached my first destination, the Thale Noi Bird Park. Maybe 80-90% overcast. This was not in the plan.
Worse; the lotus flowers were not flowering. This is a major tourist attraction and it looked like a giant bog.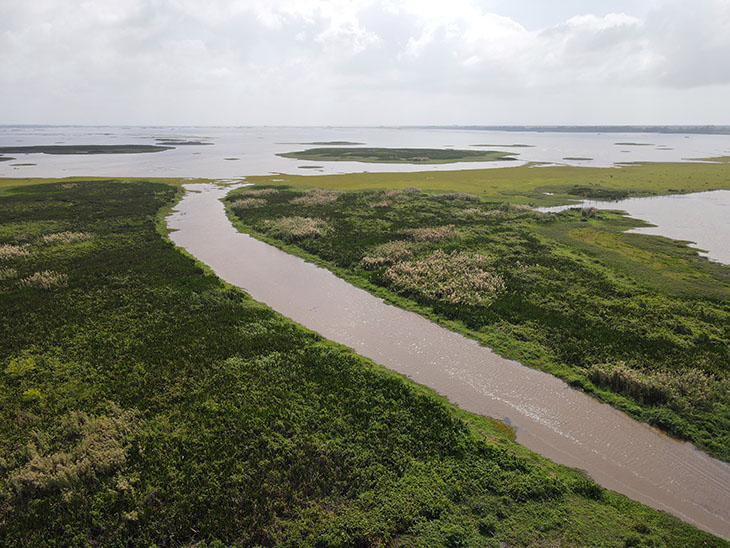 Of course, now that I've googled'n'schmoogled I know that the lotii flower in March and April.
Note to self: go back in March or April! When it's sunny!
So I headed out to the slightly famous NarngReam Bridge. Things didn't look much better from there…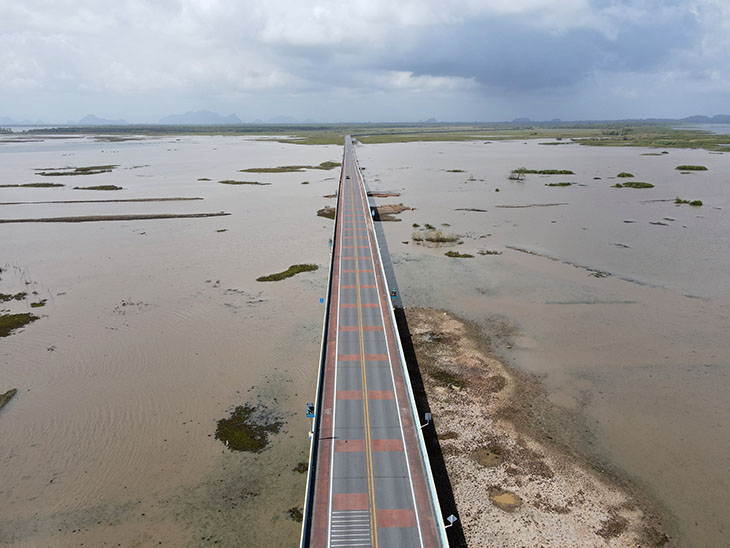 You can vaguely see there are mountains in the distance. They are supposed to be an important feature of this photograph. A rethink was needed.
Based on the theory that the weather forecast wasn't a total work of fiction, I surmised that it might actually be sunny in Songlhla. So I thought if I moved some day two shooting locations into day one and left some of the day one locations for my return trip on day three, I might be more productive. Are you following this?
But first I headed about a half hour further south to the vicinity of Phatthalung town. Where – lo – the sun shineth. Sort-of.
First, I took aerial shots of Phatthalung Museum…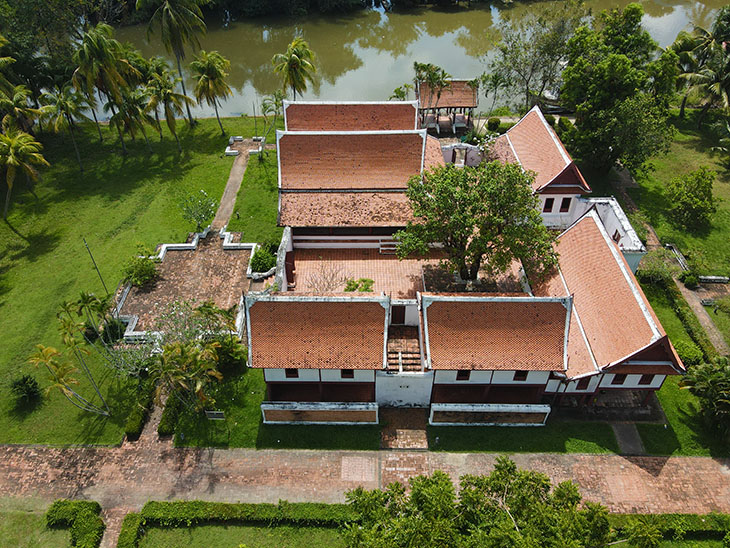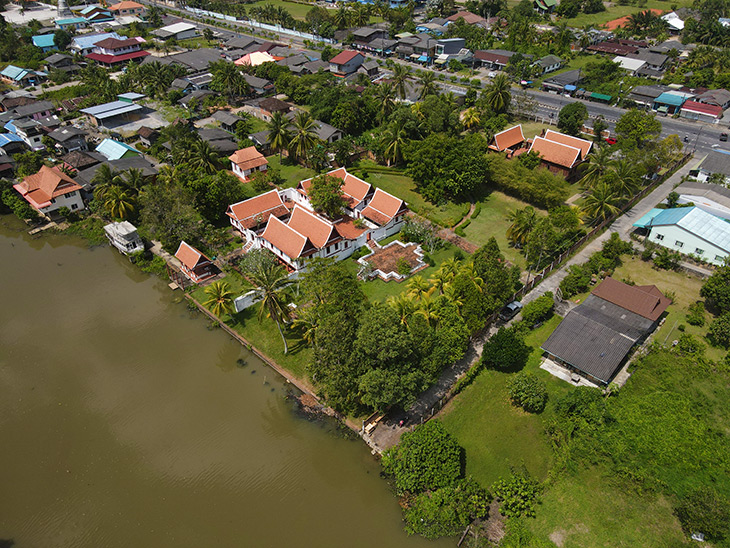 An interesting place to visit, but I've been there done that didn't need to do it again. Actually the place was deserted. I'm not even sure it was open. Drones don't care about that.
Down the main road towards the town center I stopped to take photos of a hill, or is it a mountain … maybe a karst…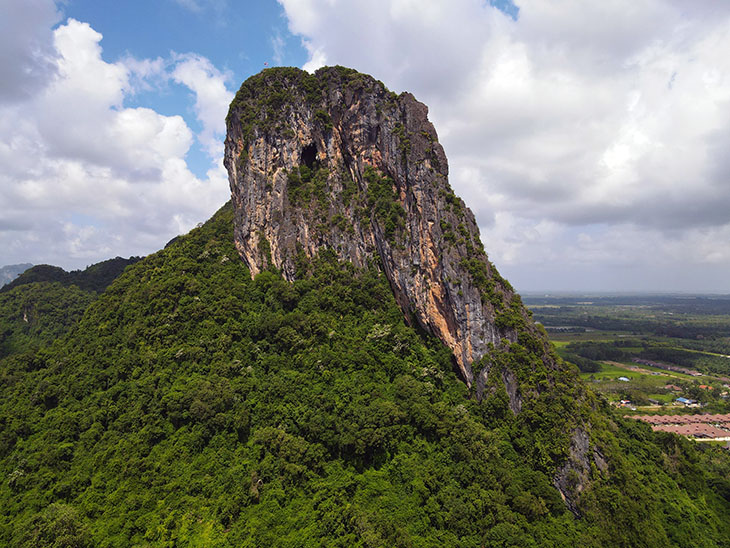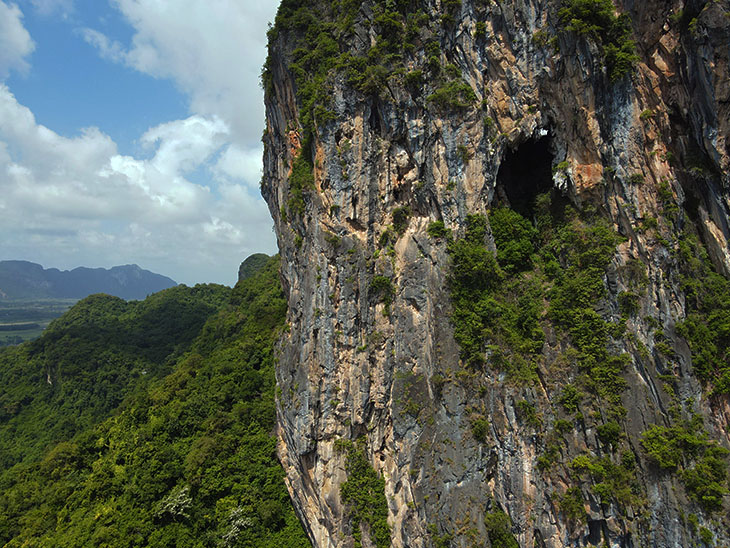 It's principal feature is a giant hole which goes right through. In the bottom picture you can just see a glimmer of light at the top of the hole. Strange thing is, from the ground, the hole is all daylight. I guess it goes through at an angle. If the weather had been better, I would have landed, found the well-hidden feature which allows me to move the camera gimbal 20 degrees upwards, and tried again. Instead, it's on list of places to visit next time. When the sun will shine!
By the way: If you're mad enough, you can climb all the way to the hole and peer out. I'd rather send up a drone and peer in, thank you.
Next up, in the town, was Wat Khuha Sawan. For most visitors one of the main features is caves at the back of the temple. Not good for drones. So I took pictures of the whole complex. Very attractive..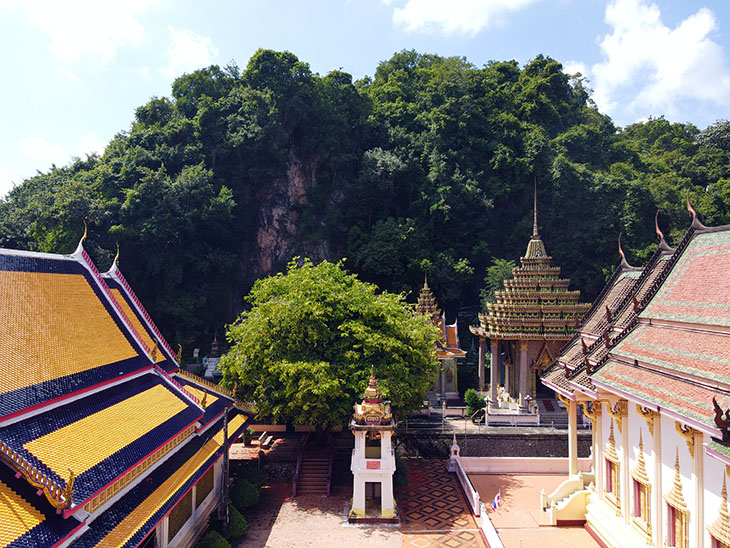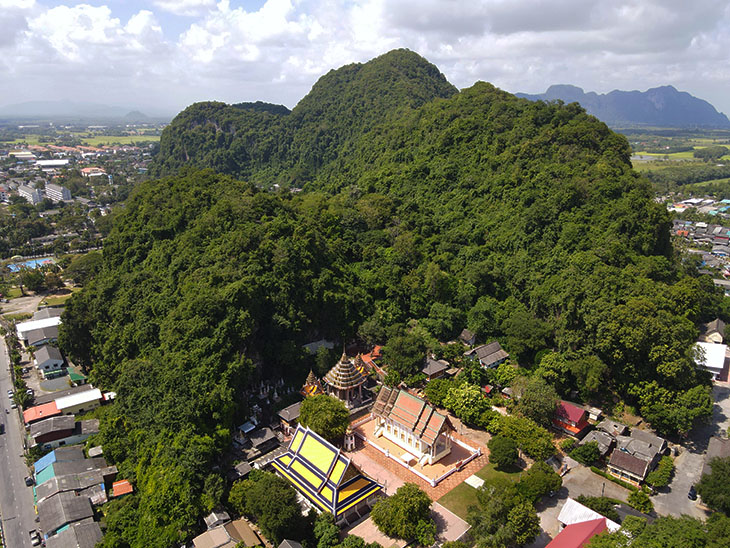 …and then scooted down to Songkhla, where the skies were indeed cloudless, more places were visited, plus beer and sunset were suitably enjoyed.
Which of course meant returning to, rather than racing through, Patthalung Province on Day 3.
Beautiful sunny morning in Songkhla when I said goodbye to my lake view…
A little over an hour north I was back in Phatthalung where it was – you guessed it – overcast. I drove over the bridge where the visibility was worse than day 1, went straight out to the main highway and headed north toward home.
A glimmer of sunshine persuaded me to make a short detour west to something called the Phatthalung Grand Canyon. Canyon it is. Grand it ain't. But at the bottom there is a lake which is a spectacular greeny-blue. I'd love to show you a photo, but the sky was completely dark and black, and it was hissing with rain! Phatthalung doesn't like me very much.
Back to the highway. Thirty minutes further north there were promising signs of sunshine, so I made a longer detour west to something called Huai Nam Sai Reservoir. Actually the Nakhon/Phatthalung provincial border runs right through the middle. I thought with a drone shot I might be able to see it, but I guess it's under the lake!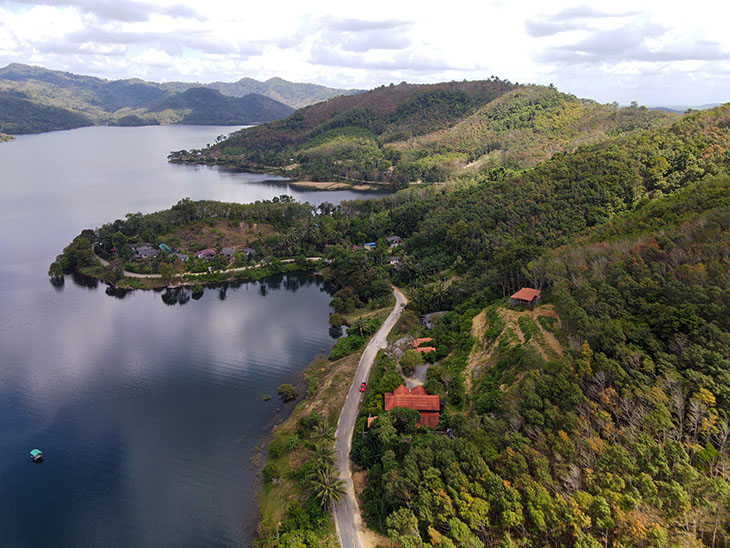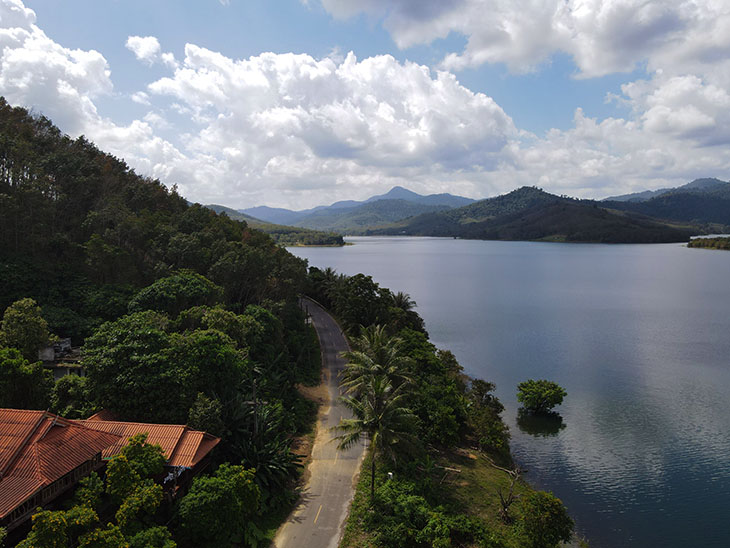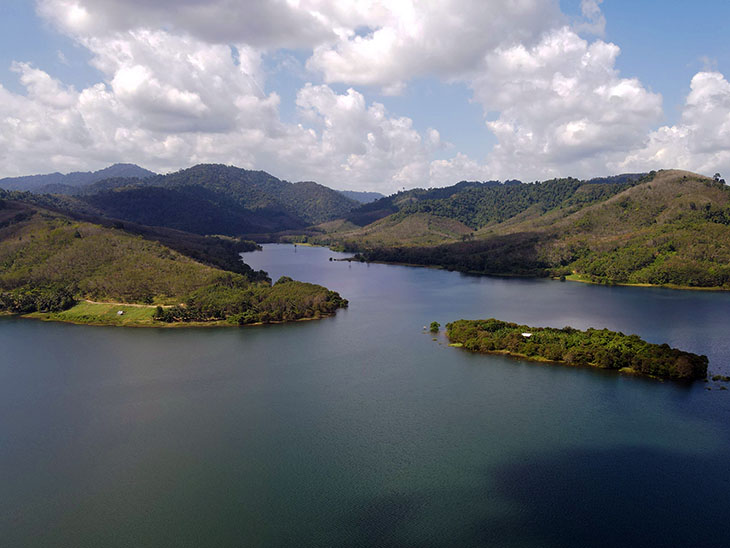 I think I got some nice shots, so Day 3 wasn't totally wasted. And at least I now know what I need to visit next time, and at what time of the year. I might be able to do it in a day trip. Stay tuned for that. Next; it's singing a song of Songkhla.