…With A Helpful Friend.
A while ago (it seems like last month, but in fact it was April) I spent a Sunday morning at Surat Thani's Floating Market, not really having a clue what anything was. I vowed to find a willing victim who would help me discover what things were, how they were made, and cooked. That finally happened recently. Well, six weeks ago. Life seems to be getting away from me. Not enough days.
Now, before we start, I need to issue a disclaimer. The English names of the various foods are only an approximation of the Thai names. You see, with something like 28 vowels, Thai has sounds that range everywhere from the soothing sound you make when someone massages your neck, to the squeal of horror as a pigeon poops on your head. Although, in this part of the world the latter is considered to be good luck. Go figure.
So, with that out of the way, here's the first one…
Tood Man Hua Bplee: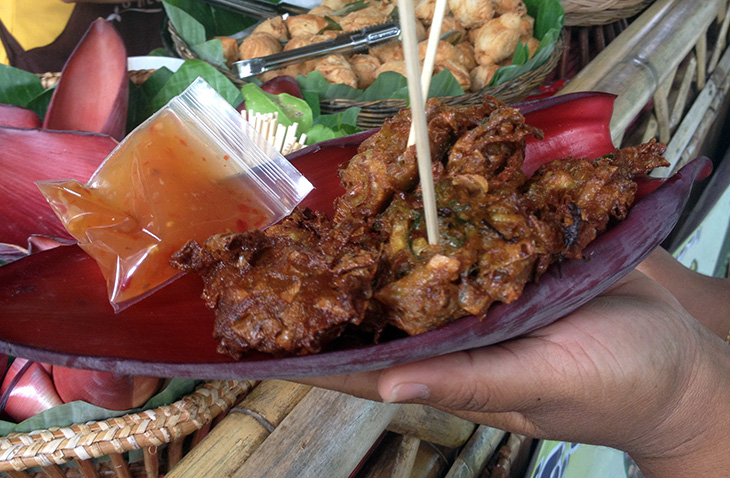 Basically a mix of flour and various curry spices, deep fried…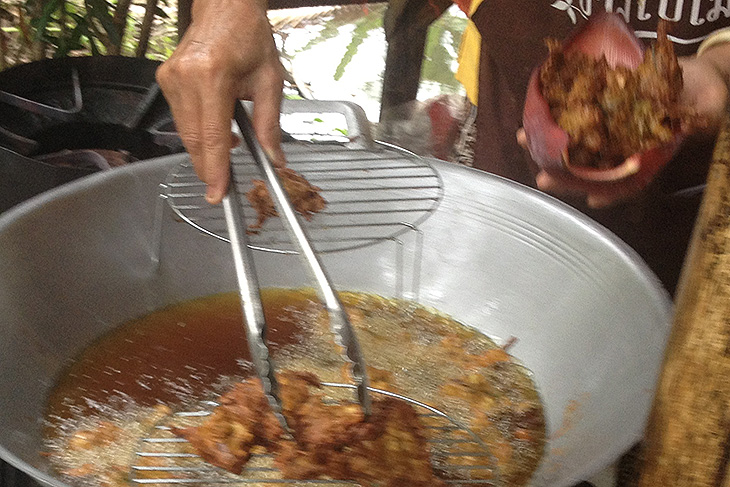 …and served in one leaf of a banana flower, the dark red thing…
In some ways it was a shame we started here because these were by far the most enjoyable snacks of the day. In fact I could have eaten them all day.
And on the same stall were…
Curry Puffs: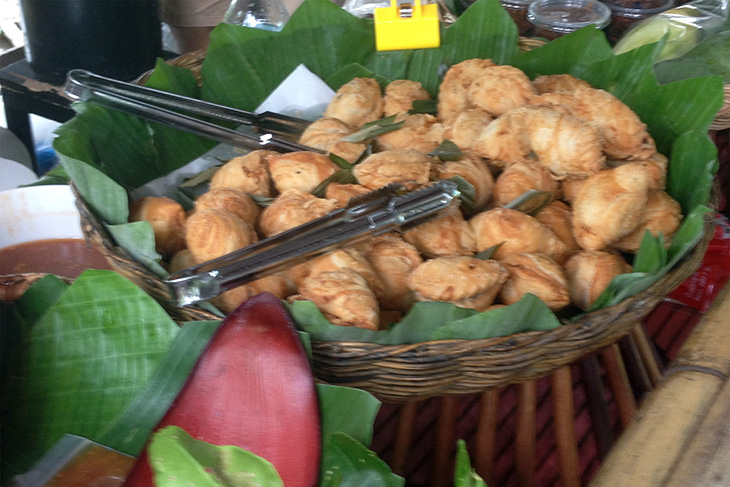 One of my favorite snacks in Malaysia, but these were a serious disappointment. They forgot the curry. They were basically mini potato pies.
Look Ton: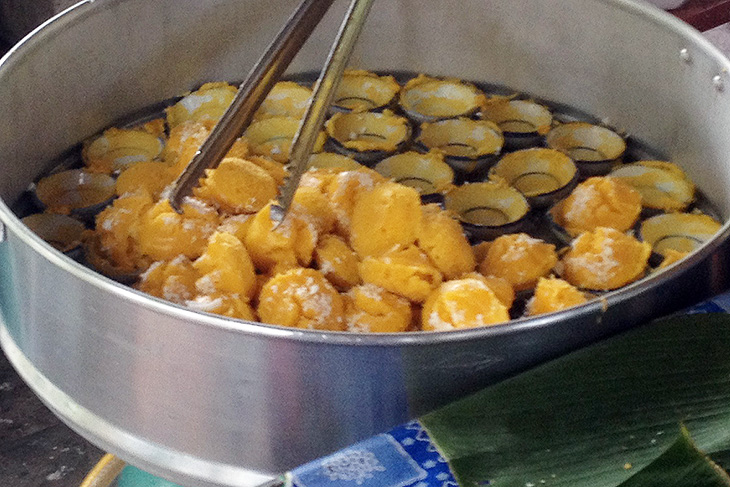 A mixture of palm fruit (so already sweet) with added sugar, flower and baking soda. Rolled into small balls and steamed in tiny pots made from banana leaves.
Khanom Lea Krob:
A bit hard to describe, but basically a runny mixture made from water, flour and egg yolk, and then drizzled into a pan containing only a thin film of vegetable oil. Once solid, they are scooped out, folded. and ready for sale.
This short movie will let you see process, but it's a bit back to front and starts with the end product, and then moves onto the making of the next one…
Ker Yee Gee: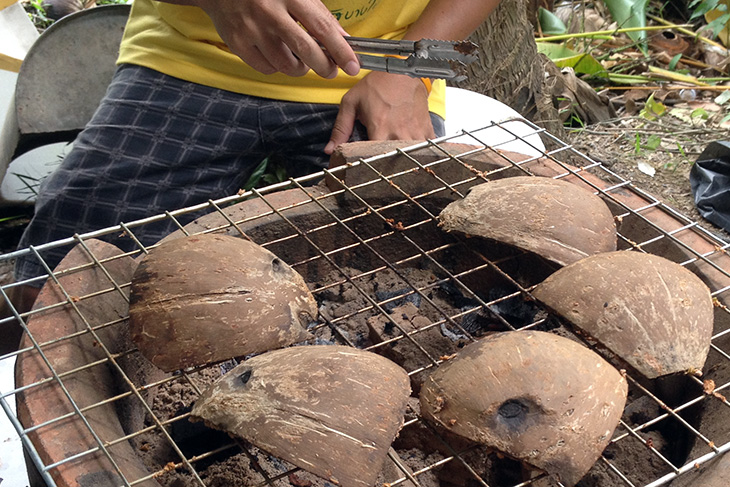 Now this is an odd one, as if the others weren't! A shrimp paste mixture is spread over the inside of a broken coconut shell and the barbequed, paste side down. Your job is to scrape the crispy paste off the shell and eat it…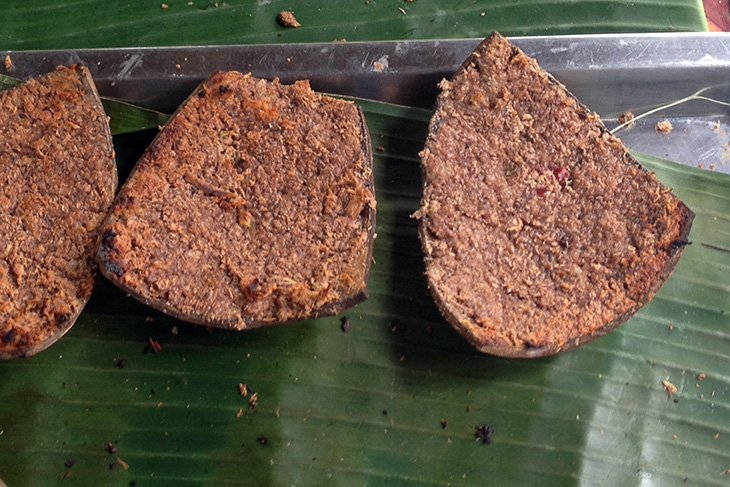 Jab Hlak: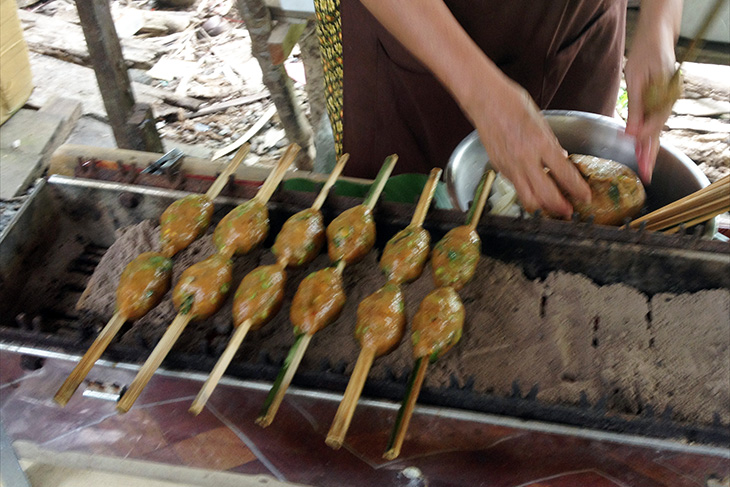 Something a bit simpler, barbequed fish cakes.
Rice crackers: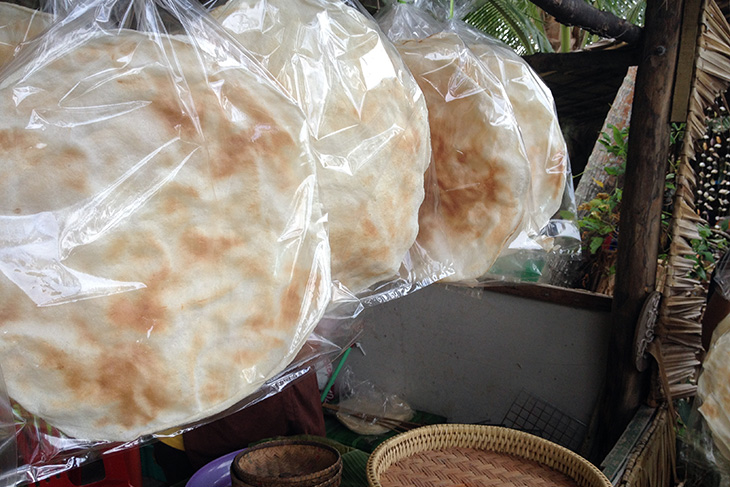 Even simpler. Cooked in a bamboo tray. Would be good for dipping in curry.
Kao Hmak: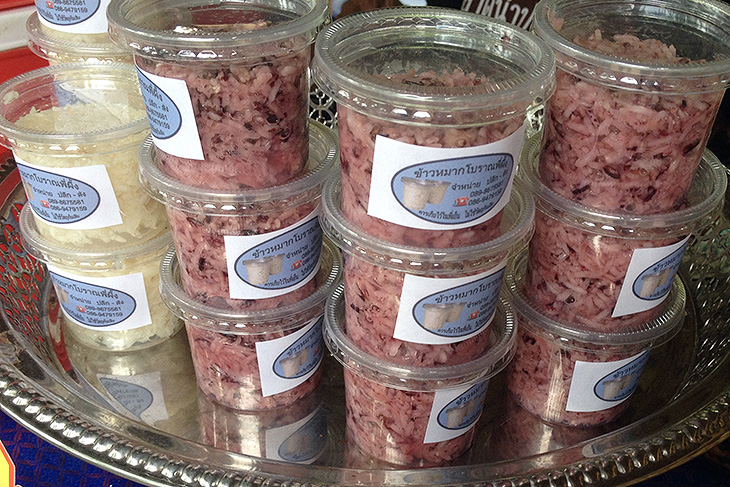 Flavored sticky rice – to go.
Moo Pan Oyi: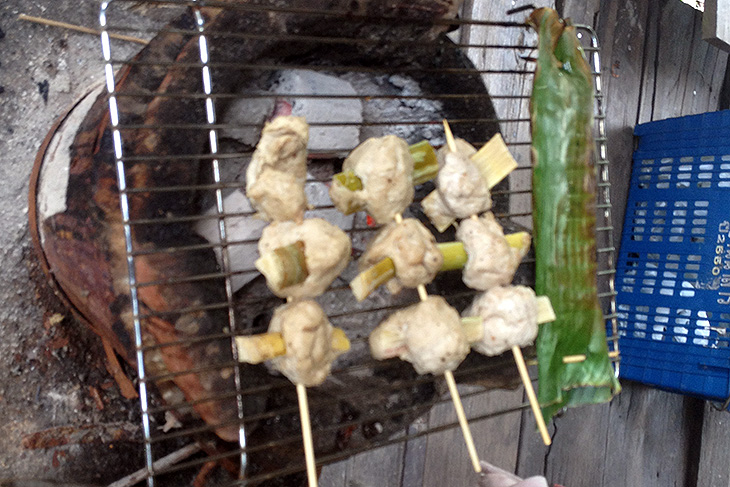 A bizarre pork sausage with a piece of sugar cane sticking through it.
Sai Grob Isaan: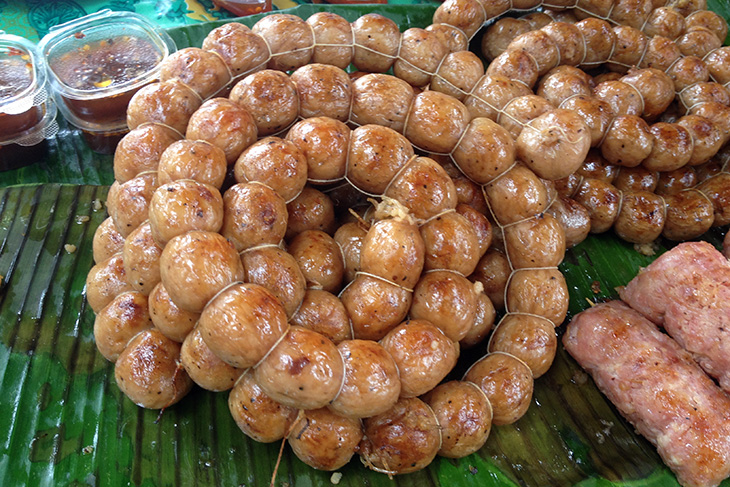 Apparently an acquired taste (which means I didn't fancy acquiring it) … aged pork sausages from Northeastern Thailand (Isaan.)
Naem Yang: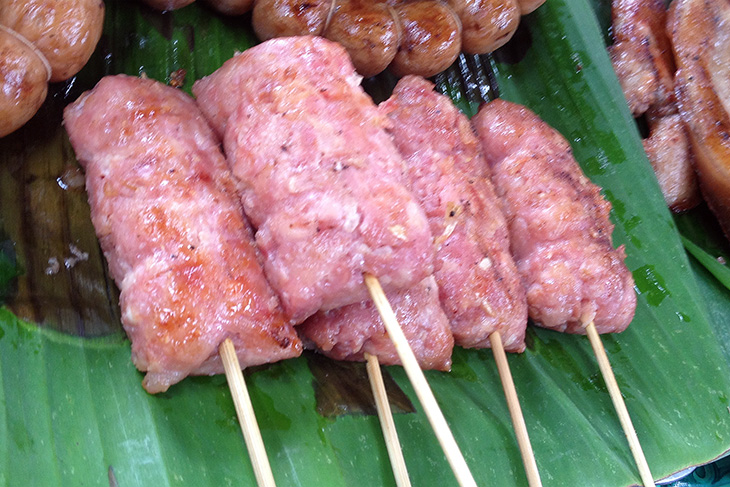 The same kind of pork, but on a stick instead of in balls.
Moo Puang:
Air dried pork, threaded with strips of bamboo, and deep fried…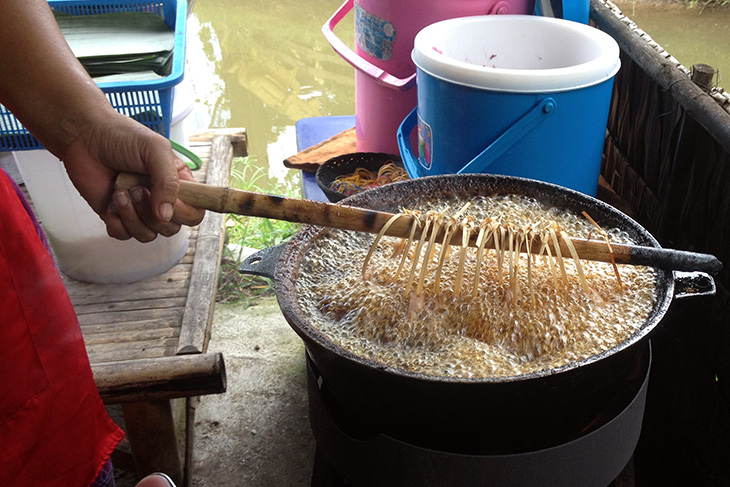 Oh dear. I'm only halfway though. I think I'll break this into two articles, so please check back tomorrow for more Thai culinary "delights."