…Something Of A Mystery.
This is fourth and final part of the Khao Lak Loop story. If you'd like to start at the beginning, please click/tap here.
So, somewhere around 5:30pm, in fading light, having left the Khao Lak area a long way behind me, and having negotiated the seriously wiggly bits, torrential rain, and partially road-blocking landslides…

… in the middle of a mostly green landscape, I spotted a golden needle. It certainly wasn't the proverbial one in the haystack. It stuck out like a sore thumb.
Now, based on progress, I'd calcuated I would arrive home just on Beer O'Clock. This had been deemed aGoodThing™. Investigating the needle would jeapordize my arrival time. Hence aBadThing™.
But, why else was I there, if not to investigate the unexpected? This is starting to sound like an episode from the X Files. Well, not quite, but there was something mysterious in what I discovered.
I took the first available right turn to head towards the needle. But once I left the main highway, the needle was no longer visible. I looked at Google Maps – nothing.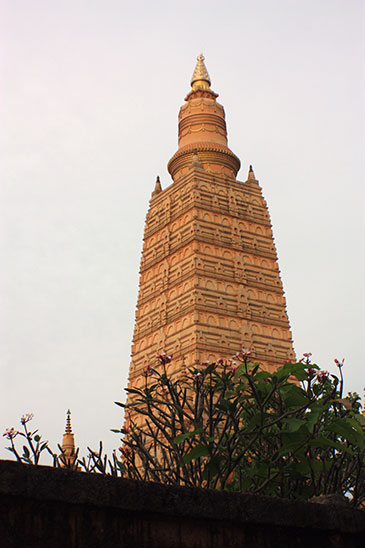 I kept going as straight as possible, and eventually came to a two-meter high wall, behind which was – a needle.
Okay – nice needle – but why is it behind a wall? Wats are usually very open affairs, accessible to anyone from anywhere. So, I followed the wall. And followed, left, right, straight, followed some more, until I ended-up in a field, with the wall continuing. It was like driving around the Sultan of Brunei's polo grounds, but that's a whole nother story.
I was intrigued. Beer O'Clock would have to come and go without me. There'd be another one along tomorrow.
So, I backtracked. There had to some way into the place. It didn't drop out of space. Or did it? (Cue X-Files music.)
And then I came to a larger road, and around the corner was the main entrance, with the wall continuing beyond. This was some seriously secretive place. Was I even allowed in? Has that ever worried me before?
So, I turned right, went through the imposing entrance, and found this…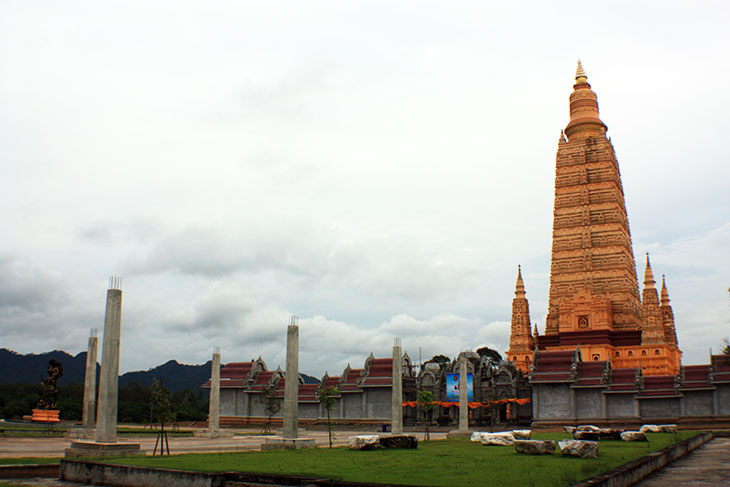 What you can see there, in the fading afternoon light, represents a tiny fraction of the overall land enclosed by the wall. And when I say "tiny" I mean maybe one twentieth.
Below right, you can see that the main temple area is protected by another tall, but considerably more elaborate wall, inside which is a large building at the base of the needle.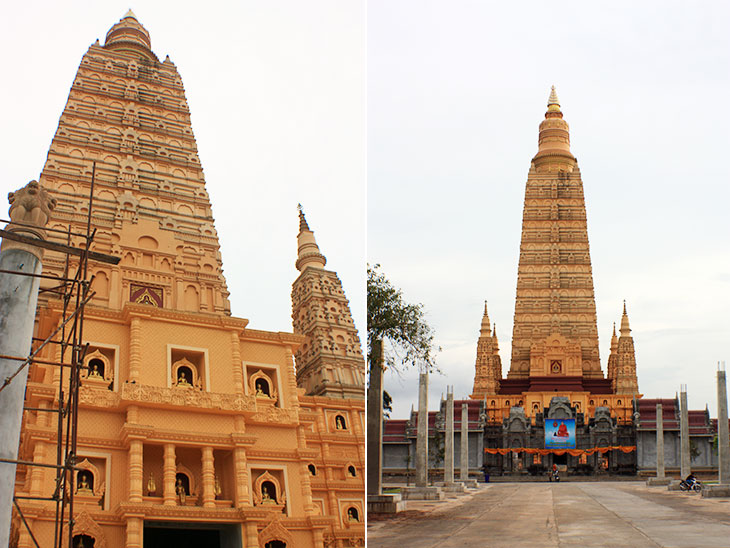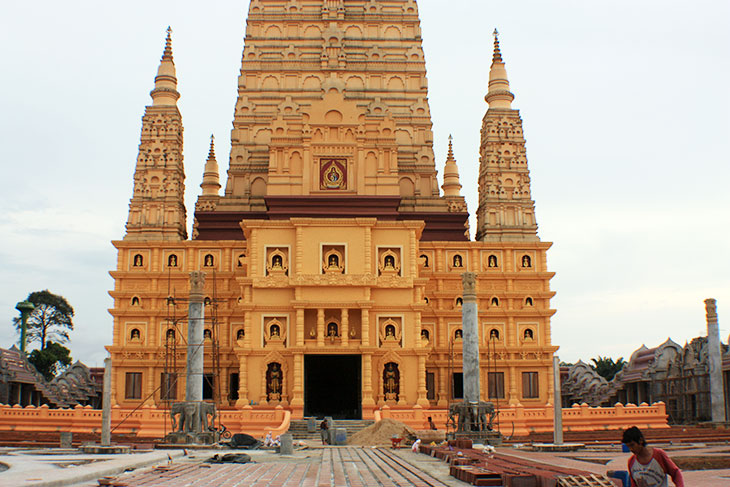 The inner wall, enclosing what looks like will be a landscaped courtyard, is so large it has at least a thousand – currently shrink-wrapped – buddhas.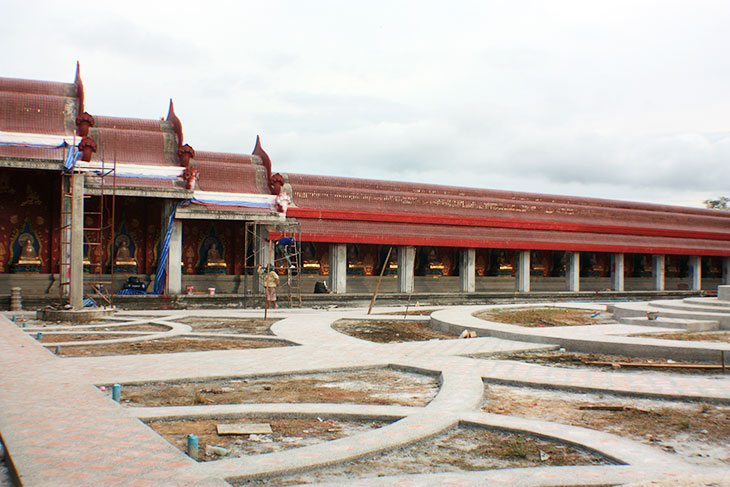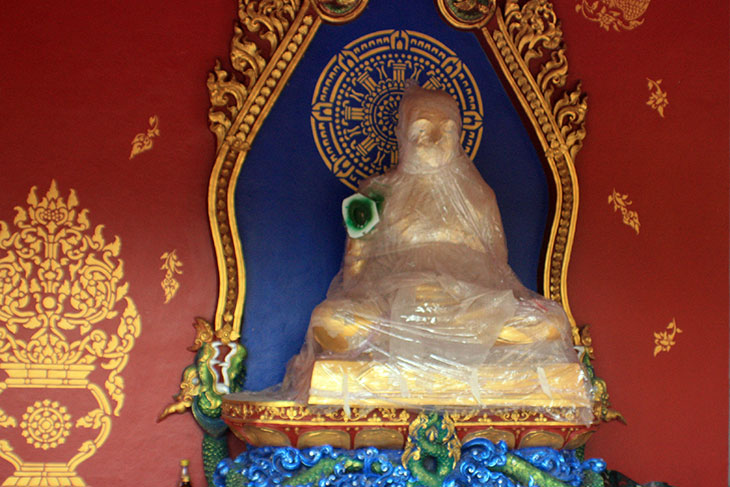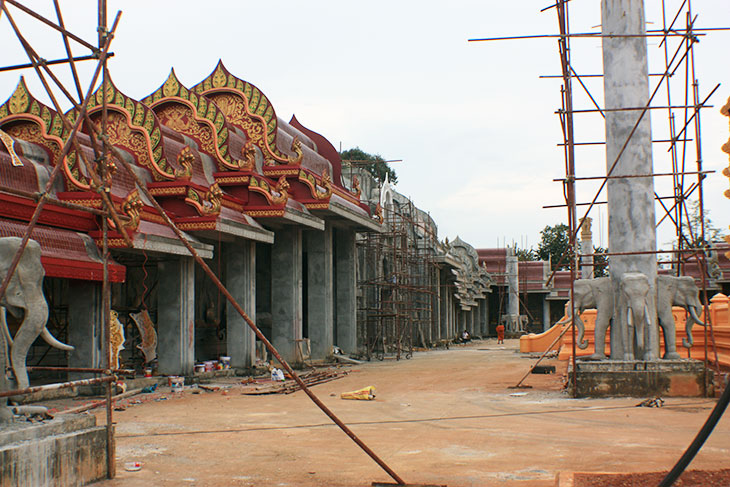 And as you can see, work is ongoing. Health & Safety are not…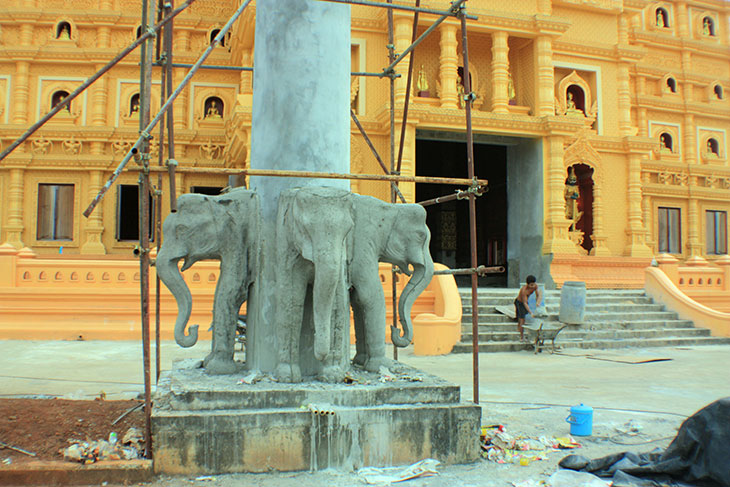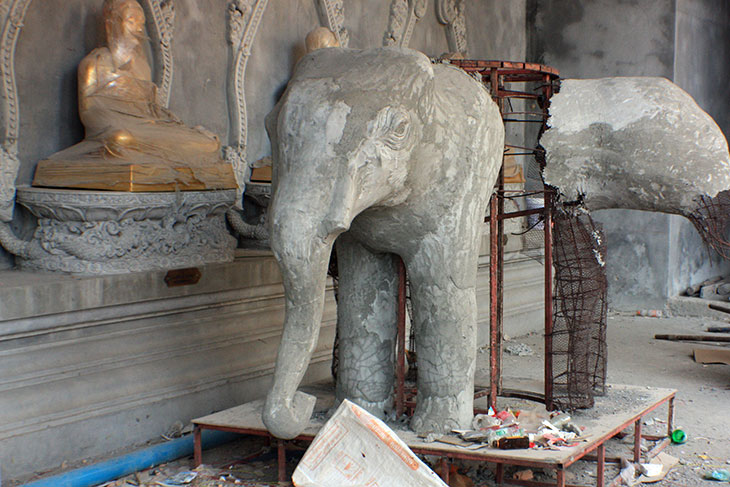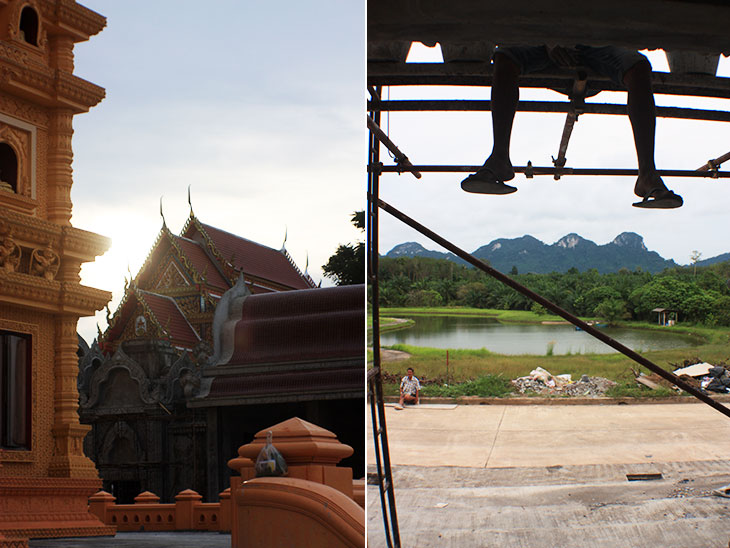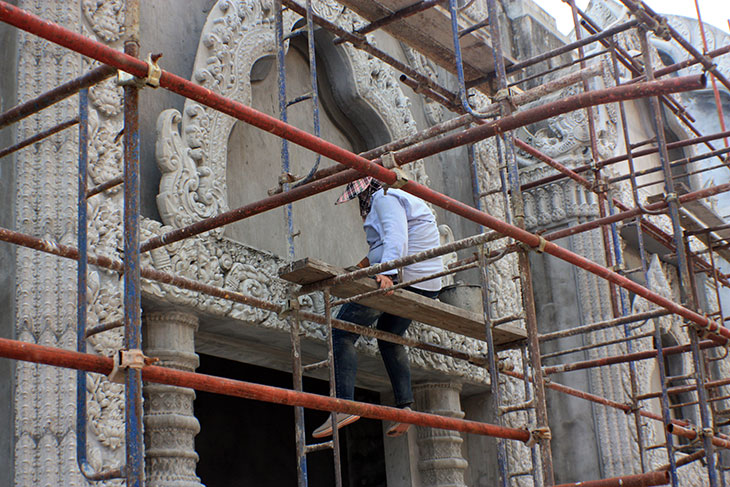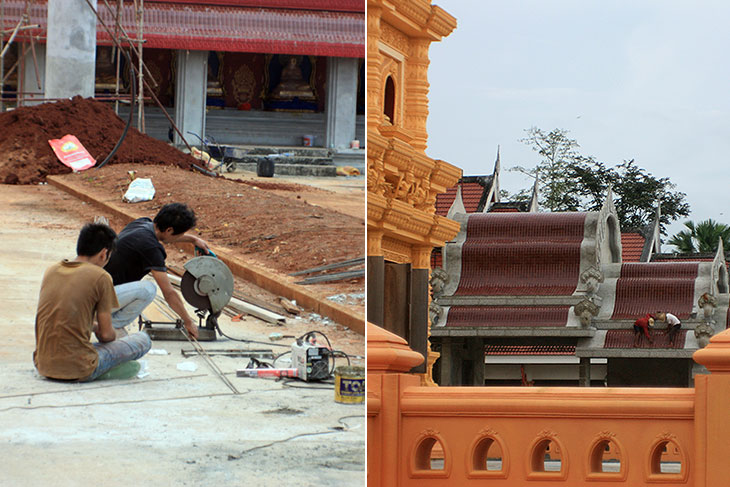 Here's some photos of the finished parts…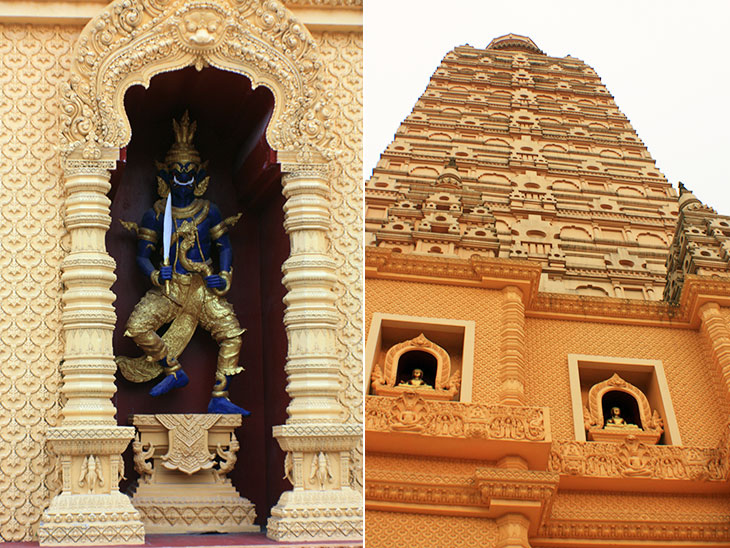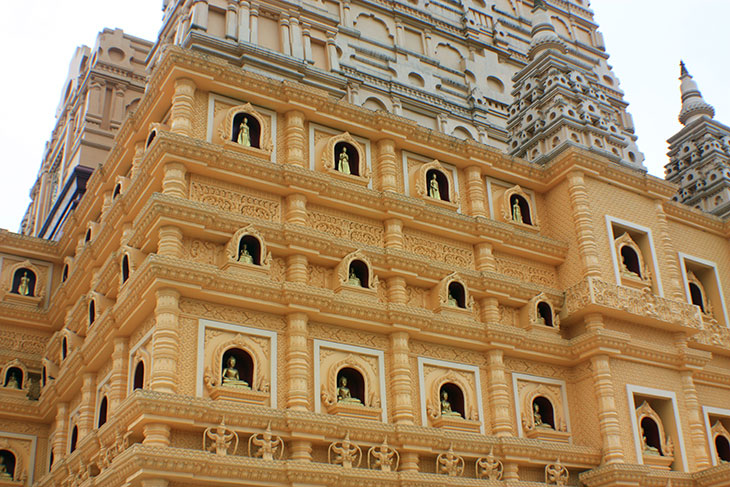 Outside the main inner wall, is what – I'm assuming – is the original wat…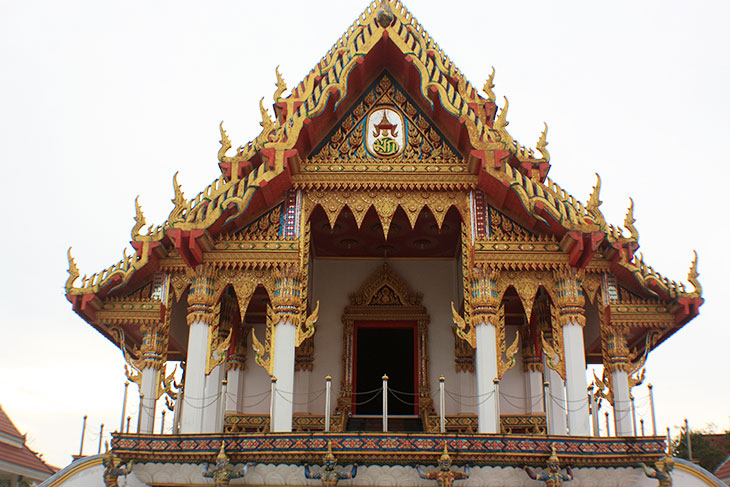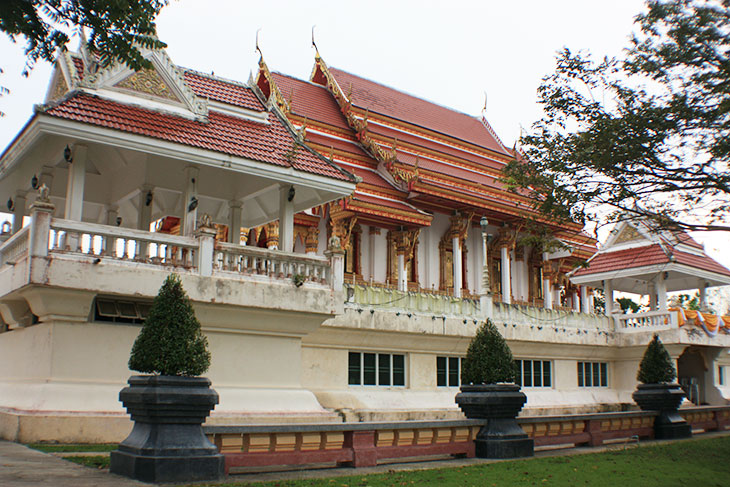 Quite nice, but somewhat overshadowed its newer cousin.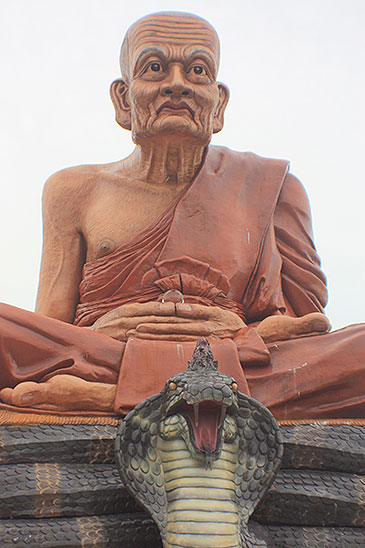 Also outside is this fella on the right.
Perhaps he's the monk who founded it all.
Looks like he gained inspiration by fondling his crystal ball.
The cobra thinks that's funny.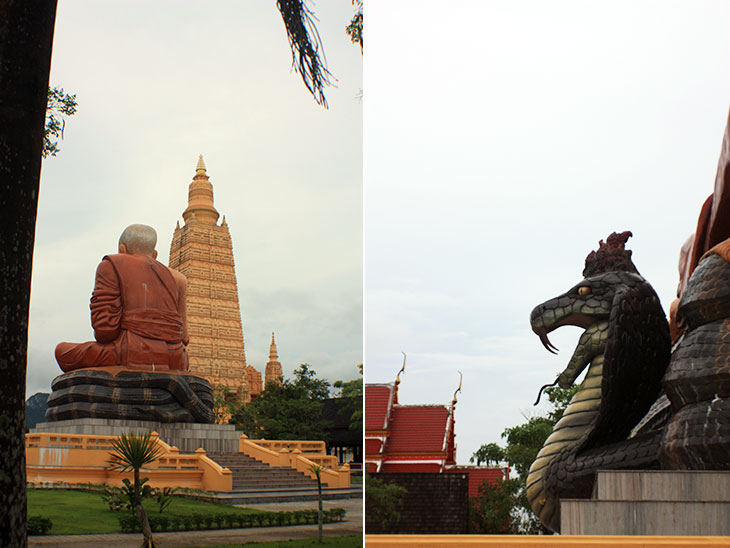 And there's lots more happening…
…but I've no idea what or why.
Clearly there's a stunning amount of money being spent. Whose? No idea. I'd like a small fraction though, so I can fix up the tsunami memorials. What a contrast.
Anyhoo, I've made a note to check back any time I'm in the area. I have a feeling that with a blue sky, fresh red and gold paint, and the landscaped courtyard, the whole place wil be mind-bogglingly spectactular.
It's okay. I'm not aiming to win a Pulitzer. I can use words like that.

But maybe when its finished, it will be private. Why the high wall? Do they want to keep the monks in, visitors out, or both? We'll have to wait and see.