Today was a rest day. No rallying. No work. So what to do? Rest, or go exploring?
I confess I was tempted to do the former. I saw most of Chiang Mai a couple of years ago. It's nice, but I felt I didn't need to see it again. I lazed around the hotel for a while, and then decided I should at least get out and have some exercise. I've spent eight or nine days either sitting in Bert, or standing still at some rally control. But after about fifteen minutes wandering around the busy and tiny back streets it started to seem a bit pointless, so I headed back, and fired-up Bert for some more action.
Only about ten kilometers away someone has plopped one of the mountains I've been talking about. It's called Doi Suthep, and at the top there is the inevitable wat (temple.). It should have been an easy drive but Ms. Chuckles was in one of her moods. Within two minutes she'd insisted three times I make a "U-turn if possible." In the tiny streets it's usually not possible! And then when I looked at the screen she wanted me to go both ways on a four-lane expressway. I swear the GPS software has a built-in randomly-activated "piss-off the farang routine." Either that or it must be PMS. But we eventually reached the bottom of the mountain.
Then it was some serious climbing, which is not so easy when half the tourists in Chiang Mai also seemed to be going up the mountain, and the other half coming down. The cyclists seemed to be especially nutty, racing each other down the hairpin bends. When I finally reached the wat there was plenty to buy, but not much to see, except for wall-to-wall tourists. I climbed the steps to the wat, but couldn't see any point in trying to get in, even though I'd bought a ticket.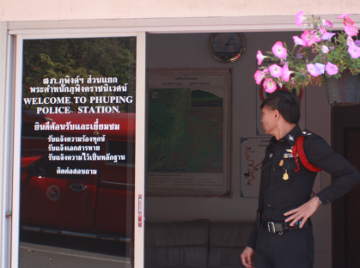 So I carried on uphill to the next mountain, Doi Pui, which was a little quieter, and then followed signs to the "Phuping Palace" I mentioned yesterday. Same problem. No point trying to get in. In fact I couldn't get close enough to see it, but I did manage to take a photo of the Phuping Police Station, complete with a Phuping Policeman!
Further uphill the roads were much quieter, but more challenging. Very narrow and very twisty. I stopped at a small coffee place that was perched on the hillside. I guess the cappuccino and a couple of sticky buns were lunch. Eventually I found a small Hmong hillside village with yet more shopping opportunities, but also a spectacular garden. Most of the stuff on sale was the usual tacky t-shirts and "local" silk products that were probably made in China, but there was one gem of a place that had imported amazing products from Tibet. I could have spent fortune, but didn't. At home I'm pretty much out of places to put things, and wall space to hang things, but I couldn't resist a … a … I don't know what to call it, so you'll have to wait until I've found a place to hang it and then I'll take photo. It's a prayer wheel, and about a meter and a half tall, but that doesn't even start to describe it. Quite a find.
By the time I'd reached the bottom of the mountain there was plenty of the day left, so I headed north to look for an old palace museum. I found it. The sign announced "Closed on Mondays." Guess what day it is. So I took a previously-planned route west and then south that went over a mountain range and back into Chiang Mai. That was a real challenge with many first gear steep uphill hairpins. Like yesterday, the scenery was nice, but would be spectacular with clear air.
So, that was a really good day. No rest, but who needs it?
And now, by coincidence, I've just learned that tomorrow morning I'll be manning a Passage Control only about 2kms from the closed museum. My job will be finished by lunchtime, so I should have a chance to see the museum after all, before heading about 200kms over the mountains to Mae Hong Son. Meanwhile, the rally will be going over the same pass I drove today. That should be interesting!