…The 1081/101 Loop.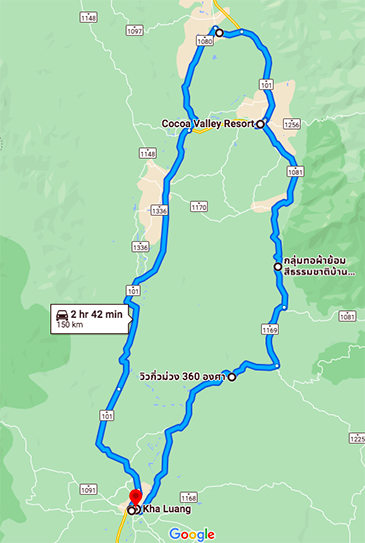 I spent two nights in Nan Town, principally so I could spend a whole day going up the 1081 to the Lao border, and then back down the 101 into Nan town, taking in umpteen wiggles along the way. That's it, on the right.
It looks as though Google Maps is saying you can do it in less than three hours, but I set a waypoint at the top, so that's the time for the fairly unwiggly section back down into Nan town. Fact is, there's so many places to stop, it's basically a day out.
Spending two nights in Nan wasn't as easy as it sounds. Despite the fact it wasn't a weekend nor a holiday, and that few people (Thais included) could place Nan on a map, every hotel seemed to be fully booked. When I finally found one (online of course) which said "We have one room left" I instantly booked it.
The Sukkasem Hotel was adequate. A bit old and rough around the edges, but then so I am, so it was a good match. There was no restaurant, but there was free coffee in the lobby, so I turned up each morning with donuts and enjoyed them with a free beverage. The room was small, especially around the bed. It needed a kind of sideways shuffle to reach the point of entry. Maybe I should have dived in from the bottom…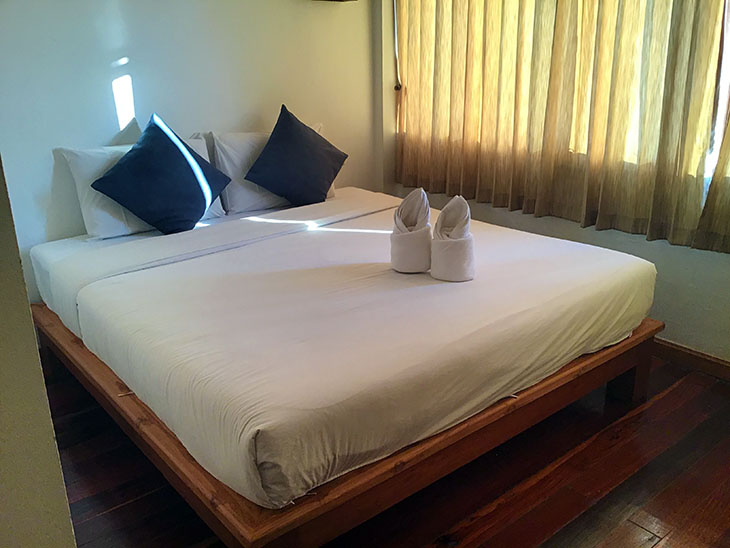 Anyways, about one hour into the loop, travelling counter-clockwise, is the "Famous Shape 3." That's what Google Maps calls it, but I've seen other sites that call it "Sky Route Curve 3." I'm sure you've figured from that there's a piece of road that's roughly shaped like the number 3…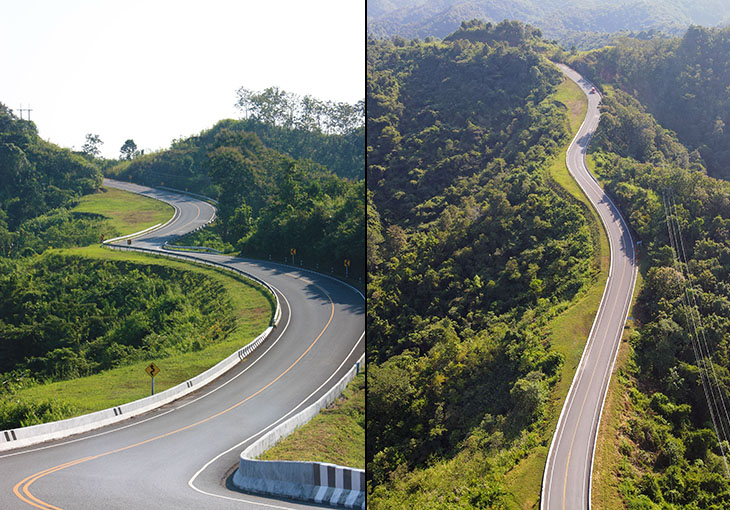 Ground shot left, aerial shot right. Excuse me for not finding this too exciting. I mean, there are lots of roads shaped like lots of things, and frankly there are much more exciting parts to this loop.
So, having spent not much time there, I headed off for coffee at a hillside café appropriately named "The View." I missed it. I must have driven straight past while I was busy looking at, well… the view.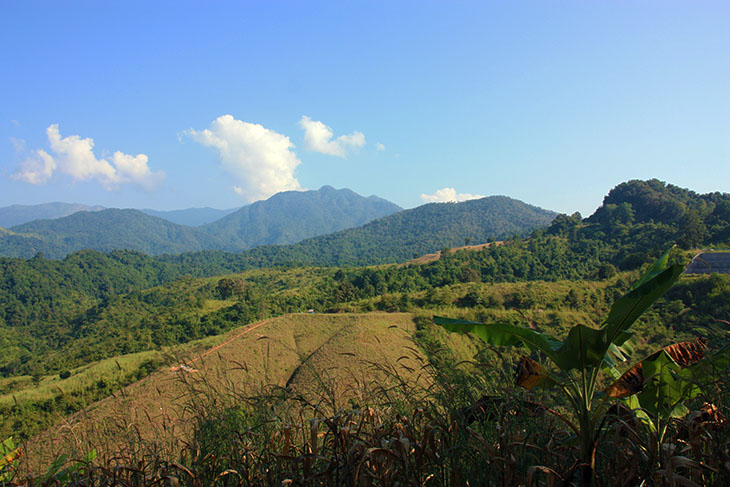 After another half hour of constant wiggles I arrived at something called the "Tortuous Road Viewpoint." Okay, that's more like an interesting piece of road…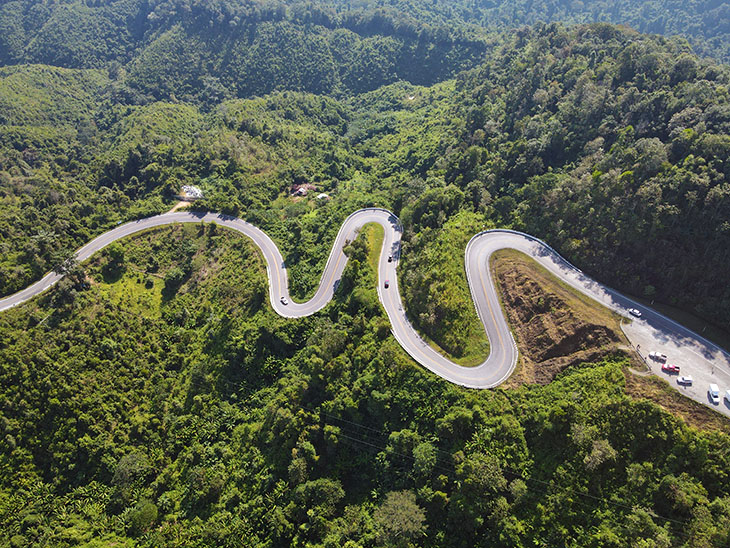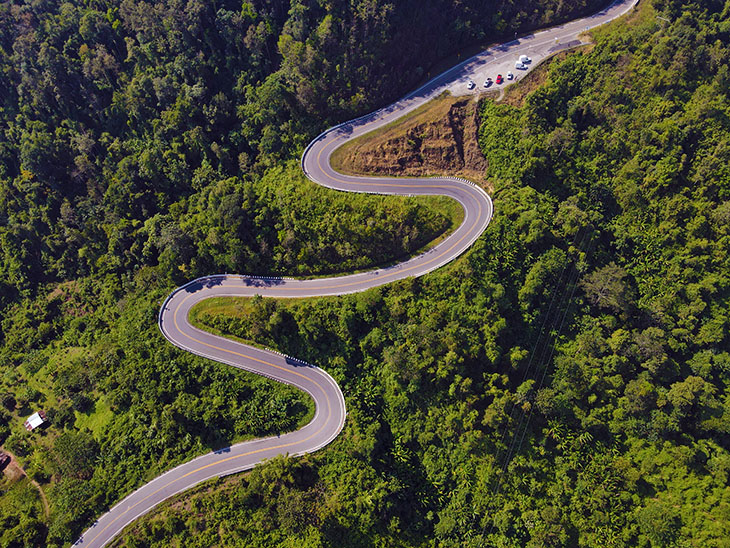 About an hour north of there is the village of Ban Wen which is surrounded by rice padi, some rice harvested, some not…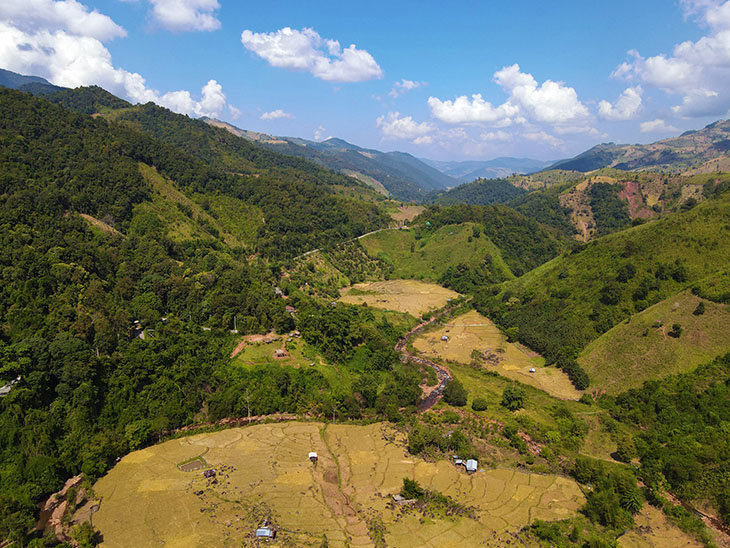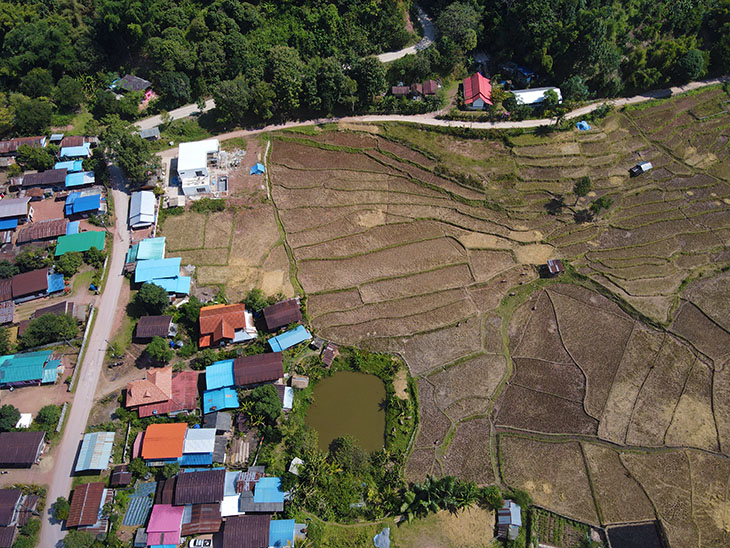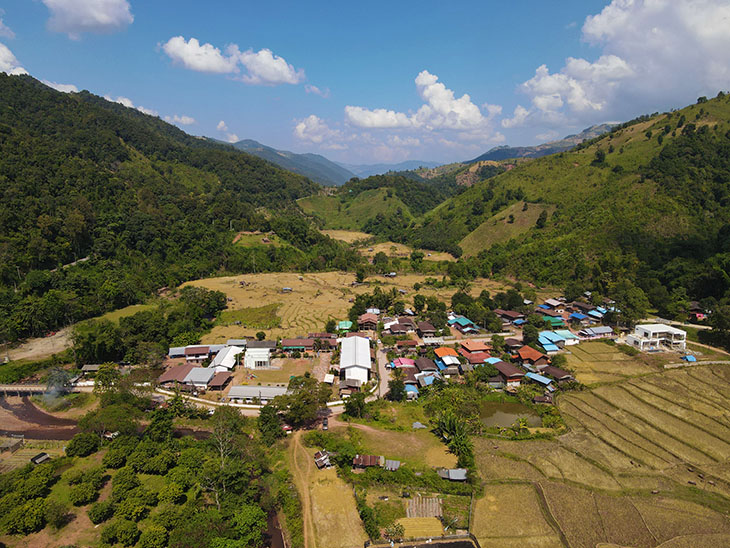 Cute place.
After another hour or so of tortuous bends I reached the top of the loop. I had the option of going another few kilometers north to the border, but I figured there'd be too many security checks, and I didn't really need to be able to say I'd peered into Lao. So, I headed south, down to the town of Pua.
Around here they seem to like their place names as short as possible. Pua, Nan, Wen.
By this point it was mid-afternoon and I'd skipped lunch. Well, there really wasn't anywhere to eat in the middle of nowhere. So I dived into a shopping center and grabbed some pastries. And once again I was reminded why the human race isn't going to survive much longer.
Three pastries were awarded their own little single-use plastic bags. Of course, it's a well-known fact that if you put a croissant and danish in the same bag they'll fight to death, and you'll end-up with a bag of crumbs. I think that's called sarcasm. Said three bags were put in one larger single-use plastic bag – which didn't have a handle, so that had to be put in one more single-use plastic bag which did. Thank goodness for face masks. If the poor girl had been able to see my expressions and read my lips, well, she may not have slept for weeks. No doubt those five bags are now in the stomach of a whale or dolphin or … shut up, no one gives a damn.
Come to think of it though, it would have been nice if I could have found an Indian Restaurant so I could have eaten Naan in Nan.
And while in Pua I visited Wat Phuket, which of course is nowhere near Phuket. Nothing special about the place, and I didn't want to be too nosy as there was a funeral taking place, so I wandered to the back to look at the view, and to fly a little…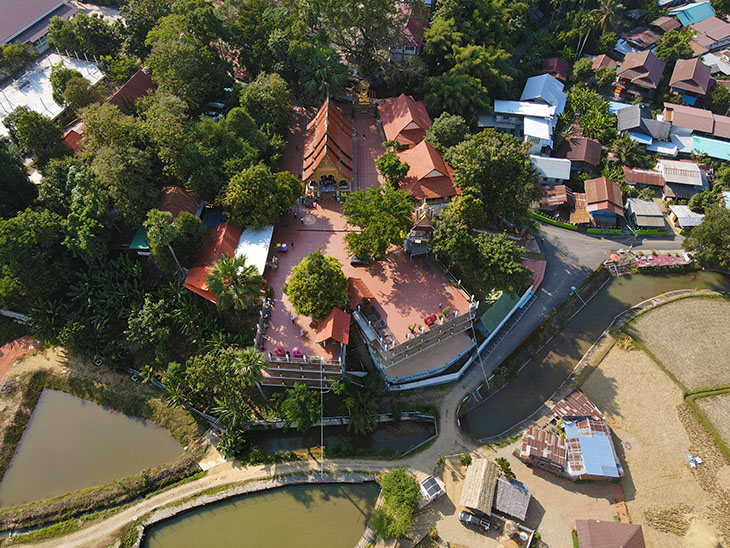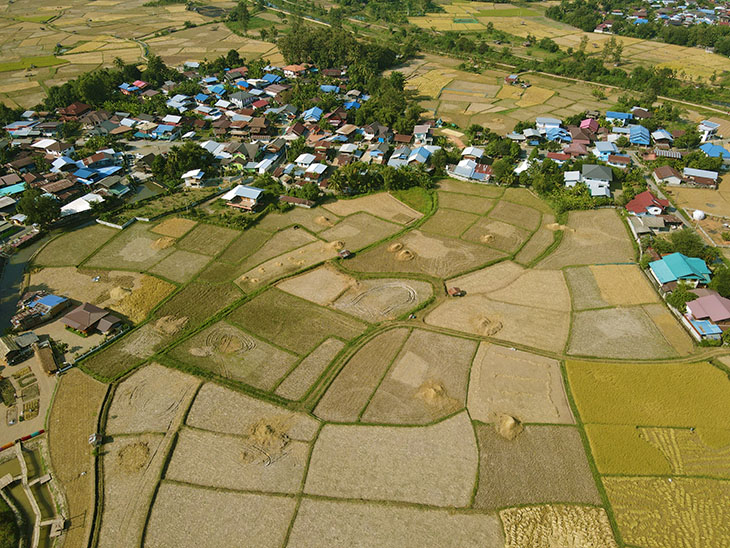 After which, it was back into Nan town. A successful but quite tiring day. Here's a few more pix from along the way…