…And The End Of The Mimis.
Before we go any further, let me warn you, I can find out almost nothing about this wat, not on-site nor by googling. There's one information board at the temple, so let me tell you what I do know…
Its current name seems to be Wat Donsak, or Donsak temple. It's about 12 kilometers south of the town of Don Sak in Surat Thani province. Not on any main road, but tucked away in a jungly area. So, like most places of interest in Thailand that are a little ways off the usual tourist routes, you'd expect it to be deserted. Wrong!
It claims to have been founded "approximately" in 1507. I can't believe any of the current buildings is that old.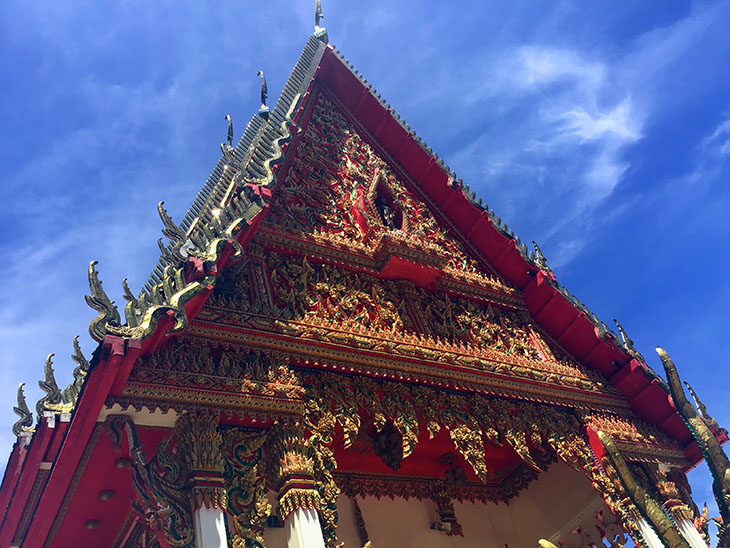 The original name was Sing Khong, meaning to gather stuff, which the villagers did in a nearby cave. But supposedly these were stolen by the Burmese when they won a war against the Ayutthaya Kingdom. Somewhere there are Buddha images, but they seem to be well hidden. So, what I did find was the main ubosot or ordination hall, a giant statue of an unnamed monk or abbot, and a whole bunch of fish.
Why was I even there?
Well, I found it while nosing around on Google Maps. It's only about 30mins from home, so on a rare sunny morning a few weeks ago, I went off to explore. I packed both Mimi and Minnie, my two outdoor aerial movie and photo-taking drones. I figured one of them would get some good aerial shots.
I guess I arrived at about 10am. There were buses, mini-vans, cars, motorbikes, and tourists everywhere. There was also a strong wind, so drone flying was out of the question. Aside from which, there were too many people around. So I took photos…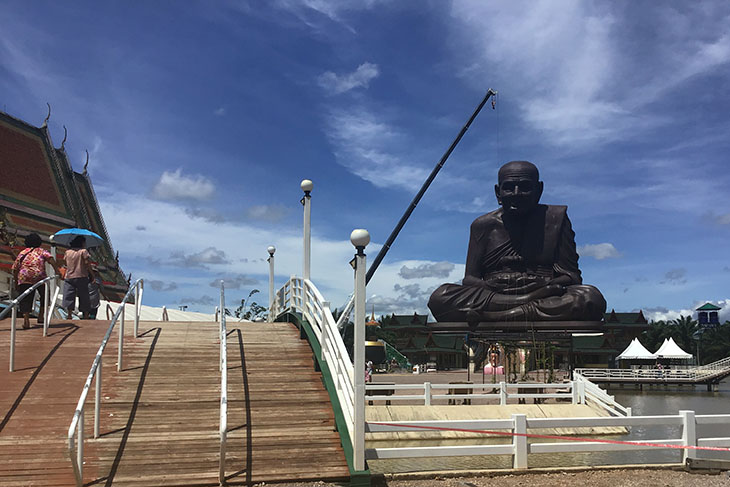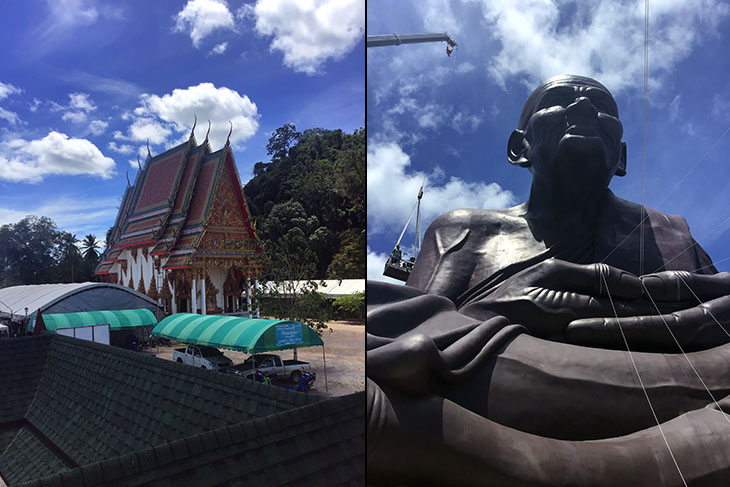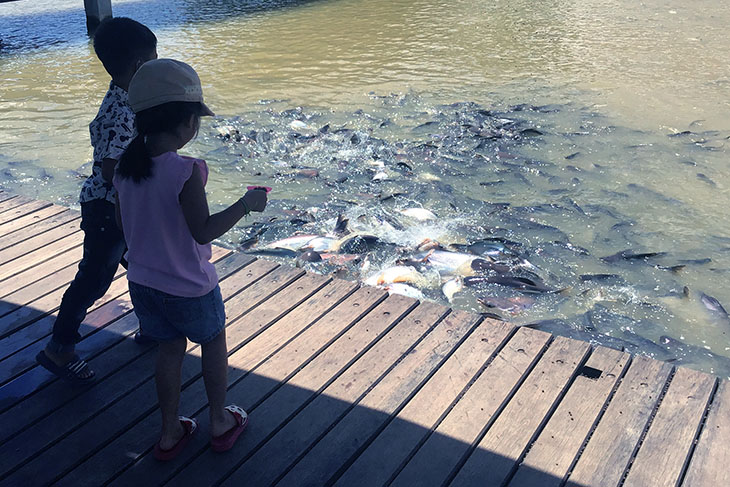 Did I mention the fish?
I couldn't figure then, and I can't figure now, why there were so many people. Thailand seems to have more wats than the UK has Indian restaurants and pubs, some are stunningly spectacular, and almost all are deserted – except at times of religious festivals. I decided I needed to get there earlier.
A few days later I managed to arrive at about 9am. Buses were just arriving so it wasn't too busy. But again it was windy. Mimi doesn't seem to mind, so I sent her up for a good look around. Thirty seconds later I was being told "Battery failure. Land immediately." Thirty seconds into a flight that's not too dramatic, and she was back on the ground just as the battery capacity dropped from 99% to 0%. I changed the battery and took off again. One minute later "Battery failure. Land immediately." So I did. I had one more battery I could have used, but I already suspected it was about to fail, so I chose to stop flying.
Mimi is now retired. (Well, the Mimis, since I have two of them.) They are great drones with totally rubbish batteries. The two that failed had been used less than ten times. I could buy more, but they are scarce, they now cost about US$150 each, and are in reality not brand new. They were all made early in 2019 so are more than a year old, and probably half dead when I buy them. So, the Mimis have joined my rapidly increasing collection of dead drones. Shame.
As I mentioned, it was again windy, so I decided not to send Minnie up to take photos. She's very unstable in anything other than a gentle breeze. I was determined to get pics, so a third visit was needed, even earlier, with fewer tourists, and no wind. Mission accomplished…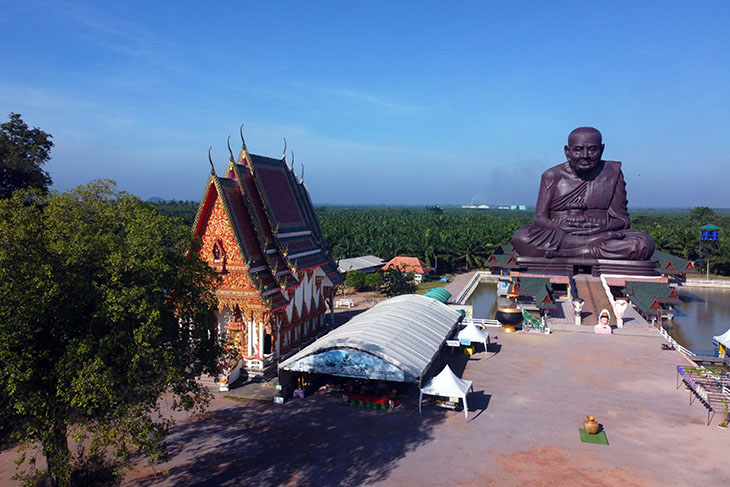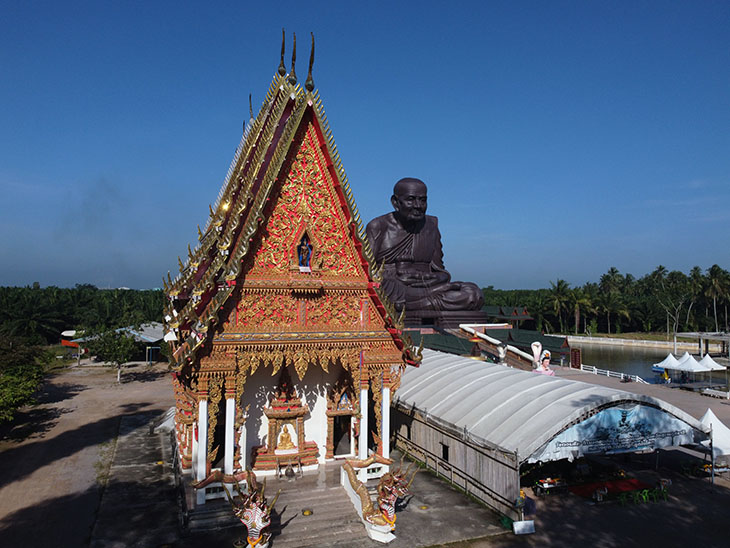 If I ever find out why this wat is so popular I'll update this article. In the meantime, I need a new #1 drone. I confess I'm enjoying the Mavic Mini more than when I first purchased her. I've added range extenders to the antennae – which seem to work – and the camera is excellent, but there's no way around the wind problem. Stay tuned.