…The Kota Bharu Road Trip. The One About Hotels.
I'm not sure why people read Twitterings. Maybe they end up here looking for hotel reviews and recommendations. So, here's some…
M Resort, Songkhla
I chose this place based on the recommendations on booking.com. "Friendly English-speaking staff" they said. "Good restaurant." "Great food." Sounded okay to me. Well, I have to assume there are two M Resorts in Songkhla and I stayed in the wrong one.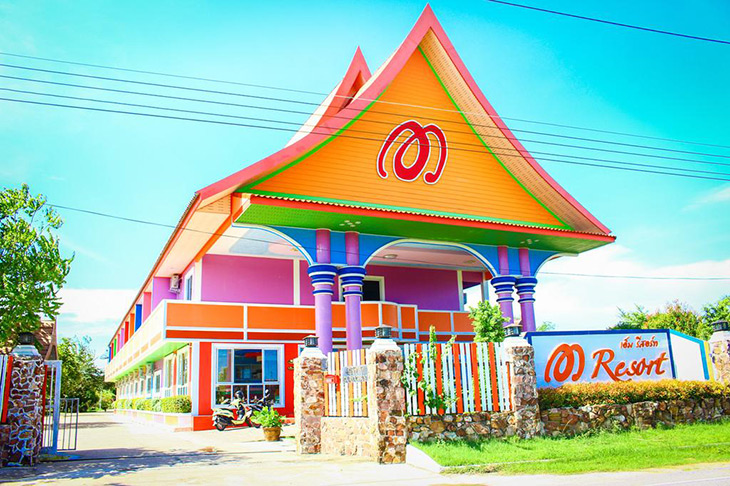 There was an elderly timid-looking lady in reception who clearly did not speak any more English than "booking.com" which she repeated about twenty times, before picking up the phone, dialing and then handing it to me. "What do you want? What do you want?" a man kept repeating. "I want to check-in" I said, interrupting him. "What? What do you want?" Well, truth be told, I wanted to get the hell out of there, but I'd prepaid, plus it was dark, and the idea of finding someplace else didn't appeal. I passed the phone back to the lady as I clearly wasn't getting anywhere.
After a few more choruses of "booking.com" she eventually gave me a key, and insisted on showing me the room. It seemed fine. I plopped my bag on the bed and was about to use the bathroom, when there was a knock on the door. The lady wanted to show me a different room, which as far as I could tell was identical except for the blue-color scheme rather than pink. Perhaps she had deemed blue to be more appropriate. So I settled into the blue room.
Restaurant? "Closed." So I headed out to eat, and actually have no recollection of what, so it must have been extremely average.
Back in the room with my personal beer supply, the rest of the evening was reasonably pleasant.
The night wasn't. The aircon went off and on at about two minute intervals, each time loudly announcing its change in status. At about 2am I turned it off and decided that sweating was preferable. If my brain had been working at that hour of the morning I would have opened a window. But.
The bathroom was minute. I figured I could easily use the wash basin to shave, while sitting on the potty and showering at the same time. By counting floor tiles (and what do you do while sitting on the potty?) I figured the floor space at somewhere the wrong side of two square meters. But the tiles did have a nice welcoming drone motif.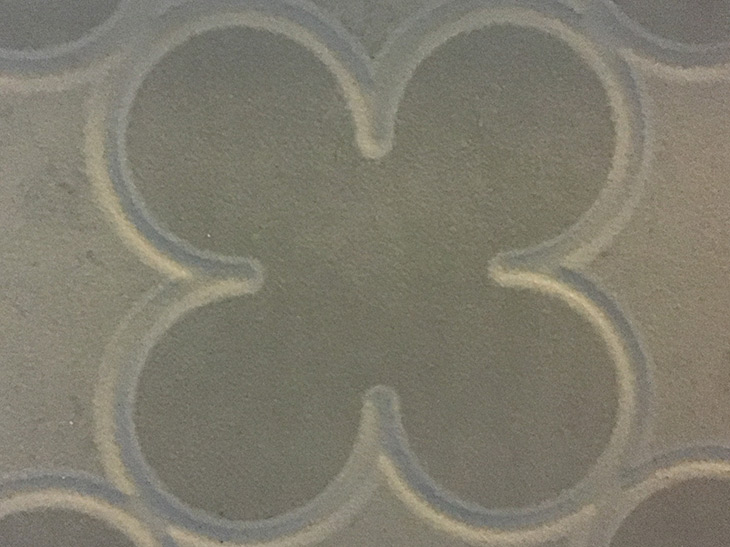 Needless to say, I was up early, and hot. After a very welcome shower, while also… nevermind… at somewhere before 7am I was loading the car. As were all the other guests. Well, they were loading their cars, not mine.
I enquired about the free breakfast. "Restaurant opens at 8am" I was told. WTF! By 7:15 as I left, the place was deserted. Opening at eight is a great way to ensure you never have to serve any free breakfasts.
Can I say something nice about the place? Yeah, it was very clean. But, give this one a miss.
Z & Z Studio Room, Kota Bharu
I can only say nice things about this place, despite the strange introduction. I assumed I was booking a studio room in an hotel with the above name. But I arrived at what looked like an office and apartment high rise. I spoke with the security guard who gave me a key and told me which floor. Slowly it dawned on me that this was someone's private studio apartment that was being rented via booking.com. Late afternoon, the corridors were dark, and the door numbers close to invisible, so I had to go back to security to get directions. He decided to show me, which was a good thing, as "my" apartment was through a closed and unmarked door and down another corridor. Okay. Got it now.
Once I'd opened the door and stepped inside, I realized I'd made a good choice. I should have taken some photos before I'd spread my toys around, but you'll get the idea…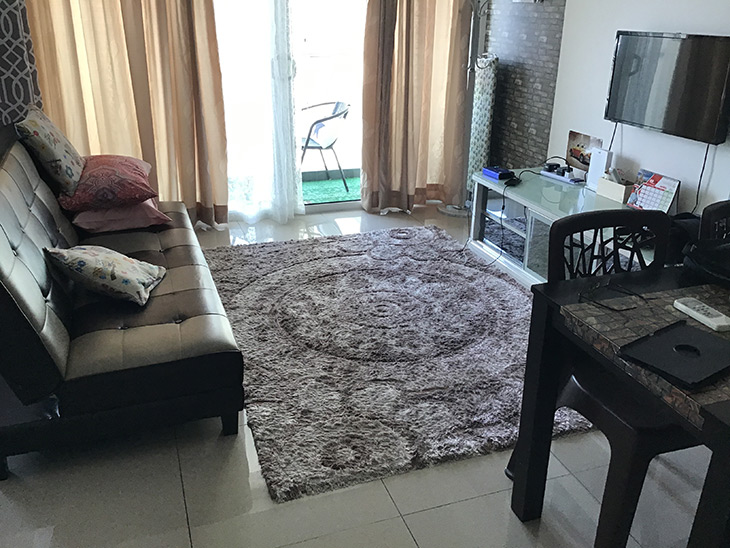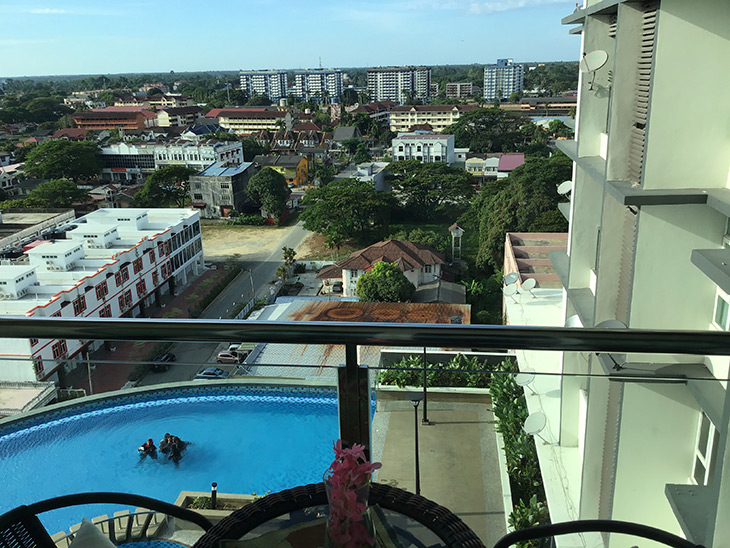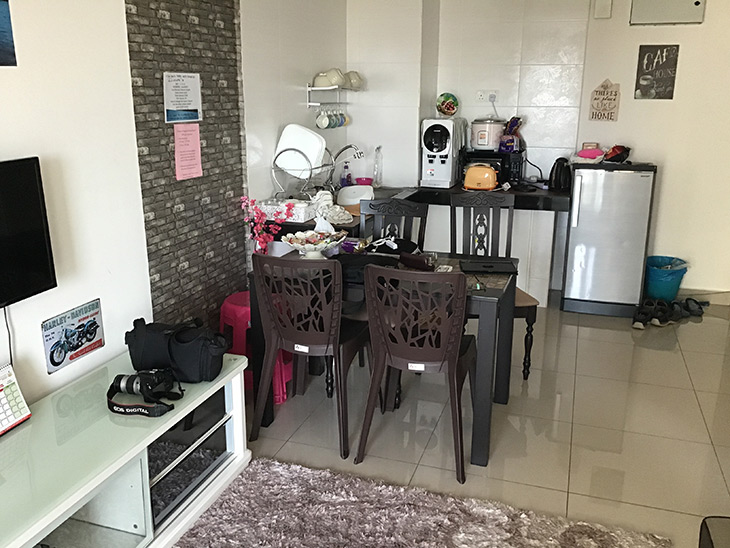 I was going to enjoy this.
There are limited cooking facilities – perhaps less limited if you're not afraid of microwaves – so it was easy to have breakfast and snack meals without going out.
The owner lady was attentive, sending me messages to make sure everything was okay, or perhaps checking I wasn't having wild parties and destroying the place. Once I knew I needed to stay an extra night she popped round to collect the fee, giving me a discount, and bringing chocolate muffins for breakfast.
This didn't happen at the M Resort in Songkhla!!! I shall stay again.
River Living Place, Pattani
New. Modern. Clean. Secure. Boring. Bizarre.
Okay, it has great views…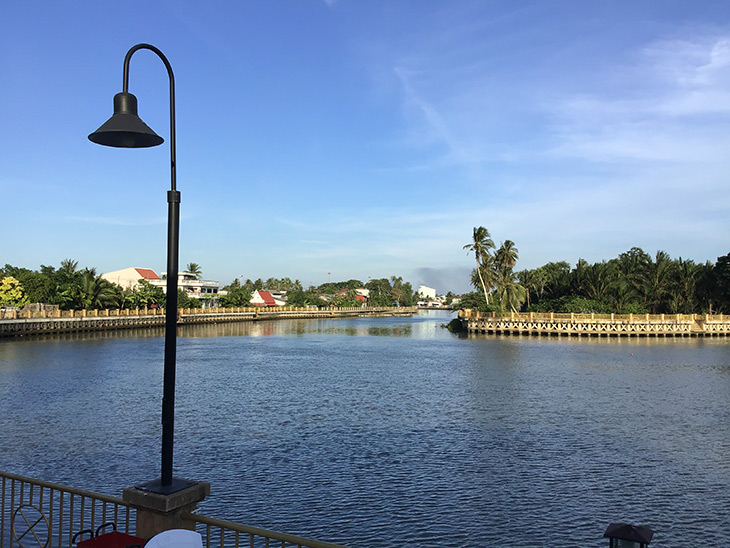 …but only if you are sitting by the pool, or have one of the luxury suites that face the river. Otherwise it's this…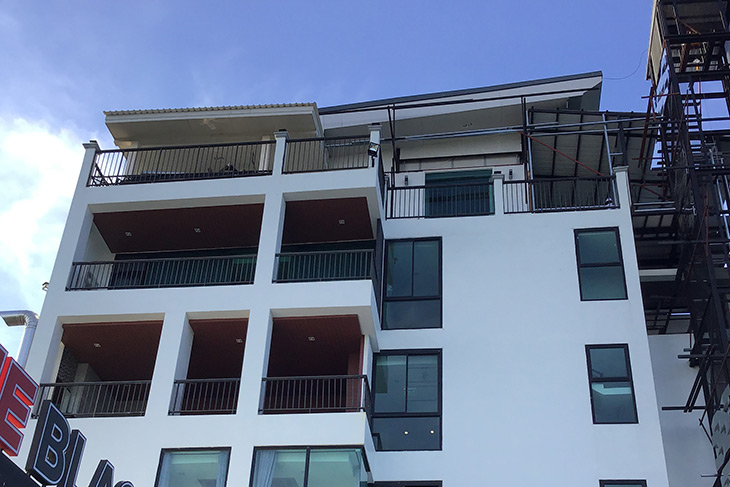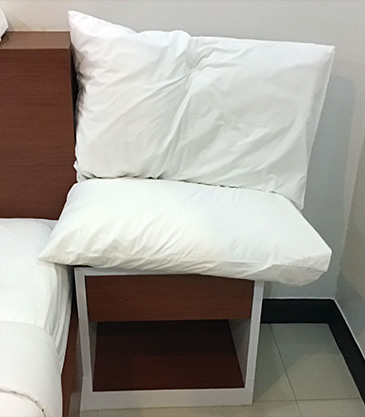 And why bizarre? I have to assume it was designed by someone who'd never stayed in an hotel.
Large rooms with nowhere to sit but the bed. I eventually solved that problem.
No light switches anywhere near the bed, so you had to turn off the lights and grope around in the dark.
I could only just reach the water heater control in the bathroom, and I'm 1m83, so you can image that most people get burned or frozen in the shower.


The WiFi worked if the wind was in the right direction, and to use it, you had to negotiate this tiny almost illegible screen…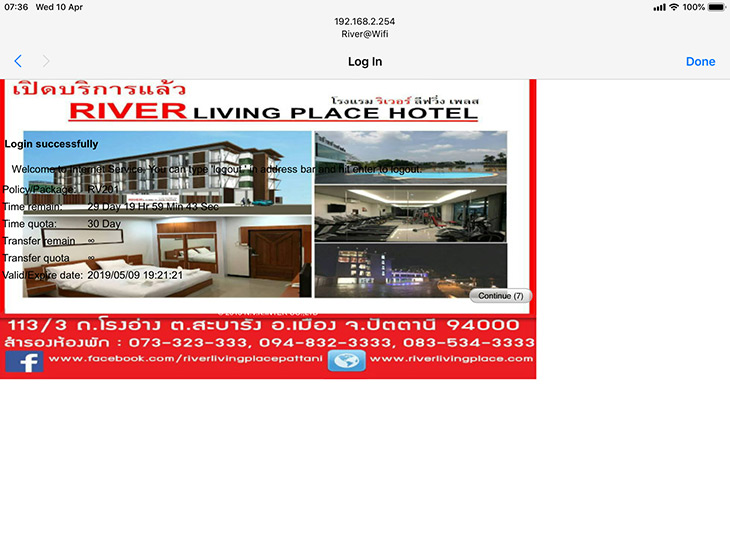 …and it only lasted an hour or so before you had to login again. I gave up. But why do hotels go to such enormous lengths to protect their free WiFi? Are they afraid someone might actually use it?
Oh, and then there was the restaurant. Deserted; which is never a good sign, but I couldn't be bothered to go out again, and there were no restaurants close by. And the menu was about as thick as a Sears Catalog, which also didn't bode well. How can they possibly prepare that many dishes? Anyhoo, I ordered something that involved chicken and Thai spices, and it wasn't bad. But the rice I ordered never appeared. When have you ever seen a Thai meal without rice? And beer? Nope. The hotel operates a night club which is right next to the restaurant, but for some reason it was impossible for a bottle of beer to be carried all of ten meters. Did I say Bizarre?
This one is now on the same list as the M Resort.
Ban Ao Thong, Trang
Ancient. Slightly scruffy. Old TV. Old aircon. Cheap. Loads of character. Great central location. Loved the place.
Come to think of it, ancient, slightly scruffy and cheap describes me pretty well, so it was a good match.
Oh, and on the front is a wine bar and restaurant where you have the choice of inside or out. The food was good. The beer was cold. 'nuff said.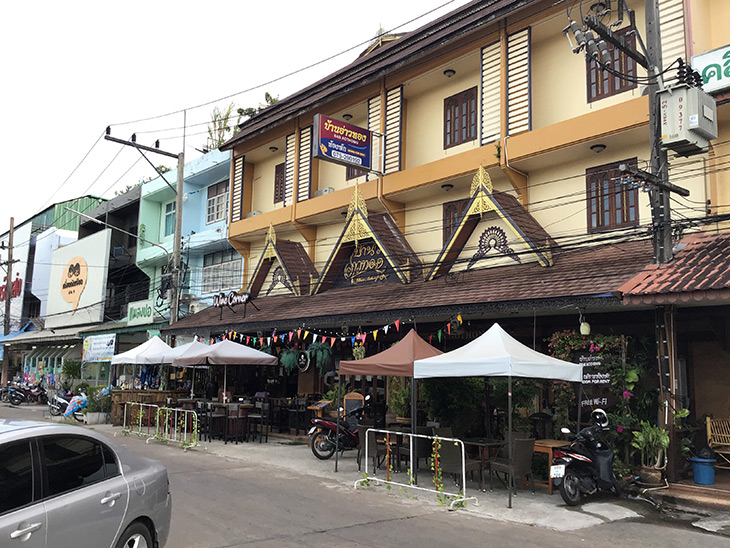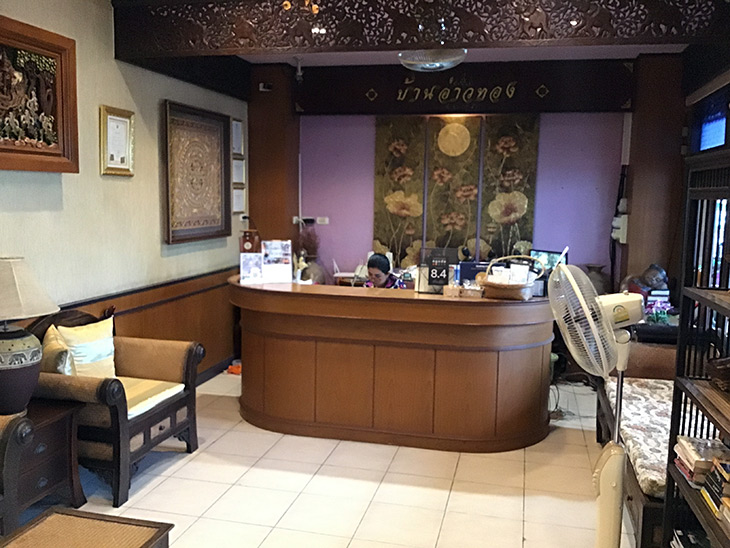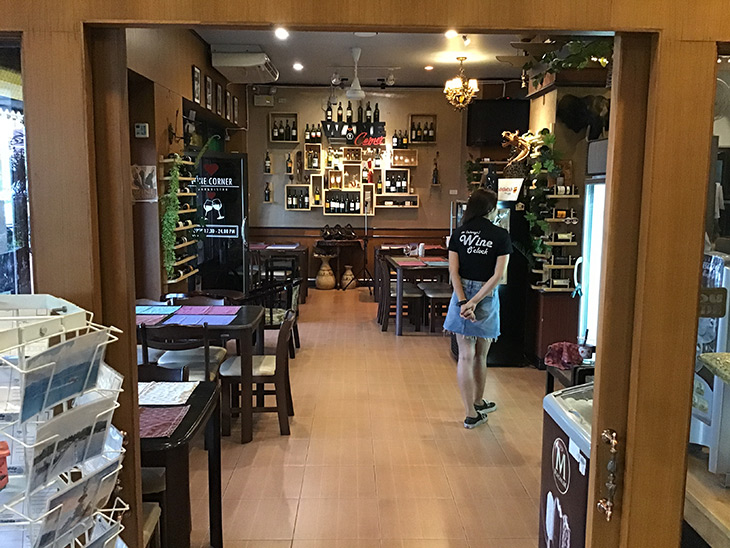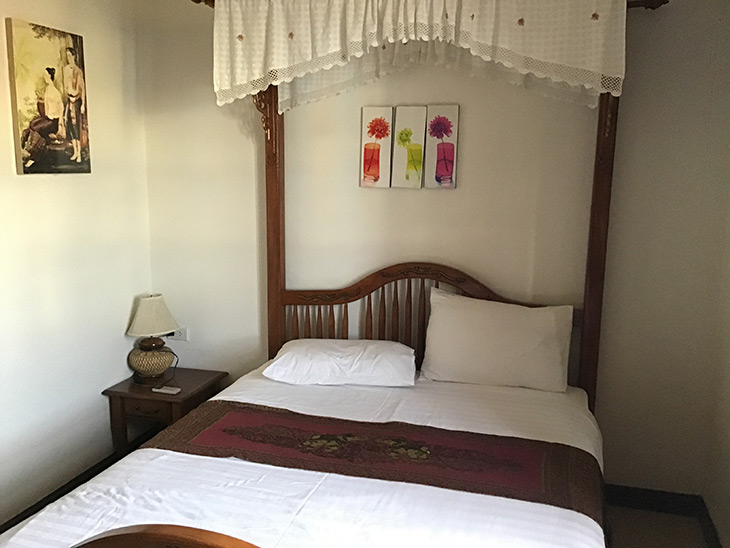 I'm not a great fan of Trang and I doubt I'll ever stay in the town again. But if I do, I'm pretty sure it will be here.
---
Thus endeth the great road trip to Kota Bharu. It was good. Plenty to see. Long-ish days but nothing too exhausting. And I have to do it all again in about eighty days. Heck, I could go around the world in that time. But to be serious, planning is already underway as there are plenty of route variations and things to see. Before that though, I'll be off to the mainland for a droning trip.
Thanks for sticking with the story, and stay tuned.