I can't comment much about the flight. It was close to three hours, and uneventful. And there was not much to see on approach. It was late afternoon, and very hazy. The land around Yangon seeemed flat, with some lakes visible.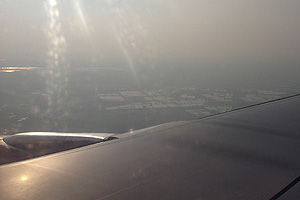 Surprisingly the airport is brand new, super-efficient and relatively quiet. I was expecting the opposite. The Visa on Arrival service was handled smoothly and with smiling Immigration people on-hand to help. (When was the last time you saw an Immigration Officer smile?) As I mentioned in my previous post, I was met by a representative of the company which had arranged my visa. She advised on money changing (do it at airport, despite what the travel guides say) and arranged taxi for me.
I don't know where the money came from to build the airport, but it's nice to see they used it for its intended purpose. When the Americans gave money to the Laotian Government to improve the Vientiane airport, they built a crude copy of the Arc de Triomphe instead!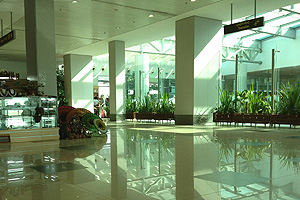 And so the surprises continued. It's not just the airport, but the city is much more modern than I'd expected. The road from the airport is a six lane highway. Flyovers are under construction due to the traffic load.
I had heard that cars were mostly very old Japanese wrecks, but this would now describe less than one in twenty. Although the buses have definitely seen better days! Most cars look less than one year old, and new car dealerships are everywhere. It's obvious there is a lot of new money in the country, and most of it seems to be coming from Japan, South Korea and China. From what I could observe, European and North American companies are missing out, which I guess explains Obama's haste in arranging a visit.
I must admit that later in the trip I did end-up in an ancient two-cylinder Toyota taxi. I think it was made with four cylinders, but I'm quite sure only two were still functional! And the buses I chose not to sample.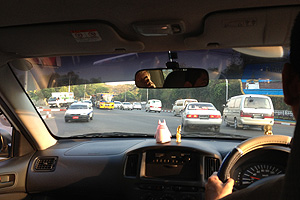 One big surprise was that all vehicles are right hand drive … and yet, they drive on the right side of the road. I found this very confusing, although after a while it didn't seem quite so strange. My taxi driver, whose English was good, seemed to think this was quite normal, and assured me it had always been this way.
Next, I checked into the Hotel Windsor which is very 1-starish at 4-star prices. This is probably how the owner gets to drive a Jaguar. But the hotel was reasonably clean and adequte. It's well placed, not in the city center, but close to the main sightseeing attractions. There are no real facilities other than breakfast and free WiFi. Imagine, free Wifi, and few years ago I wouldn't even have been allowed to bring a mobile phone! Finding an affordable hotel is now the biggest challenge, as prices are increasing rapidly.
Burma is one of those countries, like India, which is on a half-hour time zone, one and half hours behind Malaysia. It seems unnecessary to have the half hour, but I guess it's one of the many charms of the place.

Anyways, I wasn't going to achieve much in my first day, so after unpacking, I wandered out at about 7pm local time to find supper. There was a modern shopping center about twenty minutes walk from the hotel, which was just as well because there seemed to be a distinct lack of restaurants. I found it wasn't easy to walk at night, with minimal street lighting and cars coming straight at me. But I survived what became an evening ritual. Most restaurants seemed to be Japanese/Sushi which I'm not crazy about, but eventually I settled on a hot-pot/steamboat place.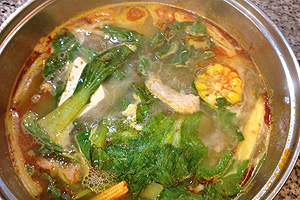 Things started out well… that is, if you like something that looks like week-old dishwater. But into this was added a large dollop of chilli paste, which at least gave it some flavor. Next it was strips of pork and lots of vegetables I didn't recognize, and it all tasted really good … until the chilli paste took hold, and then it became like a fiery tom yam, and sorry to say I had to stop eating for fear of bursting into flames.
It was an interesting evening though as I ended up in fairly lengthy conversation with the waiter. It became obvious where his, and most people's allegiances lie, when I asked him if he says "Burma or Myanmar?" "The Government says we must call it Myanmar, so we call it Burma" he told me proudly. He agreed though that the changes, despite being very rapid, were good for the country. Unemployment, especially amongst young people, seems to be a big problem, so it was clear he was very happy to have a job, and some of the other young waiters listening in smiled in agreement. And, as expected, The Lady is much revered.
The rest of the evening was spent "testing" the beers in the hotel mini-bar, from which I learned that something call "Myanmar Beer" is close to undrinkable, whereas the Tiger Beer – brewed in Burma – went down nicely. Very nicely.