If you've arrived in the middle of my Songkhla story, you can jump back to the start with this link.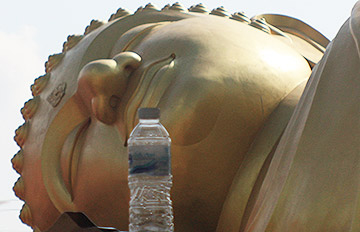 The island of Ko Yo sits in Lake Songkhla just to the west of the city. To go north by road, rather than by ferry, it's necessary to cross first onto Ko Yo, and then north to the mainland, via two long concrete bridges that carry the four lane road. It's worth pausing though on Ko Yo. So I did.
The island is not large, about 15 sq. kms., but has some interesting features. It's hilly, and completely surrounded by fishing villages. Fishing is clearly a big industry.
One thing you can't miss, because it's very visible as you reach the island, is the reclining Buddha at Wat Phranon Laem Pho. I doubt he's in the Guinness book of records, but he certainly is large … well, long. Here's some pics…
It was quite early in the morning so I decided to take a leisurely drive around the small road that circles the island. Views were nice, but as I say, it's fishing, fishing, and more fishing…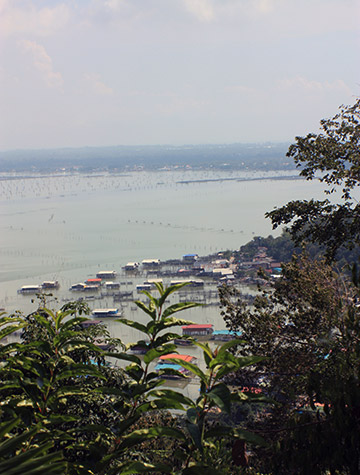 Next I took a good look at Google Maps and found a tiny road, and I mean tiny, that went right over the hill in the middle of the island.
At one point I arrived at an open area and thought "That's it. It doesn't go any further" but realized there was a continuation after an insanely tight hairpin left.
Maybe that's why the open area was there, because it was easier to make a clockwise right loop before heading on up the hill.
There was a monastery of sorts part way up the hill. Anyways, here's some more photos for you…
And having survived that, I headed to the north of the island to yet another highly recommended folklore museum. Don't panic, I won't show you the inside, but like the National Museum, the building was interesting and in a great hillside location.
The museum has about thirty separate rooms (it felt like a hundred!) built on about six or seven different levels. See…

And at that point I decided – Enough. Time to head home. It was anyways clouding over rapidly, with rain looking probable. I'll write a quick wrap-up of the whole trip tomorrow, along with some photos that don't seem to belong anywhere else. Don't go away. We're not quite done with Songkhla yet!