[—This is the second day of my long road trip. If you want to start with day one, please
CLICK/TAP HERE.
—]
Job #1 for the day was to get my passport and other papers to the visa office. Seemed simple enough. 30kms down the coast to Pattaya. But it took me ninety minutes. The traffic in this part of Thailand is insane.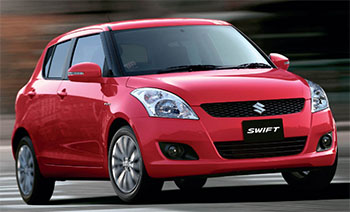 After that I decided to find the Suzuki dealership. I'm sort-of interested in the Swift, but until I've driven one it'll remain on my short-list of possible purchases. Finding the place took another hour. Their website map is useless. Anyhoo, I figured in this part of Thailand, where there seem to be more farangs than Thais, it would be quite easy to communicate in English. But, the instant I walked through the door, the one available sales person leaped up, and disappeared. The other was busy with a client and totally ignored me. I suppose that's okay, but she could at least have made some sign that she would be with me soon.
I poked around the cars, sat in them, fiddled with seats, opened hoods and hatches, and generally satisfied myself that the Swift is rather smaller than it looks from the outside. Still, a test drive would have been nice, and there were several cars outside covered in "Test Me" stickers.
I approached two people sitting behind desks, one of whom was on the phone, and the other engrossed in fiddling with her phone. Despite the fact I was less than a meter in front of her face, she didn't even make eye contact. No one did. I got the distinct impression farangs were not welcome. I can't say they lost a sale, but they sure lost a potential one.
If I haven't mentioned it before, I really don't like this part of Thailand. In fact, to me, Pattaya is no more Thailand than Las Vegas is the USA. I can't wait to get back on the road tomorrow to head south for some R&R and to spend time with some real Thais.
Anyways, after the irritating Suzuki episode I headed towards the seafront to revisit a place called the Sanctuary of Truth. I'm not sure I know how to describe this place so I'll let the official brochure do it for me… although I don't think this will help much!
It's not only a replica of an ancient art, but also power of contemporary creation. It has searched for proper things from different cultures, and mixed with traditions of past, giving rise to the new fine arts. The parts emerging from its foundation are all built of wood, to meet the intention of constructing the real "Wooden Sanctuary" from the groundbreaking in 1981.

The objective was to build a wooden structure, in order to preserve and revive Ancient Knowledge.
See?
I first visited about ten years ago, and at that time the place was very much a construction site – with the main building in place, but a lot of carving and renovating being done. What I found today was very much a construction site – with the main building in place, but a lot of carving and renovating being done!!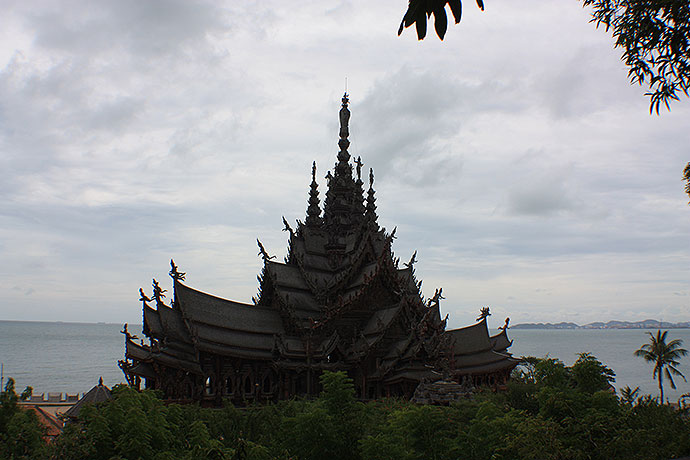 I chatted for a while with one of guides, who for some reason told me, not asked me, "You've been here before." Strange. I asked him "Will it ever be finished?" "No" he replied, "I don't think so."
I'm kind of surprised because clearly they are using quality hard woods, so it seems odd that so much has to be replaced at regular intervals. Even the huge wooden pillars holding up the whole structure have been replaced. There's so much work still going on that all visitors are required to wear hard hats. I forgot to take a selfie. I probably looked like a doozer from Fraggle Rock.
Frankly the place is overwhelming – in it's size, in the enormous number of carvings, which might be in the tens of thousands – I didn't count – and for sheer audacity of constructing a place like this in the modern era. If you haven't been, it should be on your bucket list.
I think it's one occasion where pictures speak louder than words, and I'm sorry but there's a lot of them. Like I said, it's a big place. Here's the gallery… More tourist news below…

Later in the day I headed back to Bang Saen, near Chonburi, where I'm staying; and then a little further along the coast to the small fishing village of Ang Sila. It's also famous for its stone carvings. The fish market stretches out into the sea, built on a flimsy wooden structure that didn't look safe enough for a dozen people let alone the hordes who were there shopping. I don't think I've ever seen so much fish in one place.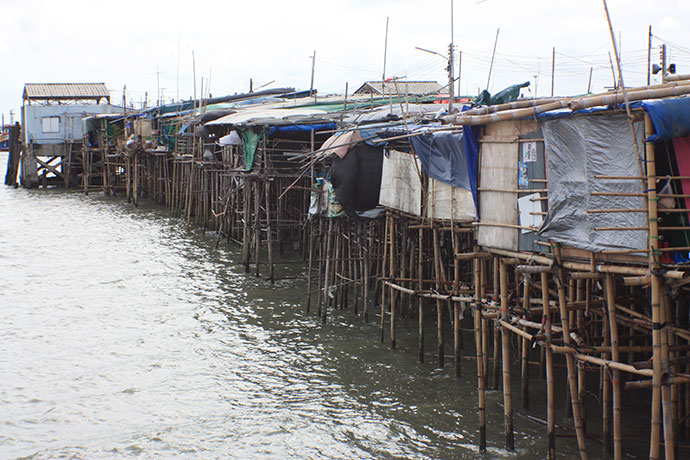 And again I was surprised to be ignored. At home in Sichon all the market people want to talk; they smile, they make eye contact. But here it was "Don't look up. There's one of those strange farang things taking photos of us." Oh well.
Again, pix will work best…
And last but not least, all manner of stonewear on sale…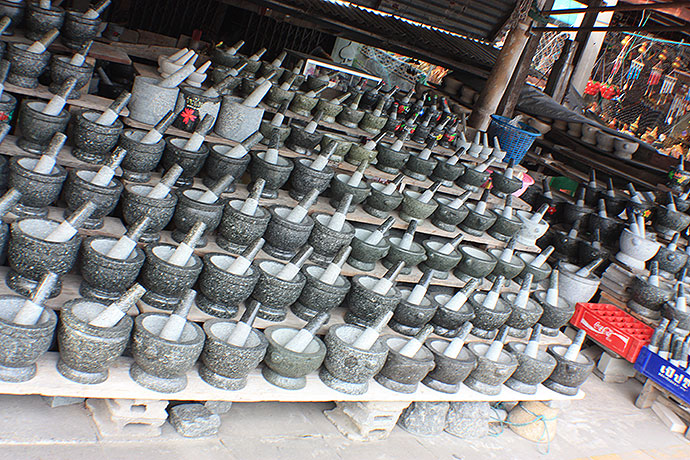 And once more I spent the evening with the long-legged waitresses, but after a quick meal of spicy pork in lime juice, which was way more spicy than it was limey, I headed back to my balcony accompanied by a nice bottle of red wine I'd found earlier in Tesco Lotus. I don't remember much more…